2018 Nissan LEAF: Balancing Price and Range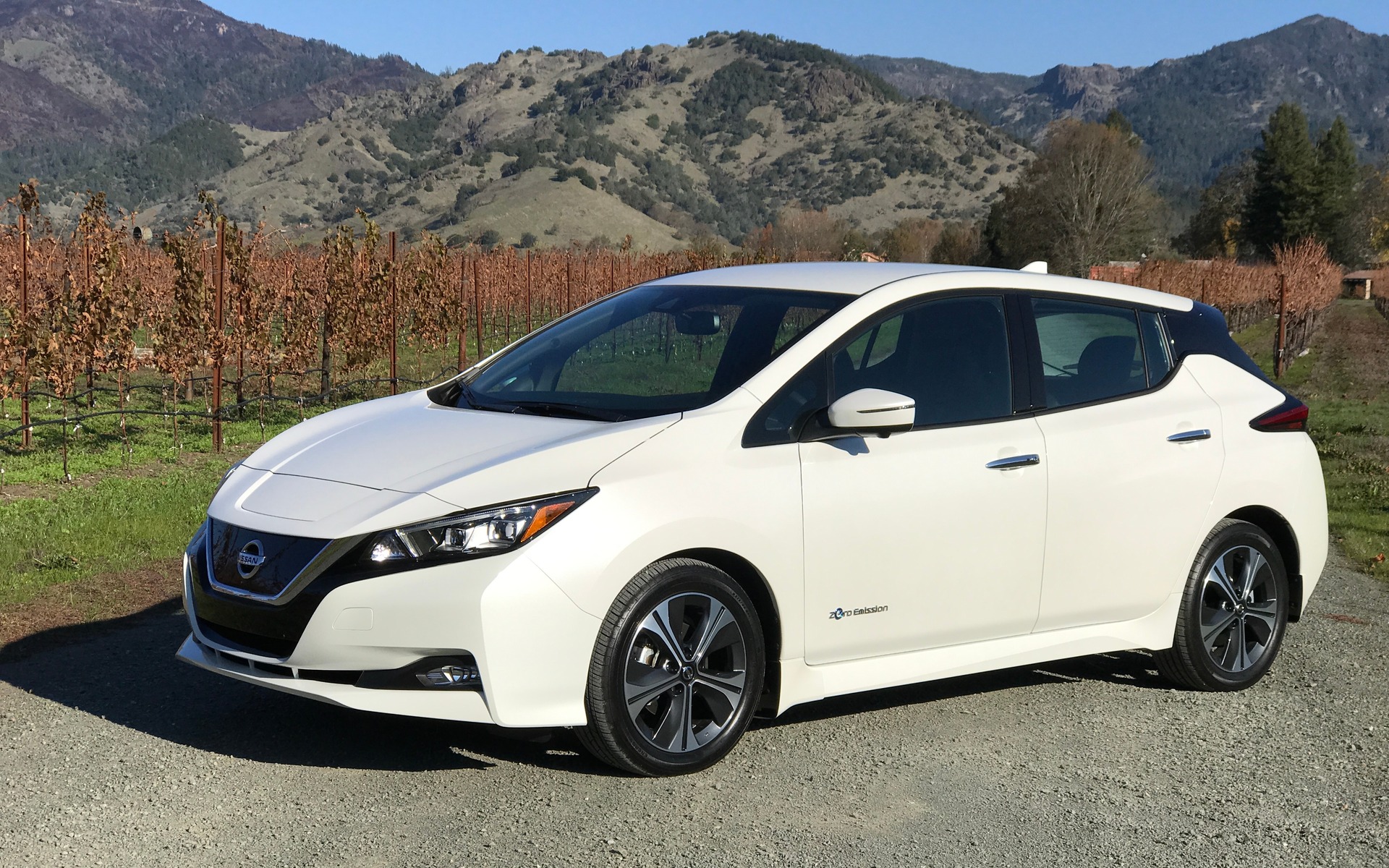 Strong points

Affordable price
Improved range
More seductive style
Good equipment level
Improved performance

Weak points

No sunroof
Steering column isn't telescopic
Less stylish base trim
Full report
A new generation of the Nissan LEAF is coming our way for 2018. This is the second generation since the vehicle was introduced in 2011. The LEAF remains the world's best-selling electric vehicle with more than 293,740 units sold. Interestingly, Quebec accounts for 48% of all LEAF sales in Canada and there is already a lot of excitement building up to the new generation. In fact, 886 units have already been pre-ordered.
So let's get straight to the heart of the matter: the LEAF's range. The 2018 Nissan LEAF is equipped with the same lithium-ion battery pack seen in the 2017 model, but the internal chemistry was reworked to boost capacity from 30 kWh to 40 kWh—which translates into 241 kilometres of range. That's more than what you get in the Ford Focus EV, Volkswagen e-Golf and Hyundai Ioniq EV, but less than the in Chevrolet Bolt EV and Tesla Model 3 (whenever it arrives).
Price Trumps Range
Nissan decided to position itself slightly behind the market leaders, but is offering the LEAF at a more affordable price. As with smartphones, there's a direct correlation between price and capacity. With a starting price of $35,998, the 2018 Nissan LEAF costs more than $7,000 less than the Bolt and comes with a comparable level of equipment. The automaker decided to appeal to the masses with a more attractive price point and enough range for most drivers.
If reduced range is enough to give you an ulcer, hang in there. Within the next few years, Nissan plans on releasing another version with greater range. The number they threw out there was 60 kWh, but they didn't say just how much more that will cost. A high-performance LEAF NISMO? Nissan hasn't rejected the idea!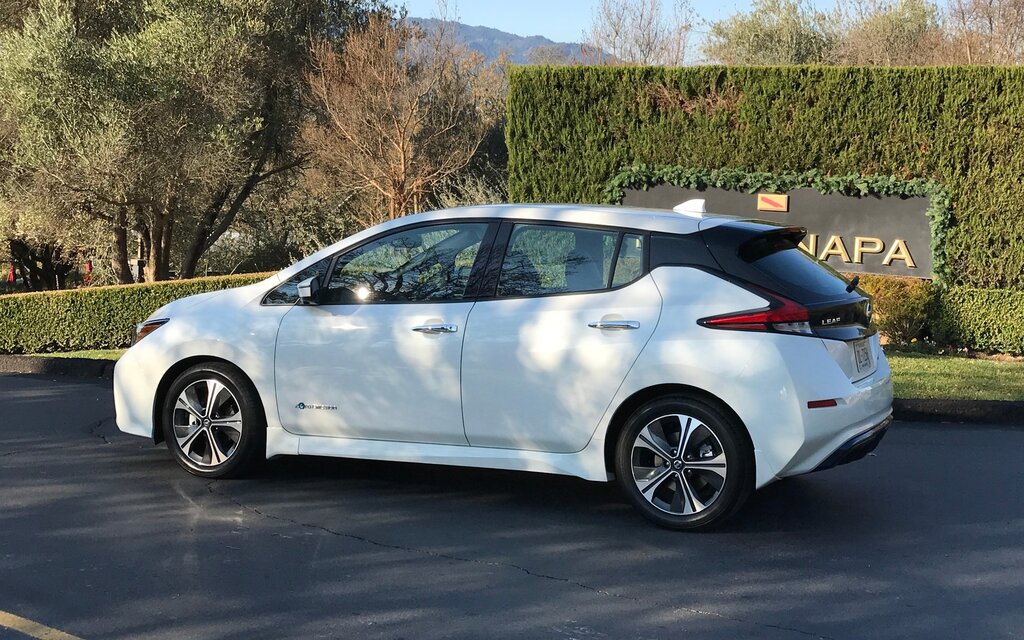 None-too-classic
The second-gen LEAF has been refined and now features less esoteric lines, especially in the rear. The model now looks a lot more like a conventional wagon and, truth be told, it's a slick-looking ride. Blue accents are there to remind us of its zero-emission ambitions, and boomerang-shaped taillights are a nod to other Nissan models. The V-Motion theme extends through the front hood and grille, while the floating roofline dips low enough to almost merge with the rear beltline—another common style feature from Nissan.
The cabin was also treated to a number of improvements, including a more modern dash. Everything is within easy reach and is easy to understand. The only drawbacks are that there isn't tons of space of your everyday gear, the steering column isn't telescopic and there's no sunroof for folks who like that sort of thing.
The base model boasts an attractive price, but the most noteworthy version is the SV. It comes with 17-inch alloys (instead of less attractive steel wheels), adaptive cruise control and a seven-inch touchscreen that's compatible with Apple CarPlay and Android Auto.
No Residential Charger Required
You know what really impressed us about the 2018 Nissan LEAF? It now comes with a Level 2 portable charger that can plug directly into a 240-volt outlet. That means you don't have to spend an exorbitant amount on a wall-mounted charging station. You just need a compatible 240-volt outlet nearby and you're good to go!
An adapter is also included to plug the charger into a 120-volt domestic outlet. But that option comes with a 35-hour charging time, which is a serious drawback compared to the 7.5 hours with the Level 2 charger and the 240-volt outlet—unless of course you just want to add a few kilometres of range. In case you're wondering, the LEAF now has just one type of onboard charger and it has a 6.6-kWh capacity.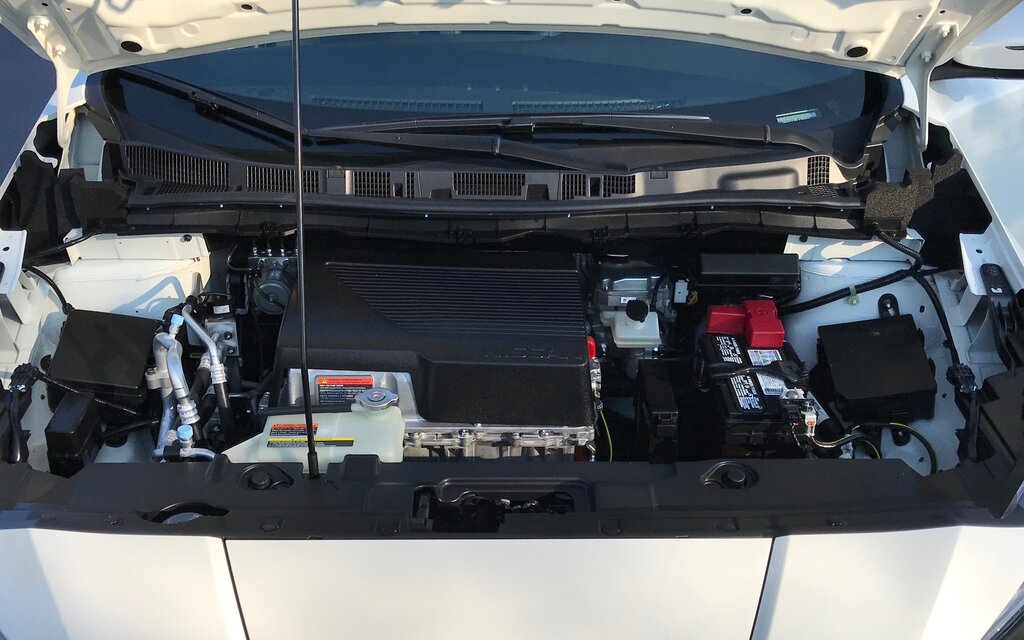 Slightly Improved Performance
Even if this is an electric vehicle, driving pleasure is still important for a lot of drivers. Nissan improved the suspension settings to make the vehicle more dynamic, and a rear torsion beam with a stabilizer bar helps minimize weight transfers while cornering. It comes with power steering, but the engineers did a good job ensuring you still feel like you're in control. The LEAF is now more fun to drive than ever, with a compact size, good manoeuvrability and the ability to turn on a dime.
Nissan's engineers also opted for an SUV-style driving position, with a higher seat and angled steering wheel. That's the trend! That said, we would have liked the adjustable seat cushion to go lower.
On the road, you can tell that the electric mill offers more power—now 110 kW—which is equivalent to 147 horsepower and 236 lb.-ft. of torque. These figures are 37% and 26% higher than the old LEAF's numbers. Instant torque delivery results in a sense of power, meaning you can overtake other vehicles without breaking a sweat. The 0 to 100 km/h time has improved and now hovers near the eight-second mark.
One-foot Driving with the e-Pedal
For regeneration, you've got lots of options. Normal mode is similar to what you find in most vehicles in the sense that if you release the accelerator, the vehicle will gradually slow down. If you select "B" mode instead, more aggressive regeneration results in faster braking and increased energy recovery for additional kilometres of range.
The newest feature is the e-Pedal, which can be activated using a control located near the gear shifter, which is a dial in the LEAF. The e-Pedal practically lets you drive with just one foot, using the accelerator only. No more back-and-forth between accelerator and brake pedals! You need to push the accelerator a little harder to get going, but as soon as you release it, you'll see that the vehicle slows much faster and comes to a stop within 10 metres. All this amounts to an extreme regeneration mode that takes some getting used to, but is really good.
ProPilot Assist
The 2018 Nissan LEAF also comes complete with several safety technologies, including a standard emergency braking system. The SV and SL versions also get the ProPilot Assist system that helps keep the vehicle in middle of the lane. A camera assesses the space between the lines on the road and adjusts the steering to keep the car centred. You still need to keep your hands on the wheel and several conditions, including snow, could make the system non-operational.
A quick look at the 2018 LEAF's qualities—including range, equipment and price—leads us to conclude that it is one of the most noteworthy electric vehicles on the market.
Share on Facebook