2018 Cadillac XT5: "Pretty Good" Doesn't Cut it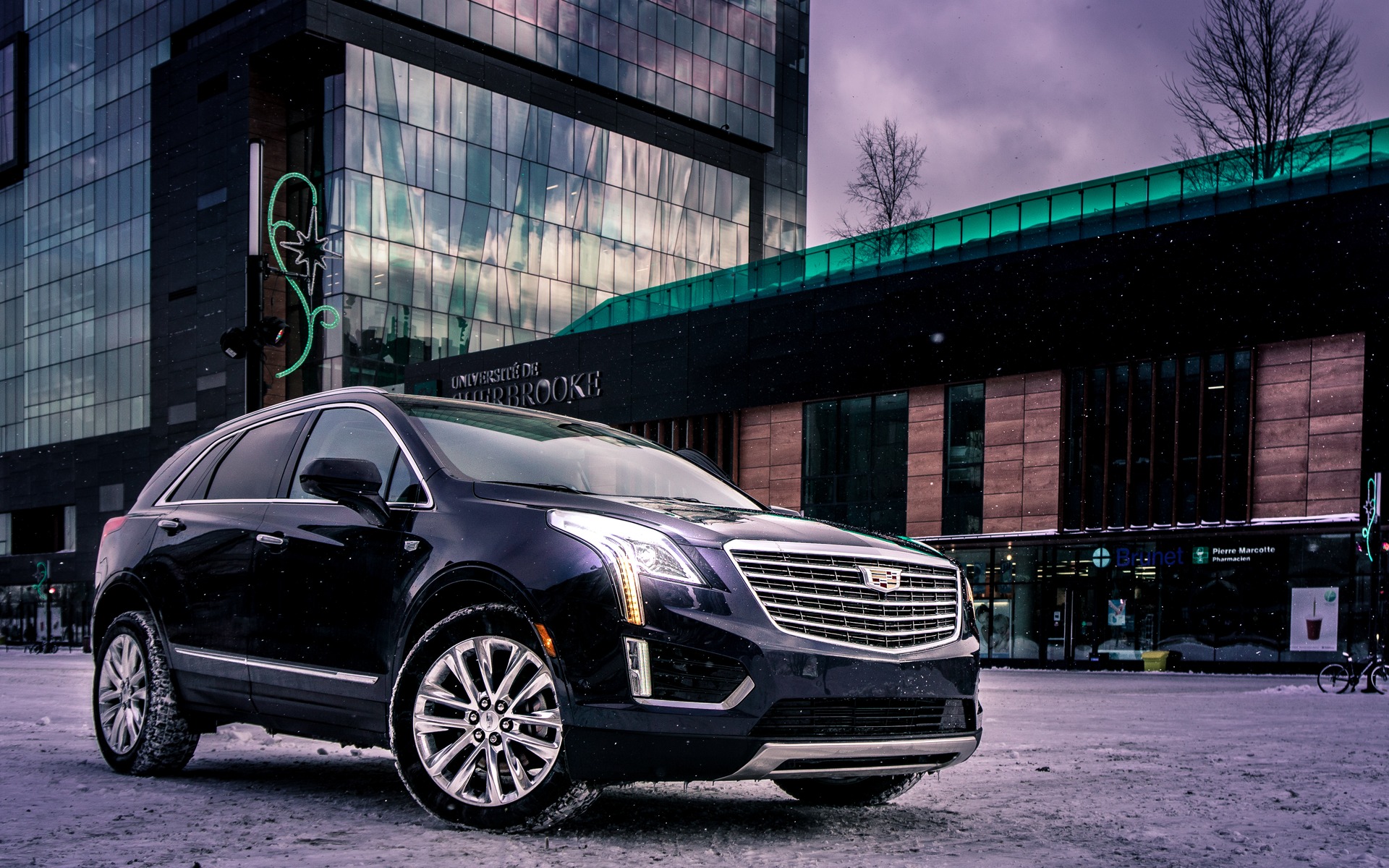 Strong points

Comfortable, luxurious and spacious cabin
Clever all-wheel drive system
Cavernous cargo area

Weak points

Lazy V6 engine
Dumb-witted automatic gearbox
Inconsistent fit and finish
Full report
Here's the thing: the compact luxury SUV segment has quickly gone from relative obscurity to absolute necessity in just a few years. And carmakers from Germany, Japan and even Italy have all rapidly responded with solid new offerings. In this field, where high-income families take the time to carefully cherry-pick the vehicle that will carry the responsibility of transporting their kids, dog, and everything that comes in between, mediocrity is no longer an option.
The Cadillac XT5, released in 2015, is General Motors' battle horse in this segment. And it's been selling rather well, actually outselling the Audi Q5 in the U.S., and completely pulverising anything with a Volvo badge on its grille. But does that make the Caddy a better buy than its European competition? I drove one to find out.
Those Headlights Though
I think it's fair to say that Cadillac gets it when it comes to styling, and the XT5 is no exception. For the longest time, it was hard to differentiate vehicles produced by the General. Between Chevrolet, Buick, and Cadillac, they all kind of looked like the same car with a different grille and headlights. Now, however, it's evident which segment they're targeted at. While Buick takes care of grabbing a bite out of the premium sales pie, with competitors such as Acura, Infiniti and Lincoln, Cadillac has the European brands BMW, Audi, Mercedes-Benz, Volvo and Jaguar right smack in its crosshairs.
The XT5, with its massive chrome grille, vertical LED headlights that span all the way down to the front bumper, which also include the blinkers, all wrapped within tight proportions, looks every bit high end, and wouldn't be out of place in the valet line. This is a good-looking utility vehicle.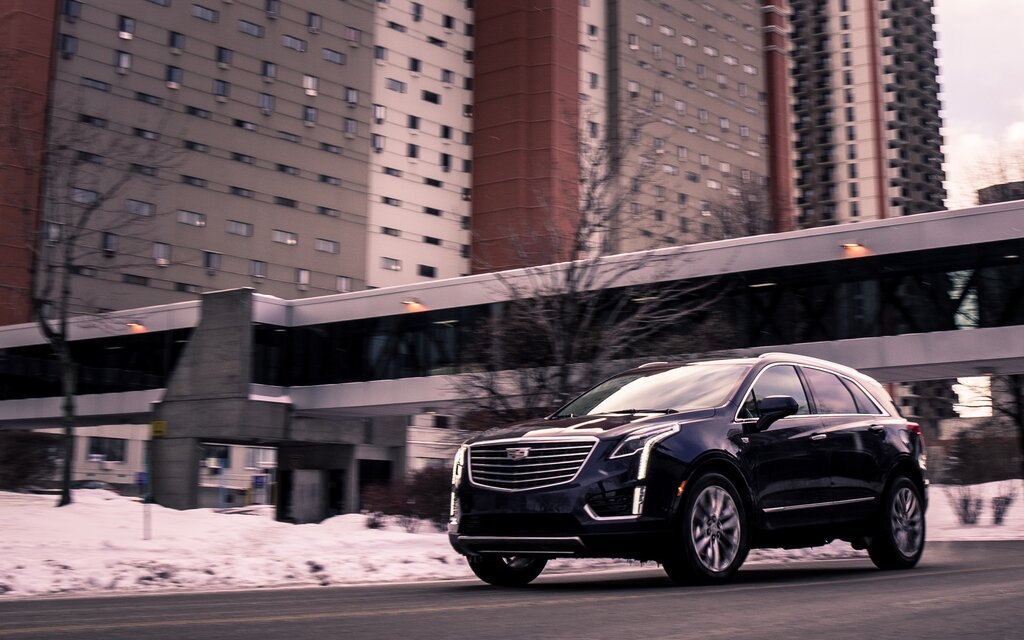 Natural Aspiration Is Dying
Under that angular hood sits a naturally aspirated 3.6-litre V6. While other markets inherit a 2.0-litre turbo four, North American XT5s come solely with the V6, an engine that also powers the GMC Acadia, Buick Regal GS and Buick LaCrosse. In this application, it's good for 310 horsepower and 271 lb.-ft. of torque. The only available transmission is an eight-speed automatic. Front-wheel-drive is standard; all-wheel-drive is optional.
On paper then, the XT5 looks good, but sadly, there are things wrong with this drivetrain, which prevents Cadillac's small ute from truly being on top.
I'll be the first to prefer the growling exhaust note and satisfying intake bark of a naturally aspirated six over a turbo mill. But sadly, in the XT5, that engine doesn't feel luxurious or particularly sophisticated. It's loud, harsh, and lazy. First, there's the annoying delays incurred between the time you gun the throttle and the moment the thing actually gets up and goes. My theory for this caveat is a cylinder deactivation system put there to save fuel, and a start/stop system that can annoyingly not be deactivated.
Then, there's the way the eight-speed automatic refuses to downshift when asked to do so, but also somehow quickly upshifts when the engine needs to breathe. Too often was I left with a shortage of power, as if the V6 had been buried by higher gear ratios.
Downshifts aren't better either. Pull up to an intersection and step off the throttle, and there's an awkward pause until the gearbox slams in a gear, causing an unpleasant and abrupt jerk. Using the paddle shifters doesn't help; if anything, it's worse.
You might think I'm nitpicking here, but in a segment of this price bracket, this lazy engine/transmission calibration is simply unacceptable. Heck, even a Toyota Camry, or even GM's own Buick Regal, which sells for several thousand dollars less, boast better mechanical fluidity and refinement.
At least fuel economy is decent in the XT5. I hung around a 9.8 L/100 km average. Considering it was winter, that I was plowing through thick snow thanks to a rather clever and competent all-wheel drive system, heated seats on, and the heater blowing full blast, that's actually quite solid.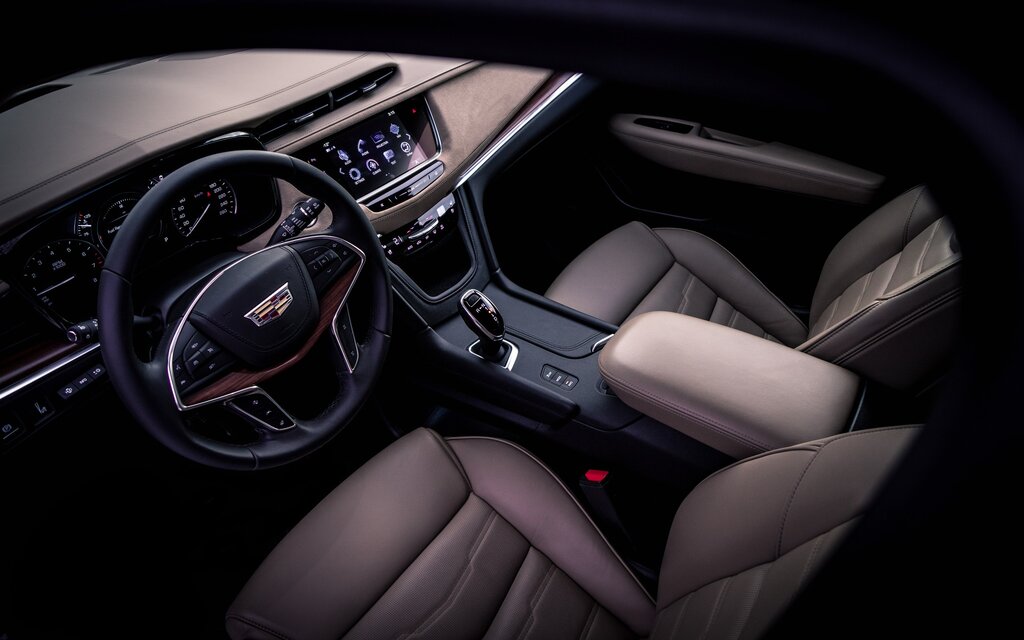 The Suede Redemption
The XT5 does nevertheless have a few aces up its sleeve. Its interior is totally in tune with what luxury SUV buyers look for. My tester had the immensely comfortable and supportive tan leather seats and suede dashboard. Because nothing says I've got more money than you than a suede interior.
And it's a truly attractive cabin, with a clean, modern and functional design. Physical controls are well placed and overall visibility is excellent. But sadly, there are pitfalls. Build quality is inconsistent. Everything above the HVAC controls is fine and upscale, but once you lay eyes below, things suddenly feel low-rent, almost Chevrolet Spark-grade. The centre console is the worst. Tap on it, and you'd swear you just dropped your kid's Optimus Prime on the ground!
Thankfully, the 2018 Cadillac XT5's cabin makes up with more than ample occupant and cargo space. The rear seat, due to a flat floor, offers plenty of leg clearance. But the seats themselves are a tad too high, slightly hindering headroom, especially with the panoramic sunroof. The trunk is nevertheless massive, offering 849 litres of available space, and a stout 1783 litres with the rear seats folded, besting Q5 (1699 litres), XC60 (1444 litres) and even the Lexus RX (1585 litres).
The XT5 puts connectivity at the forefront of its sales promise. And Cadillac's CUE infotainment interface offers all the latest tech. There's even on-board Wi-Fi thanks to 4G LTE connectivity (subscription required). But that interface is cluttered, complicated and the touch-operated volume controls are a mess, not responding half the time you swipe them. Cadillac, haven't you read all those Honda reviews lately?
Also, the entire interface won't respond to a pair of gloves—something Volvo's system achieves no sweat.
My main issue with CUE is that GM makes otherwise excellent infotainment systems in its other cars and trucks. But CUE, which desperately attempts to reinvent the wheel, simply adds a frustrating level of complexity and inconsistent performance, especially when syncing with your smartphone via Bluetooth, which doesn't seem to appreciate having Spotify operate in the background…
In my case, using Android Auto helped clear up the menus, and properly enjoy the vehicle's connectivity features. There's also a neat storage compartment located within the centre armrest in which to nestle your precious handheld device, which conveniently doubles as a wireless charging station. When the XT5 does something well, it achieves it in unparalleled cleverness.
That's precisely the problem with the 2018 Cadillac XT5: the engineering inconsistency prevents it from truly standing on top, which is too bad, because you sense GM's luxury division could have applied itself in delivering a homerun.
Instead, the XT5 comes through as only midpack. Handling is good, but not great. Sound insulation is questionable at highway speeds. The drivetrain seems confused. Build quality is excellent until it isn't, and the cool infotainment system fumbles when commanded to execute basic duties. To sum it all up, the 2018 Cadillac XT5 is a pretty good luxury compact SUV. Sadly, in this segment, pretty good simply doesn't cut it.
Share on Facebook