2018 Mitsubishi
Eclipse Cross

: The Future of a Certain Past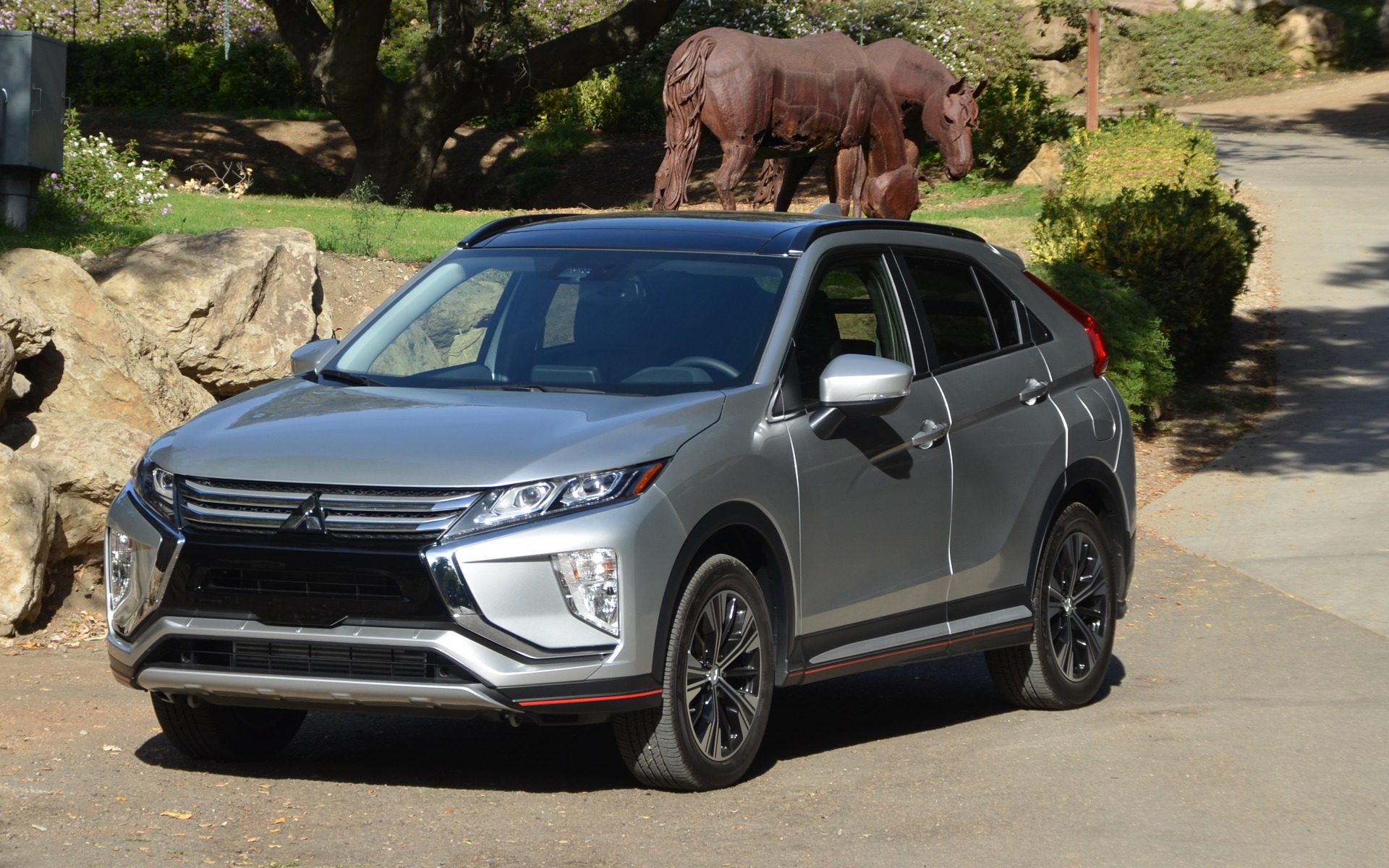 Strong points

Modern lines
Decent handling
Good warranty
All-wheel drive on all versions
Interesting towing capacity

Weak points

Limited performance
Passenger seat is not height adjustable
Tight back seats
A few cheap plastics
A little expensive compared to the competition
Full report
At death's door only a few years ago (although cynics would say it's been more like decades), the Mitsubishi brand seems to be trying to rise from the ashes. The fact that it was purchased by the Renault-Nissan group has improved its future prospects tremendously.
While fans still haven't gotten over the decision to abandon the Lancer sedan—dealerships will continue to sell remaining stock until spring 2018—Mitsubishi is looking toward the future. And the future lies with SUVs, a reality confirmed by increasingly high sales figures for that type of vehicle, reported by all manufacturers and in all countries.
Three SUVs, One Wheelbase
Mitsubishi's no fool. It wants to join the party, too. It already offers the RVR subcompact SUV and the Outlander compact. The latter will soon be available in a plug-in version known as the Outlander PHEV.
The RVR and Outlander ride on the same wheelbase, and now Mitsubishi is introducing a third SUV with the very same wheelbase. It will fit in between the two in Mitsubishi's product lineup.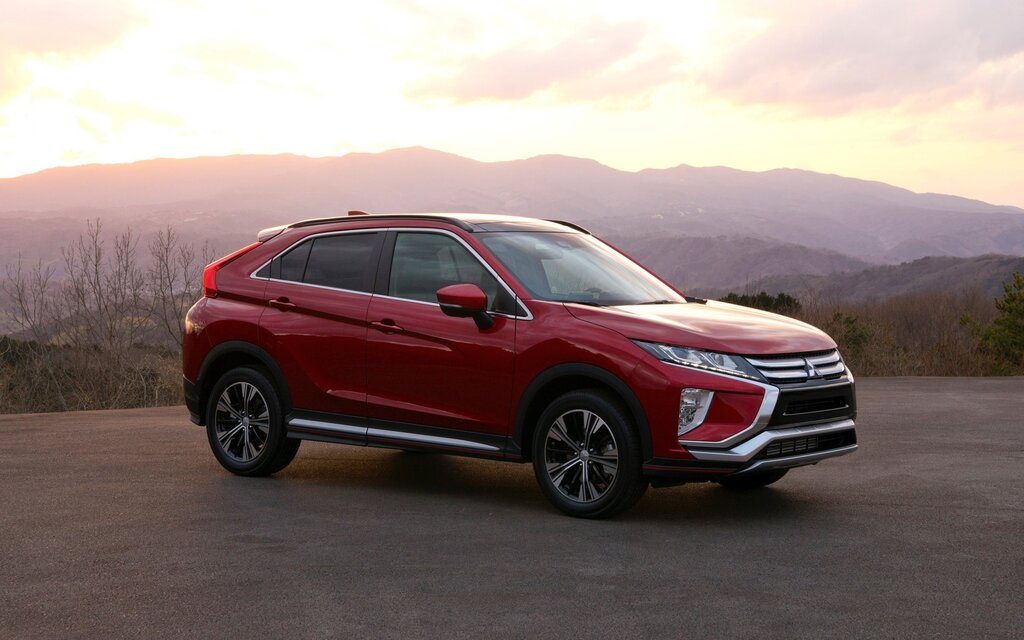 Please Welcome the Subcompact Eclipse Cross
This newcomer is the Eclipse Cross. You can question the strategy of launching an SUV that bears the name of a popular sport coupe discontinued by Mitsubishi in 2012, but a name is just a name. As one Carroll Shelby (of Mustang Shelby fame) used to say: "If the car's good, the name won't matter. And if it's no good, the name won't matter."
Strange Name, Plain Vehicle
Beyond the Eclipse Cross' name, here's an SUV whose dimensions place it on the fence between subcompact and compact categories. Mitsubishi likens it to the Mazda CX-5, Kia Sportage and Hyundai Tucson, but based on its size and drivetrains, we'd be more inclined to put it in the subcompact category with such vehicles as the Honda HR-V, Mazda CX-3 and Subaru Crosstrek.
A Modern Mitsubishi Product
Although the front end of the Eclipse Cross doesn't really stand out from other Mitsubishi products, the shorter tail end features more current styling cues. Some will like it, others won't, but no one can accuse the Eclipse Cross of being the same as the three-diamond brand's other vehicles.
The most obvious changes are found in the passenger cabin. The design is not quite futuristic, but it is definitely modern. Most of the materials are good quality—the key word being "most"—and there are numerous storage spaces. On the dashboard, there's a seven-inch touchscreen. Apple CarPlay and Android Auto integration is included in all versions, which is fortunate since there is no navigation system.
A Bit of Lexus, a Bit of Mazda
On the console, you'll notice a touchpad that looks a little like the one in the Lexus NX. This touchpad controls several settings including the sound system, but not Apple CarPlay and Android Auto. Since audio controls are also found on the steering wheel, you're not likely to use the touchpad very often.
On certain versions, there's also head-up display. It's a raised sheet of transparent plastic that raises from the dashtop right in front of the driver. If you've driven a Mazda vehicle equipped with the head-up display option, you'll feel right at home.
All-wheel All the Way
Under the hood, the 2018 Mitsubishi Eclipse Cross has a modern engine that combines direct injection and turbocharging. This 1.5-litre four-cylinder develops 152 horsepower at 5500 rpm and 184 lb.-ft. of torque between 2000 and 3500 rpm. It's paired with a continuously variable automatic transmission.
In Canada, all versions of this SUV will be equipped with S-AWC (Super-All Wheel Control) all-wheel drive with three different settings—Auto, Snow and Gravel. Just use the button on the console to select your preference. The perfect roads around Santa Monica, California, where we did our test drive weren't exactly ideal for assessing these three modes, but we've tested an Outlander fitted with this all-wheel-drive system in winter and it was very convincing indeed. Finally, note that the Eclipse Cross can tow up to 1500 pounds (680 kilograms).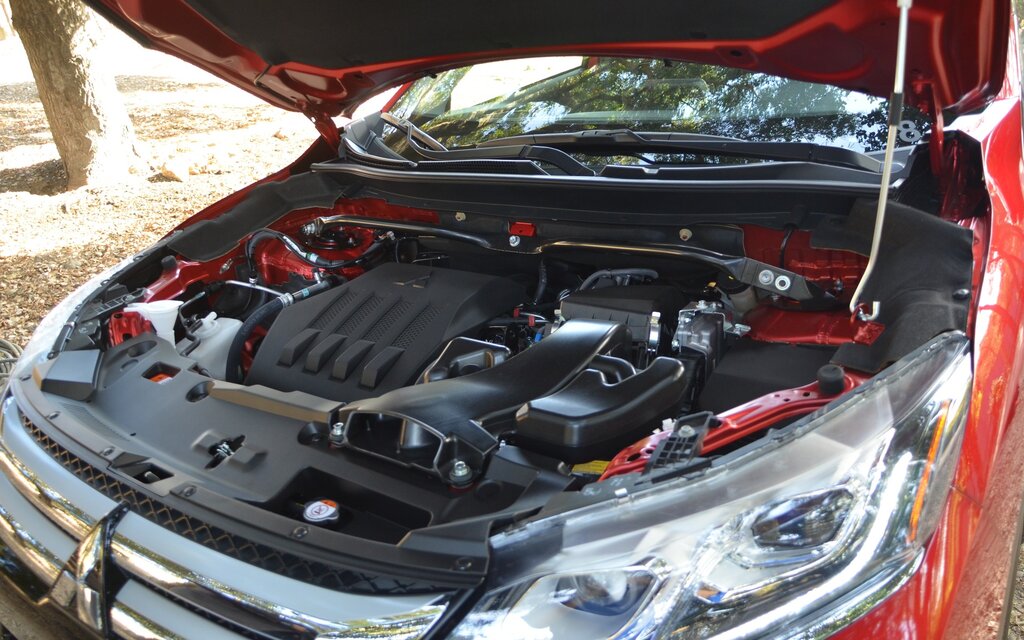 An Adequate Engine
A few hours of driving proved that the drivetrain is suitable for this small vehicle. Acceleration is too laborious, but the 1.5-litre/CVT combo emits an unpleasant sound. On the bright side, it's more pleasant than in the RVR. And torque, obtained at low engine revs, saves the day when you want to pass another vehicle. The 0-100 km/h time should be around 11 seconds. It's nothing to write home about, but it's appropriate for everyday use.
On the Road
The 2018 Mitsubishi Eclipse Cross handles itself very well on the road. Steering feel is good and the suspension is sufficiently firm to prevent too much roll, and yet it remains comfortable—in California, at least. Time will tell if that also holds true for Canadian road conditions. The front seats are comfortable for a few hours, but a little more thigh support would have been nice. It's a bit of a tight squeeze in back, particularly where headroom is concerned. You'll have to get used to avoiding the edge of the roof when climbing aboard. Outward visibility, as for all modern vehicles, is not great. The hatch is divided by a transversal bar that is troublesome at first, but you get used to it quickly.
According to Mitsubishi Canada, the Eclipse Cross will successfully replace the aging Lancer sedan and even surpass it in terms of sales. It will be interesting to compare it to other subcompact SUVs (we continue to include it in this category, with all due respect to Mitsubishi) on roads closer to home. We wish it the best of luck!
Here are the prices for the 2018 model (freight and delivery charges not included):
ES: $27,798
SE: $29,998
SE Tech: $31,998
GT: $35,998
Diamond Edition: $37,498
Share on Facebook