2017 Volkswagen Beetle Convertible: Topless for Less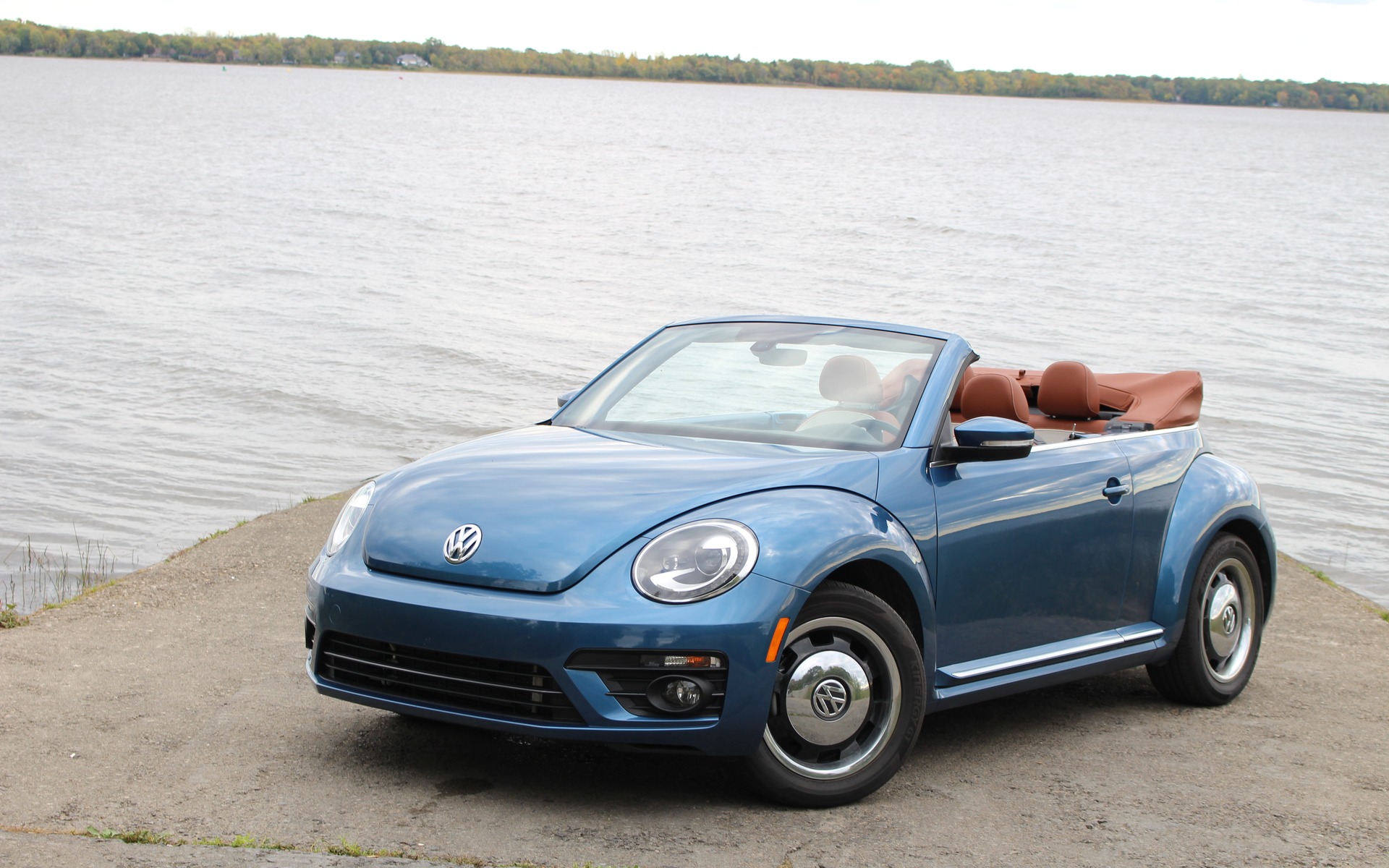 Strong points

Energetic, yet fuel-efficient engine
Easy-to-use power top
Timeless design

Weak points

Small trunk
Blind spots with the top up
Infotainment system interface could be better
Full report
We have to admit that our Canadian climate isn't favourable for owning a convertible. With our endless winters, sales on this type of vehicle aren't very high, so less and less models are available on our market for lack of profitability.
Most convertibles are now sold by luxury brands, and their prices are obviously high. At less than $40,000, what could we buy ourselves to cruise around with the wind in our hair and enjoy our all-too-short summers?
The list includes the eternal musclecars Chevrolet Camaro and Ford Mustang, as well as the small—too small, perhaps—Mazda MX-5. Do we really want one of these cars, with their firm suspensions and too-sporty character? Maybe not. Technically, the Jeep Wrangler is a convertible, but well, it's a truck. The smart fortwo is available as a droptop, but it's now a fully electric car and only has two seats. The Buick Cascada is interesting, as it's attractive and equipped with a fuel-efficient turbo four-cylinder engine, but for now, General Motors prefers selling it in the USA, not in Canada.
That leaves us with three choices: the minuscule Fiat 500c, the least-expensive convertible in the country; the MINI Cabriolet; and our test car, the 2017 Volkswagen Beetle Convertible.
Never mind the perception that the Beetle is a chick car. Many generations of men and women alike, from all parts of the world, have either owned one over time, or have a story to tell about a Beetle. Sure, it's no longer the people's car like it once was, but it remains unique in its market segment.
Coupe or convertible, the 2017 Volkswagen Beetle offers room for four passengers, so it's obviously not a family-oriented vehicle. And with a trunk volume of only 201 litres, it's not very practical, either—although the Fiat and the MINI aren't really better in this regard. On the other hand, accessing the rear seats is fairly easy, and in the case of the convertible, who will complain if they get the chance to cruise around with the top down?
That top can be raised or lowered in a matter of seconds—12 at the most—by simply pressing or holding a button. No lever to twist or handle to pull, the top's edge firmly attaches itself to the windshield frame to create a weatherproof seal. From the driver's seat, all four windows can be operated with one button. And the top can be activated while the car is moving along at speeds of up to 50 km/h. Easy.
In the case of the Denim version we drove, we were treated to a steel blue paint job mixed with a brown top, while the seats were covered in brown leather as well as checkered beige and white fabric. Very nice, although said fabric can get dirty or stained quickly. Clumsy coffee drinkers, you have been warned.
As in every Beetle, the dashboard and the steering wheel are dressed up with colour-keyed plastic trim, which creates a cool effect. The control layout is straightforward, like in every Volkswagen product. The Fender-branded stereo offers terrific sound quality and the infotainment system is modern, although some on-screen button zones are too small.
Under the hood, one powertrain is offered. It's a turbo 1.8-litre four that develops 170 horsepower and 184 pound-feet of torque, managed by a six-speed automatic transmission. A good output, but VW's turbocharged engines always provide plenty of low-rpm torque, so blastoffs are prompt. And when the shift lever is placed in the S position (for Sport, of course), the transmission reacts for quicker downshifts.
In short, the Beetle isn't too sporty, but benefits from good road manners and is fun to drive. In addition, during our test, we observed a fuel consumption average of 7.8 L/100 km, which isn't bad at all.
The 2017 Volkswagen Beetle Convertible retails from $25,390 before freight and delivery charges. In comparison, the Fiat 500c starts at $23,245 with an automatic transmission, but it's smaller, much less powerful and consumes about as much fuel, if not more. The MINI Cabriolet with an automatic transmission is more amusing than the Beetle, but its cockpit is smaller and its price climbs just above the $30K mark.
As this is being written, the 2018 Beetle Convertible is hitting showrooms. Denim and #PinkBeetle editions are replaced by the new Coast variant, while the Trendline and Dune trims are still available. Moreover, the 2018 Beetle gets a new turbocharged, 2.0-litre four-cylinder engine that develops 174 horsepower and consumes 0.3 L/100 km less than the old 1.8-litre engine on the combined city/highway cycle. A 2017 edition that's being cleared out will certainly do the trick.
The Beetle Convertible is arguably the most logical solution for affordable, top-down driving.
Share on Facebook