2018 Kia Stinger: Entering Uncharted Territory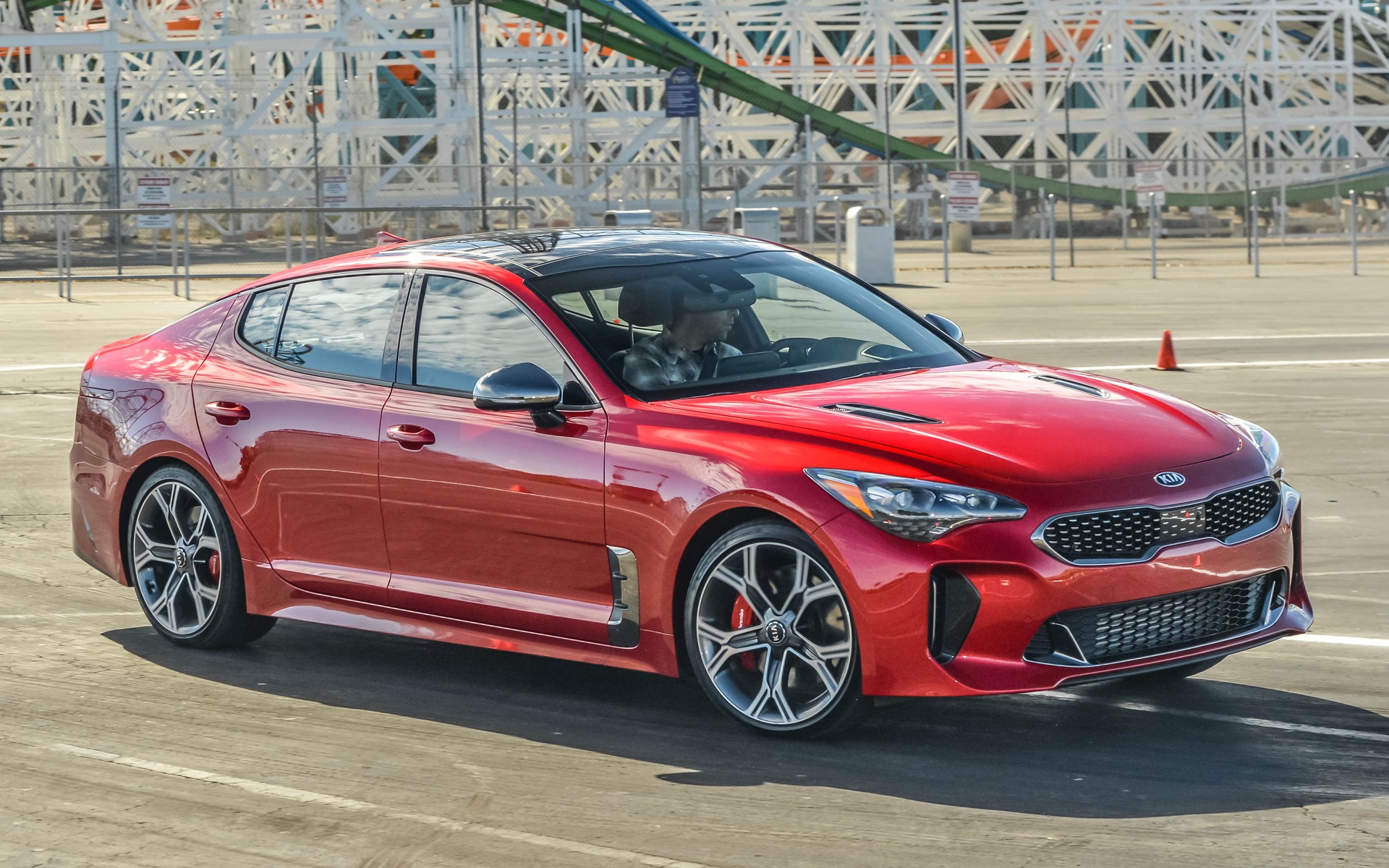 Strong points

Great styling
Balanced ride
Comfortable cabin

Weak points

Cosmetic hood scoops
Muted engine noise
Tough competition
Full report
NORTH HOLLYWOOD, California – Audi A7, BMW 4 Series, Porsche Panamera, Kia Stinger.
If you haven't been privy to the auto show circuit or Kia press releases, one would be stumped to find the pattern. Kia products don't enter the luxury conversation—sorry Cadenza and K900. That's at least until now with the launch of the all-new 2018 Stinger, a premium sports sedan grand tourer (GT) that looks, feels and acts the part, at a fraction of the cost.
It doesn't sound fair for its competition, but we're talking about BMW, Audi and Porsche—giants in the industry with a strong foothold in the luxury and sports car world. In reality, the Stinger is a big leap for Kia, as it enters a new arena, a market unthinkable in past years when the South-Korean brand was perceived as a low-budget alternative to used cars.
But Kia isn't shying away from some friendly competition. Rather, it's attacking it head-on with the same value proposition formula used at the mainstream level with the likes of its Rio, Forte and Sorento. For the Stinger, it's a no-holds-barred attack, taking residency in its main competitors' backyard with the design team based in Frankfurt and the Nürburgring being its main testing grounds. In every practical sense, this is a German car with a South Korean badge.
Ted Lancaster, Vice President and Chief Operating Officer, Kia Canada confidently states, "The Stinger will stand for itself." But the time for talk is over with pre-orders already on delivery, and with a first drive opportunity in sunny North Hollywood, California, it's time to test whether the Stinger can hold its own against its German competition.
The Stinger is a GT, not a sports car
The Stinger abides by the famous saying: "it's all about the journey, not the destination." That's the true essence of a grand tourer and the Stinger is true to that designation with a combination of stylish looks, high performance and long-distance cruising comfort.
Like any new vehicle, it all starts in the looks department. Like any good GT, the Stinger shows off a long wheelbase and sloping roofline. Up front, Kia's trademark Tiger Nose grille is enhanced and accompanied by cosmetic hood scoops that exude a muscular, yet retro appeal. Additional enhancements include sleek LED headlights and taillights, sporty air exhaust vents that assist in a drag coefficient of 0.30, 19-inch machined finished alloys with scintillating red 13.8-inch callipers and a dynamic quad exhaust to finish off its sexy appeal.
It not only looks the part, but plays the part with Kia's first twin-turbo engine—a 3.3-litre V6 that produces 365 hp and 376 lb.-ft. of torque matched to an eight-speed automatic transmission. We were able to test the Stinger versus its top rivals on a rather large autocross course, and it may not be the most ferocious-sounding car out there, but it held its own thanks largely to its balance and handling skills. With help from an all-wheel-drive setup (standard in Canada), a brake-operated torque vectoring system and a weight distribution of 52/48 front/rear, the Stinger took some precise cuts, possessed traction control throughout with limited body roll. Even though it suffers from a little turbo lag, the Stinger is able to achieve a 0-100 km/h sprint in 4.9 seconds; an impressive number when compared to its rivals.
As fun as it was on the autocross, the Stinger is more suited as a cruiser than a performance vehicle. That's clearly evident on regular roads where you're treated to effortless acceleration, small steering inputs and Brembo brakes that only need the slightest of touches. It's simply fun to drive, and suited for the driver who craves a little adrenaline rush without having to feel every crack on the road.
That cruising feel is also aided by soft Nappa leather seats found in the top-trim GT Limited (regular leather for the base GT) that places you in a state of tranquility. Typically, it takes me a while to set my seating position, but it all felt so right, so quickly. That ease of use continues in the ergonomics department with a new, easy-to-use high-definition display (seven-inch in GT and eight-inch in the GT Limited).
The price is right
Could it be a mere coincidence or apropos that Kia placed the Stinger program in close proximity to the Price is Right studios at CBS Television City? At a starting price of $44,195 for the GT and $49,995 for the GT Limited, it would be clear that the secret sauce is in its value proposition. In addition, the smaller 2.0-litre four-cylinder engine is expected to be released in the spring, which will set a lower baseline for a car that possesses many of the qualities luxury buyers come to expect, including up to 18 standard and available safety technology systems.
However, the question remains whether Kia is capable of convincing luxury buyers to opt for them. It will be a challenge to sway traditional BMW and Porsche drivers away from the prestige and sophistication of those brands. Everything with the Stinger sounds good, but if there's one major gripe, it comes down to the level of refinement. Yes, it has heated and ventilated soft leather seats, as well as carbon fibre and aluminum finishes, but it doesn't quite measure up to the refinement of German luxury vehicles. Some cost cutting measures can be found in the cabin, and that's understandable given its price tag.
It may not win that battle, but the Stinger's value proposition will hit a different clientele that simply couldn't afford or justify that type of purchase in the past. Only time will tell. It's a long game for Kia, as this GT isn't about volume, to been capped at 400 units for its first year in Canada. For Kia, the Stinger tells a different story of design, performance and credibility; providing an opportunity to elevate the brand's portfolio to new, unimaginable heights.
Share on Facebook