2018 Hyundai Accent: A Mini Elantra That's Subcompact to the Max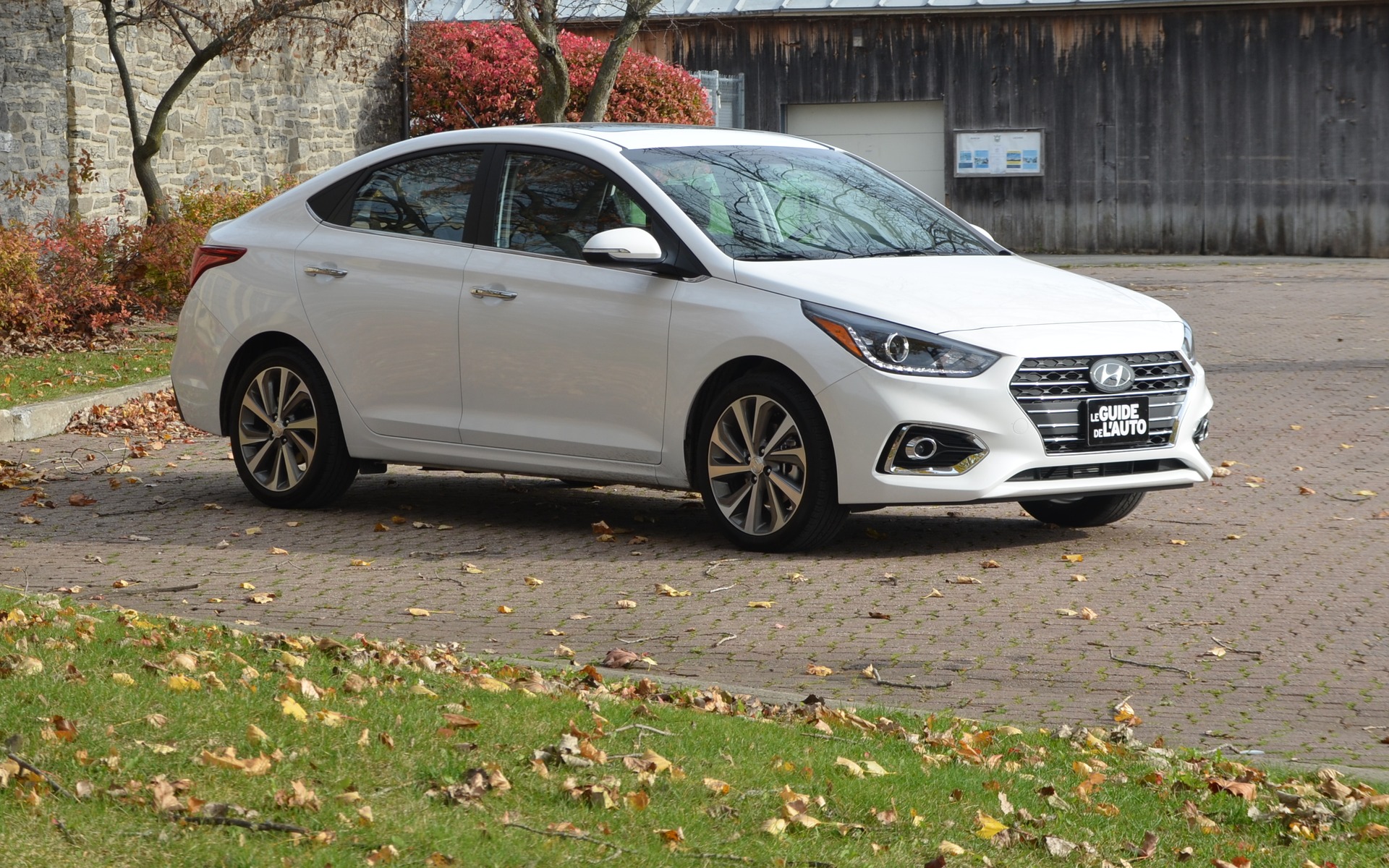 Strong points

Modern lines
Very spacious cabin (for a subcompact)
Reasonably comfortable
Good handling
Decent fuel consumption

Weak points

Style lacks originality
Barebones base version
Pointless drive mode system
A few low-end plastics
Full report
The Hyundai Accent needs no introduction. After making its debut in 1995, the South Korean manufacturer's smallest car wasted little time in making a name for itself in the subcompact category. And although it was unreliable back then, the Accent has matured over the past four generations (1995-1999, 2000-2005, 2006-2011, 2012-2017).
The fifth-generation Accent has just been presented to automobile journalists before heading for Canadian dealerships at the start of 2018, which is later than Hyundai had previously announced. At present there is only a sedan, with a five-door version slated to arrive in Canada next spring. The hatchback is the subject of a separate text and will not be offered in the United States, as Americans are not terribly fond of this style of vehicle.
So what about this new generation of the Accent? If you don't have the time to read this article, we'll tell you right away: it's excellent. Good night and see you next time!
For the rest of you, here are more details
In keeping with the ongoing trend, the new Accent sedan is longer (15 mm), higher (7 mm) and, especially, wider (29 mm) than its predecessor. Roominess comes out the winner. The result is an impression of vastness and comfort generally found in compact cars.
Style-wise, you be the judge. The 2018 Accent looks like the Elantra, which looks like the Sonata, so we would have liked a little more originality. The new dashboard is great and all of the controls are where they should be. This Accent will come in four versions: L (five doors only and without automatic transmission, Bluetooth, air conditioning and cruise control), LE, GL and GLS, these last three being offered for both body types. The L and LE get a five-inch central screen while the GL and GLS benefit from a seven-inch screen, which you'll need to enjoy Apple CarPlay and Android Auto. With a navigation system conspicuous by its absence, even on option, these functions can be very useful.
New platform
The 2018 Accent is built on a platform with 32% more torsional rigidity. The front end, which supports the suspension, has been reinforced, while the rear suspension has been updated. Depending on the version, the tires are 15, 16 or 17 inches instead of 14, 15 and 16 inches like they were before.
Engine and gearbox
There's still a 1.6-litre four-cylinder engine developing 130 horsepower (7 less than the 2017 version) at 6300 rpm. Torque took a hit as well, dropping from 123 to 119 lb.-ft. at 4850 rpm.
According to Hyundai, although peak power and torque are reached at the same revs as before, there's more low-rpm torque to improve the daily drive as well as fuel consumption, down by 7%. Hyundai says they favour efficiency over "big" numbers. There are still two six-speed gearboxes (automatic and manual) and they are unchanged except for the final gear, which is a tad longer for 2018. As is the norm for subcompacts, the Accent is a front-wheel drive.
No longer just for the city
For our test drive, Hyundai only brought automatic GLS sedans. At least they were all different colours. In an urban setting, the Accent handles like a small version of the Elantra. Obviously, it doesn't deliver much power, but it does the trick for normal driving conditions. Thanks to a very smart automatic transmission that downshifts at the right time, you can follow the flow of traffic and merge without worry. While the steering isn't a model of precision, it is very well adapted to the car and, surprisingly for a subcompact, provides a certain amount of feedback to the driver. High five, Hyundai!
First and foremost, the Accent is an urban car, but that's not to say that it's completely out of its depth on the highway. Sure, flat-out acceleration is very noisy, but once you hit cruising speeds, calm returns. On the dashboard, there's a drive mode button that lets you select Normal or Sport driving.
Sport mode simply increases the engine revs. For example, if you're driving at 100 km/h, it will boost the revs from 2000 to 2500 rpm, which can marginally improve passing times. Otherwise, I don't see what benefit it adds. The GLS's four-wheel disc brakes are surprisingly efficient for emergency stops, but we were unable to measure the distances or repeat the experiment to gauge their resistance when heated.
Prices forthcoming
The chassis is decidedly robust and the suspension is well adapted and relatively unfazed by the hazards of our local road network, which dates back to 1917. Handling is solid and the body doesn't lean too much in turns. Our test cars were fitted with 17-inch tires (205/45R17), but it would have been handy to test drive the lower-end versions equipped with 15-inchers. Surprisingly, the seats in this Hyundai product did not disappoint me (for once). Note that Hyundai owners find them comfortable. I guess I'm just the oddball.
A more thorough test drive of a less equipped – maybe even manual – Hyundai Accent is needed, but for now, this subcompact gets a passing grade. The GL, which should be the bestseller, will undoubtedly offer the best equipment for the price. And speaking of which, the prices haven't been made public yet – that will happen shortly before the cars hit the market at the beginning of 2018.
Share on Facebook