2018 Ford Expedition: Some People Really Need It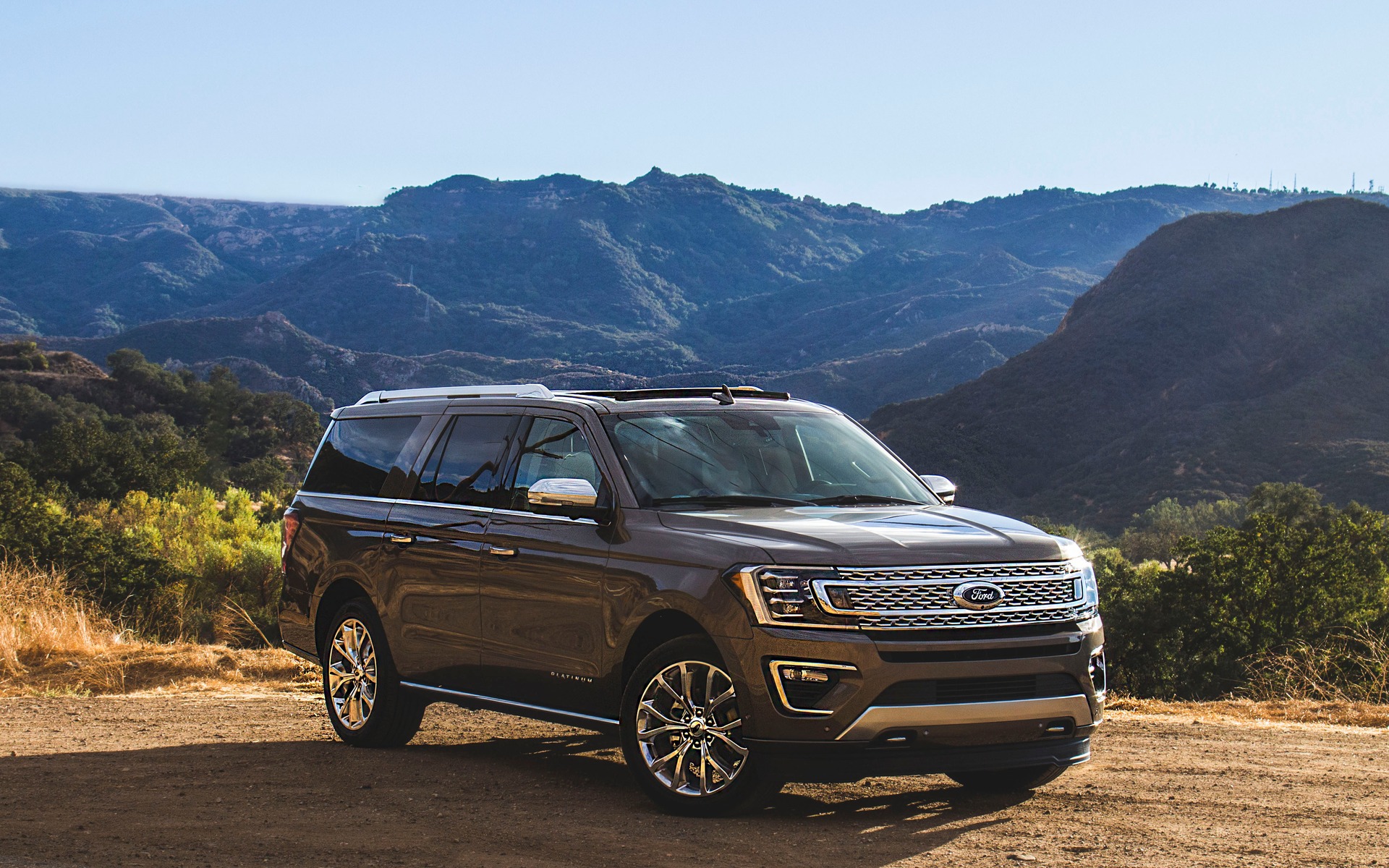 Strong points

Impressive handling
Powerful EcoBoost engine
Spacious third-row seat

Weak points

Laggy ten-speed automatic
Questionable fuel economy
Big and cumbersome
Full report
MALIBU, California – The current SUV fad is somewhat questionable. Carmakers, who constantly seek increasing sales figures, seem to be releasing a new one each year of different sizes and price points. You've got your compacts, your subcompacts, your luxury ones, and even some SUV coupes now. With so much variety to choose from, consumers no longer know where to look, to a point where one would wonder if so much variety for a vehicle whose main purpose is to be practical is a bit exaggerated. Is there really so much demand for these kinds of vehicles?
For the Ford Expedition's sake, an eight-passenger SUV built on the same structure as the F-150 pickup truck, its existence is justifiable. Large families exist, and these families require space, lots of it. Moreover, when comes time to tow the camper for the next family mountain camping adventure, I'm sorry, but a minivan simply doesn't cut it. The Ford Expedition is therefore an SUV with real utility.
20 Years Unchanged
Ford invited us to Malibu, in California, to sample its all-new full-sizer which received a full revamp for the first time since its inception in 1997. Believe it or not, even if the Expedition's exterior seems to have changed, it's essentially been the same truck for the past 20 years!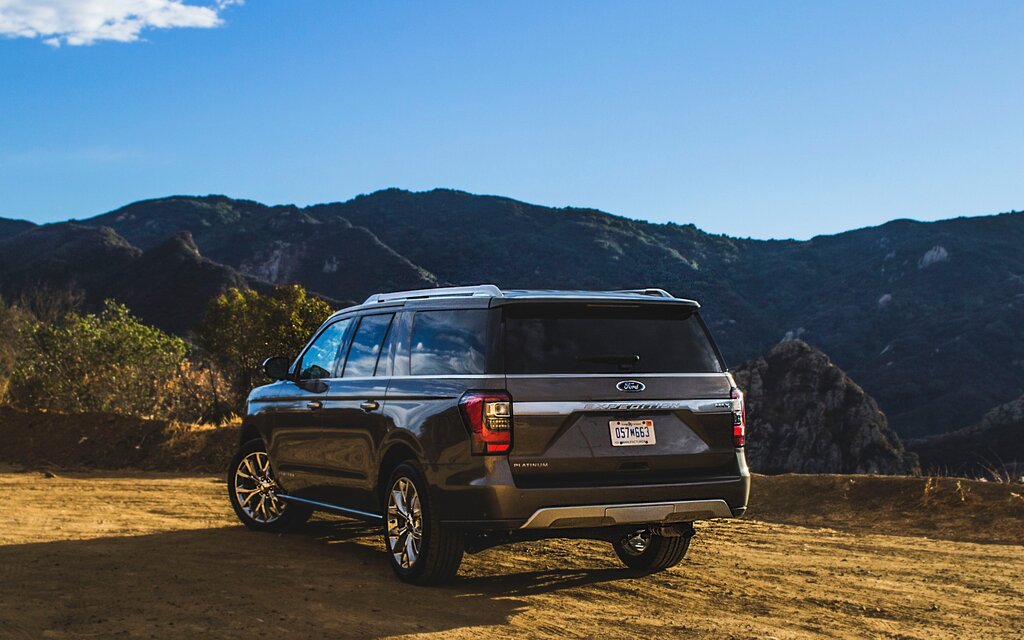 So, what are we talking about for 2018? What you should know is that the Expedition is still a body-on-frame SUV. It can be had in rear- or all-wheel-drive configurations. Its only competitors for the moment are the GMC Yukon, Chevrolet Tahoe/Suburban, Nissan Armada and Toyota Sequoia. However, compared to its rivals, the Expedition gets an aluminium body, like the F-150, as well as an independent rear suspension, a feature that's still not offered by General Motors in this segment.
Why an independent rear setup? To improve the truck's roadholding capabilities and increase third-row seating space. Thanks to such a suspension, the Expedition's third bench sits lower in the cabin, further improving general comfort and head clearance. I sat back there, and my rather large frame felt quite at ease, compared to the Yukon/Tahoe where I was a tad cramped.
Speaking of the opposition from GM, we were given the opportunity to drive a Tahoe alongside the Expedition to compare driving dynamics. The Chevrolet bounces and wobbles like a large pickup on California's sinuous roads, whereas the Ford remains well planted and composed at high speed. Honestly, it's impressive, feeling almost like a unibody SUV such as a Honda Pilot or Mazda CX-9.
Six Cylinders, Ten Speeds, Seven Drive Modes
Another big change for 2018 is the all-new ten-speed automatic, the same as in the F-150. In fact, the Expedition's entire structure is shared with the truck, as well as its drivetrain. This means that under its hood lies Ford's now familiar 3.5-litre turbo EcoBoost V6. Here, Ford claims 375 horsepower and 470 lb.-ft. of torque, or 400 horsepower in Platinum trim. Like its competitors Yukon and Tahoe/Suburban, the Expedition can be had in short or long wheelbase (20 cm longer) variants.
During our drive, Ford had prepared us a variety of fun circuits in order to better understand the truck's newfound abilities, such as its class-leading towing capacity (4173 kg or 9200 lbs) in comparison to the Tahoe's (3855 kg or 8600 lbs).
With a 2800-kg horse trailer hooked behind my SUV, I attacked California's steep inclines. That's where the ten-speed shined, proving itself to be refined and better suited for towing duties, whereas GM's six-speed kept hunting for the right gear, appearing stuck in some grey zone from lack of available cogs.
But my biggest surprise was the EcoBoost engine's ability to deliver ample torque during heavy uphill towing. I was expecting the 355-horsepower Chevy V8 to win this, but no; Ford's boosted V6 proved to be the brawnier one. As a matter of fact, driving these two trucks back to back revealed an entire generation gap, the Ford was by far the more refined and sophisticated one here, all while offering up to seven different drive modes to choose from.
Just As Good Off Road
Our day ended with a short off-road session behind the wheel of the Expedition FX4, an off-road trim that adds a two-speed transfer case and an adjustable suspension. The circuit allowed me to sample the Mud/Ruts drive mode, which reprograms the truck's traction control system to help it crawl its way out of muddy trails. We then tested Ford's hill decent control; it's always impressive to see an eight-passenger truck glide its way down a 28-degree incline!
Another area where the 2018 Expedition walks all over its American rival is its interior. Contrary to the Chevrolet which seems to come straight out of 1997, the Expedition shares many of its dashboard components with the Super Duty. It's an elegant, modern and well-put-together cabin that impresses by its high-end, almost Lincoln-like materials such as the fake wood on the centre console and billet transmission dial. Like in the Mustang, the gauge cluster is now 100% digital, and the leather seats found in the Platinum trim could very well make their way in your living room. They're just so comfortable and attractive.
All in all, it's difficult to fault the 2018 Ford Expedition, because it's just seems to do everything well. But it does come with its share of shortcomings. During casual driving, the ten-speed gearbox is laggy, especially during downshifts, and the EcoBoost engine still suffers from noticeable turbo lag. That's where a naturally aspirated V8 can't be beaten—when you smash the throttle, it wakes up right away. Sadly, the same can't be said about the Ford. We were also disappointed with the Expedition's fuel economy; we could barely keep the truck under the 15 L/100 km mark, which makes us wonder what the word Eco refers to in EcoBoost.
And to be totally honest, it feels like Ford studied the GMC Yukon and Chevrolet Tahoe/Suburban to the bone in an attempt to manufacture a better full-size SUV. Everywhere I went, the people at Ford kept talking to me about their competitor, as if they had made an obsession about it during the Expedition's development. That being said, whether the 2018 Ford Expedition was copied on the competition or not, it's simply an excellent large SUV that performs better than its rivals in every category.
Share on Facebook