2017 Bentley Bentayga: The King of SUVs
Strong points

Sumptuous cabin
Blistering performance
On and off-road capable

Weak points

Shocking price tag
Small infotainment screen by today's standards
Rather uncomfortable rear middle seat
Full report
They're everywhere. More and more people are in the market for one, and virtually every automaker is now offering at least one of them in their product lineup. Yes, we're talking about SUVs.
For luxury brands, selling a utility vehicle means racking up serious profits, and gives them the necessary cash flow to continue developing low-volume sports cars. Ask Porsche. Ask BMW, Mercedes-Benz and Audi. Now, you can ask Bentley and—pretty soon—Rolls-Royce and Lamborghini. Until a more powerful, sumptuous and more expensive truck hits the road, the 2017 Bentley Bentayga is the ultimate SUV you can buy.
The cockpit is every bit as lavish as in any other Bentley, trimmed with soft leather on the seats, while cowhide also adorns the dashboard, door panels and centre console. The white and purple mix of our test vehicle's interior was fabulous, but the buyer can choose any colours he or she desires. All the knobs, switches and vents are highlighted with chrome, and needless to say, fit and finish is among the best in the business.
The infotainment system is loaded with features and its touchscreen is fairly sensitive to finger poking, while the climate control buttons are well laid out. It's all simple to use, and that's what's most important. The twin analogue gauges are separated by a digital trip computer that can also display the navigation map and the four-wheel drive system at work.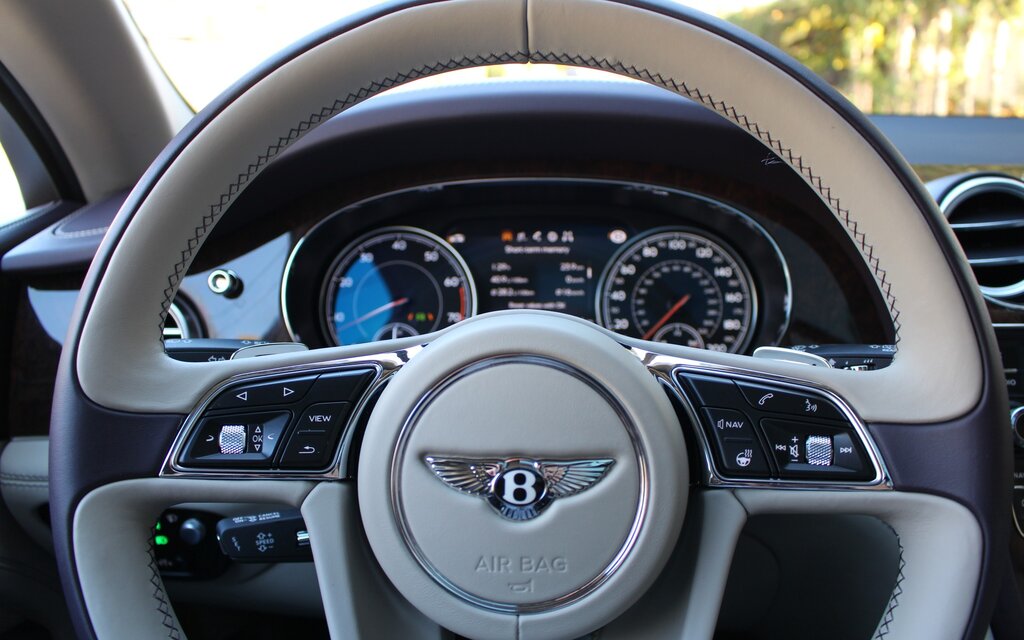 Speaking of which, the terrain selector knob offers a wide selection of drive modes for all types of surfaces. Hill descent control is also included, as is an adjustable suspension for off-roading. Who would actually take such as expensive vehicle in the boonies is anyone's guess, but it's good to know we could, if only for bragging rights. There are also sport modes for those times when we feel driving more enthusiastically. Because the 2017 Bentley Bentayga can do it all, as it's a no-compromise SUV.
Under its massive hood lies a twin-turbo, 6.0-litre W12 that's just waiting to shovel out a cavalry of 600 horsepower and a sequoia stump-pulling 664 pound-feet of torque. All that power provides the 5400-lb Bentayga with blistering performance, with a 0-100 km/h time of 4.1 seconds. If we keep out foot down on the throttle, the SUV could eventually reach a top speed of 301 km/h. Crazy, we know.
The W12 engine will consume 18.8 L/100 km of premium fuel around town and 12.2 on the highway, which actually isn't all that bad, all things considered. Yet even if the Bentayga's fuel economy was awful, would it really be a concern for its owner? What's important is that it's within reasonable limits.
And all this performance is dished out without a hint of violence of harshness. It just goes and goes really, really fast. Meanwhile, in Comfort mode, the air suspension absorbs the best cracks, frost heaves and dilatation joints our Canadian roads have to offer.
A 10-speaker sound system with eight-inch touchscreen, hard drive, navigation, voice recognition, USB and SD media inputs and Bluetooth connectivity are all standard, obviously. But why stop there? A 12-speaker, Bentley high-performance system with 700 watts of output—or even better—a 20-speaker, 1920-watt Naim system is only an option box tick away. The available rear-seat entertainment package installs two 10.2-inch Android tablets on the back of the front headrests, which are connected to the infotainment system. They can also be detached for use outside the vehicle.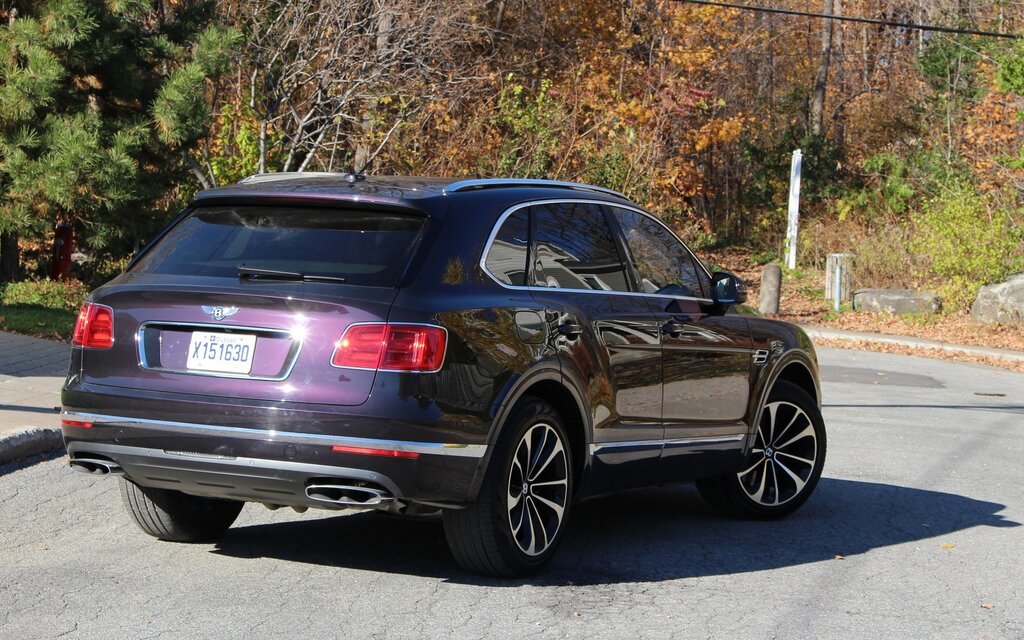 The 2017 Bentley Bentayga can also tow up to 7716 pounds (3500 kilograms) with the optional, electrically retractable hitch.
We'll skip the list of available alloy wheels, trim, wood veneer, stitching and upholstery options because we'd be here all day. However, customising a Bentayga to be unique is easy, and we can imagine how fun it would be to do so when money isn't a problem.
Speaking of which, the Bentayga starts at roughly $260,000 in Canada. The even more exquisite Mulliner edition costs $400K and up.
Direct rivals are few and far between. The Mercedes-AMG G 65 with its 621-horsepower V12 engine is one of them, but it's about to retire. One could load up a 557-hp Range Rover SVAutobiography Dynamic to $220K, or a 570-hp Porsche Cayenne Turbo S to more than $250K, but compared to the Bentley, they're just not as exclusive. The Bentayga's future nemesis will actually be the new Rolls-Royce SUV which, as this is being written, hasn't been officially unveiled and doesn't even have a name yet.
For now, the Bentley Bentayga is the reigning king of SUVs.
Share on Facebook