2018 Volkswagen Atlas: "Let's Sell Them a Big SUV"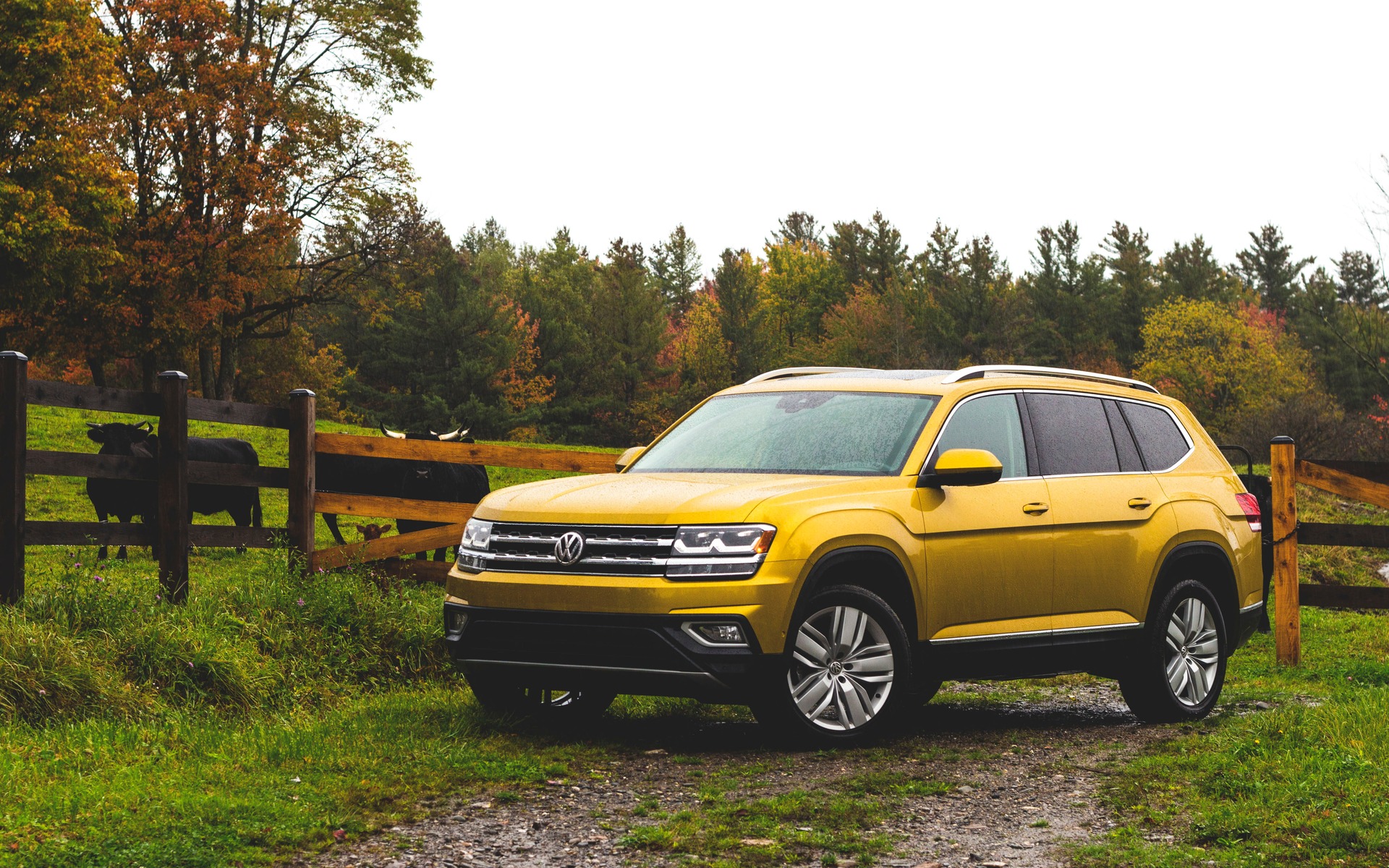 Strong points

Bold and distinctive exterior design
Attractive and well-put-together interior
Spacious and comfortable cabin

Weak points

Low on power
Stiff ride
Disappointing fuel consumption
Full report
As far as crossovers and SUVs go here in North America, Volkswagen's been playing catchup with its competition. Sure, the German carmaker has had the Tiguan and the Touareg to compensate, but in a segment where value primes over everything else, Volkswagen's combo of people haulers have long been deemed too expensive and, well, too European to make a ripple in the industry. To put things into perspective, over a 14-year run, Volkswagen sold 18,198 Touaregs in Canada. Honda, on the other hand, sold 44,780 CR-Vs last year.
If Volkswagen wants to be relevant in the seven-passenger SUV segment, it must therefore overcompensate. This is why the Atlas, the Toureg's all-new replacement, is the largest vehicle ever produced by the brand. It's also part of an aggressive SUV offense, along with the Tiguan and soon, something based on the T-Roc, to finally put Volkswagen on the shopping list of young Canadian families.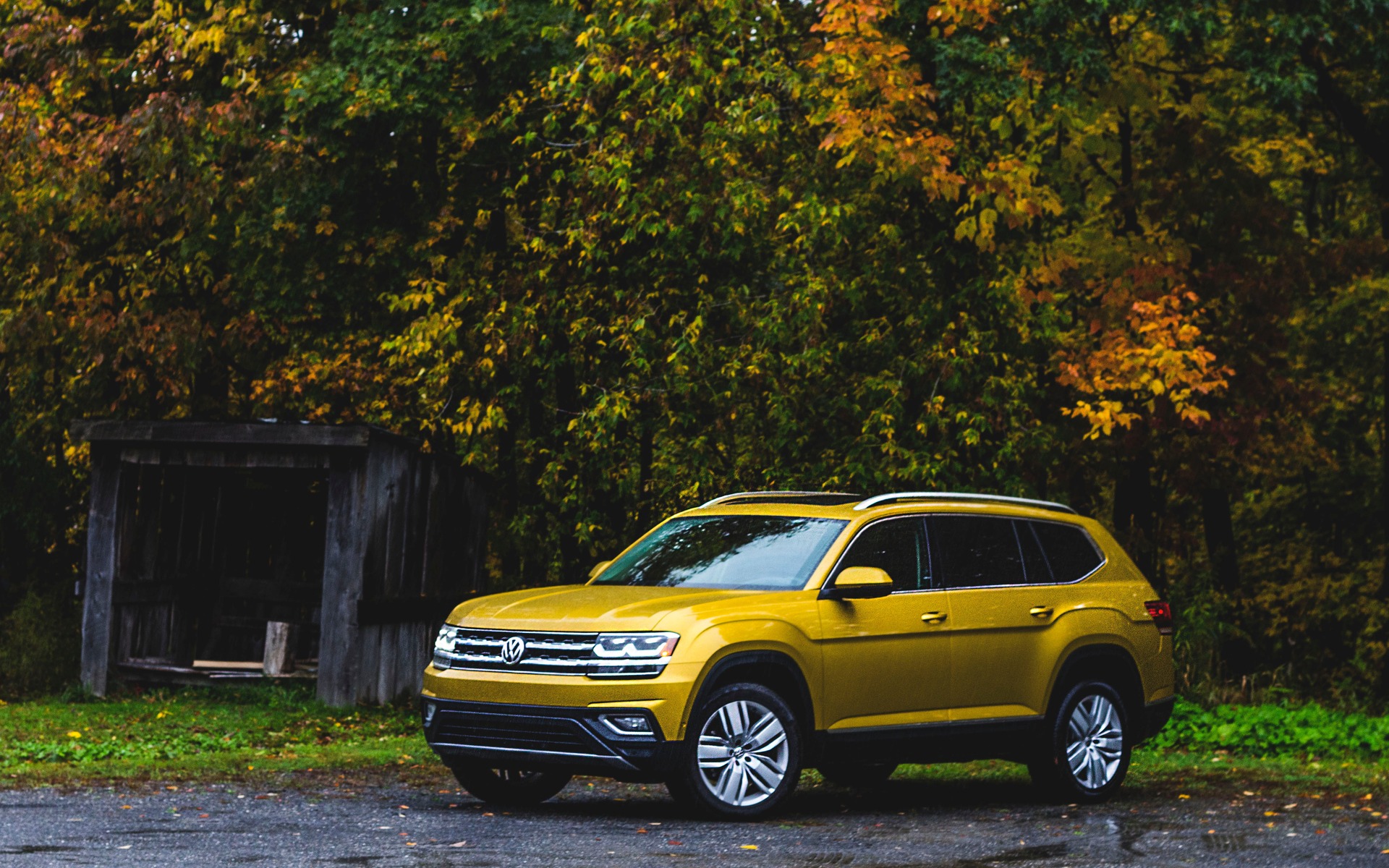 The Big Yellow Box
So, the Atlas; it's definitely brash, large and blocky. And its name sure sounds adventurous. Painted in this shade of Kurkuma Yellow Metallic paint, Volkswagen's latest people and gear hauler shouldn't have difficulty blending in with a Canadian Fall landscape. But the gargantuan proportions are no accident. If Volkswagen is to outsell its Japanese, American and Korean rivals, notably the Honda Pilot, Ford Explorer and Hyundai Santa Fe, it must out cargo them. And the Atlas executes this like a boss.
Climb aboard the Atlas' rear doors, and the adjustable second-row bench offers the legroom of a small condo apartment. But where the Atlas trumps its competitors is in third-row passenger space. It isn't only a breeze to get in and out of the rearmost bench, there's actual room for two full-size male adults back there. I'd know, because, this tester was used as a bro-shuttle to carry six millennial young men to the new Blade Runner movie. And none of them complained about leg and head room in the rear seat.
The same goes for cargo space, where the Atlas ranks among the leaders in the class. With all seats folded down, its cabin will engulf 2747 litres of your gear, besting both the Honda Pilot (2294 litres) and Dodge Durango (2407 litres). The Atlas also leads the segment in default trunk space at 595 litres, on par with the current king, the Ford Explorer.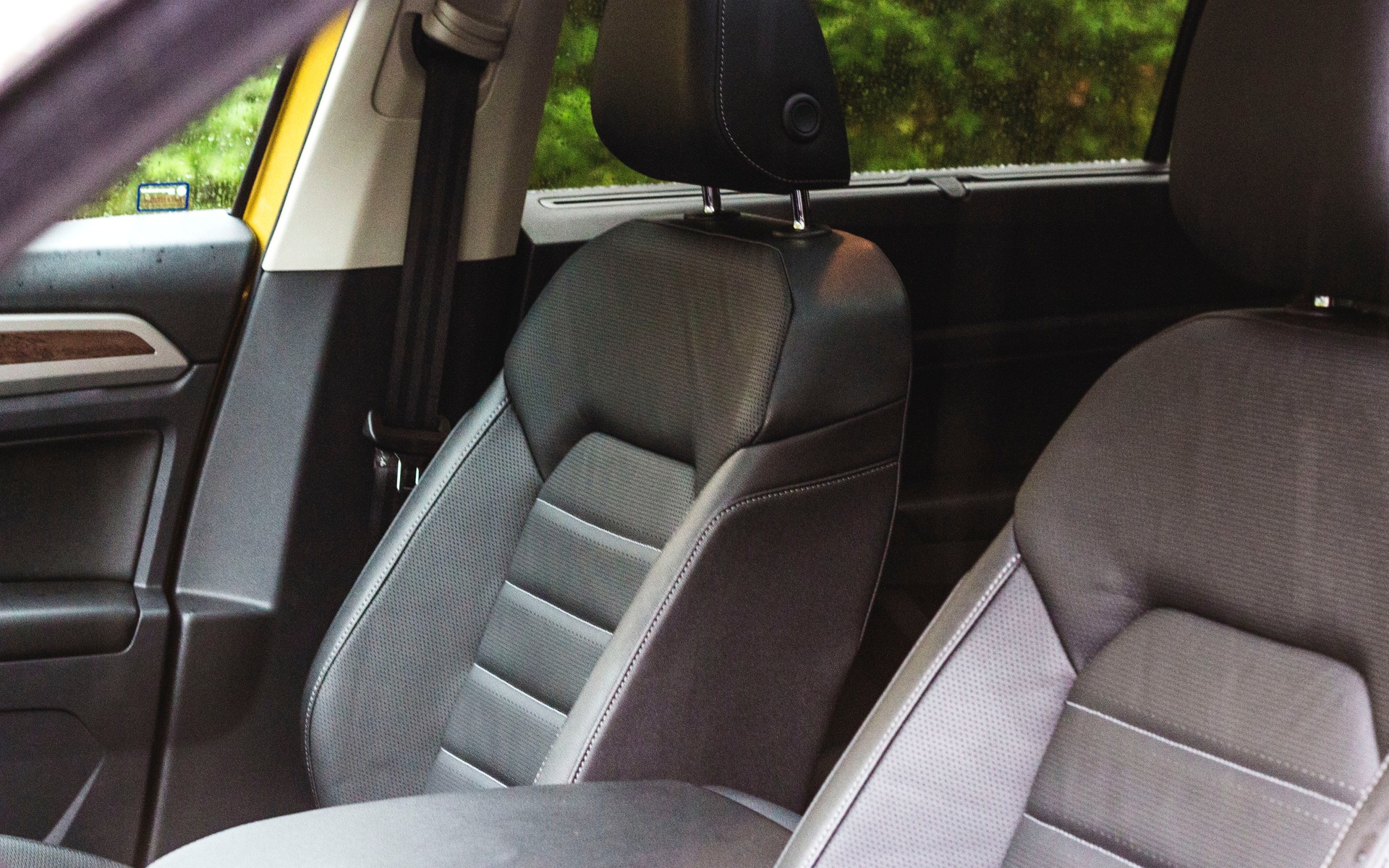 A Golf Lies Within
Another impressive technical achievement about the 2018 Atlas is the platform on which it's built. Yes, under this behemoth lies the Volkswagen group's much appreciated MQB platform, the same that also underpins, you guessed it, the Volkswagen Golf. Believe it or not, this behemoth shares a basic suspension layout with a compact car. But we won't go as far as saying that the Atlas drives like a Golf. Given its high ride height and considerable heft, body roll is more than ample and it takes several more feet than the little hatchback to get this big guy to a halt.
However, the classic Volkswagen virtues of solidity and ride quality shine through nevertheless. The Atlas demonstrates predictable and secure handling characteristics; all while remaining impeccably quiet on the road. My only caveat was a suspension damping that's a tad too firm for this class of vehicle. In many occasions, the vehicle would bang violently when driven over rough surfaces, in typical German sports-car fashion. The issue here is that the Atlas isn't a car, nor meant to be sporty. The firm ride might turn off families and have them flock back to a Honda dealership, where a Pilot with a more supple ride will wait for them.
There are two engine choices for the Atlas. Entry-level trims come with the brand's ubiquitous 2.0-litre turbo four which, according to Volkswagen, is good for 235 horsepower and 258 lb.-ft. of torque, and only available with front-wheel drive. My tester was the top-of-the-line Execline, which comes standard with the same 3.6-litre V6 that powered the Touareg. It's rated at 276 horsepower and 266 lb.-ft. of torque. 4MOTION all-wheel drive is of course standard with this unit and an eight-speed automatic is the only gearbox available across the Atlas lineup.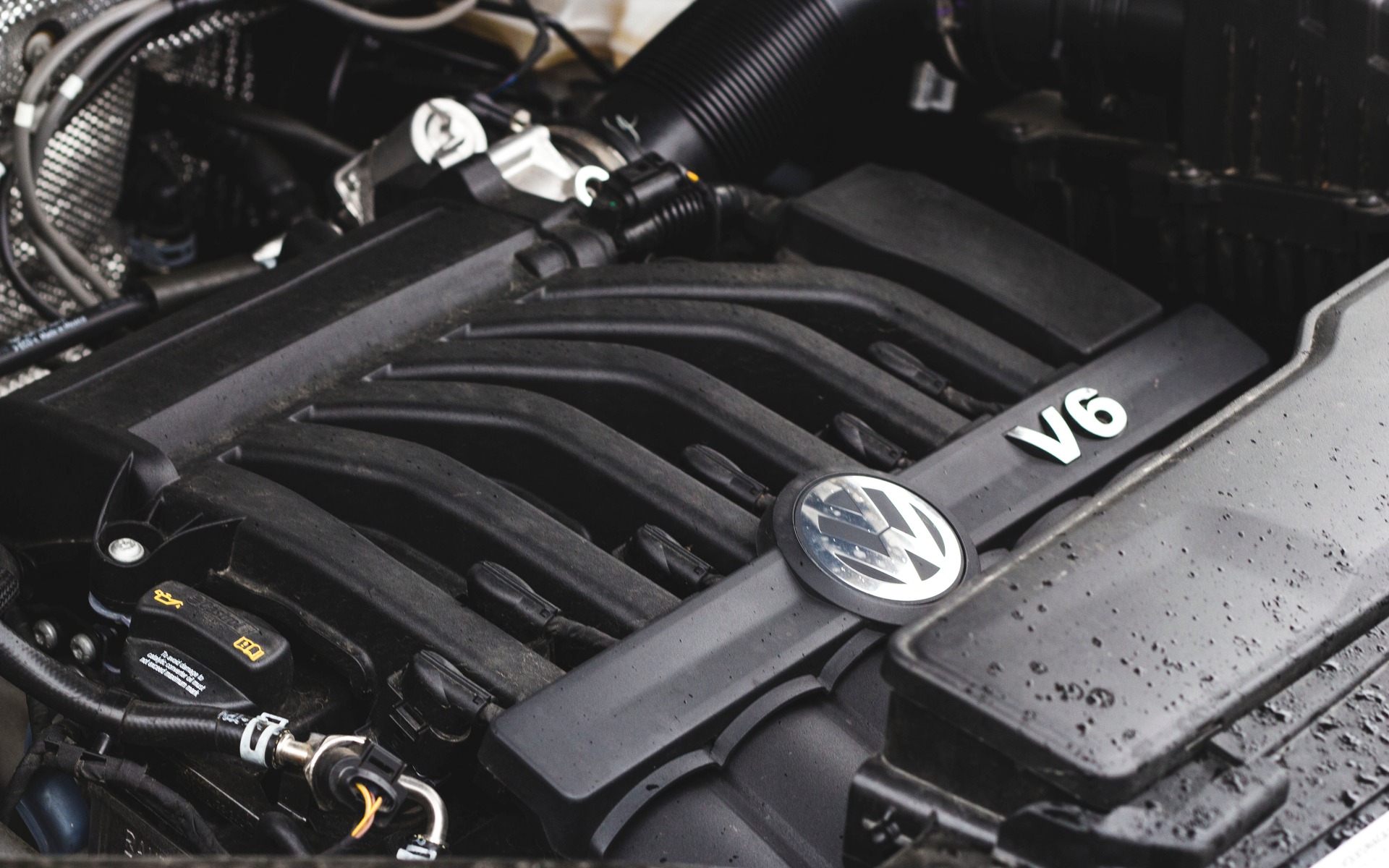 On the road, the V6 is smooth and refined, but lacks the immediate throttle response of Honda's 3.5-litre V6. The Atlas is also slow and sluggish, recording a 0 to 100 km/h time in the vicinity of 7.9 seconds. Meanwhile, a GMC Acadia accomplishes the same stunt almost two seconds faster. The eight-speed automatic is the Atlas' mechanical strongpoint, with quick, smooth upshifts and immediate, seamless downshifts that adapt well to throttle modulation. But I was disappointed with the Atlas' fuel economy. I barely managed to keep the rig under a 14 L/100 km average. Again, the Honda will hang in the mid-tens.
Looking Good, but a Bit Cheap
Another area where the Atlas shines is in the looks department. The squared-off proportions give it a nice truck-like demeanour that almost evokes a Mercedes-Benz G-Wagen or an old Land Rover. Inside, again, impeccable fit and finish and an almost Audi-like premium feel give the Atlas a stylish edge over its rivals. But some hard plastics in the door panels and questionable fake wood trim on the dash reveal a hint of cost-cutting, similar to what's found in the Jetta. Remember, the Atlas isn't built in Germany. It's built in Tennessee to be sold at a more affordable price tag. And it shows.
Meanwhile, Volkswagen's 8.0-inch touchscreen-operated infotainment system remains a leader in terms of ergonomics and user experience. Controls are easy to comprehend, menus are quick to find and the interface is attractive, clean, and simple. A total of four USB ports can be found across the cabin to connect your digital toys.
In Execline trim, the Atlas comes standard with a full of array of standard features, such as adaptive cruise control, a 360-degree camera system, remote start, three-zone climate control, a Fender premium sound system as well as Apple CarPlay and Android Auto connectivity.
Granted, the 2018 Volkswagen Atlas is an inevitable reaction to a booming segment and it misses the mark on performance and fuel economy. However, a distinct appearance, ample interior volume, and class-leading cargo space should finally allow Volkswagen's big ute to matter for young Canadian families. At the end of the day, it feels great to finally find a Volkswagen SUV that's actually suited for the realities of North American consumers.
Share on Facebook