2017 Jaguar XE: Growl or Purr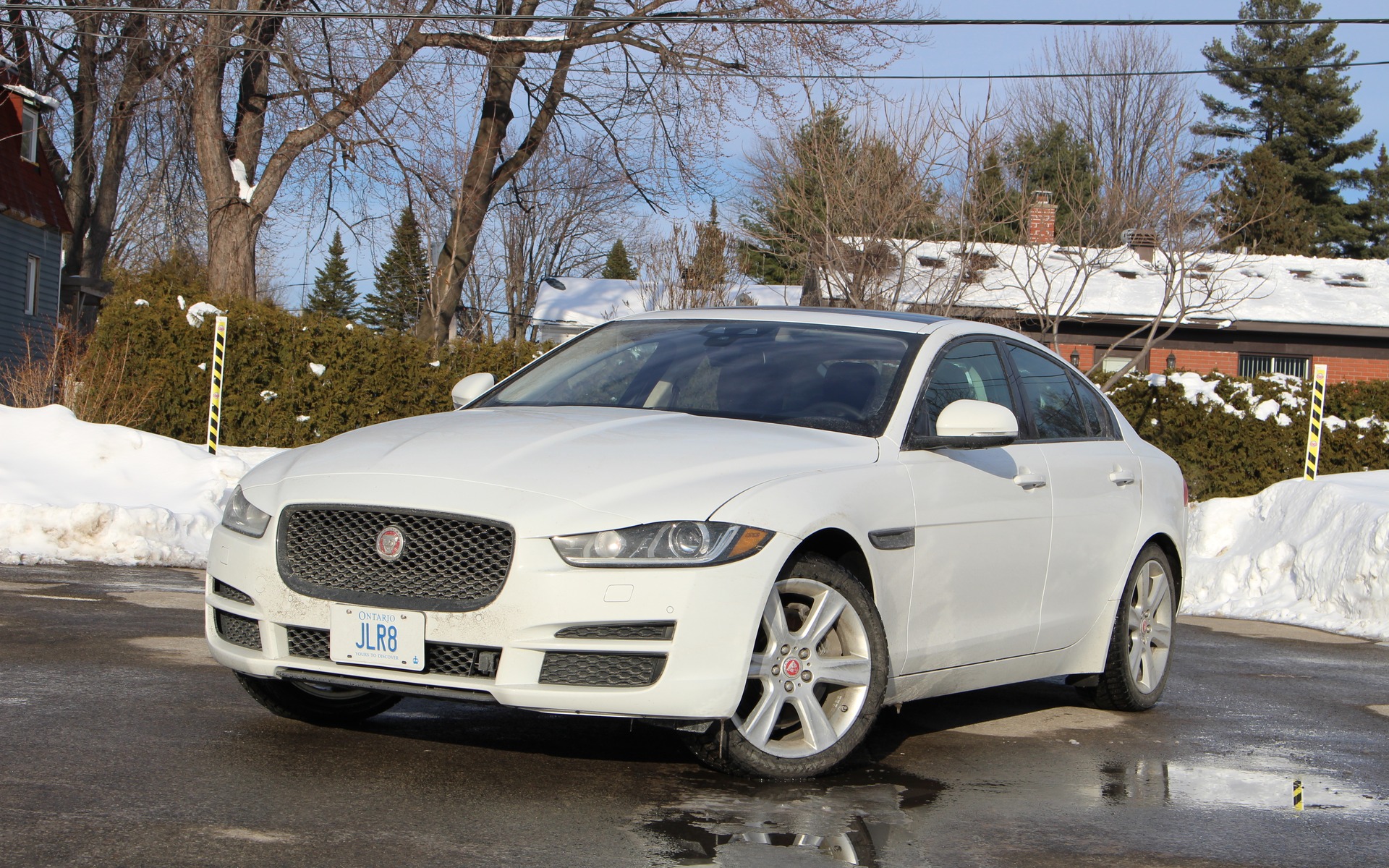 Strong points

Thrifty diesel engine
Good looks
Superb handling

Weak points

Conservative interior finish
Tight back seat
Unproven reliability
Full report
In a quest to boost their sales numbers and remain competitive with rival luxury brands, Jaguar introduced the compact-sized XE for the 2017 model year. Aimed at the Audi A4, the BMW 3 Series, the Cadillac ATS and the Mercedes-Benz C-Class, among others, the XE also targets a younger audience that may not have considered the Jaguar brand before.
As one would expect, the XE quickly became the brand's best-selling car, but was overshadowed by the simultaneous launch of the Jaguar F-PACE, their first SUV in history.
To attract as many buyers as possible, Jaguar smartly gave the compact sedan a selection of powertrains, and each XE sold in Canada is fitted with all-wheel drive as standard—another smart move. A 340-horsepower, supercharged, 3.0-litre V6 is the gasoline option (dubbed 35t), but a turbo-diesel, 2.0-litre four (20d) is available as well for high-mileage drivers.
We tested a diesel-powered 2017 Jaguar XE, which boasts a modest 180 horsepower, but a generous torque peak of 318 pound-feet between 1750 and 2500 rpm, managed by an eight-speed automatic transmission. Jaguar claims a 0-100 km/h time of 7.9 seconds, which feels about right. However, this isn't a quick-revving (read: exciting) engine; it gets the car accelerating off the line quickly, but power tapers off as the tach needle climbs past the 3000-rpm mark. This is obviously a diesel engine characteristic.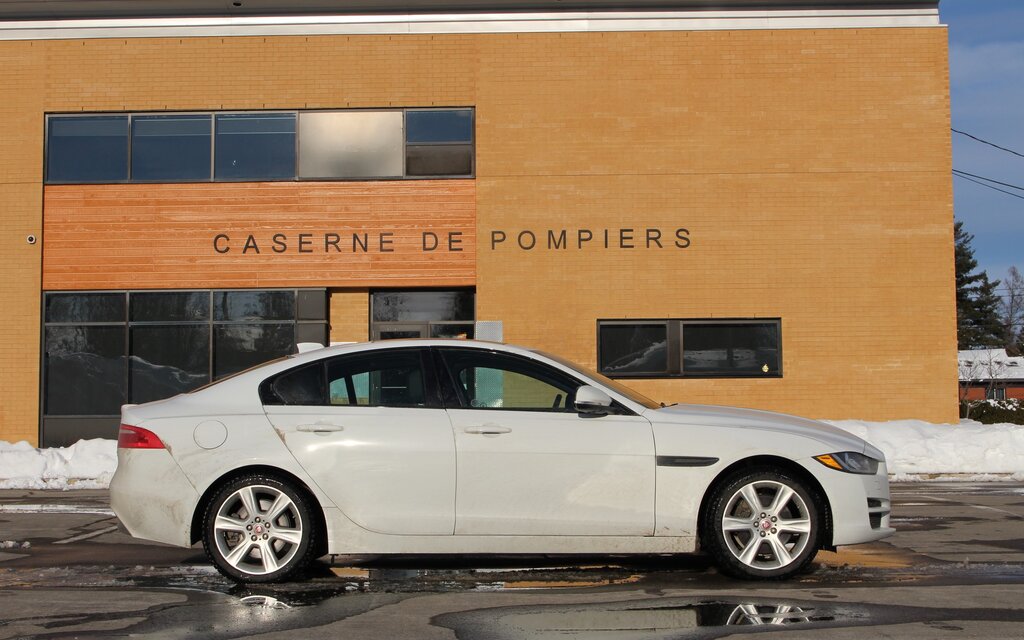 On the flipside, the Ingenium 20d engine does deliver good fuel economy. It's rated at 7.8 L/100 km around town and 5.8 L/100 km on the highway, or one-tenth better than the BMW 328d's numbers. During our test, which included a round-trip drive from Montreal to Toronto, we ended up with an average of 5.8 L/100 km, a very good result.
If our daily commute mostly consists of highway driving, the diesel engine is an interesting choice. The downside here is that diesel fuel pumps at gas stations are usually dirty and smelly, and we're more likely to step into a puddle of diesel, because people tend to overfill their tanks. Major turn-off.
The 35t engine is much livelier and suits the XE's playful personality much better. However, as the 2018 model is arriving into Canadian dealerships, this engine is being replaced by a gasoline turbocharged, 2.0-litre four, in 25t and 30t designations, producing 247 and 296 hp respectively. If we prefer the smoothness and power of a six-piston engine, we have to settle for the new, 380-hp Jaguar XE S— one of the most expensive of the model range.
Back to our XE tester. Inside, its cockpit was dressed up with piano black trim, which looks rather bland and gets dusty very quickly. Its rivals can be configured with various wood trim options, which provide a more luxurious touch. The infotainment system works well and the touchscreen is fairly responsive to finger poking, and we recommend opting for the InControl Touch Pro package and its 10-inch display.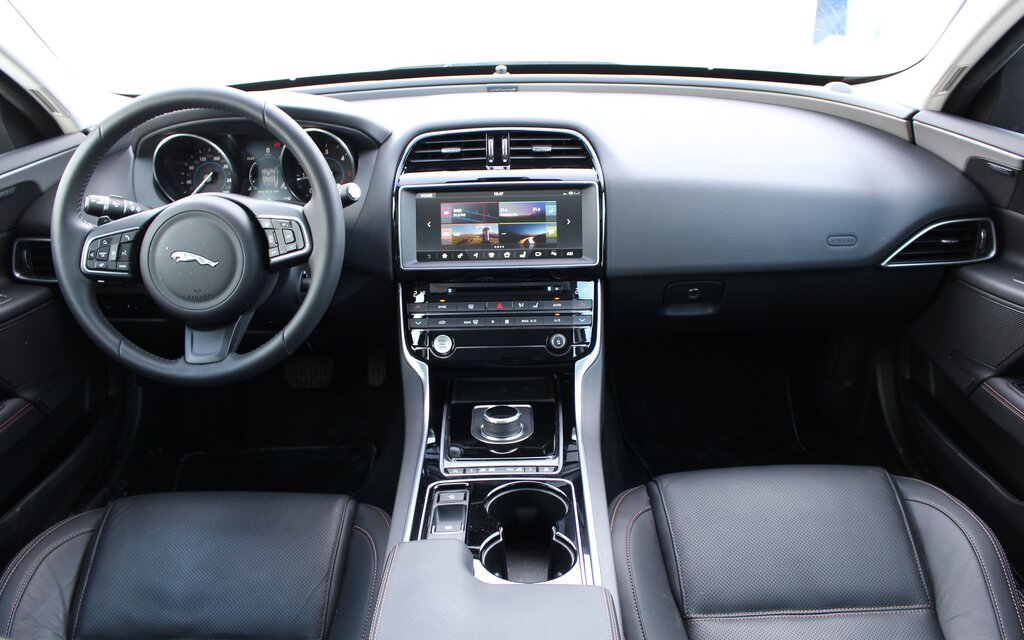 The 2017 Jaguar XE is a small car, so interior space isn't all that great, although its competitors aren't really better in that regard. The rear-seat area is particularly snug, and climbing in an out requires body torsion we forgot we had—or have lost as we got older. On the other hand, trunk space is fine at 450 litres. A word on the windshield washer fluid filler neck which, despite its regular-sized cap, is really small; filling up the tank on a cold and windy winter day is a splashy, painstaking experience.
The XE's handling is excellent, and the car doesn't mind being flung into corners. Jaguar's engineers seems to have worked hard to create a stiff chassis and keeping weight down to a minimum. The AWD system sends power to the rear wheels for a sportier feel, but the slippage occurs, it can shift up to 100% of available power to the front wheels. In a curve, torque vectoring can apply a little brake pressure to the inside wheels so the XE can carve its way around the bend. The diesel engine can't keep up with the car's abilities, but as we said earlier, choosing a gasoline engine does help a lot.
Pricing for the XE 20d starts at $45,000 before freight and delivery charges, while our test car's options and packages pushed the tab up past $55K. It's pretty much in line with what the competition charges for their compact sport sedans.
We like the fuel economy the diesel engine delivers in the 2017 Jaguar XE, but if we're not covering great distances every day, we'd choose another engine for some extra character to match the car's handling prowess. We also wish the cabin was a little cheerier, because as much as the XE is attractive on the outside, when we're behind the wheel, all we see is the inside. As equipped, our test car felt more like a house cat than a jaguar.
The XE is a great little number and Jaguar is wisely adding more powertrain choices for 2018. There's nothing truly compelling here to convince BMW and Benz loyalists to move to England, but those who do should be pleasantly surprised.
Share on Facebook