2017 Volvo V60 Polestar: Exclusive Family Hot Rod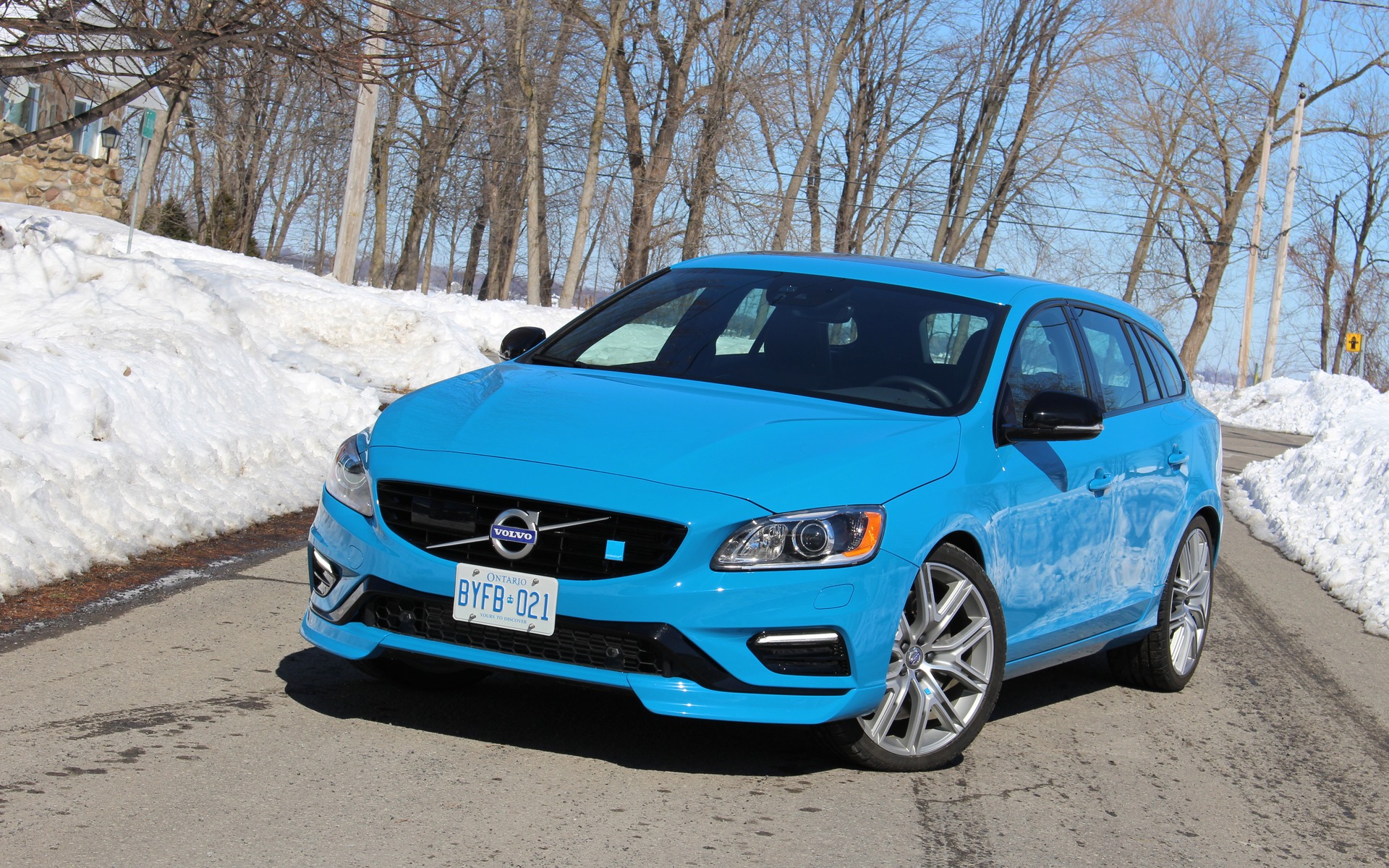 Strong points

Power and fuel efficiency
Versatility
Excellent seats

Weak points

Infotainment screen too small and not touch-sensitive
Harsh ride around town
Underwhelming engine soundtrack
Full report
It isn't easy for a luxury automaker to rival the established German brands—Audi, BMW and Mercedes-Benz, of course—and especially when it comes to high-performance models.
Some markets have a greater fondness for products developed by Audi Sport, BMW M and Mercedes-AMG, and Canada is one of those. We're amongst the biggest consumers of these performance vehicles, and for Volvo, that's low-hanging fruit for its Polestar models.
For now, we only get the Volvo S60 Polestar and V60 Polestar, but buyers of the brand's other models can add performance kits and accessories in order to sharpen their road manners and benefit from a few extra ponies.
We like the S60 sedan, but being automotive journalists, we can't hide our affection for wagons, which are both beautiful and more practical. The 2017 Volvo V60 Polestar draws attention with its Rebel Blue paint, its aerodynamic add-ons and its giant 20-inch alloy wheels.
Under the hood, the Swedish automaker installed a new engine this year. Since Volvo now relies solely on their Drive-E powertrain for all their models, it replaced the old turbo 3.0-litre six with a turbocharged and supercharged, 2.0-litre four-cylinder engine. This little, but muscular lump develops 367 horsepower and 347 pound-feet of torque, managed by an eight-speed automatic transmission that sends this cavalry to all four wheels. According to the manufacturer, the 0-100 km/h dash is cleared in 4.8 seconds, which seems optimistic by a few tenths. The car can nonetheless blast off like a rocket.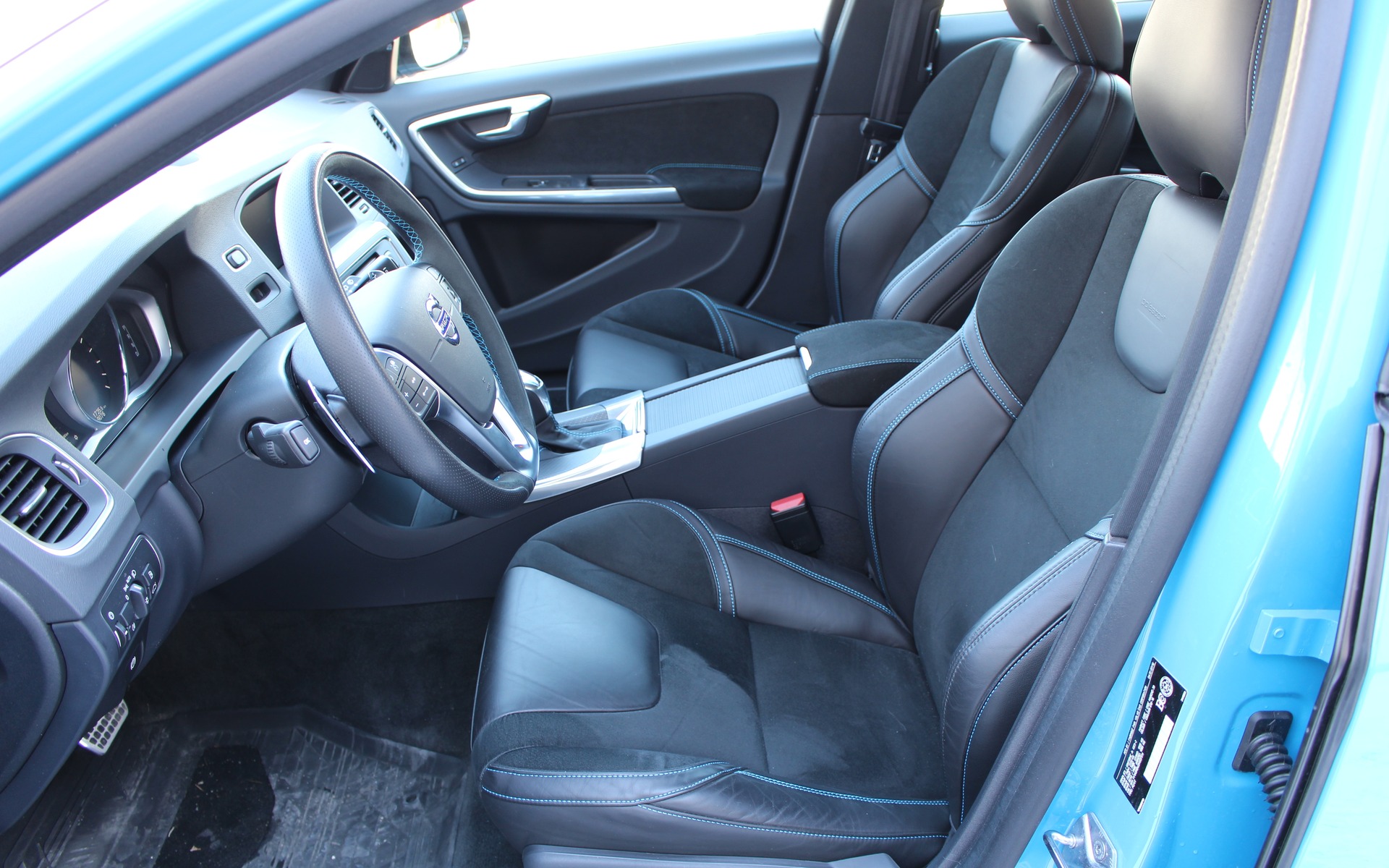 The old turbo six produced 345 hp and 369 lb.-ft., so in regards to straight-line performance, the difference is negligible. However, the four-cylinder's sound isn't as melodious, which is a shame, but fuel economy has improved by about one litre for every 100 km. The 2017 model boasts city/highway ratings of 11.8/8.5 L/100 km. During our test, which included a back-and-forth trip from Montreal to Toronto, we averaged 9.4 L/100 km, which isn't bad at all.
The brakes are extremely powerful with six-piston Brembo callipers and 371-mm discs up front. In order to make the V60 more agile, Polestar installed 80% stiffer springs and Öhlins dampers, in addition to 245/35ZR20 tires. The sidewalls of these gumballs are thin—very thin—and on badly maintained roads, we'll feel every crack, bump and pothole. Combine that with a very stiff suspension, and the result is a less-than-confortable ride. Not a problem on smooth highways, but around town, it's exhausting. This car could really use an adjustable suspension to adapt to various road conditions.
The 2017 Volvo V60 Polestar's cockpit design is sober, although build quality is rigorous and the leather/Nubuck (simulated suede) sport seats look pretty good. Unfortunately, the S60 and V60 are the last models developed before the brand's "renaissance," and haven't yet received the elegant new design treatment that amazed us in the XC90, S90, V90 and XC60.
So, we must deal with a small infotainment screen, that isn't touch-sensitive, as well as a cluster of buttons on the centre stack. Around them is a faux-carbon fibre trim panel that doesn't look very convincing. At the seats are magnificently comfortable and supportive, a Volvo trademark.
As expected, the V60's cargo hold is roomy—at least, for the compact-sized car—with flat-folding rear seatbacks and a wide hatch opening. There's also a swing-up panel that prevents our grocery bags from spreading their contents across the cargo floor.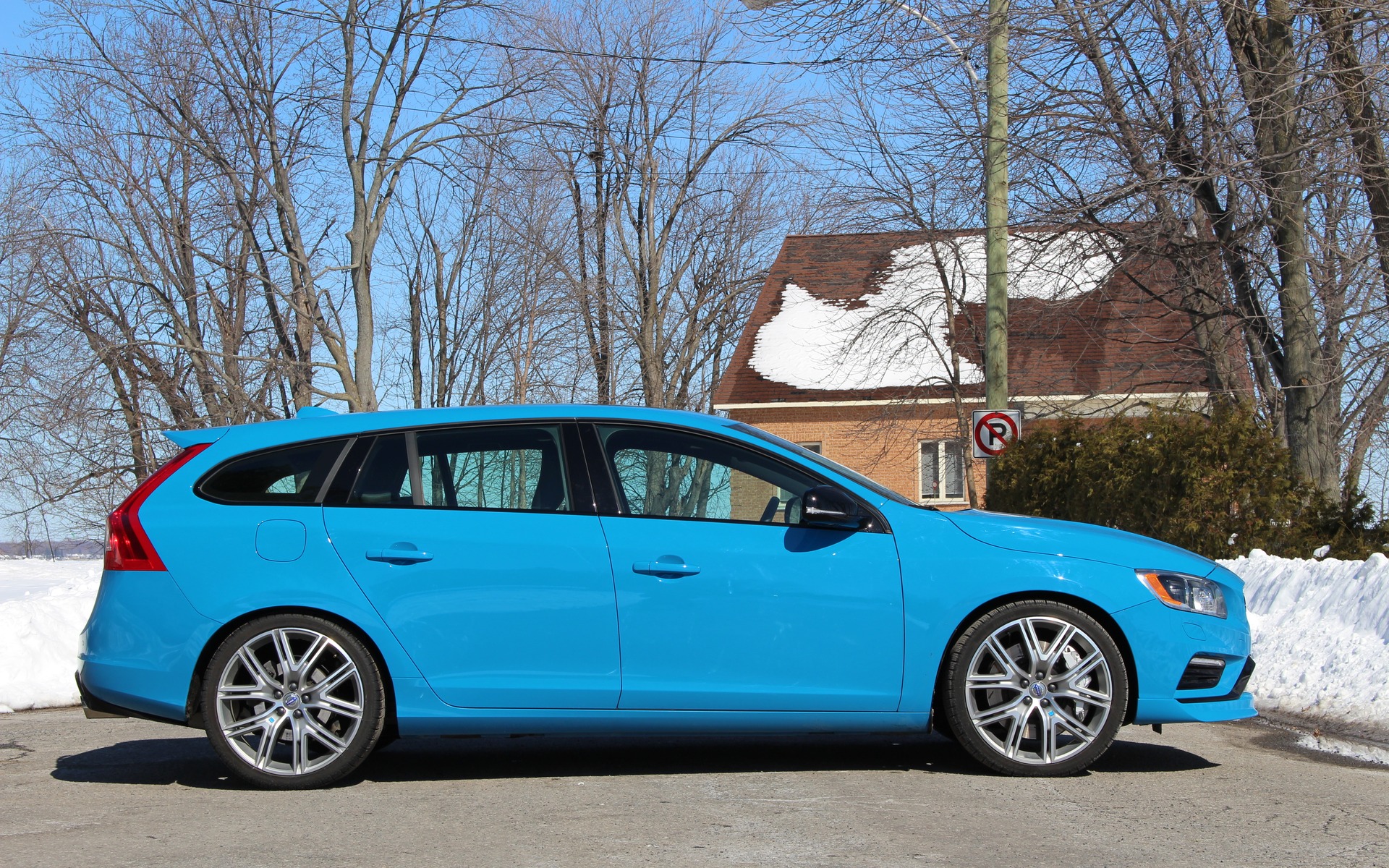 For now, the V60 Polestar doesn't have any direct competitors on the Canadian market. We'll end up comparing it to SUVs such as the Audi SQ5, the Mercedes-AMG GLC 43 or the BMW X4 M40i. AT $69,000 before freight and delivery charges, its price is rather high as well. The only option is paint colours. In short, if blue is too flashy for our tastes, we can choose Bright Silver Metallic instead. That's it.
This performance-infused wagon is fast, agile and stylish, but it's not perfect. Its suspension is really stiff, its interior design is starting to look its age and it's not a bargain. And yet, it remains an interesting product for its uniqueness, and its limited production makes it exclusive, so you won't see one on every street corner.
We'll point out here that Volvo announced the electrification of all their cars and SUVs starting in 2019, which means all their combustion engines will always be accompanied by an electric motor. Moreover, Polestar's future will also consist of hybrid or fully electric powertrains.
Share on Facebook