2017 Subaru BRZ Inazuma Edition: Blinded by the Light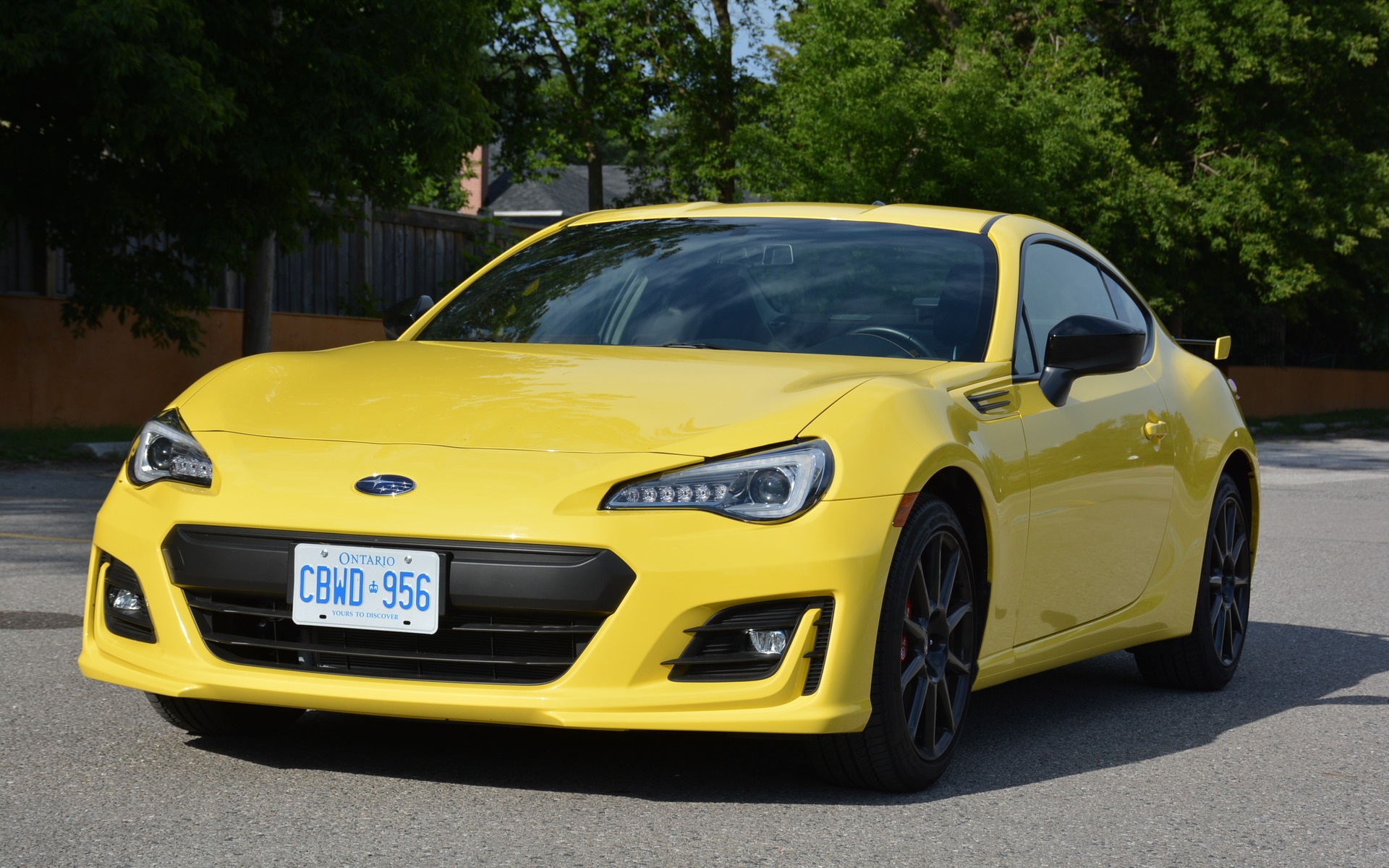 Strong points

Sharp special yellow paint colour
Direct handling
Yellow trim enhances interior

Weak points

Poor infotainment unit
Tight rear seats
Can feel each bump
Full report
The Subaru BRZ, first introduced jointly with Scion and its FR-S in 2012, added a low-cost, fun-to-drive sports coupe to the market. It allowed the typical driving enthusiast a chance to experience that low-to-the-ground sports-car feel, along with Subaru's signature boxer engine in a rear-wheel-drive package for under $30,000.
The same still applies now; the two-door BRZ coupe starts at $27,995, and the FR-S has evolved into the Toyota 86, following the Scion brand's discontinuation. However, if you're looking for a little something extra and don't want to jump into the luxury price bracket, Subaru has developed a variant called the Inazuma Edition—a special offering that means "flash of lightning" in Japanese.
If you've driven a BRZ in the past, you know that term isn't literal. The Inazuma Edition receives the same 2.0-litre boxer engine with the same horsepower count at 205, but it does receive a whole lot of cosmetic flashes of goodness, plus upgrades to its brakes and suspension.
Through its modest bump in price to $32,695, a compelling argument for purchase is made. Now, the key is to see how special the Inazuma Edition really is.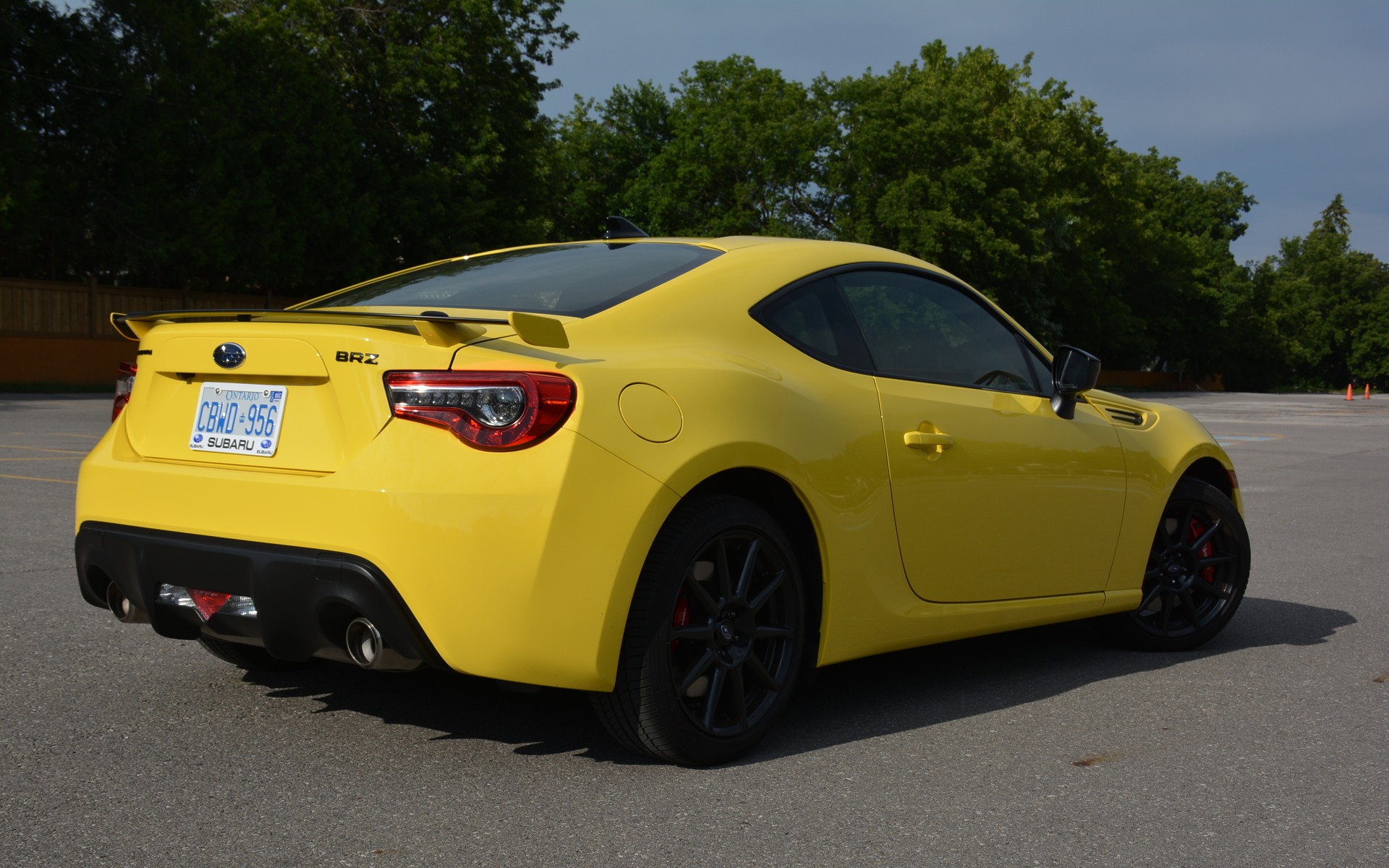 What comes in the Inazuma Edition?
The Inazuma Edition ups the BRZ's performance levels with exclusive Brembo brakes and Sachs suspension dampers. Coupled with dark 17-inch lightweight aluminum-alloy wheels, the BRZ is able to stop at a quicker rate and improve its stability and handling.
The rest of the package adds a lot of flair to the ride. An exclusive and bright yellow paint job with black outside mirrors makes sure you're noticed, and that yellow touch continues on the inside on the door handles, as well as a stitched trim on the steering wheel, six-speed manual shift lever (the only gearbox available in the Inazuma), parking brake lever, dashboard as well as leather and Alcantara sport seats.
A fun-to-drive experience now gets you noticed
As you slide into its low, but comfortable seating, the 2017 Subaru BRZ just feels raring to go. Start it up, and you don't feel much thunder; however, that quickly changes the second you drop the clutch and ease down on the accelerator. Let me correct that, there's no easing down. This thing creates a ruckus with a lot of high-revving, especially up to third gear and beyond, thanks to a high torque curve.
For its young and trendy-type buyer, this all makes sense. It goes hand-in-hand with its rear wing and dual spoiler look. However, for stop-and-go traffic, its loose clutch and very short first gear can get annoying. Keep in mind, this coupe is for the driver that likes a lot of gear shifting—it's definitely a workout.
Once you hit the open road, those annoyances go away, and that extra grip and steering precision brings you back to why this coupe has a lot going for it. The Inazuma only enhances that experience keeping it steady and flat, and that's not from Subaru's all-wheel-drive setup, as the BRZ is Subaru's rear-wheel-drive exception for that extra initial burst of speed, improved cornering and better weight distribution.
For the regular BRZ, the output numbers of 205 hp and 156 lb.-ft. of torque seem spot-on., but you would expect a little more oomph in a special-edition package. Nonetheless, the ride is geared to drive hard and hit that redline—a rarity when you're not on a track. At the same time, each bump and crevasse is felt, but it really doesn't matter when you're tossing around corners with such ease and a big grin on your face.
Verdict
In the end, the 2017 Subaru BRZ Inazuma Edition is all about fun. That's the whole concept behind the BRZ—this one just adds some unique touches and upgrades to aid in its look and driving experience.
Is there a need to spend another $5,000 for this special edition?
Probably not, considering the base BRZ is almost equally as fun to drive. However, if you wish to stand out from the pack, it's a nominal fee compared to other special variants, and its bright yellow colour will definitely get you noticed.
Share on Facebook