2017 Subaru Forester: Black Sheep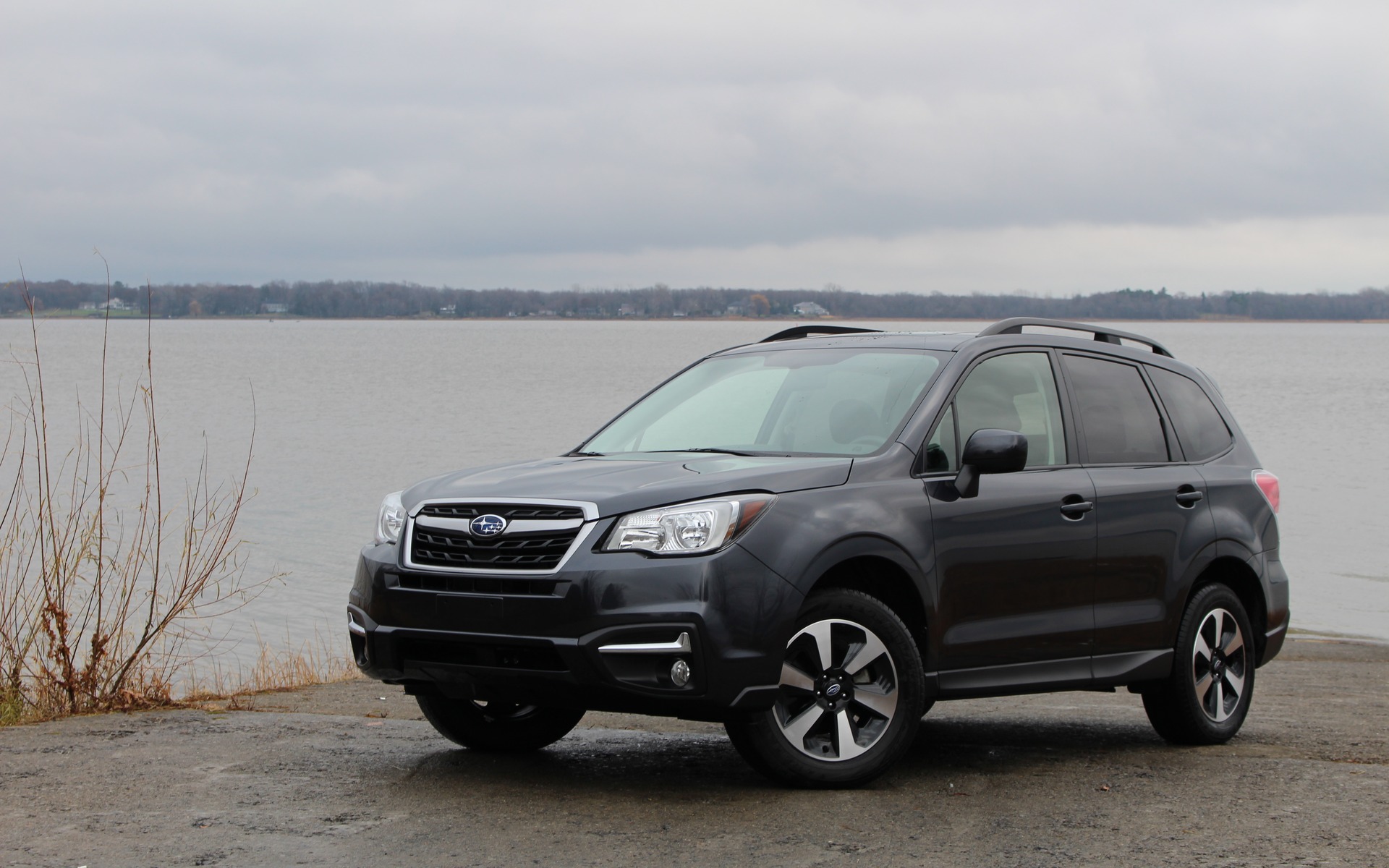 Strong points

Off-road and all-weather capability
Excellent outward visibility
Fuel efficient engine

Weak points

Slow-revving engine
Unexciting interior design
Numb on-centre steering feel
Full report
Subaru always stood out from the competition with its uniqueness, although some prefer to call it "quirkiness." Being different doesn't necessarily result in high sales volumes, especially in some very conservative market segments such as the midsize sedan class, but in others, it can be an advantage. In the case of the 2017 Subaru Forester, it refuses sticking to the cookie-cutter design that's currently spreading across the compact SUV field.
The Forester no longer looks like the box it came in when it first arrived on the market in 1998. However, it distinguishes itself from its rivals with a low beltline and a high roofline, which means a larger window surface and excellent outward visibility all around. Its design may look dated, but it actually received some updates for 2017, including new front bumper and grille as well as reshaped headlight clusters and taillights. All trim levels except the base 2.5i benefit from new alloy wheel designs, and a Sepia Bronze Metallic has been added to the colour palette.
The cockpit is largely unchanged compared to last year's model, and its design won't win any prizes on its own. The overall look is bland, and some elements could be improved upon. One such element is the trip computer and climate control display that sits on top of the dashboard; the information is there, but the graphics look archaic, and the control button fussy. On the other hand, fit and finish is pretty good.
Most Forester variants come equipped with a 6.2-inch touchscreen, while the Limited trim levels benefit from a larger, 7.0-inch unit that incorporates pinch and swiping gestures. They're a little small, but they work well, although their tactile sensitivity and menu layout aren't as slick as some of its competitors' systems—FCA's Uconnect and Ford's SYNC 3 come to mind.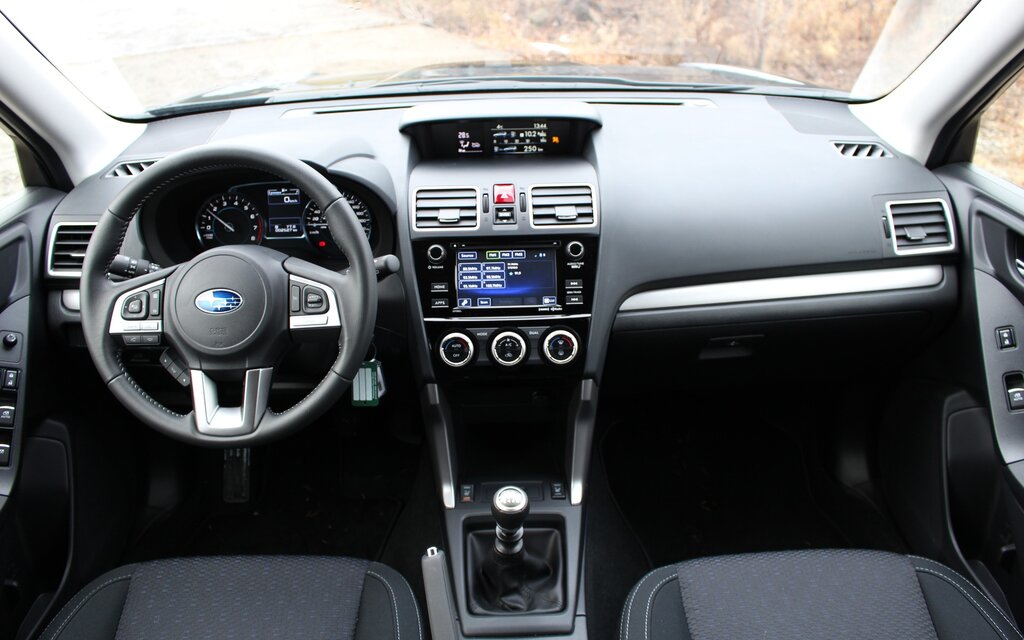 Seat comfort is excellent, the front centre armrest slides to accommodate elbows of folks who sit closer to the wheel, and there's a good amount of room for back-seat passengers, enhanced by a low transmission tunnel in the floor. Cargo space is amongst the roomiest in the compact SUV segment, and the rear seatbacks fold down to create an almost flat load floor. From a versatility standpoint, the 2017 Subaru Forester scores.
The Subie is capable, too. It's the only one in its class to feature full-time all-wheel drive, and for those who like to row their own gears, a six-speed manual is still available on a couple of low-buck trim levels. Not many SUVs can be equipped with a manual gearbox, and combined with all-wheel-drive, the choice narrows down even more. Our test vehicle was equipped as such, and while it works decently well, the manual won't make this SUV feel like a WRX. For those who prefer an automatic transmission, the Forester's continuously variable unit works like a charm.
On the other hand, the horizontally opposed, 2.5-litre four-cylinder engine doesn't sound very refined, although it's less noticeable when bolted to the CVT automatic, which keeps engine revolution to a minimum. It's a typical Subaru engine growl that the brand's loyalists have grown accustomed to, but SUV buyers stepping into a Forester for the first time might not be all that impressed.
Still, it has improved over the years, and its output of 170 horsepower and 174 pound-feet of torque are sufficient for getting the Forester up to speed swiftly. If that's not enough, a 250-hp, turbocharged 2.0-litre four is available in the 2.0XT trims—strapped to the CVT only.
Despite the full-time AWD hardware, which splits power from 60/40 front/rear to 50/50 according to road conditions with the CVT automatic, or sets a fixed 50/50 ratio with the manual gearbox, fuel economy is very good. An automatic Forester boasts city/highway figures of 9.2 / 7.4 L/100 km; only the newly redesigned 2017 Honda CR-V can do better with its turbo 1.5-litre engine.
The Subie's boxer four might not be rev-happy, but at least it's efficient. On the other hand, consumption rises noticeably with the six-speed manual, with city/highway ratings of 10.2 / 8.2 L/100 km. We averaged 10.3 L/100 km during our test.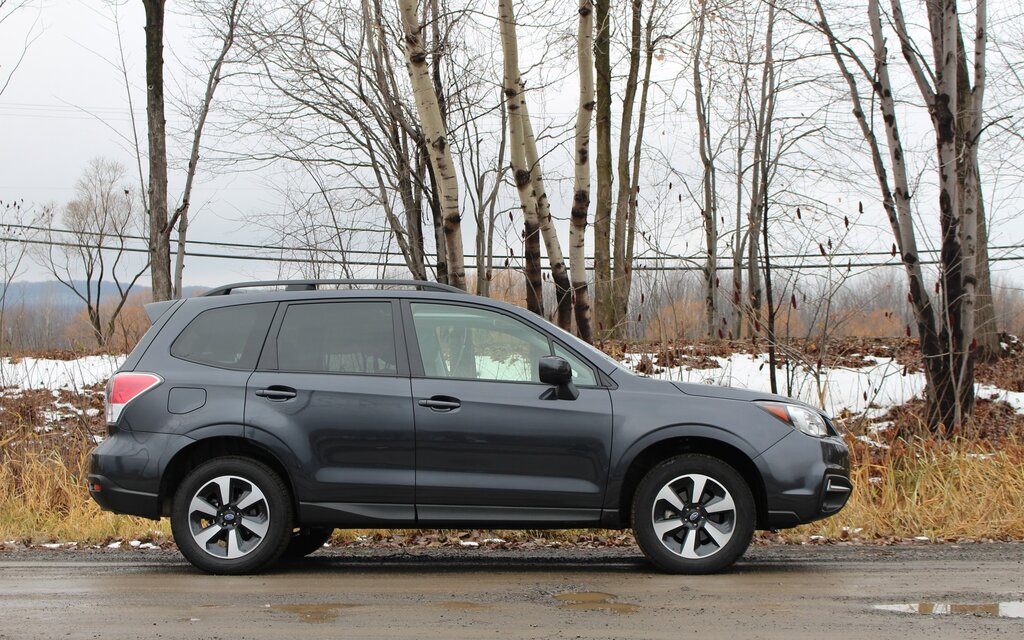 Pricing starts at a low $25,995 before freight and delivery charges, or $27,295 if we choose the CVT automatic, which the vast majority of buyers will. High-end versions with the turbo engine will push the price up to nearly $40K, while the 2.5i Touring, at $31,795, is a good deal as it includes many useful features in addition to a panoramic sunroof. Subaru's excellent EyeSight safety system, which rounds up precollision warning with emergency braking, lane keep assist and adaptive cruise control, is only $1,500 away.
The 2017 Subaru Forester isn't as refined as rivals such as the aforementioned CR-V, the Mazda CX-5, the Toyota RAV4 and the Nissan Rogue. It's got more character, though, and that's one of the things that make it the black sheep of its segment. For people who like to live outdoors and need a vehicle to bring to off the beaten path, the Subie is tough to beat. However, if running errands and picking up the kids at daycare is the toughest tasks we'll ask our compact SUV to do, there are more suitable choices on the market—being the ones we just mentioned above.
Share on Facebook