2017 Toyota Highlander Hybrid: Checks all the Boxes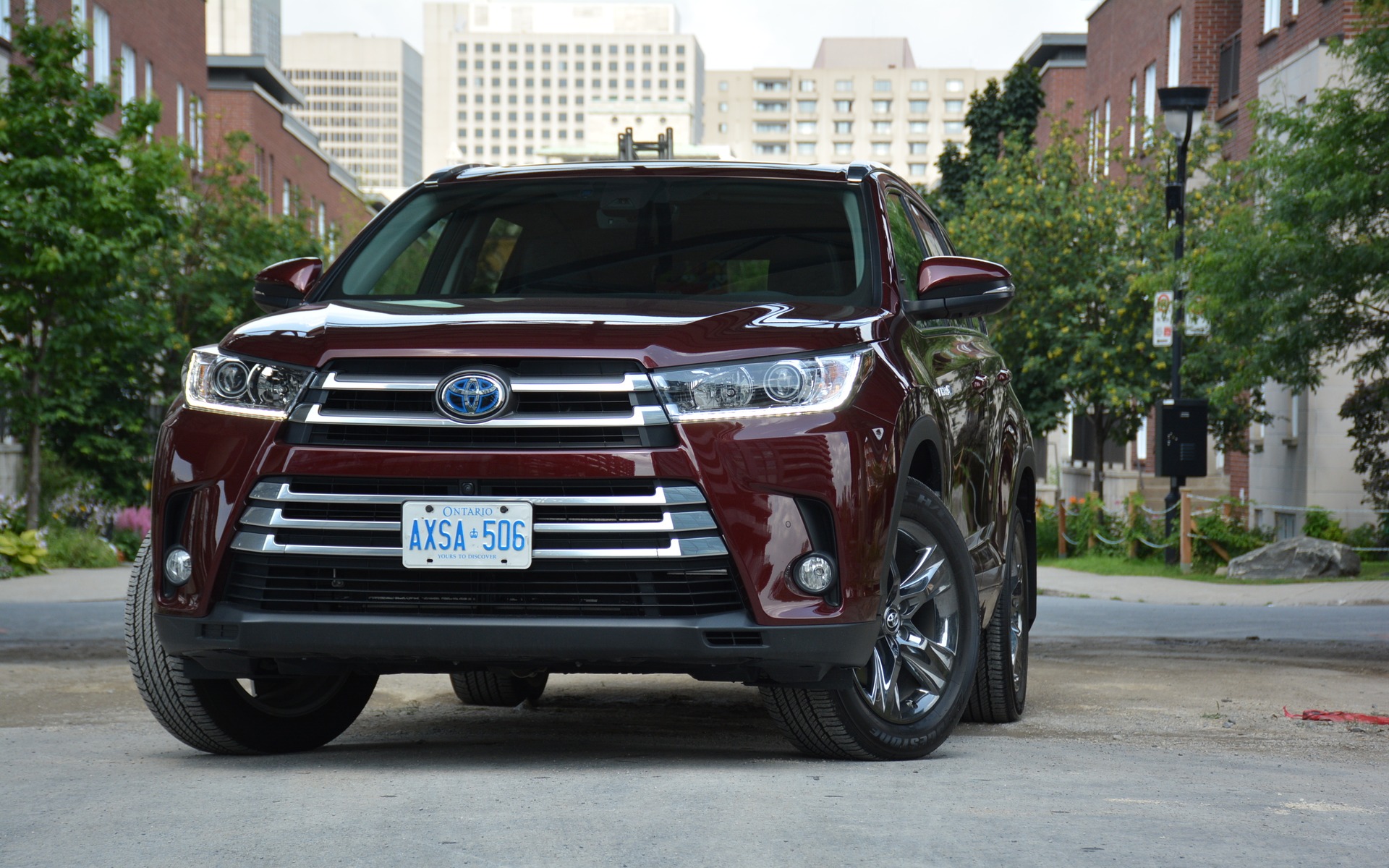 Strong points

- Choice of configuration
- Interior quality
- Fuel economy savings

Weak points

- Styling could go further
- Third row for children
- Price can escalate
Full report
When you think up the quintessential family vehicle – the Toyota Highlander comes to mind. It's reasonably-priced, showcases plenty of versatility, and has all the amenities and comforts a family may need in a no-fuss three-row vehicle.
So, when it was time to choose a vehicle for a family road trip from Montreal to Quebec City, eventually concluding in Toronto – the 2017 Highlander seemed to check most of the boxes. However, there's one very important box that hovers above every road trip – and that's gas costs. But since the Highlander has an option for everything, I was able to get the Hybrid variant to save on expenses.
The Hybrid version only comes in two trims: XLE and Limited. The Limited version receives the typical luxury additions that include heated and ventilated perforated leather seats, a dynamic backup rear view camera, Bird's Eye View Monitor and LED Ambient lighting.
That's all fine and good, but one major difference between the two trims that I didn't realize, are found in its middle-row configuration. The Limited version only comes with seating for seven with two Captain's chairs in the second row and bench seats for three in the back. The XLE, on the other hand, receives space for eight with both the second and third row treated to bench seating.
There are pros and cons to both, but if you're travelling with five adults, the XLE would have been the better fit. It might not have been an ideal configuration for this trip, but a key takeaway is the amount of consumer choice provided; and that's all you can ask for.
Styling and interior comforts
The Limited trim receives cosmetic enhancements as well, starting with its horizontal-chrome slat grille that comes with the perfect accent of blue around the Toyota logo to distinguish it as a hybrid. This new treatment adds some aggression, but not in a convincing way. Yes, there are angles and cuts, but it doesn't do enough to reach that 'cool' factor; rather the cone-shaped grille design reminds me more of Flattop Jones, a fictional villain from Dick Tracy – and that's not a great thing.
Overall, the longer shape and stance seem to hold well amongst its rivals, but the true test like all mid-size SUVs and minivans, occur on the inside. The ease of entry into the back row is average at best after a lever-pull and push forward, but once everyone is situated in their seats, the Highlander shows off its ample headroom and legroom. The only person suffering is the adult in the third row, so make sure to put the smallest person in that position; it's really meant for children.
Once on the move, the most important feature for a mid-size SUV is showcased; and that's comfort. Its perforated leather seats are plush and relaxing, and along with its soft-touch materials, it's hard to realize you're in a Toyota, and not of the Lexus variety. In this 14-hour, 1,300-km excursion, split into three days, there was no point my back started to hurt, and I can't say the same for all vehicles, including many luxury haulers.
Another positive is its abundance of technology with four USB ports, Siri Eyes-Free and an upgraded JBL audio system with 12-speakers. Limited-trim customers receive heated and ventilated leather seats, heated seats in the second row along with their own climate control functions, a heated steering wheel, panoramic sunroof and an easy-to-use eight-inch infotainment unit.
The only negative towards the infotainment was its navigation. There are ways to change the display, such as getting a list of future turns, but it has to be done each time its used. The default display setting is confusing at best by displaying the streets you're bypassing – an annoyance that should be corrected.
Even though one seat was upright in the third row, the Highlander managed to pack in its fair share of luggage including five carry-on suitcases, gym bags and backpacks, and that's without disruptive the rear window visibility. In total, the Highlander Hybrid has 1,189 litres of cargo space behind the second row and 385 litres behind the third.
Hybrid savings
The 2017 Highlander Hybrid provides a quiet and smooth drive. Its smooth nature starts in acceleration, capturing that instant 306 lb-ft of torque, and continues until cruising speed. All of that is thanks to its 306-hp 3.5-litre V6 that uses two electric motors and is matched to an electronically-controlled continuously variable transmission (ECVT) that causes a little droning when pushed, but not too noticeable once you get used to it.
Handling is right up to snuff, as anything with a base curb weight of 2,230 kg can be. The Highlander isn't a vehicle to be pushed, and when in transit at normal speeds, in performs more car-like on turns without feeling that hefty poundage.
The Highlander not only looks planted, but stays that way in motion with plenty of road balance from its standard all-wheel-drive setup that's complemented by smooth and predictable braking. It managed to weave its way through the narrow old parts of Quebec City with room on each side to spare. As a bonus, the Highlander can show its versatility by tapping into its truck-side with 1,587.6 kg (3,500 lb.) of towing capacity.
However smooth the Highlander's ride is, the biggest impact the hybrid makes is in the wallet. It should be noted that the price tag comes at a surcharge of roughly $6,000 when comparing XLE and Limited gas to hybrid (the starting Highlander LE FWD is at $35,500), but I was able to manage a combined 8.6 L/100 km throughout the road trip. Considering the Limited AWD gas version combines for 10.6 L/100 km, it would appear that the hybrid version would make up for those costs rather quickly.
Verdict
The 2017 Toyota Highlander Hybrid offers families all that's needed from a reliable, practical and cost-savings checklist. Toyota has created an SUV that can be customizable by the client. Do you want seven or eight seats? Gas or Hybrid? These are key dealership decisions that eliminate thoughts of the competition.
Its drive is smooth, yet unremarkable, but what seven- or eight-seat hauler exhibits an action-packed ride? With real-world fuel economy results at 8.6 L/100 km in a 2,230 kg vehicle that's carrying five passengers and their luggage, it's hard to argue against a practical and reliable choice.
Share on Facebook