2017 Toyota Prius Prime at AJAC EcoRun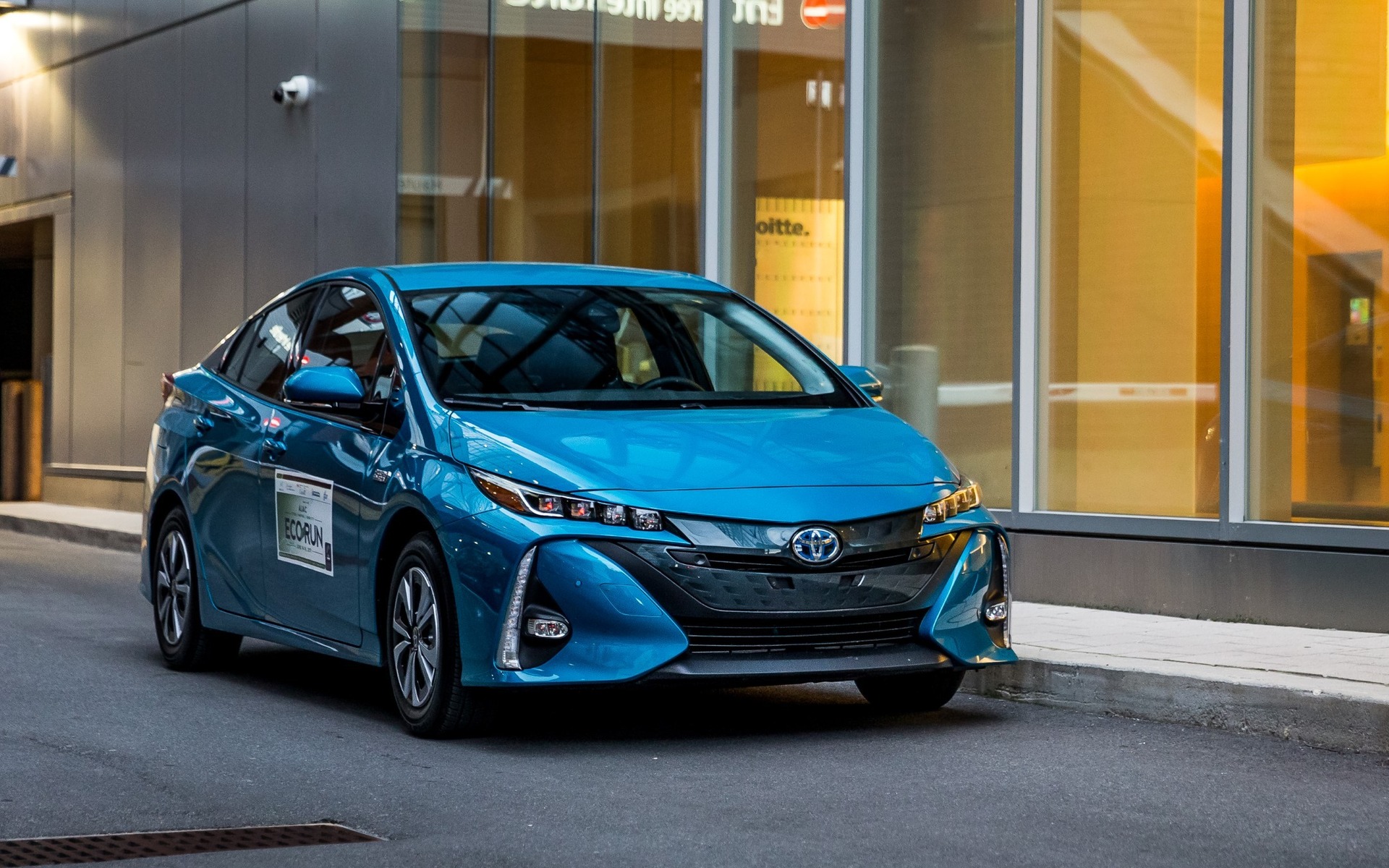 For its first year on the Canadian market, a limited number of units were available, so Toyota decided to initially launch the car in Quebec. For the 2017 model year, the plug-in hybrid version of the Toyota Prius will be exclusive to La Belle Province, where the majority of electrified vehicles are bought in Canada.
The 2017 edition of EcoRun, an annual event organised by the Automobile Journalists Association of Canada, travelled from Ottawa to Quebec City. It was a good opportunity to sign up the Prius Prime so journalists could spend some time behind its wheel.
The Toyota Prius Prime is motivated by a 1.8-litre four-cylinder engine, an electric motor and a continuously variable automatic transmission. This hybrid system produces a combined 121 horsepower, a modest output, but the car is fairly light at 3364 pounds (1526 kg), so performance isn't too sluggish. However, like the other members of the Prius family, we can't say that the Prime is particularly thrilling to drive.
Thanks to its 8.8-kWh battery pack, the Prius Prime can run on electricity alone for a distance of about 40 kilometres, at a maximum speed of 134 km/h. A full charge can be accomplished in only two hours on a 240-volt outlet, or in 5.5 hours on a household 120-volt plug.
Obviously, driving range will vary according to our driving habits and outside temperature. During the two days of the EcoRun event, journalists were able to practice their eco-driving techniques to squeeze out an average of 3.3 L/100 km, or a tenth of a litre less than the car's combined city/highway fuel economy equivalent rating published by Toyota, based on test procedures established by Natural Resources Canada.
As for me, I drove the Prime on one of eight legs of the event, from Sainte-Adèle to downtown Montreal. In evening rush-hour traffic. And the car couldn't be plugged in before I hit the road, so the best I could muster was 3.9 L/100 km.
The 2017 Toyota Prius Prime starts out at $32,990 before freight and delivery charges, and its equivalent fuel economy rating is pegged at 1.8 Le/100 km, making it one of the most energy-efficient on the market, including both PHEVs and EVs. In addition, in Quebec, buyers are entitled to a government rebate of $4,000, applicable after adding sales taxes.
Is the Prime an interesting car? Definitely. It lacks character and has some shortcomings, such as the absence of a rear window wiper, sound insulation that needs a little improvement and an infotainment system with a large touchscreen that's somewhat distracting to use while driving. However, it's a technologically advanced and very fuel efficient car that's comfortable for four adults.
See also:
2017 Chevrolet Cruze diesel at AJAC EcoRun
2017 Hyundai Ioniq Hybrid at AJAC EcoRun
2018 Lexus LC 500h at AJAC EcoRun
2017 Mazda MX-5 RF at AJAC EcoRun
2017 Nissan Versa Note at AJAC EcoRun
2017 Toyota Mirai at AJAC EcoRun
Share on Facebook