2017 Toyota Camry Hybrid: Low on Excitement, High on Dependability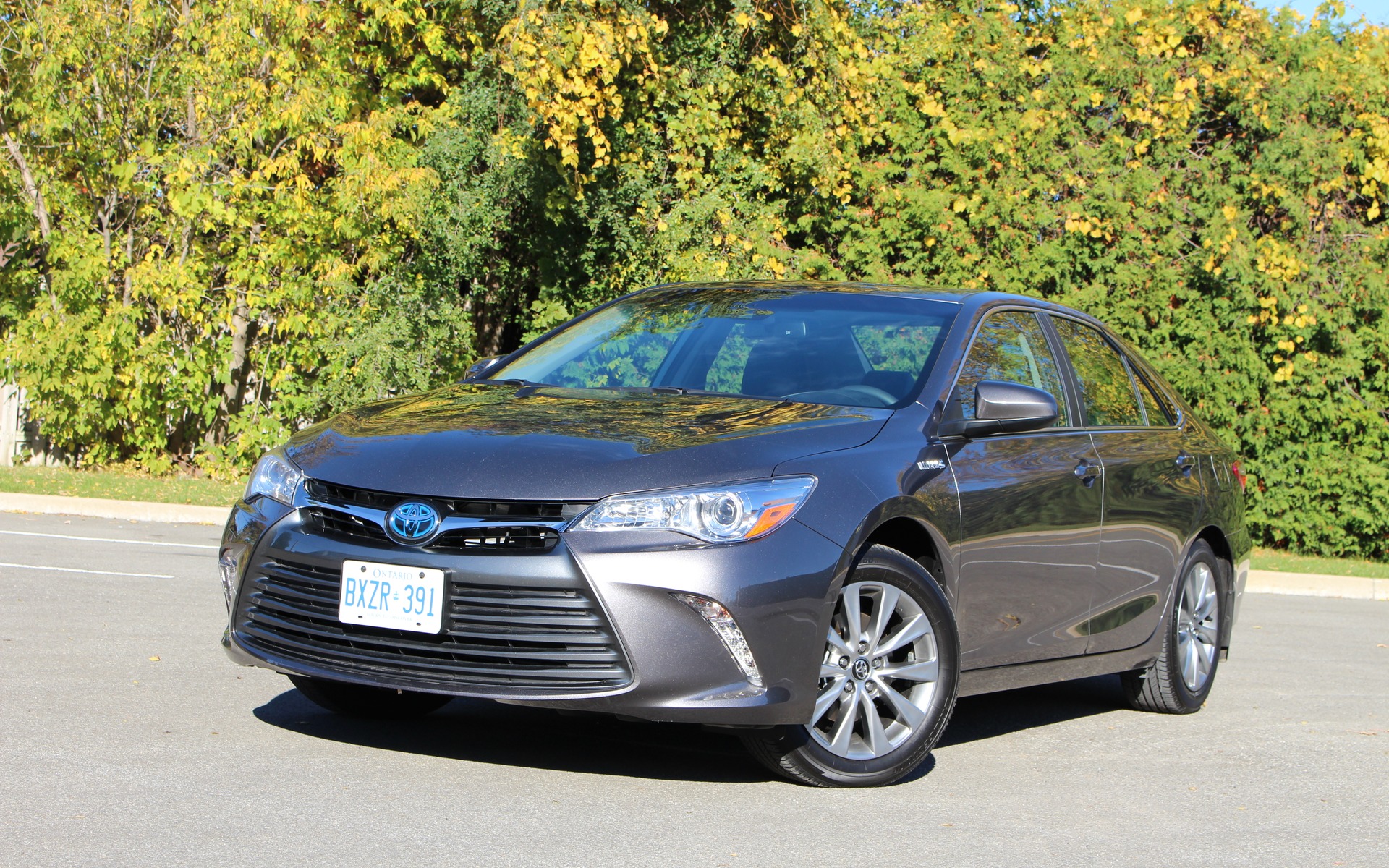 Strong points

Fuel efficiency
Comfortable ride
Spacious cabin

Weak points

Forgettable driving experience
Low on cargo space
Hybrid version not more efficient on the highway than the regular Camry
Full report
In order to succeed in the midsize sedan segment, one must design and build a car that's comfortable, spacious and quiet. It also has to be highly efficient, as sales show that about 85% of segment buyers go for the base engine instead of the more-powerful V6 or turbocharged four. These customers are clearly not interested in driving performance above saving money at the pump.
The 2017 Toyota Camry Hybrid has all those bases covered. Of course, so does its main rivals, the Honda Accord Hybrid, the Ford Fusion Hybrid, the Hyundai Sonata Hybrid, the Kia Optima Hybrid and the Chevrolet Malibu Hybrid. So how can the Camry set itself apart from this crowd of very solid sedans? By maintaining its reputation of reliability, comfort and efficiency. It sounds simple, but it's actually pretty tough.
For the Camry's starting price of $25,170 before freight and delivery charges, we get a 2.5-litre, four-cylinder engine that develops 178 horsepower and 170 pound-feet of torque, managed by a six-speed automatic. A conventional powertrain that provides enough muscle for the daily grind, and that boasts city/highway fuel economy numbers of 9.8/7.1 L/100 km.
On the other hand, with an MSRP of $29,770, the 2017 Toyota Camry Hybrid boasts a powertrain that relies on the same gasoline engine, but that runs on an Atkinson cycle—basically more fuel-efficient, with a little less power. However, it's supported by an electric motor and a continuously variable automatic transmission to produce a combined output of 200 horsepower and 156 pound-feet.
Performance between the two powertrains ends up being quite similar, but the Camry hybrid is a little noisier during full-throttle acceleration. The real difference resides in fuel economy, with city/highway ratings of 5.6/6.2 L/100 km. That's for the base LE Hybrid; due to the bigger tires and additional equipment, the SE and XLE editions of the Camry Hybrid are rated at 5.8/6.3.
Compared to the regular four-cylinder Camry, the hybrid versions are barely more efficient on the highway, much more frugal around town. Simply put, if our daily commute involves a lot of high-speed travelling, this powertrain might not be the best choice, considering the price difference. Of course, the same can be said about pretty much all hybrid vehicles on the market, but every one of the Toyota's aforementioned rivals can do slightly better.
Around town, though, the 2017 Toyota Camry Hybrid is great. The mix between gas and electrons is well managed, and the car can run in EV-only mode, if only for small distances at speeds of up to about 45 km/h. Over the course of our test week, we averaged 5.7 L/100 km. Again, the Accord and the Malibu are particularly efficient in the urban jungle, although we're talking about only a few tenths of a litre of fuel for every 100 km.
Fuel economy aside, the 2017 Toyota Camry Hybrid is a smooth operator, gliding over bumps and cracks and offering a comfortable journey for all occupants. The car isn't particularly fun to drive, with vague steering feel and an overall lack of character to the powertrain, but it's not a chore either.
Our $36,670 XLE Hybrid tester sported leather upholstery with contrast stitching, while the base LE trim gets cloth and the sporty—no chuckles, please—SE variant benefits from sport seats with faux-suede surfaces. Front-seat power adjustments are standard on all three, while only the SE and XLE get heated seats.
Interior fit and finish is pretty good, there's plenty of space for everyone, and the infotainment system is easy to use. When plugging in a USB stick, Toyota's system allows us to search for songs by title, artist name or genre, but we can't simply dig through unsorted folders. Bummer.
Just like all its midsize sedan rivals, one of the Camry Hybrid's big drawbacks is trunk space. Installing the battery pack reduces volume from 436 litres in the regular Camry to 371. It's still useful to fetch groceries, but the pass-through to the rear-seat area is about a foot wide by a few inches high. A pair of skis will fit. Maybe.
Otherwise, the 2017 Toyota Camry Hybrid is a comfortable, fuel-efficient, dependable and worry-free sedan that's positioned in the same price range as its competitors. Sure, it's a little bland, but if we're looking for driving excitement, the Camry likely won't be on our short list to begin with. However, the 2018 Toyota Camry will be redesigned and boast edgy new styling, revised powertrains and, according to the automaker, a more dynamic drive. Those who prefer unexciting cars should check out the 2017 edition sooner than later.
Share on Facebook