2017 Hyundai Elantra: Hitting the Mark Again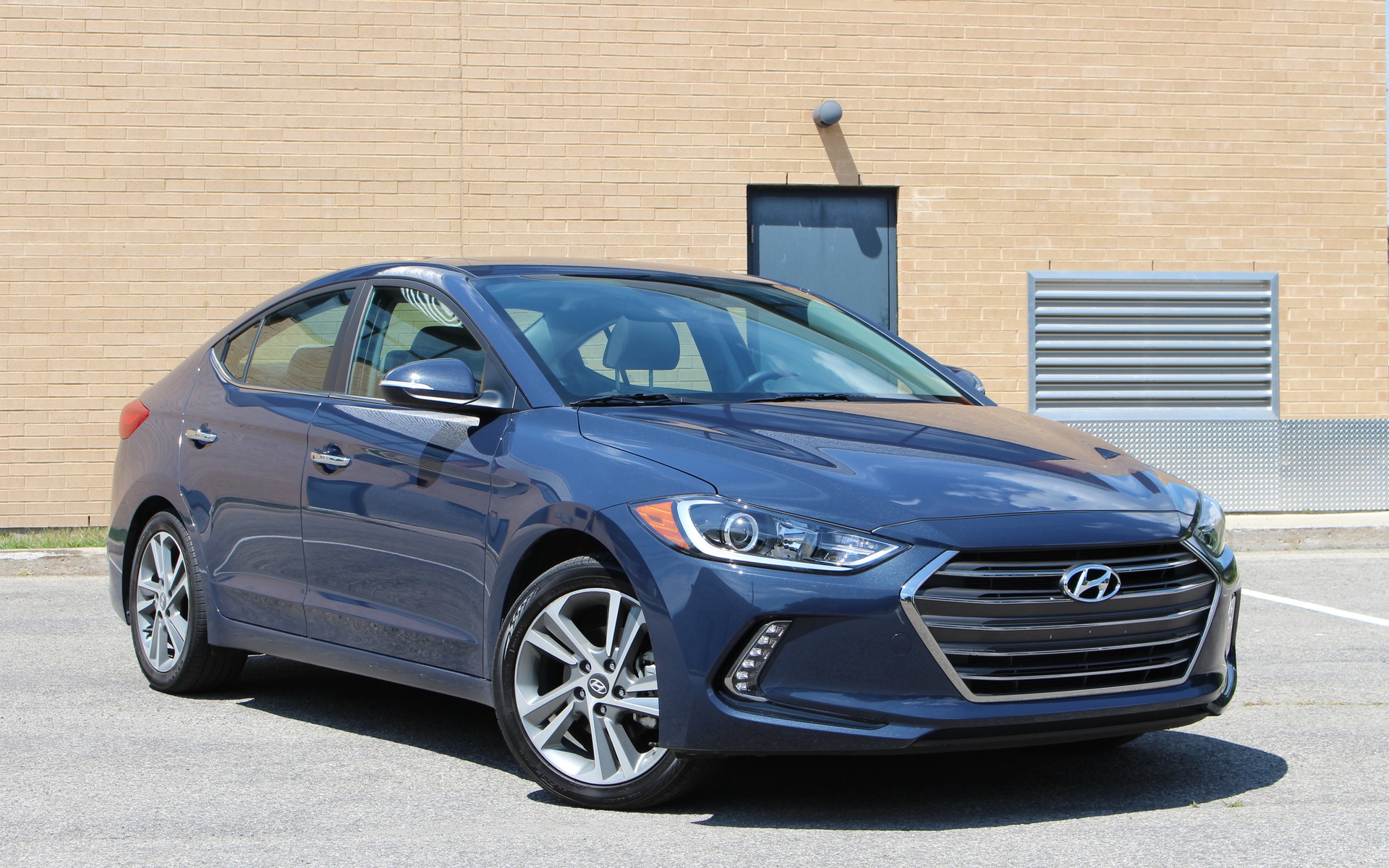 Strong points

Lots of features for the price
Solid ride and feel
Sophisticated styling

Weak points

Uninteresting base trim level
Not the most fuel efficient of its segment
Very limited availability of a manual gearbox
Full report
Compact cars are still very popular in Canada, but the segment is struggling of late because Canadian consumers are turning to small SUVs and crossovers, most of which offer the added safety of all-wheel drive.
And yet, with a good set of winter tires for the snowy season, a compact sedan can be practical, spacious enough for the family and fuel-efficient, too. The 2017 Hyundai Elantra is a perfect example and sales are pretty good, trailing behind powerhouses Honda Civic and Toyota Corolla, and ahead of the Volkswagen Golf/Jetta duo, the Chevrolet Cruze and the Mazda3.
The Elantra sedan is built on a new platform composed of more high-strength steel. Hyundai proudly flaunts the fact that they produce their own metal in Korea, and that their sedan is both lighter and more rigid. It definitely feels stiff, despite being one the lightest sedans in its class.
And although its new styling may not be as bold as when the previous-generation Elantra was unveiled for the 2011 model year, it's angular and sophisticated, and will probably stand the test of time better. And apart from alloy wheels and LED exterior lighting, there are hardly any clues allowing us to distinguish the base trims from the loaded ones.
All versions of the 2017 Hyundai Elantra sedan, save for the recently introduced Elantra Sport, are equipped with the same powertrain. It's a 2.0-litre, four-cylinder engine that runs on an Atkinson cycle instead of the usual Otto cycle. We'll skip the technical explanation between the two, but the difference is that an Atkinson-cycle engine is usually more fuel efficient, but generally produces a little less power and torque. This type of combustion cycle is most seen in hybrid powertrains, as the electric motors provide assistance to compensate for the leaner output.
However, we're now starting to see non-hybrid powertrains with Atkinson-cycle engines in production cars from Hyundai/Kia and Toyota. In the case of the Elantra, its engine produces 147 horsepower and 132 pound-feet of torque, which is actually not bad. The car offers decent performance, and definitely is as quick as a Corolla or a 2.0-litre Mazda3. During our test week, we averaged 7.5 L/100 km, which is pretty good for a compact sedan. However, its official fuel economy ratings fall about midpack its segment.
Engine technology aside, the Elantra feels refined, and its six-speed automatic transmission is a smooth performer. Note that a manual gearbox is still available in the base L trim and on the Sport, but every other variant of the Elantra sedan gets the automatic.
The car is also offers a refined and comfortable ride, thanks to the aforementioned rigidity of its platform and well-calibrated suspension. Bumps and road crevasses are easily absorbed, and when we're behind the wheel of the Elantra, we generally feel like we're driving a more expensive car. However, we can't say it clearly stands out in such a competitive field; this might sound like a drawback, but really isn't.
Overall, the interior design is clean and elegant, echoing the bodywork's low-risk styling. The switchgear feels solid and substantial, while the infotainment screen is reactive, although some swiping functions aren't all that easy to perform while we're driving. Displaying the windshield wiper or headlight settings in the instrument panel while we're adjusting them is a thoughtful touch, allowing us to keep our eyes on the road ahead.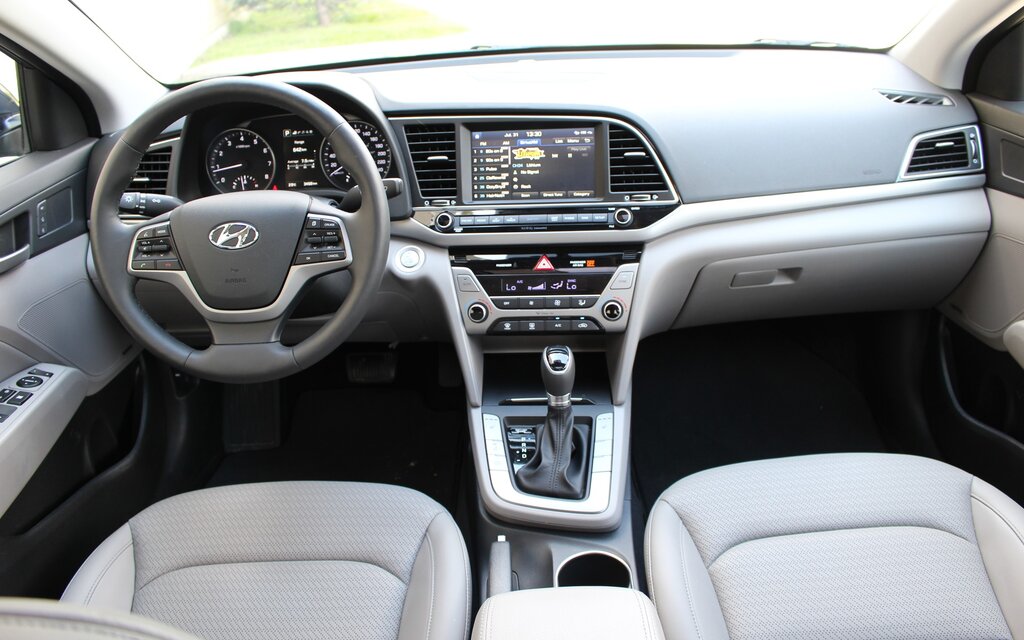 We also liked the Elantra's supportive seats and good interior space, while the hump on the rear-seat floor is small, making it easier for three passengers to ride back there without squabbling. Too bad there are no rear-seat ventilation ducts at the back of the centre console, though. The trunk is big and so is its opening, and the 60/40 split folding rear seats have pull handles in the truck to make our life easier.
Cloth upholstery is obviously standard, while SE and Limited trims get leather. The base, $15,999 Elantra includes heated and height-adjustable front seats, a six-speaker stereo with USB port and keyless entry, but is otherwise pretty barebones with no wheel-mounted audio controls, no Bluetooth connectivity and no air conditioning. It's a price leader version that only a few buyers will actually choose, while the LE automatic has a lot more features for its $18,499 MSRP, before freight and delivery charges.
The volume seller is the 2017 Hyundai Elantra GL. At $20,349, it's equipped with a heated and leather-wrapped wheel, blind spot detection with rear cross traffic alert, alloy wheels and a 7.0-inch touchscreen with Android Auto and Apple CarPlay integration. The Limited, Limited SE and Limited Ultimate variants are loaded with all the features we can now expect to find in compact sedans, including a slew of advanced safety features, and they obviously cost much more, but $29K is the most we can spend on one.
The new Elantra sedan isn't a game-changer, and it doesn't bring anything new to the compact-car segment. On the other hand, it does everything well, like it has been doing for a few years now. It looks smart, it makes its owners look smart and apart from the base trim level, it offers great bang for the buck. We see no reason why the Elantra won't continue to sell well and retain its third-place ranking in Canada.
Share on Facebook