2017 Ram 2500 Power Wagon: it Will be Your Own Fault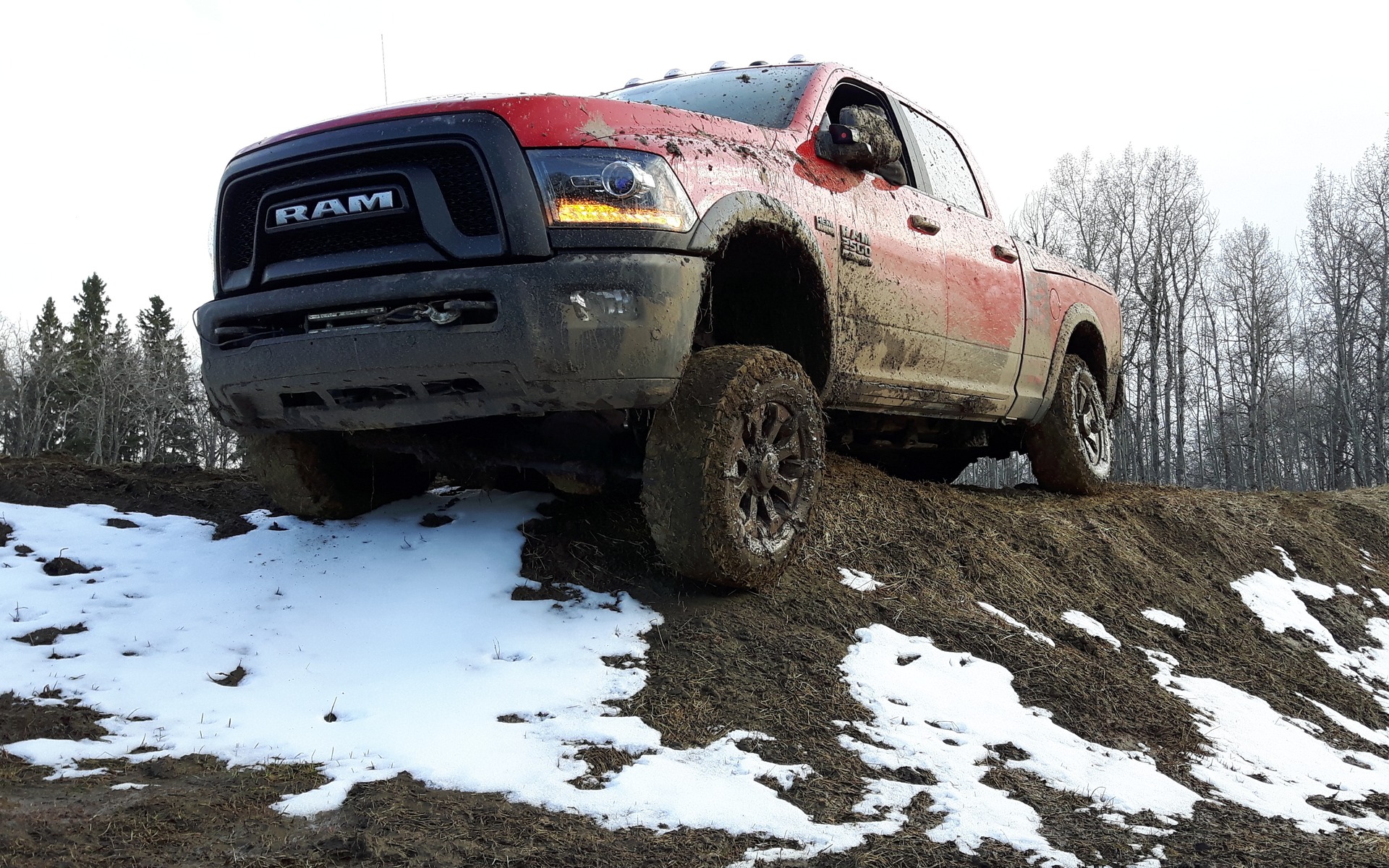 It's a done deal. You've just bought a brand spanking new Ram Power Wagon. Despite its $73,000 price tag ($68,000 if you passed on the Leather package), you decide to take it for a ride on rough, muddy terrain. After all, this vehicle laughs in the face of obstacles. The first hills are fun, but you quickly find yourself craving more. And more still. Not even the Rocky Mountains could scare you off—provided you're driving your Power Wagon. Bring on the deepest seas of mud! That's where the fun begins!
We recently tested the 2017 Power Wagon in its natural habitat, which is far off the beaten track. But before we tell you about it, let's stop for a history lesson. The first Power Wagon was introduced during WW2, with a civilian version released in 1945. It was subsequently dropped for several years, but then Dodge revived it in 2005. Up till last year, the Power Wagon was an option. Now it's a model unto itself, except that you can also get an LT version with a Power Wagon package, which practically makes it a true Power Wagon.
The Power Wagon—whether the real deal or the LT—is built on the same chassis as the Ram 2500 Crew Cab with a 6'4'' bed. It's powered by a 6.4L V8 HEMI that pumps out 410 horsepower at 5600 rpm and 429 lb.-ft. of torque at 4000 rpm. The gearbox comes with six speeds, which doesn't seem like much nowadays. But as a wise fortune cookie once said, you're better off with a sure 6 than a questionable 9.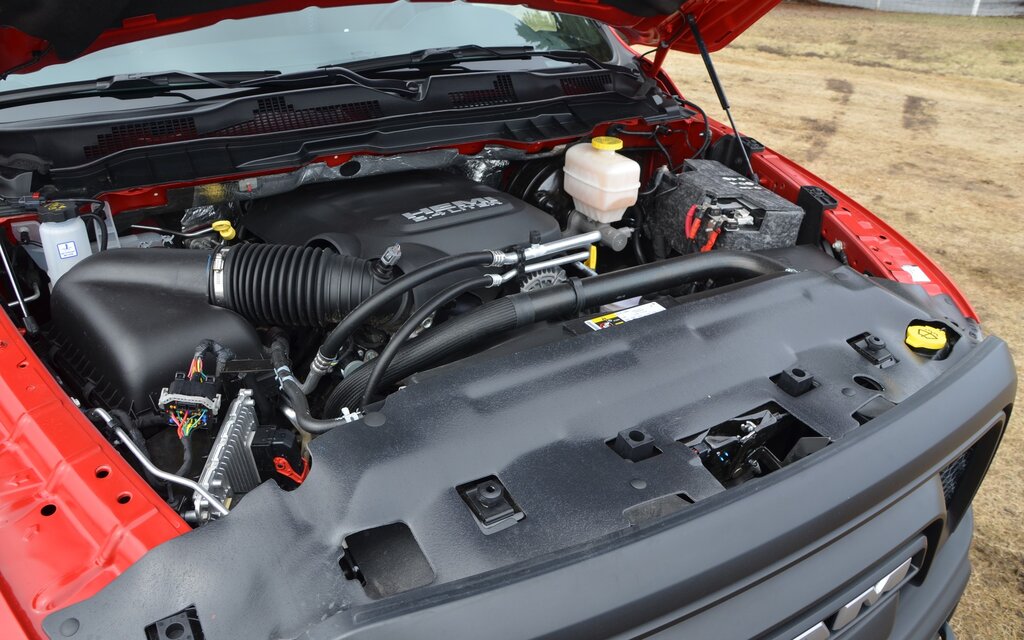 Heavy but not ungainly
This vehicle's mechanical parts aren't overly impressive, but the rest sure is. Even though it has a super-macho look, 17-inch wheels and Goodyear Wrangler DuraTrac tires (with aggressive treads), this is an incredibly quiet vehicle on the road. There's a winch up front that can haul up to 12,000 lbs. (5443 kg), which is much more than the vehicle's actual weight—which, at 6996 lbs. (3173 lbs.) is nothing to scoff at.
We blazed down a gravel road with its fair share of potholes, and the rear of the vehicle bounced along happily. When combined with the imprecise steering, this handling could easily cause you to break into a cold sweat, unless you slow down. We took it relatively easy on the accelerator (except a couple of times when we wanted to hear the exquisite sound of the exhaust) and ended up using an average of 20.6 L/100 km. If we had stayed within the legal limits, we probably could have gotten it down to 17 L.
This truck comes with a number of features that enable it to venture off the paved road with ease. There are front and rear electronic-locking differentials (4.10 ratio in back), Bilstein shocks, metal plates to protect the transfer case and gas tank, a disconnecting sway bar, and more.
But most importantly, there's a transfer case shifter. Yessir! A real shifter like in the Jeep Wrangler. A shifter that requires a certain amount of strength to shift. Not a cheap selector. The real deal. The approach, breakover and departure angles are 33.6, 23.5 and 26.2 degrees, respectively. To give you an idea, the Ford F-150 Raptor's angles are 30, 22 and 23, and those for the Jeep Wrangler Rubicon are 42.2, 25.8 and 32.3. In other words, the Power Wagon sits between the Raptor and the Rubicon, but is closer to the Ford than the Jeep.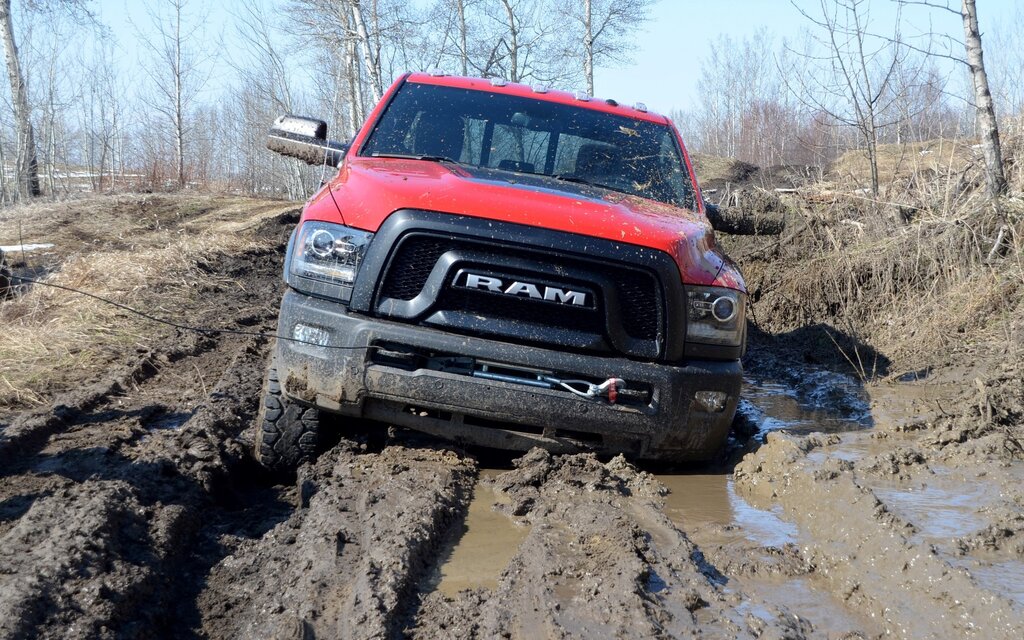 Seriously stuck
None of this stopped one of the 2017 Ram 2500 Power Wagon units from getting seriously stuck in a river of mud. But since another identical vehicle had just gone through this "Valley of Death" (OK, we were getting pretty dramatic about it), all fault was assigned to the driver (it wasn't me!), who clearly wasn't able to keep pace. When the vehicle turned a little, he released the accelerator and a few metres later, the vehicle was unable to move forward. Had he been driving a Wrangler Rubicon or even a tank, it would have been the same.
This incident taught us the value of a decent winch. The one on the Power Wagon can pull some 12,000 lbs. and its 7/16'' galvanized steel cable is 125 feet long. In most cases, that's long enough to find something solid to attach to and pull the vehicle out. Or pull another vehicle, as the case may be. The winch can be remote controlled via a 12-foot electric cable, meaning you can drive the vehicle and control the winch at the same time.
Prepare to deflate
Just prior to this Valley of Death exercise, we got to play in various muddy spots and climb a rocky peak. In preparation, the experts accompanying us deflated the tires on one of the 2017 Ram 2500 Power Wagon trucks by nearly half.
Manufacturer-recommended tire pressure levels (65 lbs. in front and 60 lbs. in back) are just to keep your fuel consumption in check. It's different for off-roading. With deflated tires, mud comes out of the tread much better. We noticed the difference right away, as the vehicle with the fully inflated tires had a much harder time climbing out of the mud bath.
The Power Wagon and Raptor are nice toys for having fun. And you might as well go ahead and post photos of your Power Wagon stuck in the mud on Facebook. Because it will happen. But just don't pretend that it's the vehicle's fault.
Share on Facebook