51st Annual Moab Easter Jeep Safari: Seven Concepts Unveiled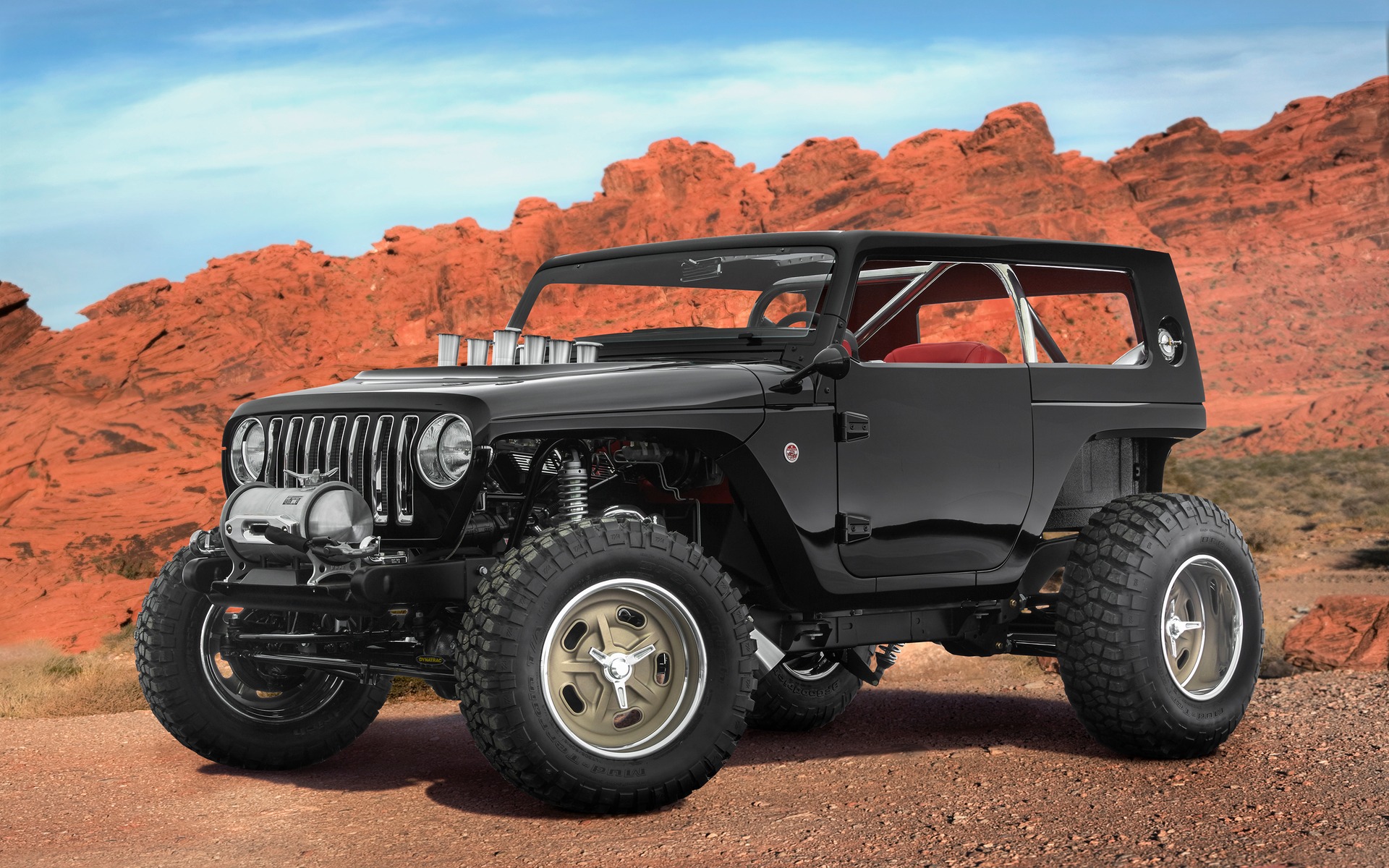 The Easter Jeep Safari in Moab, Utah, is once again the stage for another round of Jeep concepts. This year, the brand brought seven one-off vehicles to the event, and here they are.
The Jeep Grand One is an ode to the Grand Cherokee, code-named ZJ, that appeared on the market for the 1993 model year. It features 18-inch wheels, fender flares over an extended wheelbase, body woodgrain trim and blue paint. It's equipped with a 5.2-litre V8 and a four-speed automatic transmission.
The Jeep Safari was designed with the family in mind, with translucent roof panels, a cargo rack with integrated drone and LED lighting. It also gets what Jeep calls "windoors," made of lightweight aluminum and clear vinyl. To further allow rear-seat occupants a good view, their seats have been rotated outboard, while an iPad was mounted directly onto the instrument panel. The Jeep Safari features a 3.6-litre V6 and a five-speed transmission.
The Jeep Quicksand is, according to the brand, "a loud, fast and fun hot rod." Under its hood lies a Mopar 392 Crate HEMI V8 engine and a six-speed manual transmission. For the first time on a Jeep concept, the Quicksand boasts a staggered tire setup, including 32-inch BFGoodrich KM2 rubber up front and 37-inchers at the rear.
The Jeep Trailpass is the first Easter Jeep Safari concept based on the newly redesigned Compass. Taking the Trailhawk version to a whole new level, this one-off SUV boasts a 1.5-inch lift kit and 18-inch wheels, in addition to a roof basket, cross rails and rock rails. Inside, the Jeep Trailpass receives Katzkin leather upholstery and body-colour accenting. It's powered by the Compass' 2.4-litre four-cylinder engine and nine-speed automatic combo.
The Jeep Switchback showcases a slew of Mopar and Jeep Performance Parts for enhanced off-road capabilities. That includes a Dana 44 rear axle, a four-inch lift kit with Remote Reservoir Fox shocks, differential covers and a winch. It also boasts a concept hood and half-doors along with a "Safari" hard top and roof rack system. The Switchback is equipped with the 3.6-litre V6 and a five-speed automatic transmission.
The Jeep Luminator, another concept based on the Wrangler, is a rolling demonstration of superior lighting performance, created with the collaboration of the Automotive Lighting division of Magneti Marelli. Underbody rock lights, seven-inch LED projector headlights, LED taillights, LED spotlights, steering angle-controlled fog lamps and overhead LED auxiliary spotlights are all mounted onto the Luminator. A hood-mounted scanning LED bar also features dynamic follow technology to pinpoint wildlife or hazards on the trail ahead.
The Jeep CJ66 was first shown at the 2016 SEMA show, and was brought to Moab as well. It's built on a Jeep TJ frame using the bodywork of a 1966 Jeep CJ and some elements taken from the Jeep JK. It's powered by a Mopar 345 Crate HEMI V8 engine that develops 383 horsepower.
Share on Facebook