2017 Ford Fusion Energi: Lean Machine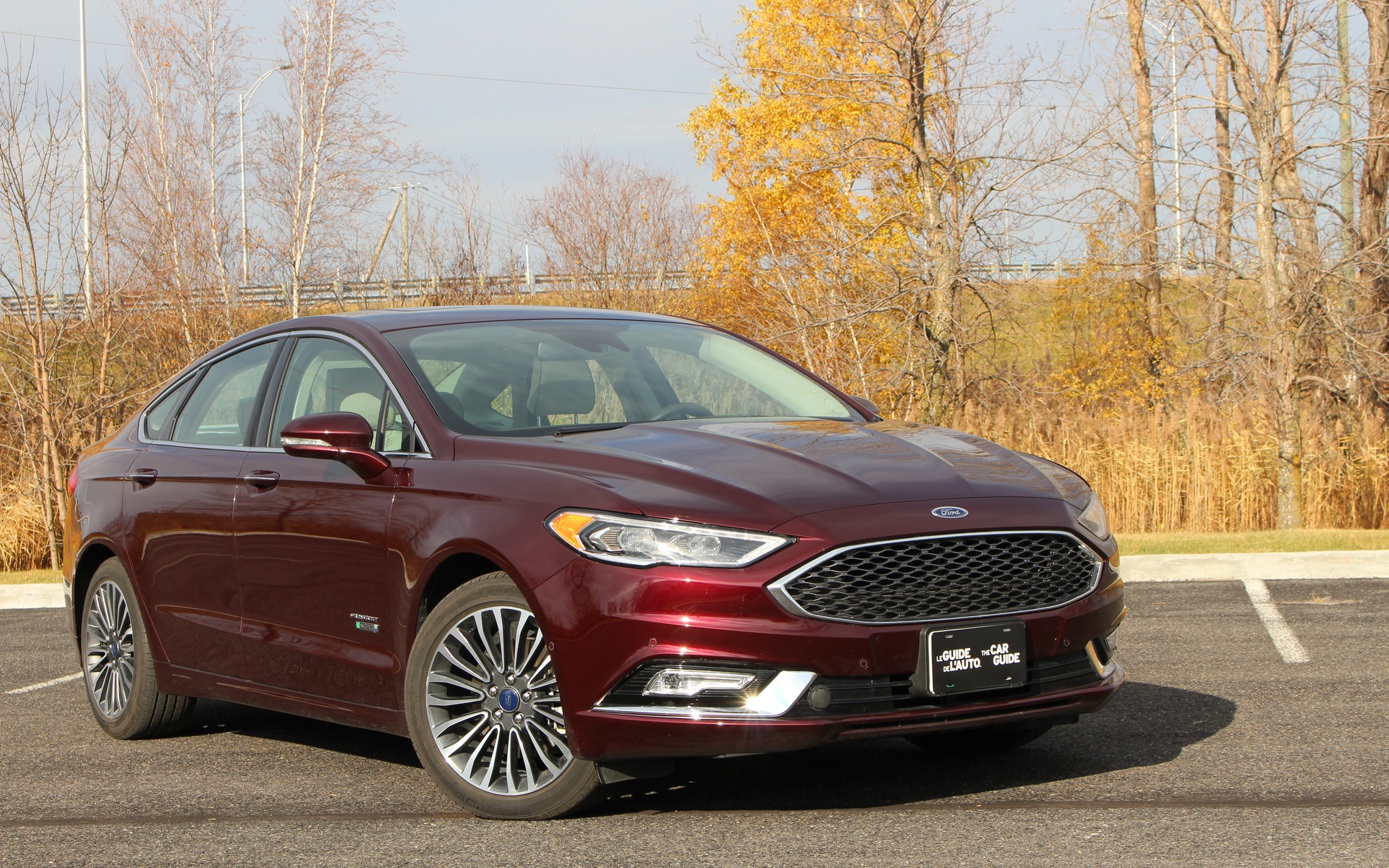 Strong points

Refined drive
Good fuel economy
Luxury-car feature content (Platinum)

Weak points

Very small trunk
Rear bench seat not too accommodating for three people
Unexciting powertrain
Full report
Ford's midsize sedan is available with a slew of different powertrains aiming to please just about everyone, even treehuggers. Aside from a hybrid version that boasts excellent fuel economy numbers, there's also a plug-in hybrid variant for those who seek to proudly raise their middle finger to oil companies.
But also, in certain areas of Canada, to get access to HOV lanes, in which riding solo in an EV or a PHEV is permitted. That's interesting, but is the higher price of a plug-in hybrid justifiable? Yes, depending in which province you live. The car is eligible for a $2,500 rebate in British Columbia, a $4,000 rebate in Quebec and a whopping $7,730 rebate in Ontario.
First of all, both versions are equipped with the same hybrid system, which consists of an Atkinson-cycle, 2.0-litre four-cylinder engine, an electric motor and a continuously variable automatic transmission. Combined output is rated at 188 horsepower, a modest sum, but a sufficient one for eco-driving without creating traffic jams. If only this powertrain was more engaging to drive, and especially quieter during more vigorous accelerations. And this, despite Ford's claims to having improved the throttle's programming this year.
The 2017 Ford Fusion Hybrid can run on electric power alone, albeit for very short distances, as long as we don't press the gas pedal too aggressively. In the case of the Fusion Energi, EV range is estimated at 35 km. Or less, depending on our driving habits. During our test, we recorded stints of 25 to 30 kilometres, but as soon as we hit the highway, that range obviously melted away much more quickly.
Unlike a fully electric vehicle that requires a longer charge time, it is possible to daily drive the Fusion Energi without installing a 240-volt charging station at home. However, it's better to have one. Charging time on a regular, 120-volt outlet takes about seven hours. With a charge station, the wait is reduced to two and a half hours. The car isn't equipped with a quick charge port.
Once the battery pack is depleted, the 2017 Ford Fusion Energi drives like the hybrid version. Its combined fuel consumption rating when adding the fully electric portion amounts to 2.4 Le/100 km, while its regular city and highway ratings are set at 5.5 and 5.7 L/100 km, respectively. Almost the same as the Chevrolet Volt's, and better than those of the Hyundai Sonata and Kia Optima plug-in hybrids, the Ford's direct rivals. Our test concluded with an observed average of 5.4 L/100 km.
For the rest, it's all Fusion. Three trim levels of the Energi variant are offered—SE, Titanium and Platinum. The latter is the one we tested, which was obviously stuffed with features, including a battalion of advanced safety driving aids. Adaptive cruise control, pre-collision warning with pedestrian detection, inflatable rear seat belts, blind spot monitoring with cross-traffic alert, lane keep assist and active park assist are all present and accounted for, although we can optionally add them in the SE and Titanium trims.
Ten-way power front seats with heating and ventilation, higher-quality leather upholstery, intelligent key with remote starter, leather-wrapped dashboard, power-adjustable steering column, heated steering wheel, power sunroof, LED headlights, navigation and dual-zone climate control are all standard in the Platinum. We also get a Sony 12-speaker stereo as well as the excellent SYNC 3 interface with eight-inch touchscreen. It includes Apple CarPlay and Android Auto integration, if that's something we fancy.
The front seats are comfortable, but like in many Ford products, the cushions are a little short for long-distance cruising. At the rear, two adults benefit from a good deal of room and seating is swell, but the bench was clearly designed for two posteriors and not three. A growing issue in the automotive industry. Families with three kids still exist.
The Fusion's trunk is one of the roomiest in its class, but the battery pack of the Energi variant eats up about half. We're left with a volume of 232 litres, and while the rear seatbacks can be folded down, only a slim pass-thru remains to slide in thin objects such as skis. The PHEV versions of the Sonata and the Optima get 280-litre trunks, which is marginally better.
The Fusion's road manners are pleasant. The car feels solid, well insulated, and the plug-in hybrid powertrain's 220 kilograms of extra weight don't compromise the car's handling.
Ok, back to pricing. In base non-hybrid trim, the 2017 Ford Fusion starts at $23,688 before freight and delivery charges. The Fusion S Hybrid costs a reasonable $28,888. No stripped-down S trim for the Fusion Energi, however, whose entry price rises to $35,088. The Fusion Energi Platinum carries an MSRP of $45,088. That's before the provincial green-vehicle rebates.
In comparison, the only version of the Sonata Plug-in Hybrid costs $43,999, while the Optima PHEV's price varies from $42,995 to $45,496. We'd go for the Fusion for its elegant styling and ride comfort, but especially because we can choose the Fusion Energi SE and its cloth seats at a more attractive price.
Share on Facebook