2018 Audi RS 3: The Ultimate Sleeper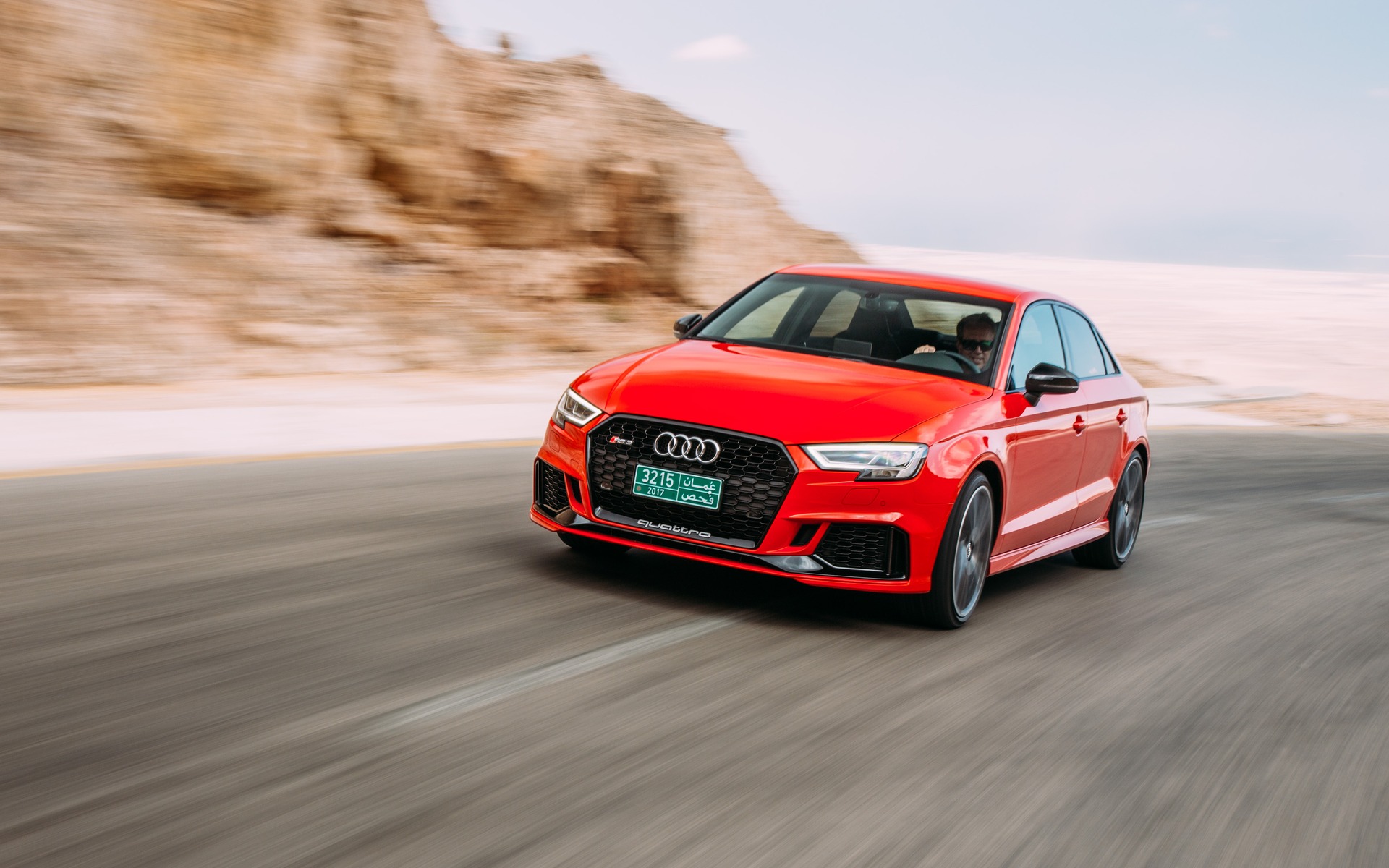 Strong points

Powerful and torquey engine
Understated and fast
Lots of standard equipment
First-rate fit and finish
Practicality of a sedan

Weak points

Some options can be expensive
Not quite as playful as an M2
No manual gearbox available
Full report
SALALAH, Oman – All right, boys and girls, here it is: your $60K-plus, all-wheel-drive, near-400 horsepower ultimate sleeper, the Audi RS 3. First, let's get one thing out of the way. When they hear that you spent over sixty thousand dollars for what, to them, is basically a fancy A3, most people will think that you're bat-shit crazy. But this is not a car for most people. This is a car for true aficionados, whose only lament will be that they can't get one with a manual gearbox and/or in the five-door Sportback configuration, just introduced last week at the Geneva Auto Show.
Canada will only get the four-door RS 3 sedan. It will arrive in dealerships this summer and it will come fully loaded. Loaded with what? Enough power and speed to embarrass a Porsche 911 Carrera driver, and enough technology and equipment to qualify as a bona fide luxury car. Truth be told, there is not much wrong with the RS 3. Sure, you can buy a bigger, roomier, more comfortable car with sixty grand, but you're missing the point. And the point is that, this car hustles…
Almost 400 horsepower
The 2018 Audi RS 3 sedan is powered the same engine that's found under the hood of the TT RS sports car. It's a turbocharged, 2.5-litre five-cylinder all-aluminum gem that comes standard with a very distinctive, almost staccato, soundtrack because of its odd number of cylinders and the fact that the ignition sequence alternates between directly adjacent cylinders and widely spaced ones.
With 394 horsepower and 354 pound-feet of torque flowing through a seven-speed, dual-clutch gearbox and the quattro all-wheel-drive system, the RS 3 goes like it's nobody's business and sounds great doing it. Using launch control, the sprint from zero to 100 kilometers per hour is dispatched in a scant 4.1 seconds, top speed is rated at 250 kilometers per hour, but Audi will set it at 280 at the customer's request. For when, you know, you're late for a meeting and you absolutely need to go just that little bit faster down the Autobahn…
Fast, but understated
It also looks just right. No massive rear wing hanging off the back, no air scoops punched through the hood, no boy racer-look gimmicks. You can pick up your mother-in-law in this car and she will have no idea what she's getting into.
Eight exterior colors are offered for Canada. Most will fly under the radar, except for Catalunya Red, which is the wildest color in the 2018 Audi RS 3's palette for our market. That means the extremely vivid Viper Green, seen here in some photographs, can only be yours if you spec it as a special order.
I said it was loaded…
Base price is $62,900. For that sum, you get RS form-fitting, nappa leather sport seats with a beautiful diamond pattern, or diamond-less comfort sport seats with contrast stitching as a no-cost option. You grip a three-spoke, flat-bottomed, Alcantara and leather multifunction steering wheel, and shift using the steering wheel-mounted paddles or the shift lever itself in sport mode.
For Canada, the RS 3 is equipped with a long list of standard features, including the Audi virtual cockpit, aluminum pedals, a 705-watt, 14-speaker Bang & Olufsen audio system and a magnetic ride suspension, to name but a few. Optional equipment includes the Sport Package ($1,750) complete with a fixed sport suspension, a carbon fibre engine cover and the previously mentioned 280 km/h top speed. There's a Black Optics package ($850) with, you guessed it, exterior mirror housings, front lip with quattro script, window surrounds and rear lip spoiler done up in black.
Also available is the Technology Package ($1,400) with active lane assist, adaptive cruise control with stop & go, Audi pre-sense and high-beam assist. The standalone options list includes red brake callipers ($400), sport exhaust system with black tips ($850), and even ceramic front brakes ($5,800).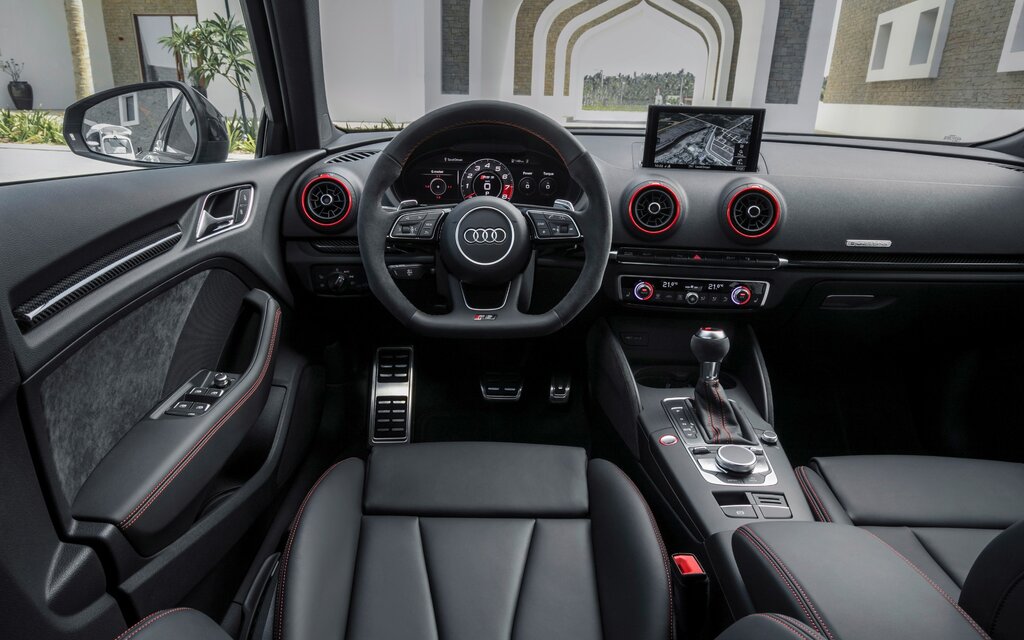 On the mountain roads near Salalah in Oman, the 2018 Audi RS 3 proved impressive in both performance and dynamics, and there is always a sense that the car is very buttoned-up. The RS 3 builds speed deceptively quickly using the engine's maximum torque of 354 lb.-ft., which is available from 1700 to 5850 rpm, and it really grips well in fast sweepers. In you hustle the RS 3 in slower corners, you can feel the front end start to push wide, but if you switch to the Sport ESC mode, you can get the back end out and make the car more playful. All good, clean fun. With magnetic ride as standard equipment, you can also set the car's dampers to comfort mode for highway cruising and a more relaxed ride.
The RS 3 is expensive, more so than a Volkswagen Golf R or a Ford Focus RS, but it's also better equipped. It's also a sedan, not a hatchback, and that makes it a performance car for grown-ups.
Share on Facebook