2017 Volkswagen Touareg: Luxury in Disguise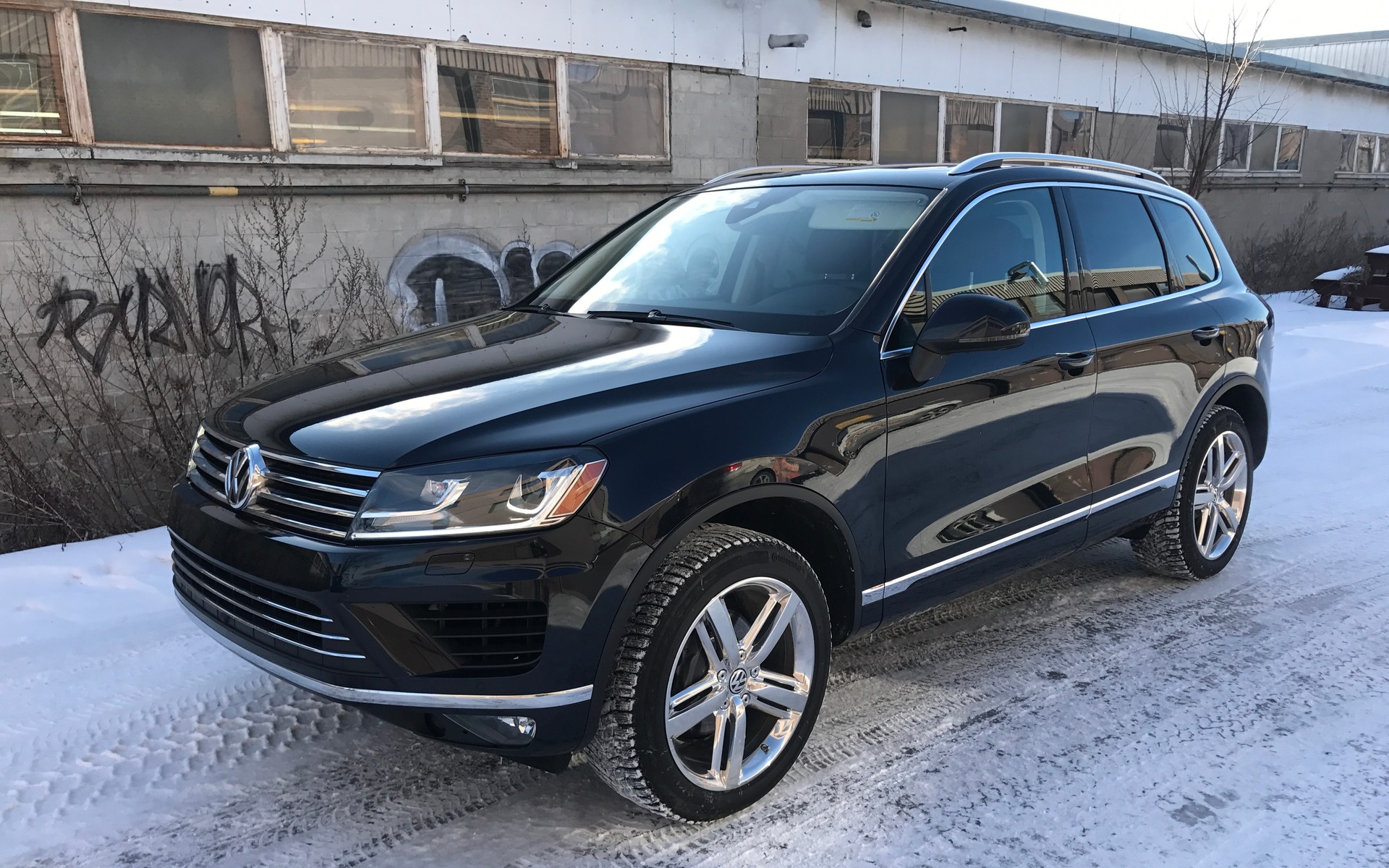 Strong points

Fit and finish
Infotainment system
Price-to-features ratio

Weak points

No diesel option this year
Heavy on fuel
Expensive Execline variant
Full report
If you were to conduct a focus group of average people and asked them to start naming luxury SUVs, the Volkswagen Touareg would probably not be at the top of their list. It's somewhat of a dark horse in this category, despite being on the market since 2003. I suppose one could attribute this to it being a Volkswagen—a name that isn't (usually) synonymous with the word luxury. This is the same problem that befell the ill-fated Volkswagen Phaeton which was a high-end luxury car offered by the brand in North America until 2006. People didn't want to pay big bucks for a luxury VW.
The Touareg has avoided a similar fate and has actually been doing quite well in recent years. Canadian sales tripled between 2010 and 2014, rising from about 700 to more than 2300. It's tapered off somewhat as the model nears the end of its cycle, but this is normal. Clearly, people have no problem buying this midsize SUV that bears the VW logo, which starts at $51,960.
My test vehicle was the fully loaded Execline trim which will run you $65,460. That's no small change, especially considering that a 2017 BMW X5 starts at $67,500. Of course, the X5 will be barebones whereas the Touareg carries a full load at that price point. The mid-level Wolfsburg trim seems to hit the sweet spot at $60,890 and has just about every option. Shelling out an extra $5K on the Execline for 21-inch wheels, surround-view camera, a Dynaudio sound system, heated rear seats, a power adjustable steering wheel and rear sunshades seems a bit nonsensical.
The interior of the 2017 Volkswagen Touareg pampers the occupants with luxury and quality. As with other VW products I've tested, I was amazed at the overall quality of the build. It's just so firm and well-made that it melted my senses every time I got into it. The Vienna leather seating is a thing of beauty as is the leather-wrapped steering wheel with contrast stitching. Other aspects of the cabin that give the Touareg a decidedly luxury feel are chrome trim, wood accents and LED overhead lighting. VW has a conveniently located engine start button on the centre console beside the shifter, and most other functions are ergonomically perfect. I was particularly fond of the blind spot warning signal lights because they are big, bright and visible compared to those of most other vehicles.
Volkswagen's infotainment system is right up there with the best of them in terms of ease of use. The eight-inch touchscreen can be used or if you prefer, there are also physical buttons to accomplish most tasks—something I appreciated very much. The move towards touchscreen-everything is something we've been seeing more and more, and it's not always superior.
Under the hood, Volkswagen has had to remove the diesel option for the time being as a result of the emissions regulations scandal. The only option currently available is a gasoline V6 engine which makes 280 horsepower and 266 lb.-ft. of torque. As one of Volkswagen's most powerful naturally aspirated engines, it was enough to smoothly propel the Touareg to my heart's desire. Unfortunately, the observed fuel economy was a bit too high for my taste at 14.5 L/100km—and I did quite a bit of highway.
All Touareg models send power to the 4MOTION permanent all-wheel-drive system via an eight-speed automatic transmission that features manual gear control, Sport mode and Dynamic Shift Program technology. An interesting bit of information is that the transmission uses its seventh and eighth ratios as overdrive gears, with the top gear reducing engine rpm by about 30 percent compared to sixth. Because of this, the vehicle's top speed is actually achieved in sixth gear.
I didn't think I'd enjoy the Touareg as much as I did. I suppose the somewhat conservative styling coupled with being a part of a segment in which you wouldn't necessarily expect to find a Volkswagen gave me false preconceptions.
Even though I describe the styling as conservative, it has stood the test of time quite well. The more I looked at it, the more I came to appreciate it. This will likely be the last model year for this particular design and as I write this article, spy shots of the next Touareg are beginning to surface.
Volkswagen enthusiasts will not need to be sold on the merits of the Touareg, but I find that the vehicle represents good enough value for the money that it will likely enjoy a wide range of appeal. I looked forward to each trip in during my week with the Touareg, which is a hallmark of a great vehicle. I can't wait to see what Volkswagen has in store for the next generation.
Share on Facebook