2017 Nissan Pathfinder: Discreetly Capable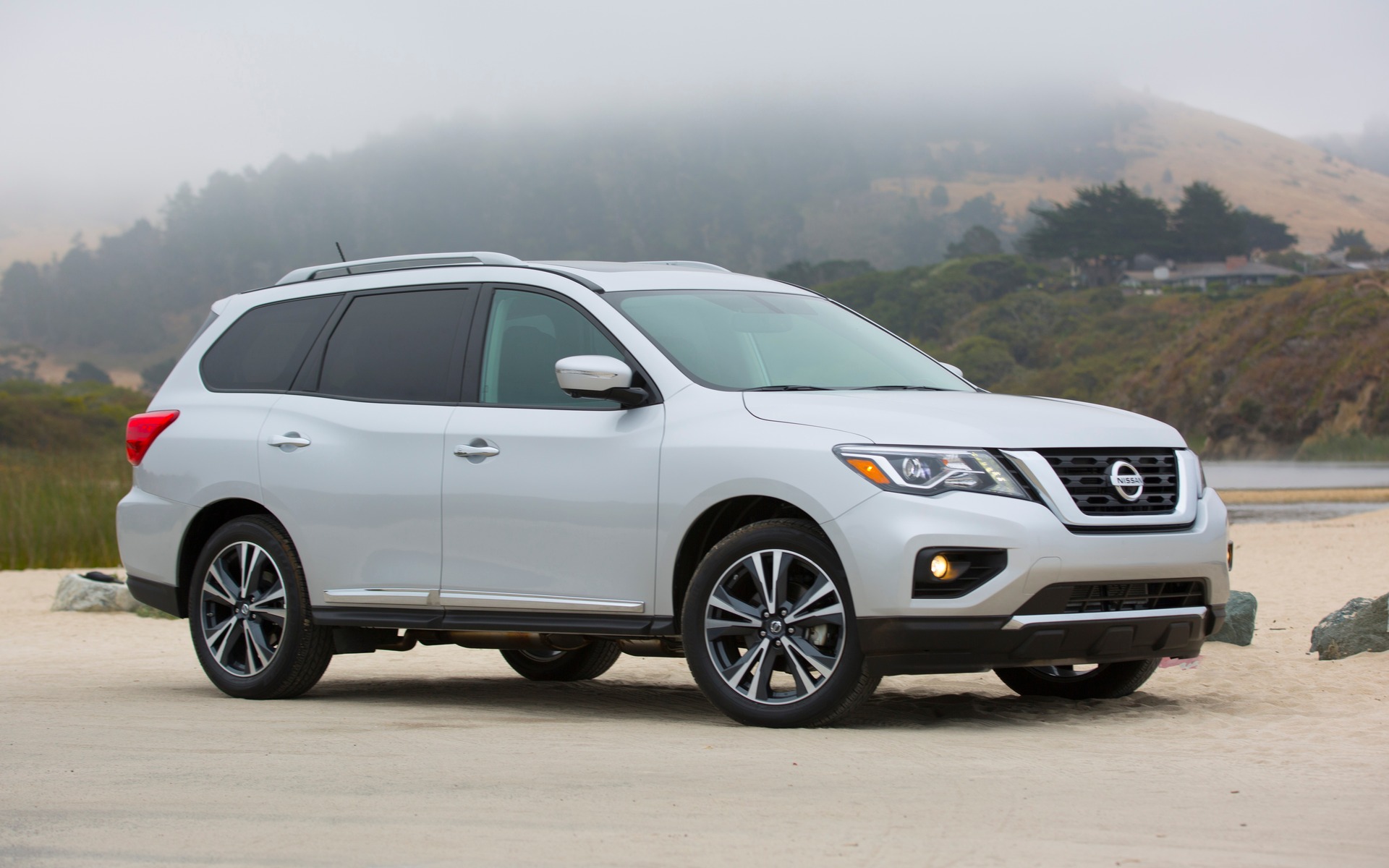 Strong points

Spacious and comfortable cockpit
Lots of features for the price
Very good towing capacity

Weak points

Bland styling, still
Large front pillars reduce outward visibility
AWD system not the most effective in snow
Full report
The midsize, seven-passenger SUV segment is chock full of choices and we all know that bigger and trendy vehicles are most profitable for automakers. In Canada every year, the mainstream brands sell about 85,000 of them combined, which already seems like a lot. However, in the United States, more than a million have been bought up in 2016.
It goes without saying that in this case, a competitive product is essential. Nissan has understood that the Pathfinder has to keep stepping up its game while it's facing the Ford Explorer, the Honda Pilot, the Chevrolet Traverse, the GMC Acadia, the Kia Sorento and the Toyota Highlander, just to name a few, and a round of changes has been performed for the 2017 model year.
Among them, more sophisticated styling that includes a new grille, optional LED headlights and LED driving lights, a reshaped hood and turn signals integrated into the outside mirrors. The SUV's drag coefficient drops from 0.34 to 0.326, meaning it's slightly more aerodynamic. The 2017 Nissan Pathfinder's nose now looks more like the ones of its smaller bothers Rogue, JUKE and new-for-2017 Nissan Qashqai. However, in general, it's pretty hard to distinguish the 2017 edition from previous model years, while its overall styling is rather conservative. Obviously, it depends on our personal tastes.
The new Pathfinder also gets a revised cockpit. The centre console has been redesigned and now hosts new woodgrain trim that isn't convincing at all. At least the leather upholstery with contrast stitching is of good quality and compensates a little. The driving position is excellent and front-seat comfort is fine for road trips. However, in city traffic, the large front pillars hamper outward visibility, to the point where they can hide a car or a pedestrian when we're turning at an intersection.
In back, kids might have a little trouble with the second-row bench's sliding and folding operations, but otherwise, access to the third row is relatively easy. Obviously, those rearmost two seats are small, adequate for adults on very short commutes, but fine for children and pre-teens. Cargo space is about average in its category, so that's good.
The Platinum edition, the one we tested and the most expensive, offers a long list of features including 20-inch alloy wheels, heated and ventilated front seats, a heated steering wheel, a dual-pane sunroof, navigation, three-zone climate control, a dual-screen rear-seat entertainment system and much more.
The 2017 version also benefits from a motion-activated power tailgate that opens as we swing our foot below the bumper, adaptive cruise control and pre-collision warning. In short, nothing more or nothing less than its rivals.
The 3.5-litre V6 that equips the 2017 Nissan Pathfinder has been revised, now featuring direct injection and producing 284 horsepower as well as 259 pound-feet of torque. Compared to last year, that's an increase of 24 ponies. The SUV's performance isn't all that greater, yet at the same time, it doesn't have to be, either. The Pathfinder is fast, more than it has to be, especially with the family and the dog on board. Towing capacity rises from 5000 to 6000 lbs. (2268 to 2722 kg) for 2017; only the Dodge Durango can do better. And during our test, we managed a reasonable fuel economy average of 11.6 L/100 km.
That's with the all-wheel drivetrain that's standard in every version of the SUV, except the base S trim in which it's optional. A big, front-wheel-drive SUV isn't really interesting for the Canadian market, and since the S trim only offers three paint colour choices, it feels like Nissan doesn't want to sell it anyway.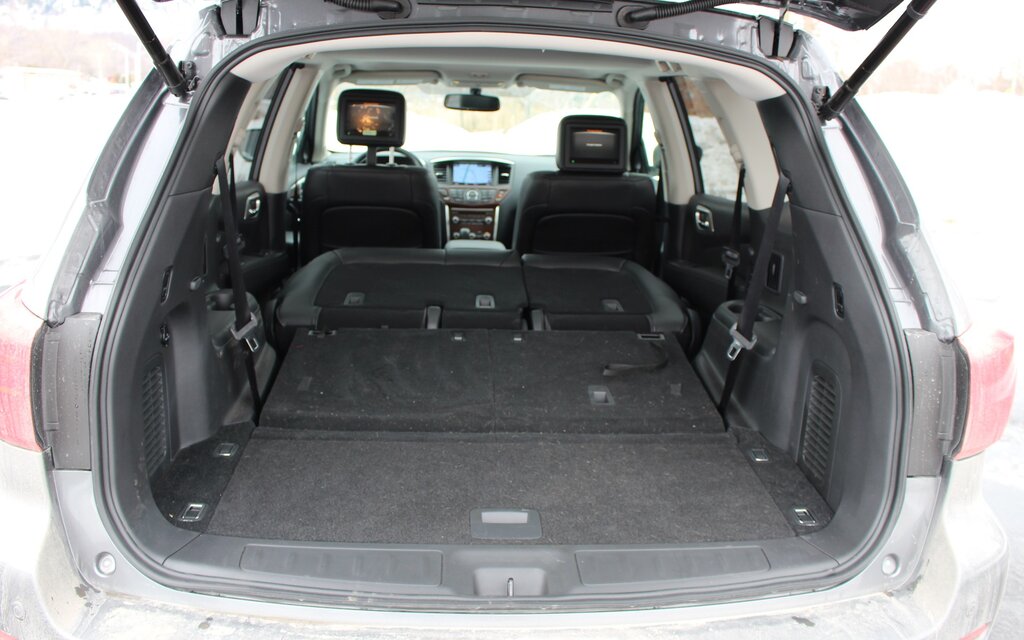 In fact, we can leave the AWD system in 2WD mode during summertime or when it's nice out. The system's Auto setting greatly favours the front wheels in normal driving, as is the case with pretty much every competitor's all-wheel drivetrains. On slippery surfaces, or when cornering, the system sends a portion of engine torque to the rear wheels. In addition, the drivetrain can lock the system in a 50:50 split, but when the vehicle reaches highway speeds, it reverts back to Auto mode by itself.
On snow-covered roads, the AWD system reacts relatively well, but it isn't the most effective system on the market, since it doesn't seem to send enough power to the rear wheels when slippage occurs. However, in the midsize, seven-passenger SUV category, Jeep and Subaru—who can flaunt more capable systems—don't yet offer any models. In both cases, that will soon change.
The 2017 Nissan Pathfinder also benefits from crisper road manners, thanks to quicker steering as well as firmer shocks and springs. The Pathfinder's drive is in fact more engaging, which is most welcome.
Base price for this SUV is set at $32,498 before freight and delivery charges, but stepping to a version with AWD means a nominal MSRP of $35,478. The Platinum edition costs $48,478, or a couple thousand dollars less than the better-equipped trims of its rivals.
The 2017 Pathfinder is spacious, comfortable and well equipped for the price. It's not the most spectacular vehicle in its segment, and still lacks character. However, and what's most important, it does what's asked of it, and does it well. It comes to no surprise that Nissan sells a lot of Pathfinders.
Share on Facebook