2017 Subaru Impreza: More Rigid, More Dynamic and More Refined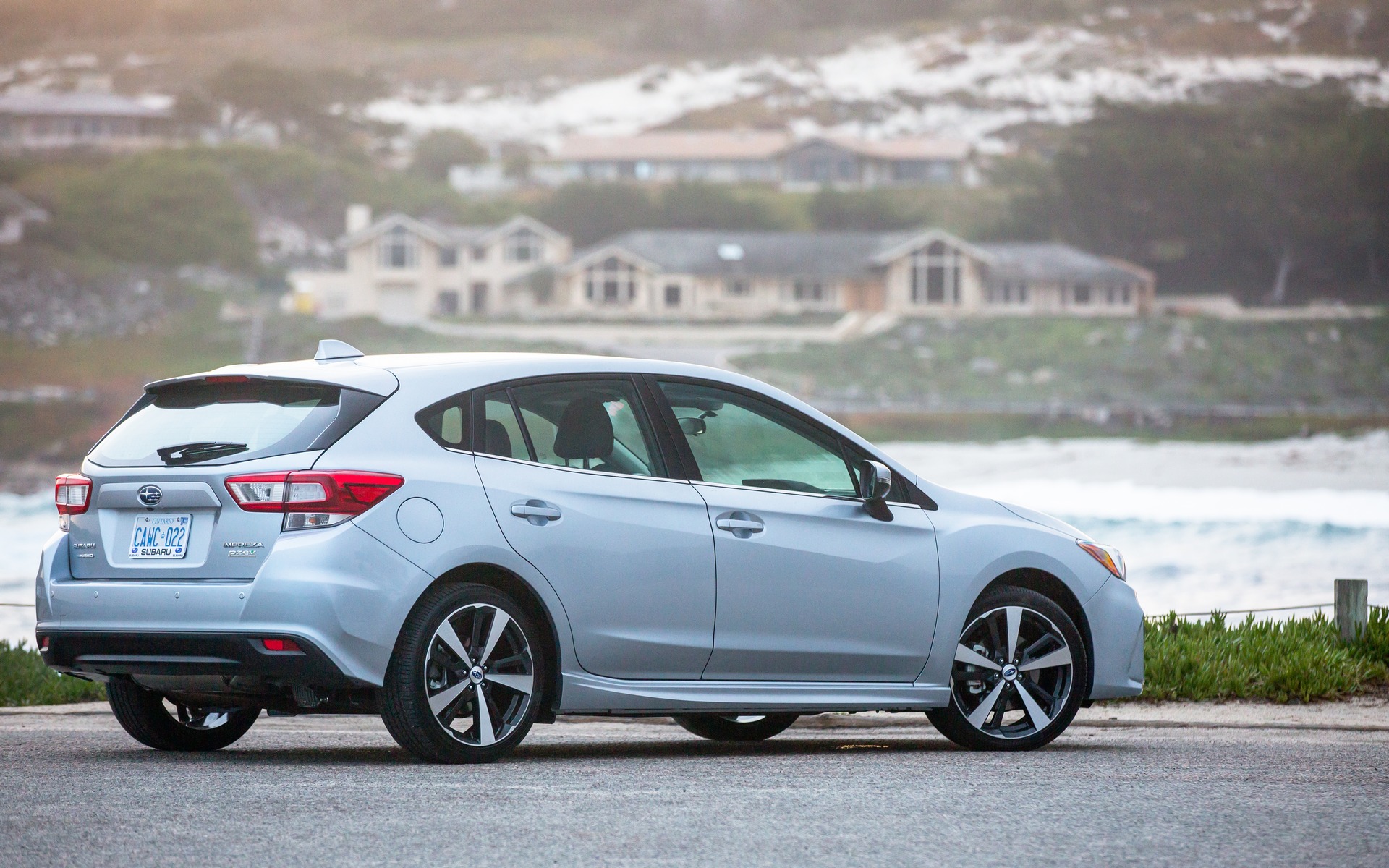 Strong points

Much more rigid chassis
Sharp, precise steering
Great road manners
Infotainment system is vastly improved
Apple CarPlay and Android Auto come standard

Weak points

Could use a tad more power
Manual transmission has five gears only
Generic styling
Quieter now, but still a bit noisy
Full report
MONTEREY, California – The Subaru Impreza is rightly regarded as a practical and reliable compact car that excels in any weather thanks to its full-time all-wheel drive system. Some even affectionately call it a "small tractor." It's a highly rational purchase, although one that's infused with much less passion than the Subaru WRX and STI, and up until now lacked serious refinement compared to direct rivals.
With the 2017 Subaru Impreza, the Japanese manufacturer wants to show how far it has come in terms of driving dynamics, comfort, and safety, while retaining all the great attributes its solid reputation is built on, like superb reliability and resale value. Riding on an all-new platform that will underpin every Subaru model going forward, the fifth-generation Impreza sedan and hatchback are on a mission to move upscale.
A solid foundation
According to Subaru engineers, the chassis of the 2017 Impreza is 95-percent new. It features structural components designed to improve torsional stiffness by 70 percent compared to the outgoing model.
Occupant protection in the event of a collision has been enhanced, as well. During an overlap front crash test where the Impreza collided with a large SUV driving at 90 km/h, the energy-absorbing structure did an excellent job of preserving the integrity of the cabin. Even after such a violent impact, the doors could still be opened, which is amazing
On the road
While driving the 2017 Subaru Impreza on the winding roads connecting Monterey and Paso Robles, it immediately became clear that the new architecture has a direct influence on the car's ride and handling. First of all, the steering ratio is identical to the BRZ coupe's (13.0:1), allowing the Impreza to attack corners with crisp turn-in and a lot of precision.
What's more, the addition of K-shaped crossmembers up front has significantly improved rigidity. The overall result is a much more solid and controlled chassis that makes for German-caliber road manners.
Handling is great, making the new Impreza feel way more dynamic than its predecessor, especially where Sport and Sport-tech models are concerned (they're riding on 17- and 18-inch wheels, respectively). As a matter of fact, this whole improvement to the chassis and driving dynamics can be considered the biggest strength of the Impreza.
CVT or five-speed manual
Producing 152 horsepower (at 6000 rpm) and 145 pounds-feet of torque (at 4000 rpm), the naturally aspirated, 2.0-litre, horizontally opposed, four-cylinder FB20 engine comes alive with that signature Subaru Boxer rumble, although the sound quickly fades away when normal operating temperature is reached.
On the road, the revised engine still felt like it could use a few extra horsepower at times. To be fair, the CVT it was mated to during our test drive (featuring seven simulated gears) did a good job of helping the Impreza keep pace with traffic. As for fuel consumption, we averaged 9.0 L/100km with a Sport-tech sedan and hatchback.
A manual transmission also appears on the menu for 2017, but it's a five-speed unit only, which is really disappointing. Impreza development chief Kazuhiro Abe told us it was a cost-related decision, but then he also admitted that the car's price would have increased by just $100 or so. Go figure.
In my humble opinion, a six-speed manual would have been a far better choice for the new Subaru Impreza as it tries to move up the ladder in the tough compact car segment. Granted, manual transmissions are nowhere near as popular as they once were, but they still have some fans left and I don't understand why you would deny them that extra gear that could enhance both performance and fuel economy. It's a big mistake.
Life inside the new Impreza
The new architecture of the 2017 Subaru Impreza allowed designers to create a roomier cabin. There's now 21 millimetres of additional space and breathing room between the front seats, and 25 millimetres of extra legroom in the rear. The five-door model has a cargo capacity of 589 litres, which you can expand to 1566 litres with the rear seats folded. The widened hatch opening also makes it easier to load items into the trunk.
Material selection has massively improved; same thing for fit and finish. Truth be told, the old Impreza had a lot of room for improvement on both fronts. What I particularly like, though, is the updated and much more attractive infotainment system, developed by Harman, with a 6.5- or 8.0-inch colour touchscreen depending on the trim level. Apple CarPlay and Android Auto integration is standard across the line, which is just brilliant.
As for exterior styling, this fifth-generation Impreza boasts fairly conservative looks, and that might be a good thing. As we know, Subaru designers tend to shoot themselves in the foot when they try to do too much. Do I need to remind you about the front fascia of the original Tribeca? The Japanese company definitely could use a renowned stylist like Peter Schreyer, who completely transformed Kia in just a few years.
Comprehensive lineup
Available in sedan and hatchback configurations, the 2017 Subaru Impreza lineup consists of four main trim levels including Convenience, Touring, Sport, and Sport-tech. Prices range from $19,995 (Impreza 4-door Convenience with manual transmission) to $30,995 (Impreza 5-door Sport-tech with Optional Technology Package).
With the all-new Impreza, Subaru is making up a lot of ground by offering enhanced ride and handling, plus a good dose of refinement that was sorely missing in the previous model. The brand is on a roll when it comes to sales, and at just under $20k for an AWD-equipped sedan, the revised Impreza is bound to keep the momentum going.
Share on Facebook