2016 Toyota Corolla: Risk-free
Strong points

Reliability and resale value
Comfortable for the daily commute
Good interior space

Weak points

Lacks character
Multimedia interface could be improved
Could use more power
Full report
While the automotive press sings the praises of cars that offer driving pleasure and a sporty character, the vast majority of today's consumers don't seem to care too much about that when shopping for a car. Toyota understood that a long time ago and has been selling vehicles that are well-designed, a little boring perhaps, but usually sure bets.
The Corolla is the perfect example. It's a car that's comfortable, efficient and reliable. Can we blame it for not being as fun to drive as a Mazda3, a Mitsubishi Lancer or a Volkswagen Golf? Absolutely not.
Under the hood, we find a 1.8-litre four-cylinder engine that produces a modest 132 horsepower along with 128 pound-feet of torque. In certain trim levels, we can match it to a six-speed manual transmission, but the typical buyer of this sedan will prefer the continuously variable automatic. The latter allows the 2016 Toyota Corolla to boast fuel economy ratings of 8.2 L/100 km around town and 6.2 on the highway.
We test-drove a Corolla S with the manual gearbox, whose ratings are a little higher at 8.4 L/100 km in the city and 6.4 on the highway. Our week behind the wheel of the compact sedan concluded with a very good average of 6.9 L/100 km.
True, the Corolla doesn't offer the dynamic driving experience like some of its rivals do. It has no problem squirting through traffic and passing slower-moving vehicles as needed, but a little more power would be nice. At least, without compromising its fuel efficiency. The clutch pedal and the shift lever throws don't make the car's character any sportier than with the automatic transmission.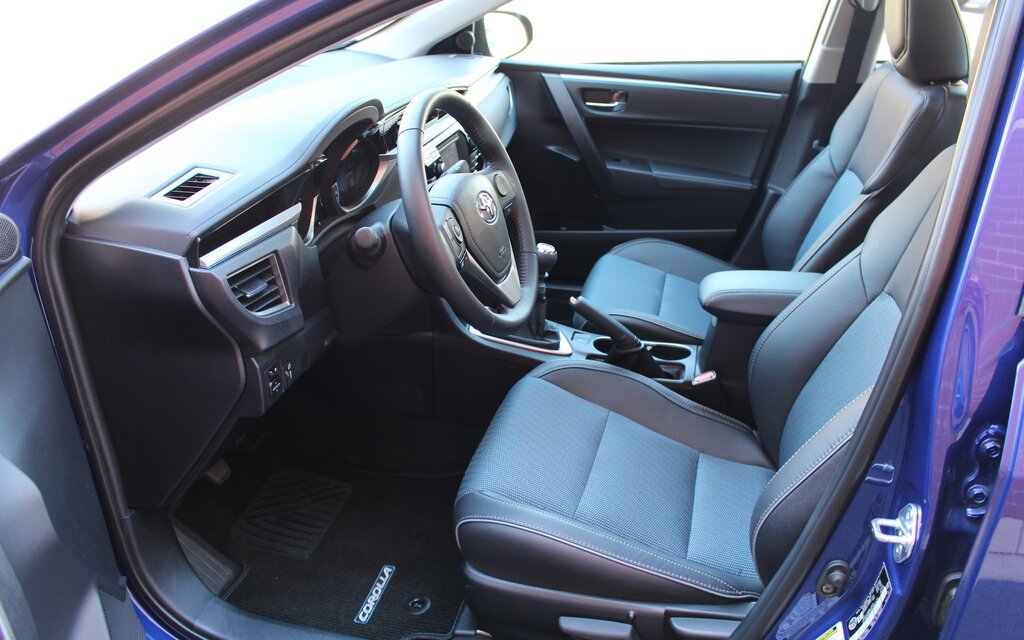 On the other hand, the 2016 Toyota Corolla is relatively quiet on the highway, and the seats in our Corolla S test car provided us great comfort during our drive, including when we were stuck for endless hours in rush-hour traffic. In addition, they're covered in an interesting mix of leatherette and blue-ish fabric, enhanced with contrast white stitching and piping.
Aside from the fake stitching moulded into the dashboard plastics, the general appearance is cheery, even if Toyota won't win any design prizes here. Fit and finish can't match those in Lexus products, but remains a quality job.
The Toyota Corolla S includes a fair list of equipment, such as automatic climate control, heated front seats, a power sunroof and cruise control. The infotainment system boasts a 6.1-inch touchscreen that's reasonably sensitive to finger input, although the system doesn't integrate Apple CarPlay and Android Auto.
The audio system's output should please most buyers, and we can stream music by connecting our smartphone to it. It's also possible to plug in a USB key, but unfortunately, browsing through song titles on the screen is unnecessarily fussy and time-consuming.
On paper, the 2016 Toyota Corolla isn't the most spacious among compact sedans. And yet, it has nothing to be ashamed of in that regard. In addition, the almost-flat rear-seat floor makes the commute more comfortable when all seats are occupied. With three teenagers on board that constantly complain about the lack of room on a bench seat, this extra legroom is an undeniable advantage. The trunk is equally as accommodating, although the fold-down seatback cutout isn't very big.
And to be honest, we really like the stylistic touches added to the S version, subtly signifying that we're dealing with a, ah, sporty version of the Corolla. Its looks are enhanced with attractive two-tone alloy wheels, black bumper trim, fog lamps and even a small trunk-mounted spoiler.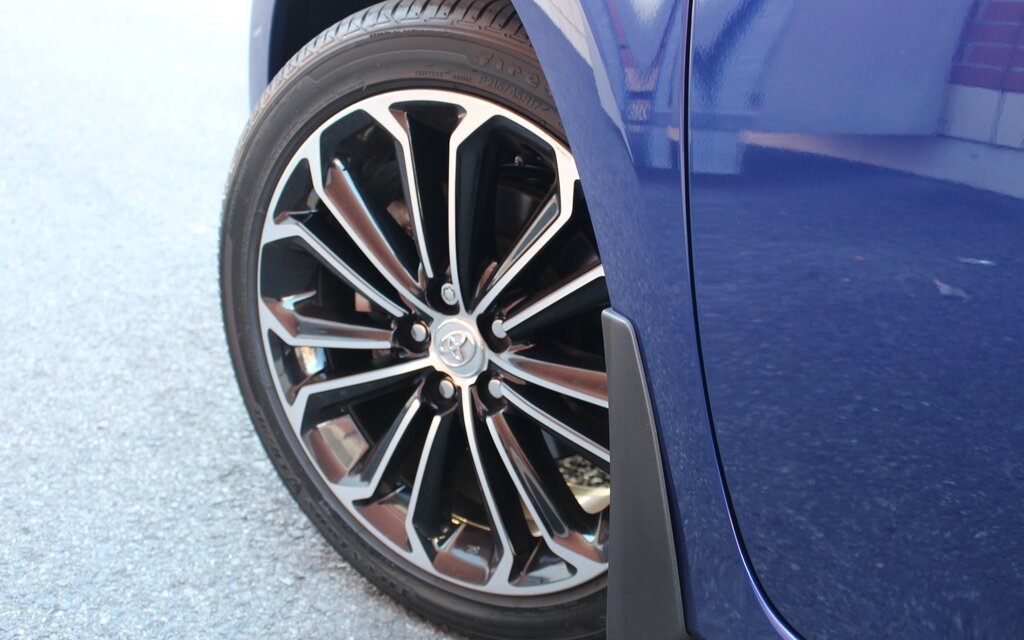 The 2016 Toyota Corolla is priced from $15,995 before freight and delivery charges, while our Corolla S tester starts out at $19,780. The 2016 edition can't be equipped with the latest in safety driving aids, such as lane departure warning, autonomous emergency braking and adaptive cruise control. However, as this is being written, the 2017 Toyota Corolla is about to hit dealerships with all these features as standard. Otherwise, the changes aren't all that significant. And let's not forget the five-door 2017 Corolla iM, which is in reality the Scion iM of 2016, but rebadged to pursue its career under the Toyota banner.
We must admit that our week at the helm of the 2016 Toyota Corolla wasn't the most exciting moment of our lives. However, it's a car that accomplishes a lot and doesn't ask for much in return, it boasts an excellent reputation for reliability and great resale value. Choosing the Corolla isn't an emotional purchase, but one that is risk-free.
Share on Facebook