Subaru VIZIV-7 SUV Concept: the Size of Things to Come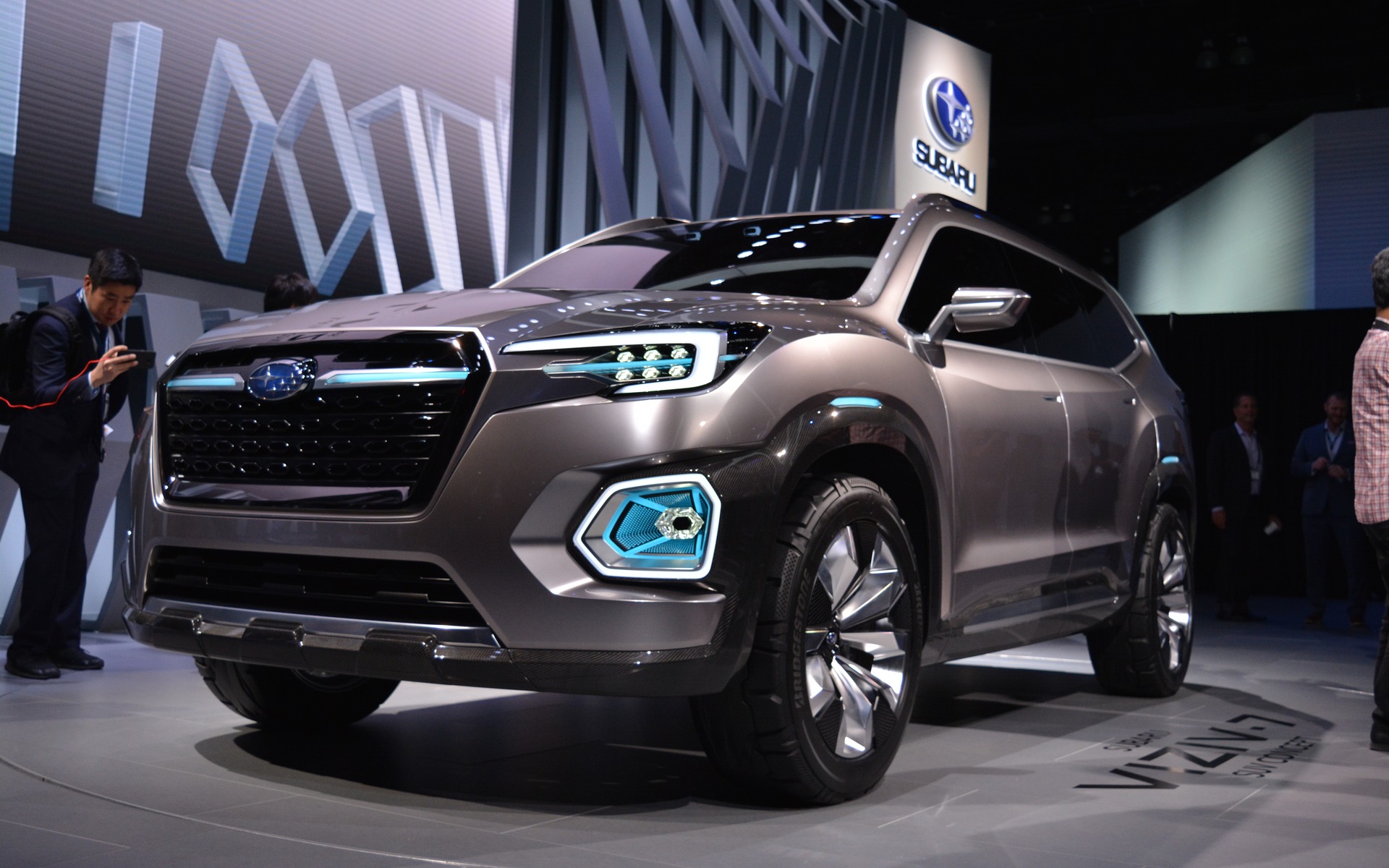 At last year's Tokyo auto show, Subaru unveiled the VIZIV Future Concept. Although it looked like the next-generation Forester, the vehicle served as an indication of new products coming down the line from Fuji Heavy Industries' car division. As an FYI, FHI will undergo an official name change next year and will henceforth be known as the Subaru Corporation.
This is more or less what Subaru's latest concept is all about. The VIZIV-7 is not about design or technology per se, it is a snapshot of what the next seven-seat crossover from the company will be. And yes, it would be correct to consider it as the Tribeca's replacement.
The latter three-row SUV never reached critical acclaim for a number of reasons including its size—it was too small to be big, or too big to be a compact. The production version of the VIZIV-7 will be the largest vehicle ever created by Subaru, putting to bed all potential criticism about its size and relative capability.
What you are looking at in the picture gallery is not what the next three-row utility vehicle from Subaru will look like. You're witnessing the footprint and overall dimensions. To be more specific, this 'ute is taller and wider than the Tribeca was, which means that when it arrives sometime in 2018, it'll compete with the Honda Pilot, the Toyota Highlander, the Ford Explorer and a good number more midsize-to-large SUVs.
Actual specs and details about the truck are practically non-existent. It was last fall that Subaru USA announced that a seven-seater was to be assembled in Indiana in 2018. We know that it will be built on Subaru's new global platform, the same one that underpins the new Impreza. Yes, that's right, this large "truck" will share a platform with a compact car.
This fact opens up a world of possibilities and speculation. When we learned that production of the Impreza was coming stateside, the possibility of the next WRX and STI also being built in the U.S. becomes logical. This would mean that the turbocharged 2.0L engine becomes accessible to all of Subaru's U.S.-assembled cars, including the next large SUV and, let's not forget, the future Legacy and Outback. Tokyo's VIZIV Future Concept featured a "next-generation" hybrid system so this could also be on the menu. But, enough of this, I've gone way off track.
So, this VIZIV-7 SUV Concept is a size stencil of what will be produced in 18 months or so, and we know that it will be bigger and more versatile than the Tribeca that was available from 2006 to 2014. If anything, the coming of this three-row 'ute demonstrates that there is still much money to be made with big vehicles.
Subaru's on a high, a nine-year sale records high. The year 2016 will mark the first time the make reaches 600k deliveries in one year (up from under 200k a decade ago) and their goal is to reach 800k by 2020. The VIZIV-7, which may potentially be known as the Ascent, will play a crucial role in the company's North American operations.
Share on Facebook