2018 Ford EcoSport: Ford enters the subcompact segment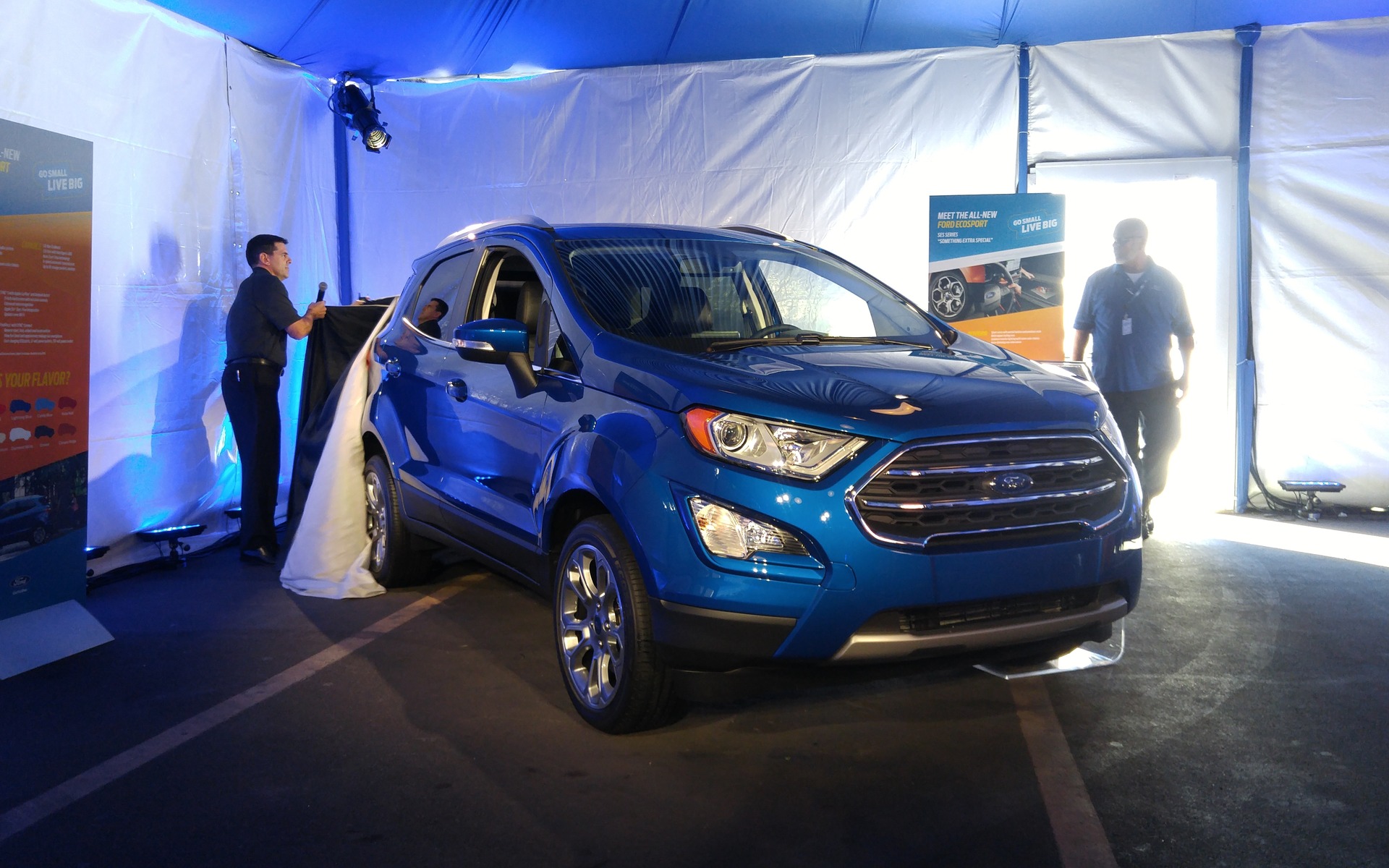 In the last few years, the subcompact SUV category has grown and isn't showing signs of slowing down. It notably includes the Nissan JUKE, the Honda HR-V, the Mazda CX-3, the Jeep Renegade and the Subaru Crosstrek. Ford will soon be joining them with its new model, the EcoSport.
It may be new for us, but not the rest of the world. The EcoSport first appeared in 2003, and a new generation arrived in 2012. The model that just unveiled will hit Canadian dealerships in early 2018, so we can presume it will be a 2018 model.
EcoSport doesn't always mean EcoBoost
In the powertrain department, we'll find the 1.0-litre EcoBoost engine that's also offered in the Fiesta, which will be connected to the front wheels only. There will also be a naturally aspirated, 2.0-litre four that will be exclusively matched to an all-wheel drivetrain. In both cases, output hasn't been announced, but a six-speed automatic transmission will be standard. Curiously, while simple details such as curb weight, power and cargo space are kept secret, the vehicle's chief engineer didn't hesitate to talk about towing capacity, set at 1400 lbs. (635 kg) for the 1.0L engine, and 2000 lbs. (907 kg) for the 2.0L mill. Seeing how strained the 1.0L engine felt in the Focus, which is heavier than the Fiesta, we can't imagine it being able to pull such a load. But anyway, we'll see.
Floating screen and storage space
Inside the cockpit, the design is pure Ford, but the central eight-inch touchscreen is now of the "floating" type like in Mazda and Mercedes-Benz products. That's progress, I suppose. SYNC 3, Android Auto and Apple CarPlay will be included. In fact, pretty much every connectivity option we can think of should be available in the 2018 Ford EcoSport, either standard or as an option. During the media presentation before the Los Angeles Auto Show press days, Ford invited DJ Khaled to entertain the crowd, a rapper that was previously unknown to me—but well-known judging by the younger people in attendance. If Ford wants to attract a younger clientele, it figured out how to do it.
Read our road test of the Honda HR-V
Road our road test of the Mazda CX-3
Share on Facebook