2017 Chrysler Pacifica Hybrid: For the Treehugging Family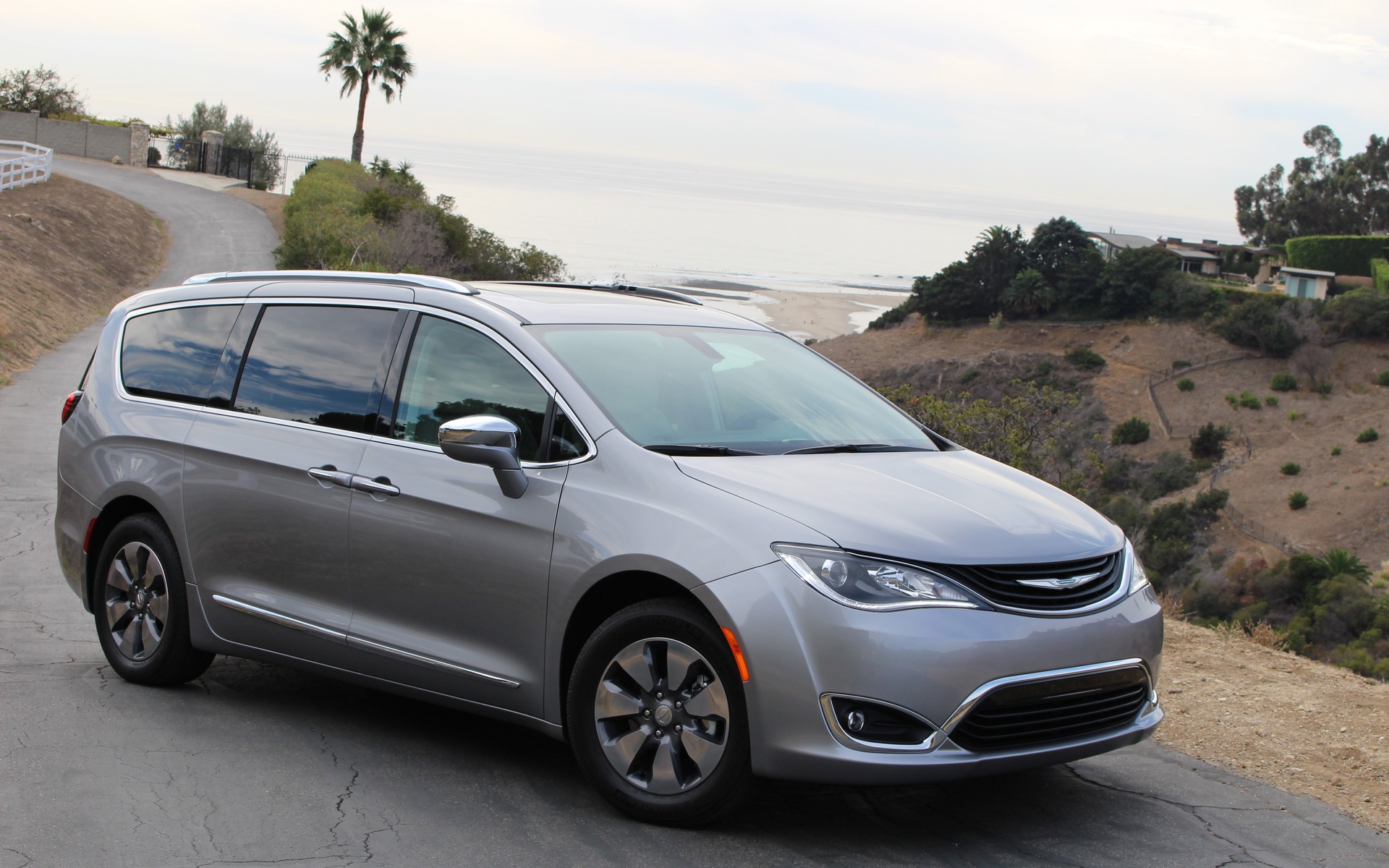 Strong points

Good EV driving range
Smooth drive
Extremely versatile and family friendly

Weak points

High price, excluding the government rebates
Engine can get noisy
Unknown reliability of this new hybrid system
Full report
SANTA MONICA, California – After creating the modern-day minivan more than 30 years ago, Fiat Chrysler Automobiles has taken the concept to the next step with the new Pacifica Hybrid, which has the ability fulfill the transportation needs of an active family without consuming a drop of fuel, and that will be sale starting next month.
First of all, it's actually a plug-in hybrid, which is pretty unique in its size and price class. We can get a Toyota Highlander Hybrid or an Infiniti QX60 Hybrid, but if we prefer some sort of EV-only range, we must move up to the luxury brands and their performance utility vehicles, such as the BMW X5 xDrive40e and the Porsche Cayenne S E-Hybrid.
So how come FCA isn't mentioning outright that their new gas-electric minivan can be plugged in? Because they figure consumers associate a plug with range anxiety, which has to do specifically with pure EVs. The 2017 Chrysler Pacifica Hybrid can still be driven as far as we want to go, as long as we fuel it up like any other conventional vehicle.
On the other hand, plugging the Pacifica in whenever we have the chance can translate into big savings. Just like in the conventional, gas-only variant, it's equipped with a 3.6-litre V6, although in this application, it runs on an Atkinson cycle that makes it a little less powerful, but more fuel efficient. It's matched to an electrically variable automatic transmission, or what the manufacturer calls an EVT, which integrates two electric motors, fed by a 16-kWh battery pack.
During the vehicle's presentation to the press, FCA's representatives didn't share any exhaustive technical specifications about this setup, except that it produces a combined 260 horsepower. Figuring owners won't want a complex system of selectable drive modes, the vehicle manages its powertrain on its own.
That means there's no EV mode button or a charge hold feature for when we hit the highway at speeds that drains a battery down more quickly. The vehicle is able to travel at up to 120 km/h on battery power alone before the gas engine kicks in for extra power, and mashing the gas pedal also summons the gas V6 even though we have plenty of EV range left.
Using a 240-volt, level 2 charging station, the 2017 Chrysler Pacifica Hybrid can be fully charged in about two hours. With a 120-volt, household outlet, charge time soars to 14 hours, which is a little much. Obviously, it's best to get a level 2 wallbox at home for keeping the minivan juiced up. As is the case with pretty much all PHEVs, there's no level 3, quick-charge port on the Pacifica Hybrid.
A charge schedule can be set up in the vehicle's infotainment system, which is handy in provinces where electricity costs more in daytime than at night. A smartphone app is also downloadable for U.S. owners, but unfortunately for now, it's not available in Canada.
According to FCA, maximum range in EV-only driving is 48 kilometres, after which the gasoline engine will seamlessly step in. During our preview drive in the Santa Monica area, which included hilly roads and brief highway stints, we matched the manufacturer's range projection without having to resort to hypermiling. Around town, the Pacifica Hybrid's fuel economy is estimated at 2.9 Le/100 km, while total range using both a full charge of electrons and a full tank of regular unleaded fuel reaches 850 km.
While 48 km might not sound like much, let's think about the distances travelled in a daytime, even for parents who must haul their kids to school or hockey practice several times a week. A considerable portion of the population could drive to work and back on electric power alone, and be ready to head out again after a quick, two-hour charge at home. The vehicle monitors how long the fuel is sitting in the tank, and if it's there for more than 90 days, the hybrid driving mode will be activated to burn it and prevent it from getting stale.
In addition, there are very few PHEVs that offer better range than the Chrysler; the Chevrolet Volt comes to mind, and that's about it. And may we remind you that the Pacifica has room for seven passengers and all their gear or luggage?
Of course, the Pacifica is no featherweight. The hybrid powertrain adds about 600 pounds to the vehicle, for a total weight of about 5000 lbs. The battery pack is located beneath the floor, which means the second-row Stow 'n Go seats had to be replaced with conventional—but removable—captain's chairs. Also, towing isn't recommended for the hybrid, while the regular Pacifica can tow up to 1633 kg (3600 lbs.).
On the bright side, those middle seats are more comfortable than the Stow 'n Go chairs, as they offer more lateral support and don't make us feel like our knees are rubbing against our chin. We're slightly exaggerating.
For the rest, the 2017 Chrysler Pacifica Hybrid feels like the conventional one. The electric motors are up to the task of moving the minivan along swiftly, and the driving experience doesn't change all that much once the gas engine comes into play. The only downside, which we might get used to after a while, is that the V6 can get a little noisy when we lean on the throttle, as the EVT keeps it revving in its power band instead of upshifting like a normal automatic transmission would do.
Once we get our hands on a Pacifica Hybrid for a full, week-long road test, we'll also have to measure how much fuel the powertrain uses once the battery pack is depleted, although the electric motors still assist the gas engine in certain situations, just like in any hybrid vehicle.
The Pacifica Hybrid is recognizable by a wavy pattern in its front grille, a teal-coloured winged logo, unique 18-inch alloy wheels, some chrome accenting, badging and—obviously—a charge port that's located on the driver-side front fender. An exclusive paint colour, Silver Teal, will be available as well. Inside, the dash and seats get light blue stitching, the tachometer is replaced with a charge and power meter, and the trip computer includes an efficiency coach that helps drivers maximize their driving range.
Only one trim level of the Hybrid will be sold in Canada, and it's called the Platinum. It's basically loaded with standard features that are part of option packages on the regular Pacifica Limited. That includes adaptive cruise control with stop and go capability, forward collision warning with autonomous emergency braking, lane keep assist, park assist, 360-degree camera system and a programmable keyfob.
The family-friendly Uconnect Theatre system is also standard, which includes two 10-inch touchscreens with games, HDMI and USB inputs for streaming content in addition to the "are we there yet" feature which prevents the kids from constantly saying, well, "Are we there yet?" The only option available is the $1,795 tri-pane panoramic sunroof, which makes the rear-seat area so much more enjoyable.
Now, for the all-important aspect of the 2017 Chrysler Pacifica Hybrid, and that's pricing. In Canada, it will boast an MSRP of $56,495 before freight and delivery charges, or $3,500 above the price of a similarly equipped, gas-only Pacifica Limited.
FCA's marketing pitch heavily relies on government green-vehicle rebates, applied after sales taxes. In the three provinces that offer them, the Pacifica Hybrid qualifies for the maximum amount, which means $8,000 in Quebec, $8,250 in British-Columbia and a whopping $14,000 in Ontario.
The 2017 Chrysler Pacifica Hybrid makes perfect sense. The fuel savings in small hybrid cars are minimal given today's advanced engine technologies, but in bigger, purposeful vehicles such as this one, there's a substantial gain. Combine that with the fact that the Pacifica is arguably the best minivan on the market right now, and FCA could very well be in the process of making this type of vehicle trendy again.
Share on Facebook