2017 Maserati Levante: The Brand's Moneymaker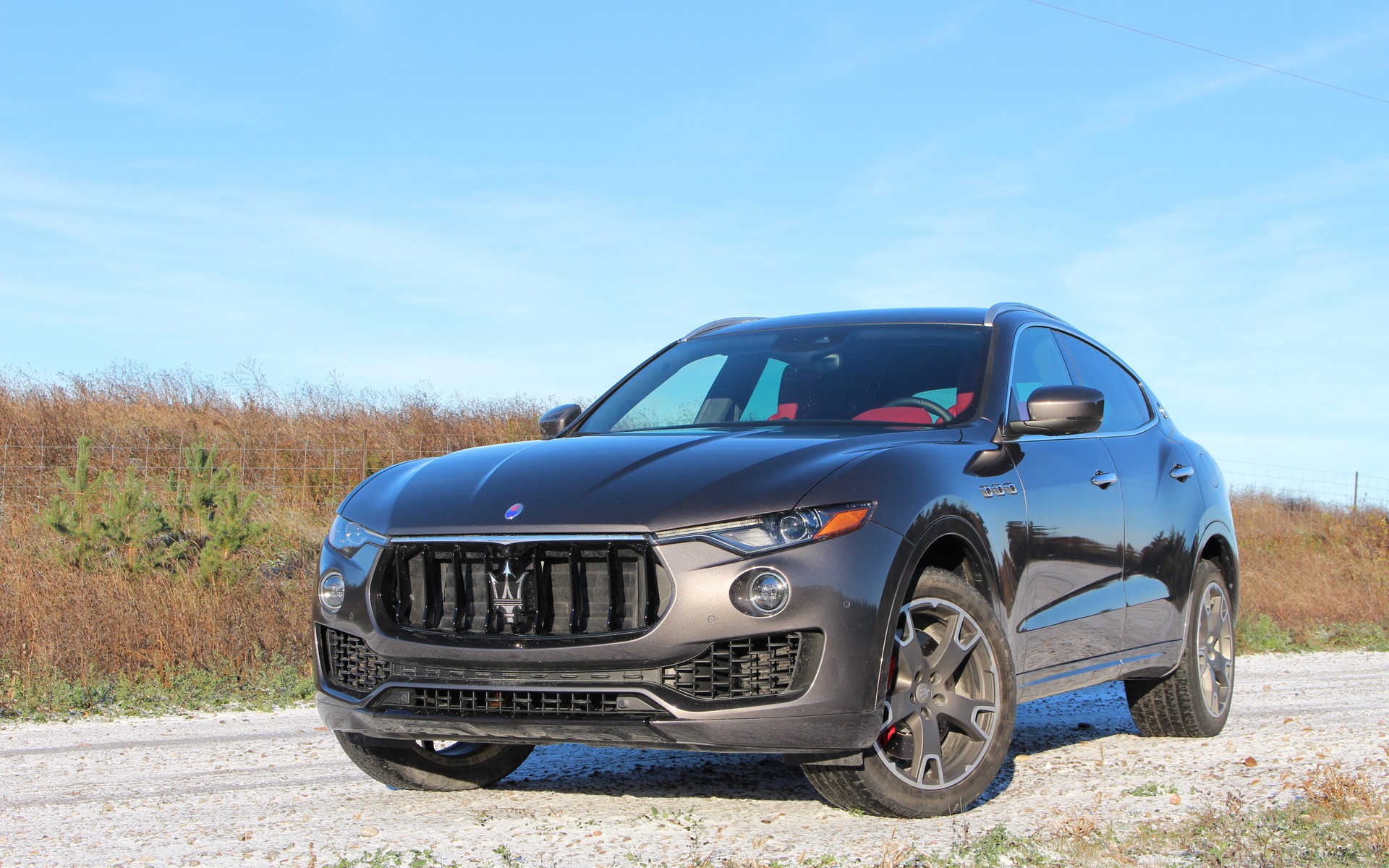 Strong points

Muscular and mean-sounding engine
Dynamic road manners
Sumptuous cockpit

Weak points

Obtrusive paddle shifters
Fussy shift lever
Very small dealer network
Full report
It's no surprise anymore that performance and luxury brands are all hopping on the SUV bandwagon, because that's where the big money is nowadays. Porsche dared to launch the Cayenne 14 years ago, and more recently, both Jaguar and Bentley introduced their own, first-ever utility vehicles.
The Italian brands are also starting to sink their teeth into the SUV segment, as Alfa Romeo and Lamborghini are developing models of their own. However, Maserati preceded them both with the all-new Levante.
We got our first crack at this performance-oriented SUV during AJAC's annual Canadian Car of the Year Testfest. The 2017 Maserati Levante is a midsize model that rivals the likes of the aforementioned Cayenne, but also the BMW X5 and X6, the Mercedes-Benz GLE and the Range Rover Sport.
The Levante's styling is inspired by the Kubang concept that was unveiled at the Frankfurt Auto Show back in 2011. Picking up a five-year-old design might seem risky in today's automotive world, but the production SUV looks fresh all the same, and does share a lot of styling cues with the Ghibli and Quattroporte sedans.
Two variants of the Levante are offered in Canada, and both are equipped with a twin-turbocharged, 3.0-litre V6 engine, an eight-speed automatic transmission and all-wheel drive. The base version of the SUV benefits from 345 horsepower and 369 pound-feet of torque.
The Levante S is much more potent, with 424 hp and 428 lb.-ft. of torque. During the usual CCOTY performance tests in cold temperatures of late October, the Maserati bolted from 0 to 100 km/h in 5.7 seconds. It might not be as fast as the 567-hp X5 M and X6 M, the 577-hp AMG GLE 63 S and the 520-hp Cayenne Turbo, but it's more affordable than those German rocketships. The 510-hp Range Rover Sport Supercharged is the most direct adversary in terms of performance and price.
Then again, there's the $72K Jeep Grand Cherokee SRT, which boasts a 475-hp, 6.4-litre HEMI V8, but we're not talking about the same level of prestige. While some might think the 2017 Maserati Levante is based on the GC's platform, it's actually built on the Ghibli sedan's architecture. Still, since Maserati is part of the Fiat Chrysler Automobiles empire, they likely digged into Jeep's parts bin or off-road knowledge base for making the Levante cottage trail-friendly.
On the off-road course during CCOTY testing, the Maserati showed what it's capable of, even if owners will never voluntarily roll a tire off the pavement. The standard Off-road mode, activated by the touch of a console-mounted button, raises ride height by 25 millimetres, increasing approach and departure angles, and the driver can flip the adjustable suspension switch for an extra 15 mm of ground clearance. And on the highway, the Levante automatically lowers its suspension by 20 or 35 mm, depending on speed, and a 45-mm drop can be summoned for easier entry/exit and cargo loading.
The Q4 all-wheel drivetrain favours the rear wheels under normal driving, and sends torque up front when a hint of wheelspin is detected. According to Maserati, the SUV's standard Skyhook continuously variable damping system emphasizes comfort, but this is a performance-oriented vehicle after all, so the ride is firm without being bone-jarring.
The Sport mode has two settings, one for making the powertrain more vocal and responsive, the other for stiffening up the suspension as well. In Sport mode, the twin-turbo V6 sounds a lot meaner, as full-throttle upshifts are backed by a ferocious—and real—growl that you can hear right down through the exhaust system. Pretty neat. Not that it's really important, but the Levante S' combined fuel economy rating is set at 14.8 L/100 km.
Inside the 2017 Maserati Levante, we find a luxuriously crafted cabin, and our tester boasted a beautiful mix of red leather upholstery and upper dash trim with black lower dashboard section, wheel and centre console. Pretty much all the switchgear can be found in various FCA products, some good, some bad. The spring-loaded shift lever isn't user-friendly, as we must always make sure you've successfully engaged Park before lifting our foot off the brake.
The Uconnect 8.4 system is renamed Maserati Touch Control, but works just as well. However, a multifunction knob was added on the centre console, but it isn't as intuitive as BMW iDrive's controller, for example, because it's an afterthought feature for what's essentially an interface for touchscreens. The volume knob is handy, though. There are alloy wheel-mounted shift paddles for spirited driving, but they're pretty big and in the way of both the turn signal stalk and the audio buttons located behind the wheel spokes.
As expected, a wide selection of paint colours, upholsteries and trim finishes are offered, the latter including carbon fibre as well as open-pore and glossy wood panelling. Features like a panoramic sunroof, a heated steering wheel and a Bowers & Wilkins sound system are available, as are Sport and Luxury option packages in addition to the lavish Zegna trim package that adds silk seat, door panel and headliner inserts.
The Levante is an alluring performance and luxury SUV, and will easily double the brand's sales in North America, as Maserati enthusiasts will likely purchase one as a winter beater or a family vehicle for the daily grind. Its base price of $88,900 before freight and delivery charges could be a hurdle, though, and our well-equipped Levante S tester retailed for $108K, which is a lot of dough, but still checks in under the base MSRPs of its more-powerful German adversaries.
Share on Facebook