2016 Dodge Charger and Challenger SRT 392: Would you Like your Poison in Two or Four Doors?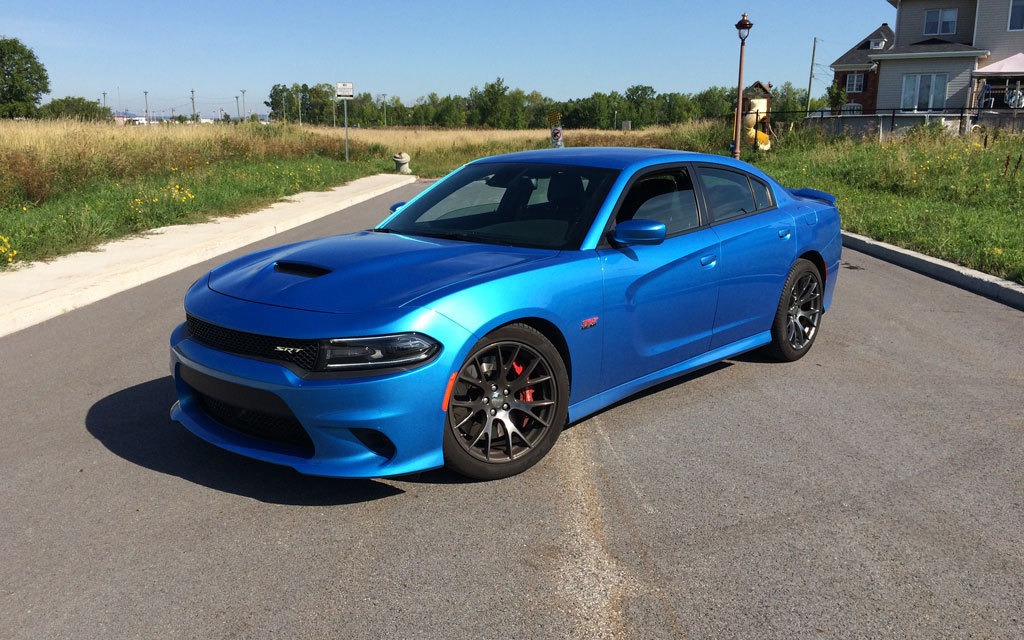 Strong points

Amazing looks
Power in Abundance
Comfortable leather seats

Weak points

Lack Of an electronic parking brake
Heavy weight
Thirsty on fuel
Full report
In the long list of performance machines that is the Dodge Charger/Challenger lineup, somewhat lost between the relatively affordable Scat Pack and the headline-grabbing Hellcat is the SRT 392. I had the opportunity to test both the Charger and Challenger on back-to-back weeks, which was helpful for comparison reasons.
The Charger and Challenger SRT 392 models are powered by a 6.4L HEMI V8 making 485 horsepower and 475 lb.-ft. of torque. It's the same engine as in the Scat Pack, but the difference is with the SRT you get beautiful 20x9.5" hyper black rims, adaptive suspension damping, a drive mode selector, HID headlights, a rear spoiler, power mirrors, Brembo six-piston callipers up front, LED interior lighting, heated seats (front and back), heated steering wheel, Laguna full leather seats and a few other items.
Keep in mind this is the most expensive model short of the SRT Hellcat. If the latter is a NASCAR you can legally drive on the street, the SRT is a slightly less fast NASCAR that can be driven on the street. The growl of the engine on a cold start is a thing of beauty, yet surprisingly you won't necessarily be waking up the neighbours each time you leave your house, thanks to the active exhaust. The system allows for a louder exhaust note under engine load by way of a bypass valve. If you step on it you get noise. If you don't, it emits a somewhat reasonable amount of sound.
When you decide to give it some juice, those 485 horses launch the vehicle to 100 km/h in just 4.2 seconds (Charger) and 3.9 seconds (Challenger). It's raw and vicious, but not so much so that it becomes dangerous or impractical. The 15.4-inch aforementioned front Brembos are the largest brakes ever offered in a FCA U.S. vehicle, including two-piece slotted and vented rotors. They inspire confidence when needed, as does the SRT-tuned high-performance adaptive damping suspension. It's a good thing because the vehicles are quite heavy, coming in at 1785 kilograms (Charger) and 1766 kilograms (Challenger).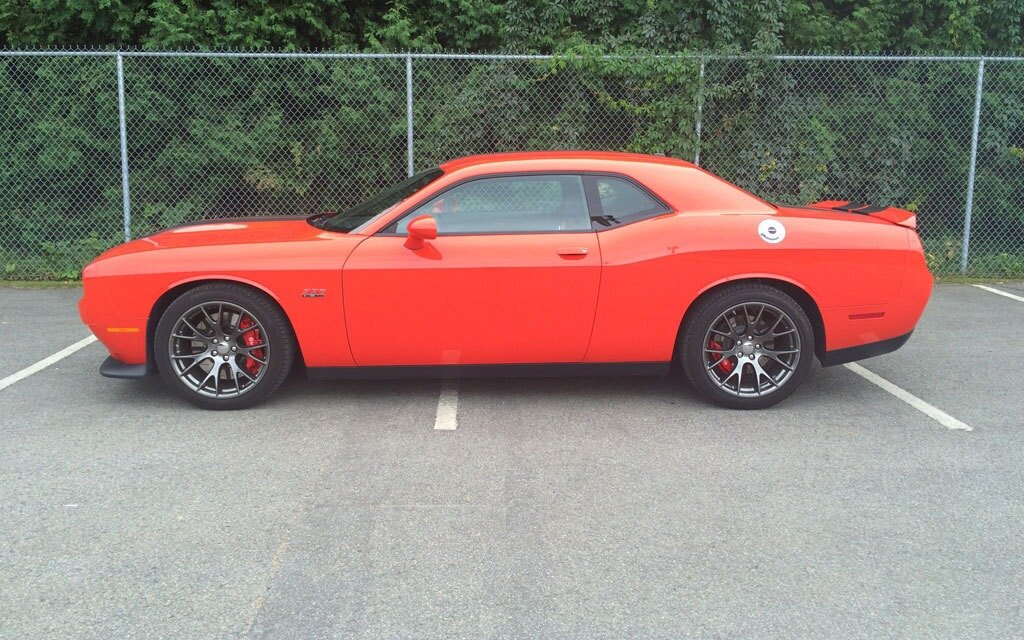 One thing the Challenger does offer which isn't available on the Charger is a manual transmission. A sore point here was the foot-operated parking brake. It's old fashioned, clumsy, out of place and gets in the way. Furthermore, Dodge has placed the hood latch right below the parking brake release and made the levers identical, ensuring an accidental popping of the hood to be a certainty. An electronic parking brake is clearly needed.
I do enjoy the SRT interior and in particular the big, fat, leather-wrapped, flat bottom steering wheel. The new Laguna leather seats are comfy as heck and the Harman/Kardon audio system has 19 Green Edge speakers and 900-watt amplifier. Also new for 2016 on the SRT is the Uconnect 8.4-inch screen with navigation, HD radio as well as SiriusXM TravelLink and SiriusXM Traffic.
The practicality of having four doors is a huge plus for people with large families that still would like to have a bit of oomph in their daily driver. Being a family man myself, obviously my choice would be the Charger. Mechanically, there are so many similarities between the two cars that it basically boils down to whether you would like your poison in two or four doors.
The B5 Blue Pearl or Go Mango paint colours serve to draw eyeballs and thumbs-up from passers-by like almost no other non-exotic on the road. From kids on their bicycles to truck drivers, both cars were absolute attention grabbers. If you're one of those Police pack enthusiasts, then the Charger is just the thing for you. Order one in white or black, slap on a front ramming bar and you'll never have anyone hogging the fast lane in front of you ever again.
There is such a wide range of trim levels to discuss that it's probably best to check out Dodge's website for the details. In a nutshell, expect to shell out at least $50,000 for a Scat Pack model, $5500 more for the SRT 392 and about $20,000 more for the Hellcat. In most cases the Charger is slightly less expensive than the Challenger. If you cannot scrape up the cash for the Hellcat, the SRT and Scat Pack models are still monster performance machines worthy of praise.
Share on Facebook