2016 Dodge Challenger SRT 392: Fountain of Youth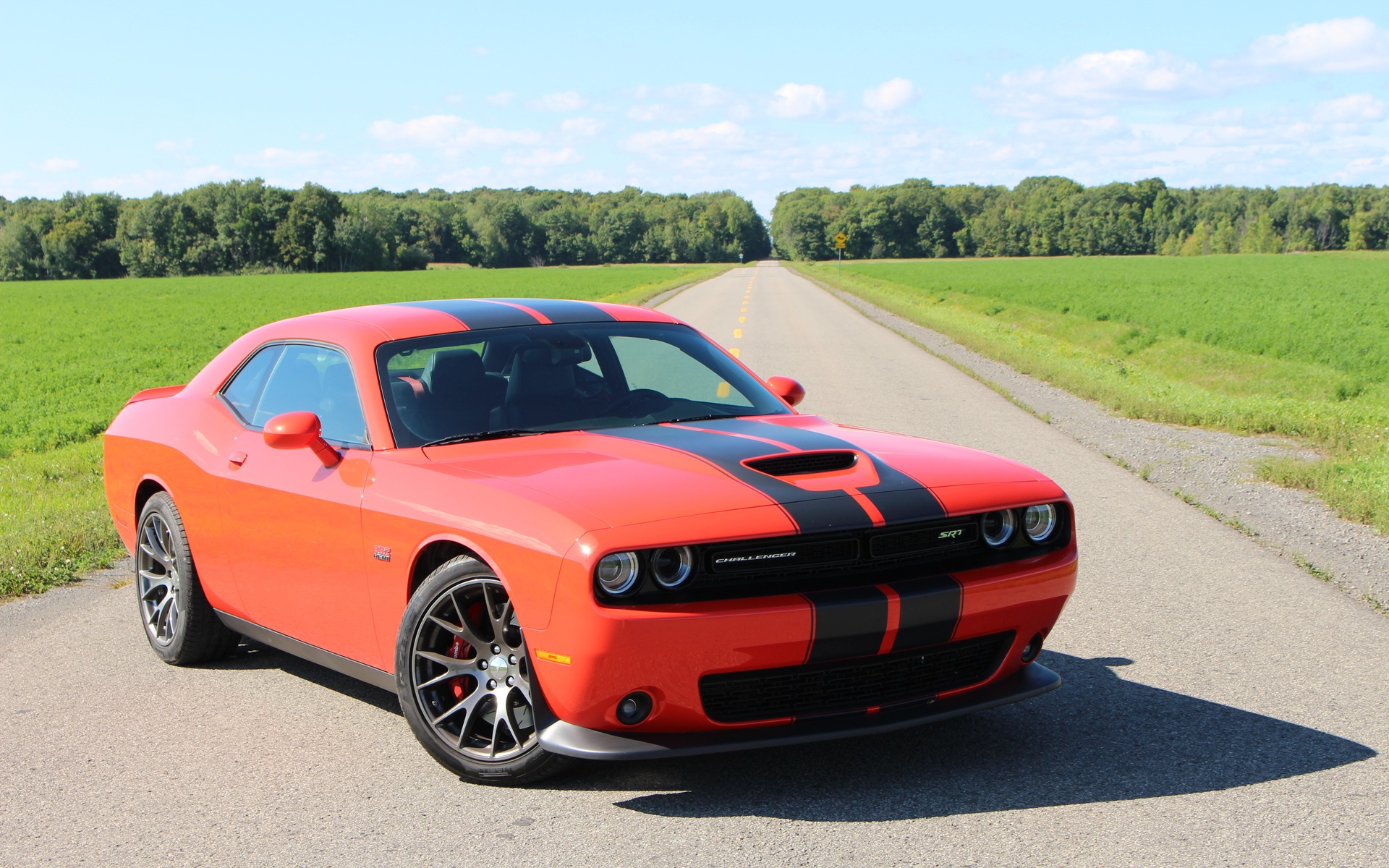 Strong points

Massive power and furious engine sounds
Sexy retro looks
Modern instrumentation

Weak points

Massive fuel consumption
SRT 392 isn't cheap
Tight back seat, obviously
Full report
Modern-day musclecars from the big three domestic automakers might not be volume sellers, but they do garnish quite a bit of attention. People either admire them for their raw power and sexy retro looks, or loathe them for their environmentally unfriendly personality, especially when they're stuffed with big honkin' V8 engines.
Sure, the Ford Mustang and the Chevrolet Camaro are now available with turbocharged four-cylinder engines. To attract customer in overseas markets and to reduce their cars' carbon footprint, smaller-displacement engines are the way to go. The 2016 Dodge Challenger doesn't take that route.
In fact, we tend to believe that most people who buy these musclecars for their retro feel and character wouldn't want anything other than a V8 underhood. And they are the most affordable cars on our market today with eight-cylinder firepower. Among the three, the Challenger is undoubtedly the one offers the best retro feel and character.
A 305-horsepower, 3.6-litre V6 matched to an eight-speed automatic transmission is the base powertrain in the 2016 Dodge Challenger. You get the looks and interesting performance, but not the fury. For the full musclecar effect, one has to skip the SXT and SXT Plus trims and move up to the R/T. Its 5.7-litre HEMI V8 develops 372 horsepower with the automatic transmission and 375 with the optional six-speed manual. Yes, if we want to row through our own gears, we have to pay an extra $1,000. Welcome to 2016.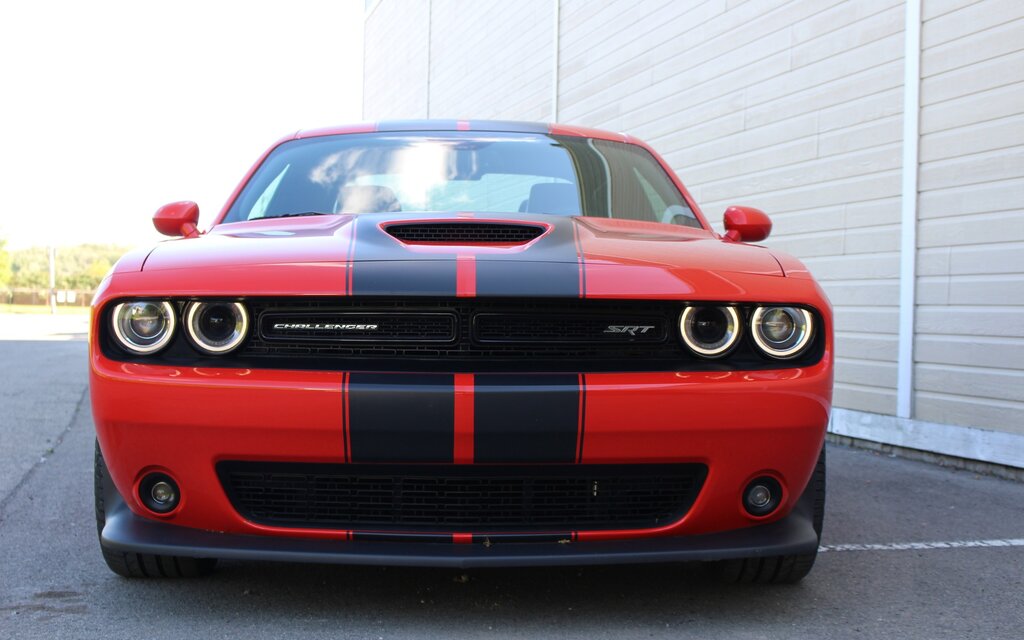 That's more than enough muscle, but we don't get access to true bragging rights until we step up to the R/T Scat Pack, 392 HEMI Scat Pack Shaker and SRT 392 variants—the latter being the subject of our test. They boast a 6.4-litre HEMI V8 that belts out 485 hp and 475 pound-feet of torque, mixed with our choice of transmission.
Now we're talking. With a 0-100 km/h time of less than five seconds, the SRT 392 is brutally fast, and full-throttle accelerations are always accompanied by the spine-tingling roar of the HEMI V8 engine. The car has plenty of character, as its body quivers at each stab of the gas pedal, and the lack of refinement compared to its recently redesigned adversaries—the Mustang and the Camaro—is part of the experience.
True, the SRT Hellcat is even more powerful and demands more respect. We drove it on several occasions and think it's marvellous. On the other hand, the 707 hp and 650 lb.-ft. of its supercharged, 6.2-litre V8 are a handful for inexperienced (read: imprudent) drivers, and getting all that power to pavement for a sub-four-second rip to 100 km/h is tricky. Especially with the manual gearbox. The Hellcat is also very expensive to purchase and insure, and is likely prone to theft.
Thus, the 2016 Dodge Challenger SRT 392 is a more reasonable choice, although not much in this car can actually be qualified as reasonable. And definitely not fuel consumption, as we averaged a budget-busting average of 14.8 L/100 km aboard our tester, which was equipped with the six-speed manual. Premium fuel is recommended, by the way.
The Challenger's cockpit is a mix of retro design cues and modernism. The driver instrument pod presents old-school tach and speedo, but they're separated by a digital trip computer and information centre. The Uconnect 8.4 infotainment system has one of the most user-friendly interfaces in the business, while rotary dials for volume, tuning and climate control fan speed are the way to go.
The 2016 Dodge Challenger SRT 392 even includes customizable drive modes for street or track driving, a launch control system and instruments to measure our performance numbers. Off public roads, of course. For the daily commute, we also get massive sport seats with perforated leather as well as heat and ventilation up front, a heated steering wheel and more. The extra $125 required for the red seat belts is a no-brainer.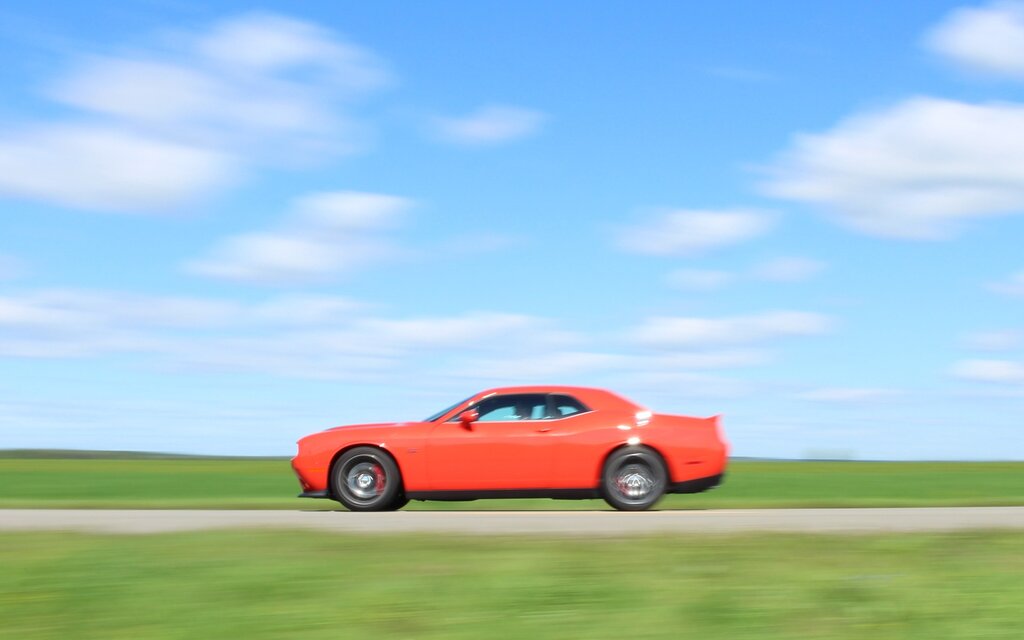 As expected, outward visibility in the Challenger is a—pardon the pun—challenge, but at least rear park assist and a rearview camera is included from the SXT Plus trim up. Rear-seat passengers won't be happy for too long, and although FCA flaunts their musclecar's ability to seat up to five people (the Mustang and Camaro each have four seats), that's wishful thinking.
The 2016 Dodge Challenger might feel old, and that's the whole point. The SRT 392 is a thrill ride back in time, and will make old musclecar fans feel like they've set foot back in the Seventies. On the other hand, this Challenger is chock full of safety features and handles like a modern sports car should. What could probably be described as a sin, the Challenger should soon be offered with AWD, while a wide-body Hellcat variant should also appear before the car gets redesigned sometime in 2018.
The SRT doesn't come cheap, priced from $57,495 before freight and delivery charges. We could do without some features and cloth seats by picking the R/T Scat Pack, but ultimately, reminiscing about the past in a Challenger R/T can be done, which start at around $40K.
For now, this is the best modern interpretation of America's musclecar era, built right here in Canada, with all its qualities and its shortcomings. It's imperfectly perfect.
Share on Facebook