2017 Canadian Car of the Year Awards: the Small Utility Vehicle Category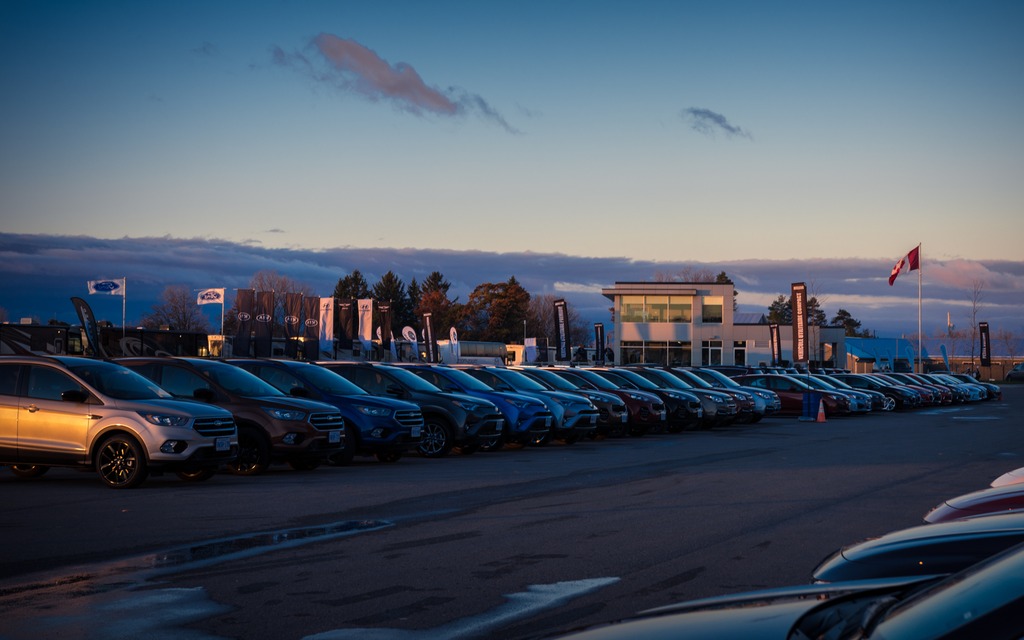 Last week, more than 65 journalists from across Canada gathered at TestFest, the annual intensive vehicle-testing even organized by the Automobile Journalists Association of Canada (AJAC). Amongst the eight categories this year, a very important one is Small Utility Vehicle, which rounds up new or significantly redesigned models in popular market segment.
This year, four such models were entered in the Small Utility Vehicle category: the Ford Escape, the Kia Sportage, the Subaru Forester and the Toyota RAV4 Hybrid. We took them on the road, of course, but also tested their off-road capabilities as well. The winners of each category will be announced on December 6, but in the meantime, here's a quick look at each of them.
2017 Ford Escape
The Escape has been the best-selling SUV or crossover for many, many years in Canada. On sale in its current form since 2013, the Escape received some cosmetic tweaks, new technologies and engine swaps for the 2017 model year. Advanced safety driving aids have been added as well, such as lane keep assist, automatic high beams and a driver drowsiness detection system. Three engines are offered, a 168-horsepower, 2.5-litre four; a 179-hp, turbocharged 1.5-litre four and a 245-hp, 2.0-litre turbo. All-wheel drive is obviously available. The 2017 Ford Escape starts at $25,099 before freight and delivery charges.
Read more about the Ford Escape
2017 Kia Sportage
The compact Sportage gets a fresh new look for 2017 in addition to a redesigned cockpit and more features. A 181-horsepower, 2.4-litre four-cylinder engine is standard, while a turbocharged, 2.0-litre four developing 237 hp is also available. Uplevel features such as a panoramic sunroof, ventilated front seats, front and rear park sensors, adaptive HID headlights and a heated steering wheel can all be added to the Sportage. The 2017 edition starts at $24,895 before freight and delivery charges.
Read more about the Kia Sportage
2017 Subaru Forester
It may look the same as last year, but the 2017 Forester gains many improvements in addition to revised styling cues. Base versions are equipped with a 170-horsepower, 2.5-litre four-cylinder engine as well as a choice of manual and automatic transmissions, while all-wheel drive is standard. The Forester 2.0XT versions boast 250 horsepower, thanks to a turbocharged, 2.0-litre four mixed with an automatic gearbox. The EyeSight advanced safety system gets enhanced capabilities, while Subaru also claims the Forester has a quieter interior, while comfort features such as a heated steering wheel have been added. It starts at $25,995 before freight and delivery charges.
Read more about the Subaru Forester
2017 Toyota RAV4 Hybrid
The popular RAV4 is now available with a hybrid powertrain that consists of a 2.5-litre, four-cylinder engine, two electric motors, a battery pack and a continuously variable automatic transmission, for a combined output of 194 horsepower. All-wheel drive, dual-zone climate control and a power driver's seat are standard, while features such as a power sunroof, LED headlights, a 360-degree camera system and leather upholstery are available in uplevel trims. The 2017 Toyota RAV4 Hybrid is priced from $34,405 before freight and delivery charges.
Read more about the Toyota RAV4 Hybrid
Which one do you think deserves to win AJAC's 2017 Best New Small Utility Vehicle award?
Share on Facebook