2018 Chevrolet Equinox: The New Equinox on the Equinox!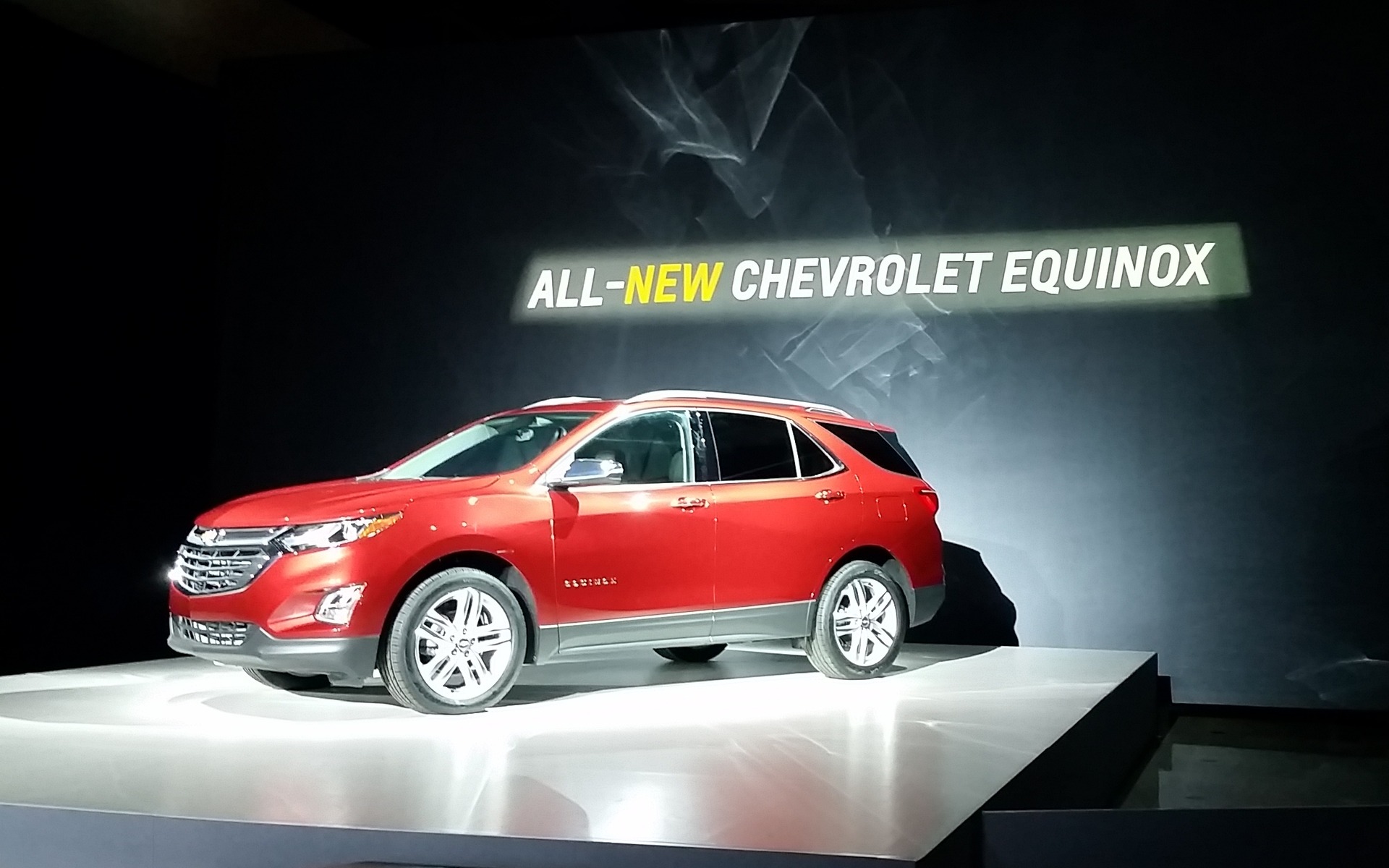 Chevrolet's compact SUV has always been held in high regard among buyers in this segment. Sure, it may not have the reputation for reliability of the Honda CR-V and Toyota RAV4, but it has still managed earn consistent praise thanks to its efficient construction, practical equipment and good value. Here in Canada, the combination of generous space, all-wheel drive and affordable price is a real boon.
Still, it was high time that Chevy gave the Equinox a little TLC. It received a facelift in 2015, but its aging platform and engines weren't exactly competitive anymore with what its rivals were offering.
So, this past September 22nd—it's no accident that it was the fall equinox—Chevrolet flew us to Chicago for the unveiling of the new generation of its most popular utility vehicle. The new Equinox hits all current targets in that it's smaller, lighter and features more fuel-efficient engines.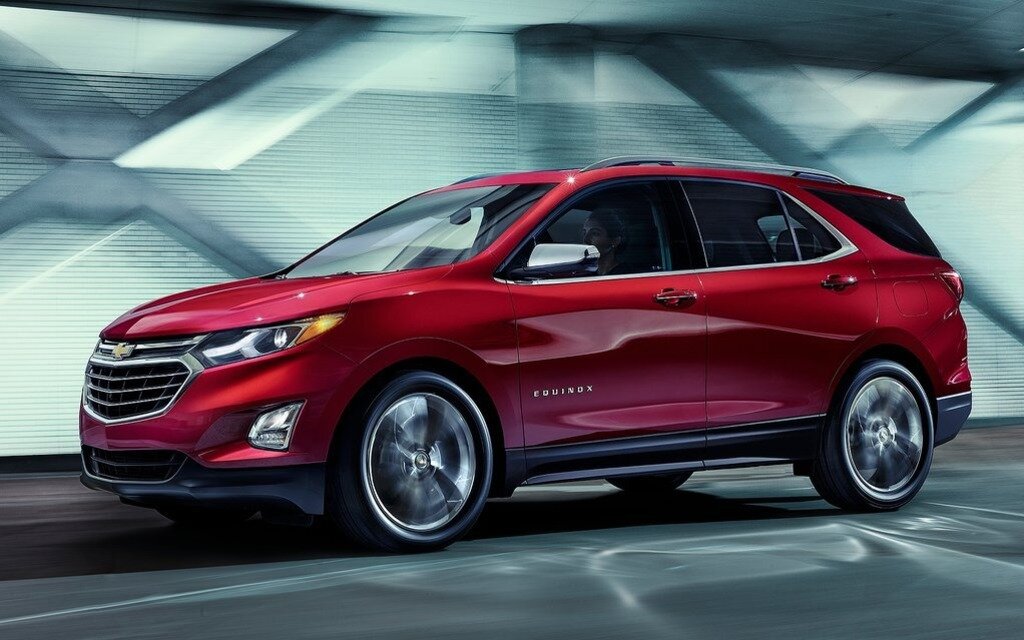 Modern and efficient
Let's take it from the top. Visually, the 2018 Chevrolet Equinox has been treated to a few little touches that not only update its look, but also move it closer to the most recent products in the lineup like the Volt, Malibu and Cruze. Thus, it comes with factory-standard projector headlights and LED daytime running lights regardless of the equipment level. However, LED taillights are reserved exclusively for more luxurious versions. On the other hand, those who go for the basic Equinox will be pleased to learn that the chrome mouldings are included factory standard.
The cabin has also been modified to eliminate most of the cheap plastics that are so ubiquitous in GM products, in favour of soft rubber on the dashboard and nice silver accents. You can also go for the optional two-tone beige and black passenger compartment. It's particularly elegant swathed in leather. If you've been in a Chevrolet recently, you'll find the controls easy to use, with the steering wheel and shifter very reminiscent of those in the Malibu. Overall, the Equinox has been improved by leaps and bounds. There's a factory-standard seven-inch touchscreen, while the higher-end versions are equipped with an eight-inch unit.
And as a Canadian exclusive, you'll be pleased to hear that the remote starter and heated front seats come factory standard. Yippee!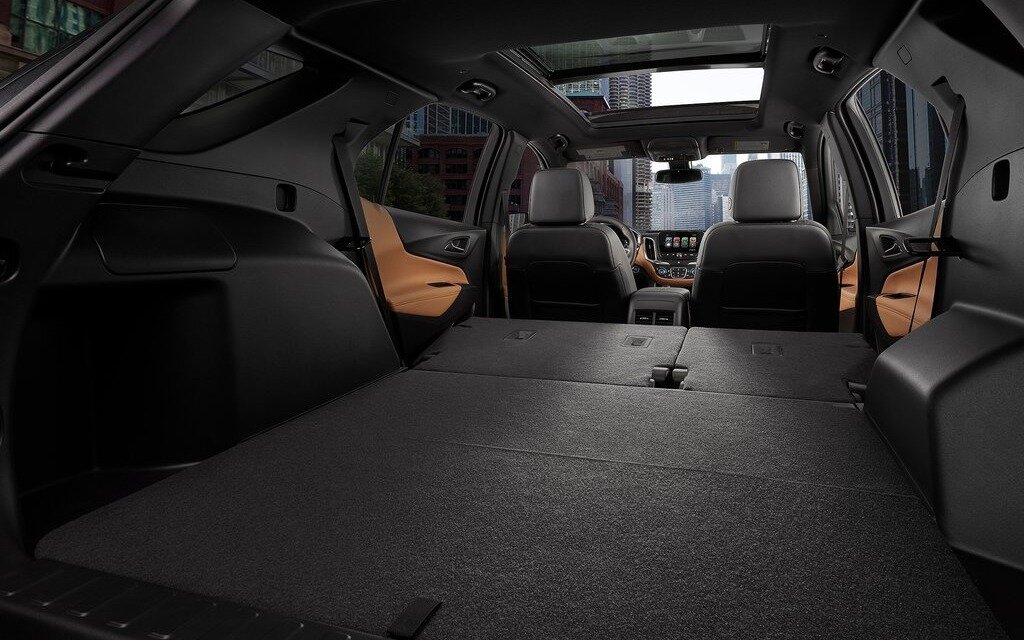 Keeping precious cargo safe
From a safety point of view, the 2018 Chevrolet Equinox loaded up on new technology. Just like on the Malibu, it has an optional forward collision warning with following distance indicator, low-speed emergency braking, blind spot monitoring coupled with lane departure warning, rear sensors able to detect cross traffic, and a good deal more.
The 2018 model year will also see the advent of the Teen Driver system in the SUV, which will basically reassure parents when their teens are driving. Parents can see exactly what happens when their offspring are at the wheel, including the speed and distance travelled. Parnts can also set speed and radio volume limits.
That the 2018 Equinox is lighter than the version it's replacing is a sign of the times. It has shed 180 kg, which represents nearly 10% of the vehicle's total weight. It's 10 centimetres shorter, too, but as this was cut from the area between the front wheels and the cabin, the interior space is not diminished. Why has the space under the hood been reduced so much?
Good-bye V6, hello turbo!
The answer is simple: the big V6 engine is no longer available. Two four-cylinder gas engines are now offered. There's a 1.5-litre turbocharged engine that develops about 170 horsepower paired with a six-speed automatic gearbox as well as a 2.0-litre turbo paired with a new GM-designed nine-speed gearbox. This engine will generate about 252 horsepower and will be practical for towing since it's certified up to 1588 kg (3500 lbs.), which is the capacity of the old V6.
But the big news is the arrival of a third four-cylinder engine that doesn't need spark plugs. It's a new 1.6-litre turbo-diesel that will produce 136 horsepower and 236 lb.-ft. of torque at only 2000 rpm. According to Chevrolet, its fuel consumption will be about seven litres per 100 km. With this option, Chevrolet intends to woo Volkswagen Tiguan owners that will have to replace their vehicle.
Regardless of the choice of engines, the basic drivetrain is front-wheel drive, while all-wheel drive is available on option.
In conclusion, it's interesting to see that Chevrolet didn't settle for improving a few elements of its bestselling SUV; the arrival of a diesel will add a little something new, and the improvement of the quality of the cabin will certainly help the Equinox set itself apart from the competition.
But to be sure, you'll have to test drive it and compare it to its rivals.
Share on Facebook