2017 Volkswagen Golf Alltrack: Volkswagen's Answer to Subaru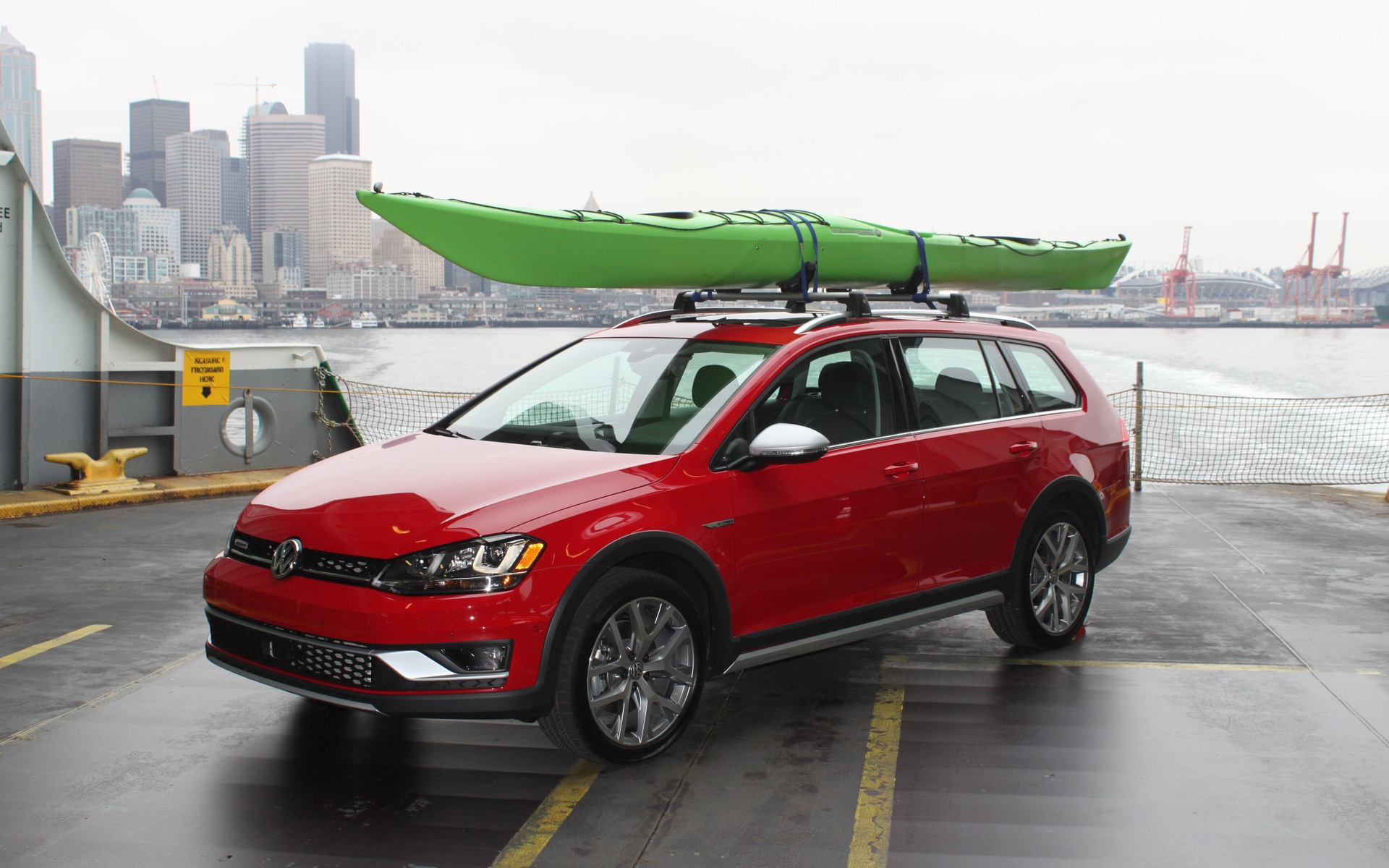 Strong points

Nice silhouette
Dynamic ride
Great finish
Efficient DSG gearbox
Versatile

Weak points

High price
No manual transmission
High fuel consumption
Small infotainment screen
Full report
SEATTLE (Washington) – How do you attend a Volkswagen presentation without addressing the elephant in the room? What's going on with "Dieselgate"? The answer for Americans came right at the start of the presentation. Billions of dollars are going to be spent on rebuilding the manufacturer's reputation and compensating car owners affected by the scandal.
For Canada, no decision has been made yet. Law firms have been retained to deal with the situation. Thus, the answer was a short one: no comment for the moment. So let's get back to the matter at hand – our first impressions of the newest Golf SportWagen version.
While our American neighbours see it as one more model in the lineup, in Canada it is considered an addition to the Golf SportWagen family. In plain English, the Alltrack is an addition to the already existing Trendline, Confortline and Highline versions. What's more, starting with the 2017 model year, the 4MOTION option will be offered on all versions of the wagon.
You may think that the SportWagen is going to sell better than the Alltrack, but certain members of the Volkswagen family disagree. The base version, Trendline, and the fully loaded Alltrack should account for more than 90% of sales.
There's a 1.8-litre four-cylinder TSI engine under the hood that delivers 170 horsepower. Note that the six-speed, twin-clutch automatic DSG gearbox is offered for now, but if we believe what we were told, a six-speed manual may be offered in 2018. However, that's far from a sure thing, so manual transmission fans will have to be patient.
What can we say about its overall handling? On the road, it has that signature Volkswagen dynamism. A rigid chassis paired with ultraprecise steering offers infinite pleasure. On the other hand, adding a turbocharger and reducing engine displacement usually helps diminish fuel consumption. In this regard, this 2017 Volkswagen Golf Alltrack is not an example to follow. If you intend to test its off-road capabilities, you'll have the choice of four driving modes made for that purpose.
Style-wise, we've got to admit that the silhouette is alluring. Without going overboard, the stylists added protectors under the front and rear shields and black edges around the fenders. This high-riding version of the SportWagen gets a ground clearance increase of 15 mm. The overall look is quite attractive. The car is spacious, too with a cargo volume of 861 litres, or 1883 with the rear bench lowered. Add a multi-purpose roof rack and you're ready to go for all kinds of outdoor activities. If you want proof, just check out our photo with the kayak strapped to its roof.
In a nutshell, this Alltrack version is just a high-sitting Golf SportWagen with extremely comprehensive equipment and a choice of driving modes. And these additions come at a price. Be prepared to part with at least $35,295 of your hard-earned money to get one. Note that the Trendline base version equipped with all-wheel drive sells for $26,045. That's a pretty significant difference! With the Alltrack, you won't get the same equipment level but will have higher ground clearance to make getting off the beaten path that much easier. But who wants to go off-roading in a Golf? In my opinion, no one does.
Share on Facebook