Hitting the trails with the Mercedes-Benz G 550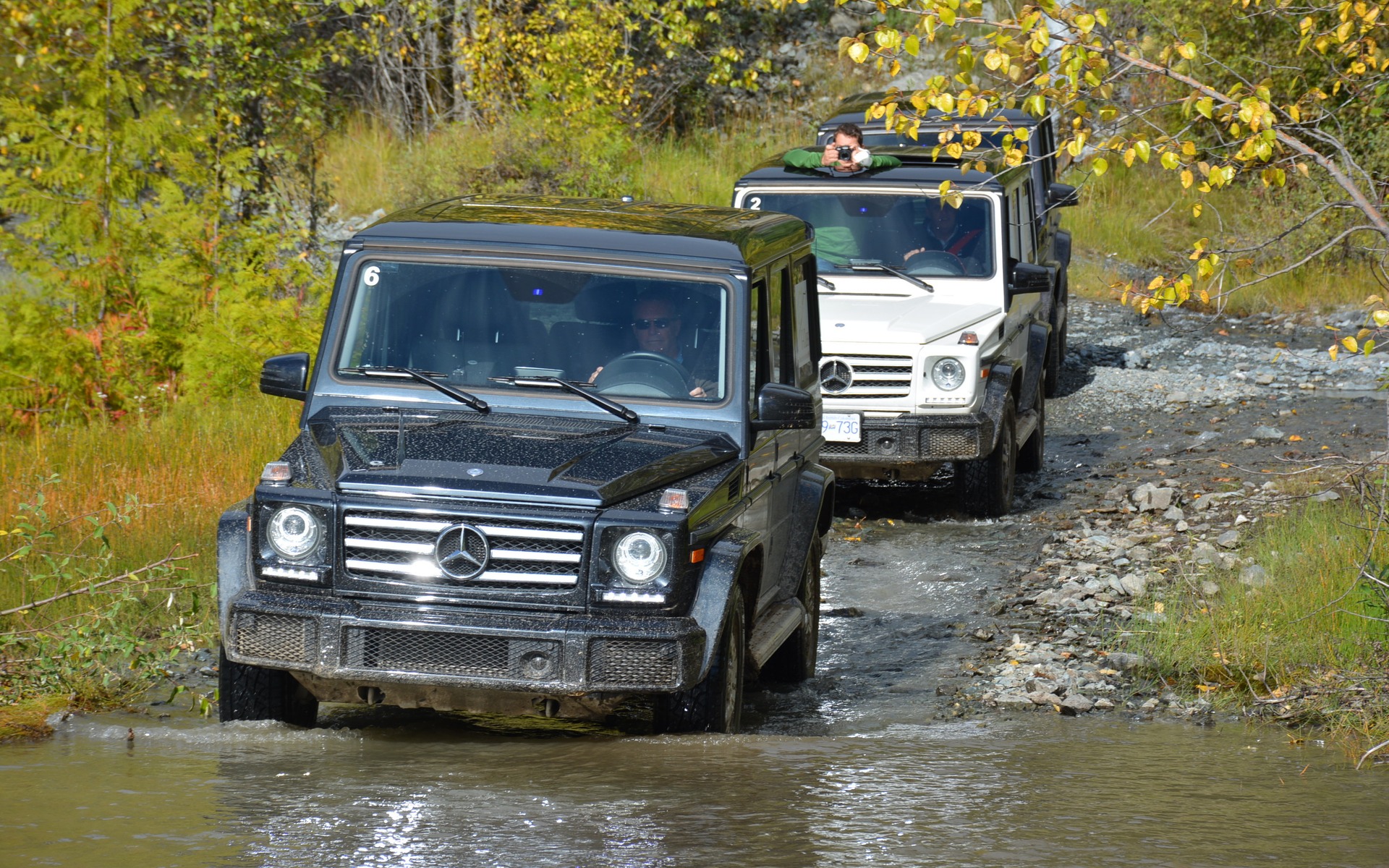 Strong points

-Tackled everything in its path
-Three lock differentials
-Aggressive looks

Weak points

-Expensive
-Fuel economy
-Handling on regular roads
Full report
WHISTLER, B.C. – It's not every day that you can purposely get lost in the off-road trails of Callaghan Valley, just 15 minutes west of Whistler, without worry. But for many years, that's exactly what Mercedes-Benz has done for many of its global G-Class customers. Whether you call it simply a G-Class Experience, an adventure, or a perk; at the end of the day, everyone leaves with a happy grin on their faces.
Recently, a similar experience was provided to a group of journalists, and I was eager to learn and understand the workings of the G-Class. I've been off-roading in the past with Jeep Wranglers and Rubicons, as well as Land Rovers, but never in this boxy, but bold specimen.
At 1954 mm in height, 4764 mm in length and weighing in at 2668 kg, the Mercedes-Benz G-Class means business. Over its 37 years of existence – 15 years in North America – the size and shape hasn't changed drastically from its first iteration that was personally made for the Shah of Iran back in 1979. It immediately became a big hit as a capable military vehicle, one that would be adopted by 43 countries, including Canada, and still used today. Throughout the years, the G-Class has stood the test of time due to a rare combination of luxurious touches with hardcore street cred.
The 2017 G 550s are soon to arrive in October, but they weren't ready for this adventure. Nonetheless, the 2016 models that greeted us in Whistler are fitted with the same engine – a twin-turbo, 4.0-litre eight-cylinder – that produces 416 hp and a healthy 450 lb.-ft. of torque that's matched to a seven-speed automatic transmission. The key changes for the 2017 come down to exterior and interior colour choices with brand new upholstery, contrast stitching, as well as the introduction of Apple CarPlay and Android Auto.
It was a cold and dreary day in Whistler, as a dozen 2016 Mercedes-Benz G 550 4MATICs stood in line waiting for a day filled with gravel, mud, water, rocks and trees. A true off-roading test comes with its challenges, and the slick footing created by the weather, kicked the excitement level up a notch. In reality, you're not testing the vehicle to its fullest, if you're not giving it a challenge. With the full support of the Mercedes-Benz and AMG Driving Academy team to supervise our actions, we ascended the Callaghan Valley in a pack – the way off-roading is meant to be done.
Our journey started off slow with uncomplicated turns and a gravel terrain in order to get us acclimated with not only the vehicle and the ground, but the technological settings. One of the most unique features that separates the G 550 from other off-road vehicles are three buttons located in the centre console that control the G-Class' locking differential system. There are three lock differentials (centre, rear and front) in total that allows the driver to gain control of all four wheels and turn at different speeds when tricky situations arise that are in need of more traction.
For most of the ride, we used the centre differential for standard peaks and valleys at speeds 20 km/h or less. The engagement of the centre lock differential allowed the G 550 to apply a 50/50 split of traction control to the front and rear tires, while disabling electronic stability control (ESP) and anti-lock brakes (ABS) – a necessity when navigating these trails in need of creating additional wheelspin.
There's an order to locking the differentials and it's to be used on a need for torque distribution basis. It starts with the centre, followed by the rear and then finally the front; the latter, only to be used when you find yourself in that dreaded pickle. All you need to do is press the centre button first, and a yellow light illuminates, followed by a red light on top, which lets you know the system is activated; and the same goes for the rest. If you don't follow this order, the drivetrain could be damaged.
With that knowledge, we were well prepared for this five hour off-road excursion. Within that time frame, there was only one instance that we had to reverse a few times to get out of a strange angled rut. The bigger the rock, the more impressive the G 550 became. On a bumpy challenge called the Elephant Hole, there were multiple occasions that a tire was fully off-the-ground, and the boxy beast carried right along with the perfect amount of gentle throttle application.
Slow and steady wins the race when it comes to trails, and the driver's responsibility simply comes down to finding the best tracks or rock angles to climb; the rest was left to one of the most capable mid-size SUVs sitting on 19-inch wheels fitted with Pirelli Scorpion ATR tires. As you ride, your head may toss from side-to-side like a bobblehead, but it always keeps you on point with great visibility.
The Mercedes-Benz G-Class is extreme as it comes, and it's about to get even better with the addition of the G 550 4×4² variant set to arrive in Canada in the first half of 2017. With a ground clearance increase of 203 mm for a total of 438 mm, the 4x42 version can do everything the regular G 550 can – just with more ease and of course at a higher cost that has yet to be revealed.
The G 550 proved its worth on the West Coast and showed why it's so deeply sought after as a military vehicle. Whether it's crossing deep pools of water, tree branches, large rocks, narrow roads, or steep hills and valleys, there was no challenge on this day for the G 550. And with the recent modern touches to its cabin, and more on the way, Mercedes-Benz will succeed in keeping one of its longest-serving nameplates afloat and a signature member of the roster.
When driven on regular roads, it has its deficiencies in drive comfort and fuel economy (19.0 L/100 km in the city and 16.5 L/100 km on the highway), but for consumers that are looking for that luxurious off-road action at a starting price of $127,200, I don't think they will mind. After all, it's a novelty SUV that stands out from any crowd and the perfect vehicle to go to battle with on those off-road trails.
Share on Facebook