2017 GMC Acadia: Unique, For Now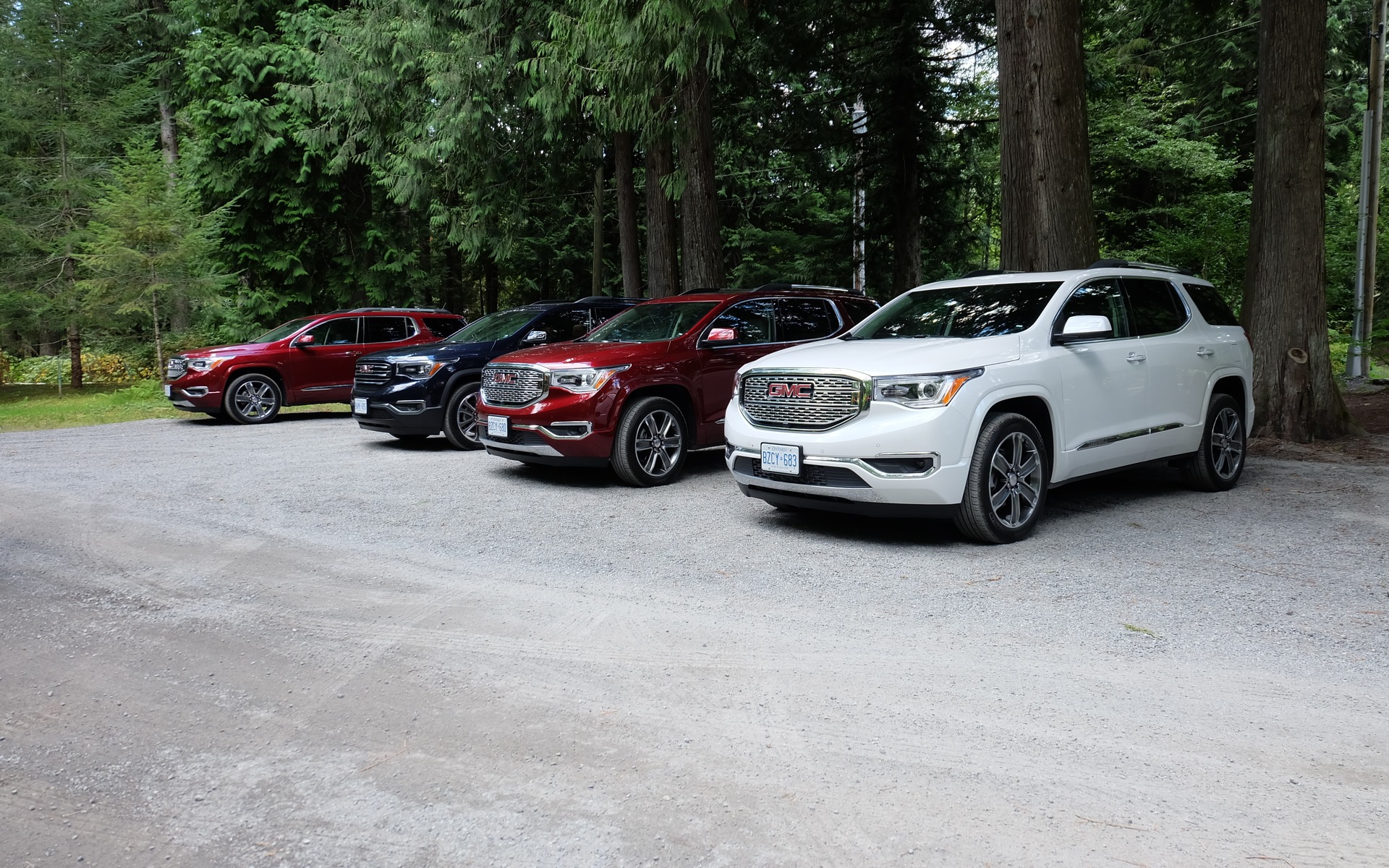 Strong points

Elegant and distinguished new style
Well-adapted V6 engine
Impressive silence on board
Can seat seven REAL adults
Fairly engaging to drive

Weak points

$62,000 for a fully-loaded Denali?
Some hard plastics in the passenger compartment
No seven-passenger All Terrain version
Full report
You might not know it, but Canada is a big market for the GMC division of General Motors. While buyers in the United States generally prefer Chevrolet's truck lineup, we are more inclined to choose the GMC brand's more posh versions. European style, brand image; we can speculate on the reasons why, but the fact remains that GMCs are popular and are here to stay.
GMC is best known for its Sierra 1500 and HD, but it also offers a complete selection of SUVs catering to a broad range of buyers. The Terrain, the Yukon, the Colorado—there's something for everyone. And for those who want to transport seven passengers or a lot of luggage without having to clutter up a hefty Yukon, there's the Acadia.
Slimmer
For 2017, the Acadia has lost some weight. By using aluminum and other advanced materials, as well as new construction techniques, the SUV now weighs 317 kg (700 lbs.) less than before. To pull this off, the Acadia has also been made 18 centimetres shorter and its wheelbase has been reduced by 16.2 centimetres. Despite this, a redesigned interior configuration means that passenger space has not been noticeably diminished and can still accommodate seven adults. Even those who draw the short straw and have to sit in the back won't have to contort themselves to fit in the seats. What's more, the large rear windows help you feel less confined, unlike the back-seat area in a lot of rival models.
The 2017 GMC Acadia's passenger cabin was designed to project luxury, evident in its faux wood mouldings and dashboard design. Straight lines and square angles suggest sturdiness. Unfortunately, there are also a few reminders that you're in a GM product, as certain plastics are hard, but bend easily. That might be fine in the basic trim level, but in a $50,000-plus Denali, we expect better.
On the other hand, the Acadia's 360-degree visibility is good and checking your blind spots isn't too difficult. Finally, the controls, like those for the heated seats and the steering wheel buttons, are well situated and intuitive.
If you need better off-road performance, you can take the All Terrain option on the SLE and SLT. It gives you an off-road mode for the electronic torque management system, as well as an AWD system with an active central differential that incorporates two clutches. It transfers power from one axle to the other faster than the system that equips the other versions of the 2017 GMC Acadia. Note, however, that opting for the All Terrain Package means eliminating the third row of seats, so you can only carry five passengers.
Same engines, more power
There are two engine choices for the 2017 Acadia. The basic versions have a 2.5-litre, 193-horsepower four-cylinder, while the better equipped versions feature a 3.6-litre, 310-horsepower V6. In both cases, the only available gearbox is a six-speed automatic. The new Acadia's towing capacity (1814 kg or 4000 lbs.) is less than in the old one (2268 kg).
On a more positive note, you'll save at the pump. The 2016 Acadia guzzled gas at a rate worthy of a space shuttle, while this new generation is more rational. The front-wheel-drive, four-cylinder version has a combined fuel consumption of 10.2 litres per 100 kilometres, and the all-wheel-drive V6 versions have a combined rate of 11.6 litres per 100 kilometres.
Although we weren't able to put the four-cylinder through its paces, we can still theorize that it will be powerful enough to get the job done, but not much more than that. If you frequently lug lots of cargo and pack plenty of passengers, you'd be wise to opt for the V6. Not only will it pass other cars on the road with more gusto, but it will probably be more fuel efficient when carrying a heavier load. On a ride in through the mountains around Vancouver and Whistler, this SUV never lacked power.
On the Denali version, we had the advantage of an automatically adjustable suspension. It becomes softer or firmer according to road conditions, which increased comfort considerably. The system is not as efficient as Cadillac's magnetic suspension, but we were surprised just the same by its liveliness. It also controls pitching on corners to a certain degree.
New direction
The 2017 GMC Acadia is clearly attempting to attract new buyers who would never have given it a second look in years past. A more modern style helps it compare favourably to rivals like the Honda Pilot and the Infiniti QX60, and its more modest exterior dimensions make it more agile in an urban setting. The fact that it has outdistanced its two former brothers in arms suggests that changes are coming in GM's seven-passenger SUVs. The Chevrolet Traverse will probably come back in a new form, but the Buick Enclave may very well be replaced by the Envision and be gone for good.
Once again, General Motors has proven that it will no longer slap a new look onto a generic product when preparing new vehicles. The 2017 GMC Acadia is charging into the Canadian market with the firm intention of dominating its segment.
Share on Facebook