2017 Hyundai IONIQ trio makes North American debut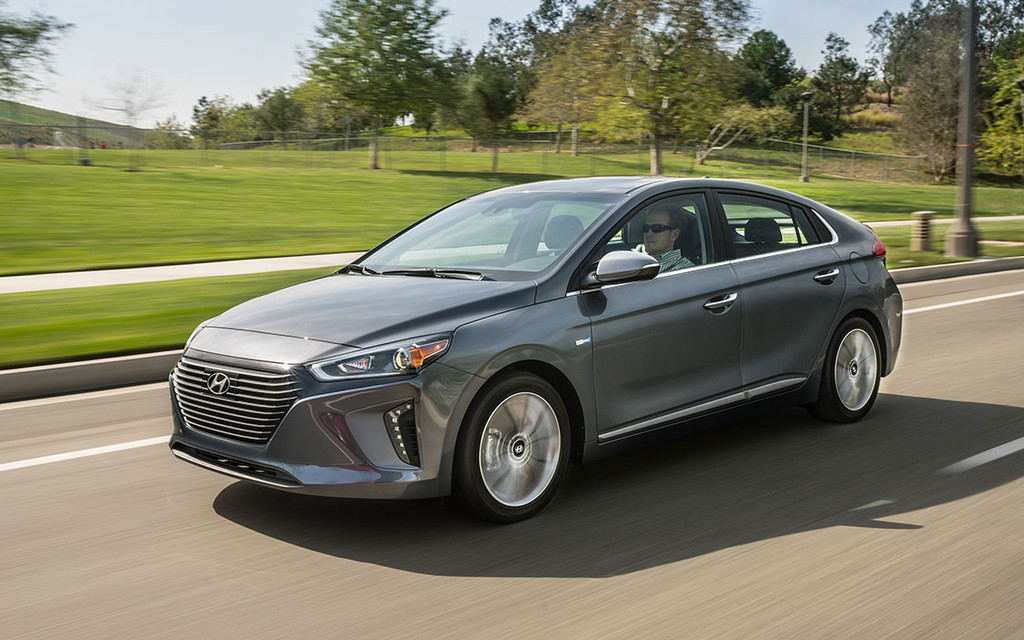 Hyundai has unveiled its trio of IONIQ electrified vehicles for the first time in North America, and with them revised estimated power and driving range numbers.
According to the automaker, the hybrid version will make an estimated 147 horsepower and 234 lb.-ft. of torque through its combination of a 1.6-litre Atkinson cycle four-cylinder engine and a 32-kW electric motor, and features a 1.56-kWh lithium-ion polymer battery.
The plug-in hybrid, meanwhile, uses the same 1.6-litre but makes an estimated 164 horsepower thanks to its larger 45-kW electric motor.
Torque numbers weren't provided by Hyundai, but it said it expects the IONIQ Plug-in Hybrid to have an estimated all-electric driving range of more than 25 miles—equivalent to more than 40 kilometres—with its larger 8.9-kWh lithium-ion polymer battery pack.
Finally, the IONIQ Electric will be able to cover an estimated 110 miles, or about 177 kilometres, and makes an estimated 120 horsepower and 215 lb.-ft. of torque.
It features by far the largest battery of the three, at 28 kWh, which is close to 10 kWh larger than the one storing energy in the 2016 Chevrolet Volt, and one kWh larger than the one in the 2016 Kia Soul EV.
Both hybrid and plug-in hybrid powertrains come married to a six-speed dual-clutch automatic transmission, while the IONIQ Electric puts power down through a single-speed reduction gear transmission.
Now, for those of you keeping score at home, the electric driving ranges of both the electric and plug-in hybrid variants are slightly different than the ones we published in February.
An estimated driving range of more than 250 kilometres was provided by Hyundai for the IONIQ Electric, while the plug-in hybrid was said to have an estimated pure electric range of 50 kilometres.
The simple explanation is that those numbers are for the European cars, which test on the New European Driving Cycle, while North American cars are tested by the U.S. and Canadian governments on different systems.
The more puzzling variations, however, are found in the power numbers.
Back in January Hyundai said the hybrid's total system output was estimated to be 139 horsepower and 195 lb.-ft. of torque, the former of which is only eight horsepower less than the new estimates.
The latter, however, is 39 lb.-ft. more torque than what the automaker announced in January.
The good news is that the IONIQ Electric's power estimates are only slightly different than the 118 horsepower and 218 lb.-ft. of torque Hyundai claimed in February.
We're not sure what exactly is behind the varying numbers, but we hope to get to the bottom of it soon.
Share on Facebook