Jaguar F-Type SVR 'developed to exploit car's full potential'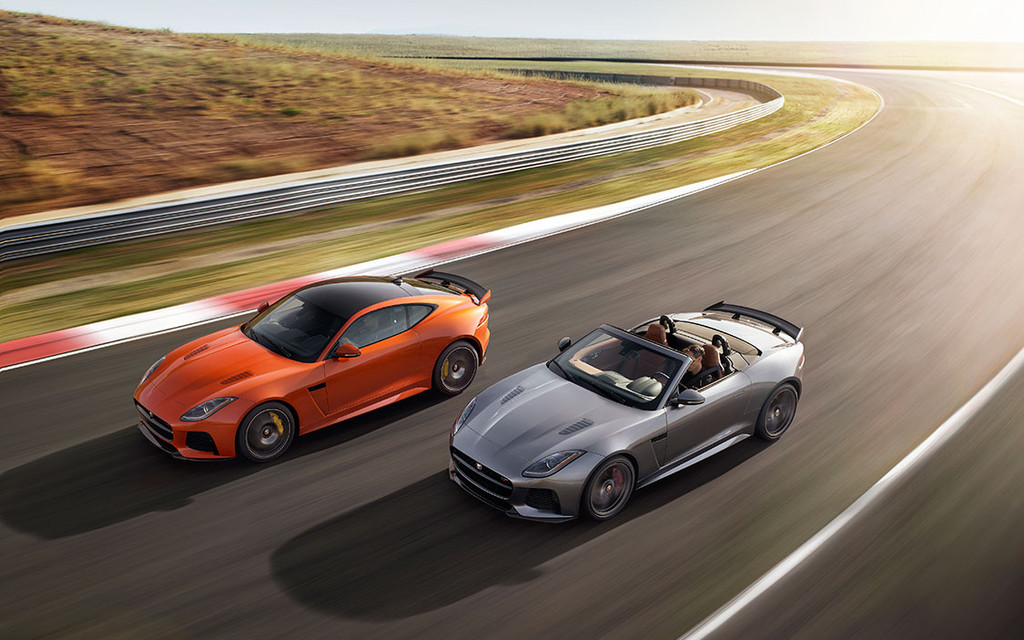 The first-ever Jaguar vehicle to bear the SVR badge will be a doozy when it hits showrooms.
Detailed ahead of its Geneva auto show debut, Jaguar says the 2017 F-Type SVR will make 575 horsepower and 516-lb.-ft. of torque and will run from 0 to 100 km/h in just 3.7 seconds.
Available in both coupe and convertible guise, the hotly-anticipated F-Type SVR is perhaps the pinnacle of modern Jaguar performance, and was "developed to exploit the lightweight aluminum sports car's full potential" while remaining usable on a day-to-day basis, according to the British automaker.
Powered by the latest iteration of Jaguar Land Rover's 5.0-litre's supercharged V8, the SVR version is even more powerful than the already ridiculous F-Type R that Graeme Fletcher drove on Test Drive last season.
That includes calibration adjustments adopted from the F-Type Project 7, an extremely limited edition car built last year.
Unlike the F-Type R, which sports a stainless steel exhaust system, the F-Type SVR makes do with a new Inconel alloy titanium system that is lighter and more aerodynamic while being able to better withstand heat and reduce back pressure.
Compared to the stainless steel system on the F-Type R, the SVR's exhaust is 35 lbs. lighter thanks to a split muffler design and a wall thickness of just 0.6 millimetres.
If that wasn't enough, Jaguar promises the F-Type SVR's new exhaust system "delivers an even more distinctive, purposeful, harder-edged exhaust note."
The ZF-built eight-speed dual-clutch automatic transmission has had its shift times reduced while more torque will be available during launch, according to Jaguar.
A host of chassis and suspension modifications have also been made to the new car, including thicker and thinner rear and front anti-roll bars, respectively, and a new, aluminum die-casted rear knuckle that offers a 37 per cent boost in camber stiffness and a 41 per cent increase in toe stiffness.
The Super Performance braking system, which features 380-millimetre front and 376-millimetre rear steel discs, is standard, while the Jaguar's Carbon Ceramic Matrix braking system is optional.
The latter boats even larger 398-millimetre front and 380-millimetre rear discs, and six- and four-piston monobloc calipers, respectively.
A handful of 20-inch forged aluminum wheels are available, measuring nine inches in the front and 11 inches in the back, shroud in specially-developed Pirelli P Zero 265/35ZR and 305/30ZR tires, respectively.
Top-of-the-mark wheels shave a combined 30.4 lbs. in unsprung weight, while the F-Type SVR with no optional equipment is 55 lbs. lighter than the all-wheel drive F-Type R.
With carbon ceramic brakes and a carbon fibre roof, Jaguar claims the SVR is as much as 110 lbs. lighter.
The car was fitted with a front bumper that was extended outward to reduce drag, while apertures in the fender liners help air escape through the fender vents, reducing front-end lift.
A rear under-floor tray also helps reduce lift.
The deployable rear spoiler has also been "highly optimized," and, when working with other aerodynamic enhancements, enables a reduction in the drag and lift coefficients of 2.5 per cent and 15 per cent, respectively, compared to the F-Type R.
Those numbers are 7.5 per cent and 45 per cent better when the spoiler is lowered.
A new interior with seats like the ones found in the 2016 Range Rover Sport SVR Russ Bond drove earlier this season caps a car that we can't wait to drive.
Share on Facebook