2016 Mazda MX-5 GS: Sport Sauce is Good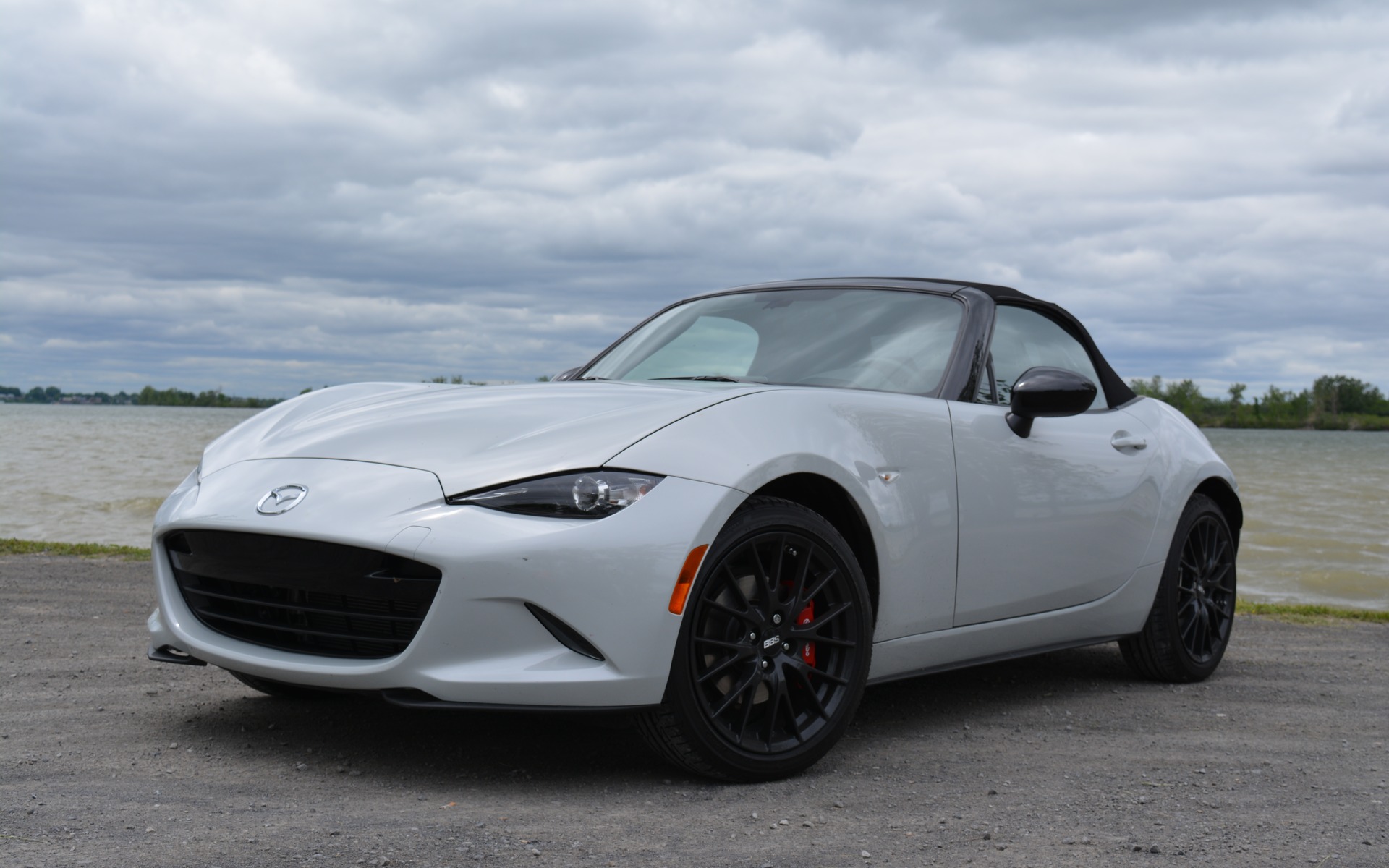 Strong points

Incredible driving machine
Fantastic manual transmission
Sport Package a must!
Beautiful styling

Weak points

Pricier than before
Needs more interior storage compartments
Where's the MAZDASPEED version?
Full report
I could wax on lyrically for hours—no, days—scratch that, the remainder of my life—on how good the Mazda MX-5 is. I want to say that there are no substitutes and after reading a few first drive reviews on the Fiat 124 Spider from my colleagues, I will make the statement: there are no substitutes to the Mazda MX-5 Miata.
I've now spent a considerable amount of time at the helm of this fantastic car since attending its launch a little over a year ago and I stand firm by the fact that this is, bar-none, one of the purest driving experiences currently available on the market, at any price. Not a Lamborghini, Nissan GT-R, Porsche 911 (although close, but in a different way), Audi R8 or any of these come close to putting man and machine in such perfect synchronicity and harmony. And all of this, for just over $30,000, not $300,000.
Real soul
The trick to MX-5's sublime persona is far from novel, or new. Colin Chapman, the man that "made" Lotus, said decades ago "Simplify, then add lightness." He also said: "Adding power makes you faster on the straights; subtracting weight makes you faster everywhere." How brilliant was he? Mazda has their own version of this philosophy and it's referred to as Jinba Ittai, which translates into the car and driver being in perfect harmony.
Contrary to stupid sayings people share on social media, these beautiful words are actually put into practice and have served a true purpose. The Mazda MX-5 is a compact, nimble and agile car that is an extension of the driver, built to respond to inputs, perhaps even subliminally.
The MX-5 sports nothing more, or less, than a normally aspirated 2.0L four-cylinder engine that develops an honest 155 horsepower and 148 lb.-ft. of torque. The modest power is transmitted to the rear wheels via one of the best shifting six-speed manual transmissions, or alternatively, a six-speed automatic. We are oceans away from 400+ hp Camaro SS', 500+ hp Mustang GT350s, and a galaxy from a 700+ hp Hellcat. And it's better this way.
Mazda's wee roadster tips the scale at only a few dozen kilos over the 1000 mark, which helps explain in part why the MX-5 feels quicker than it actually is. The other is its tremendously delicious throttle response. Getting the "go" pedal to do what the driver wants when he/she wants it is one of the most rewarding sensations a driver can get. Shifting and heel-and-toeing become more fulfilling than last night's smoked meat poutine or drunken one-night stand.
The sixer's throws are sharp, short and satisfying, egging the driver on to shift relentlessly, if only to dip back into the throttle for that immediate gratifying push forward. Feeling down in the dumps? Go for a drive. I guarantee your mood will improve tenfold.
How the MX-5 handles itself on the road is what makes every drive so memorable. I've essentially established that this Mazda is not a hardcore sports car. As such, it does not have an ultra-stiff suspension whose sole purpose is to distort your spine. The MX-5 actually displays a fair amount of wheel travel, which not only endows the car with the ability to transform a rough road into the opposite of an unpleasant experience, but also provides a fair amount of roll, despite the presence of standard Bilstein dampers in the GS and GT.
No, the MX-5 will not flip over around a bend. Under hard acceleration or braking, the car will pitch a fair amount, providing entertainment and the impression of speed. But don't be fooled; you'll likely end up taking on- and off-ramps much faster than you expect as full control over the car remains in the of the driver. Steering feel is excellent where communication is constant between it and the front wheels. Trust is immediately established.
And it gets better.
My tester was a GS that featured the fantabulous Sport Package, worth every last of the 440 000 pennies required to acquire it. The Brembo brakes don't much improve stopping performance, but add a tad more pedal response. The red callipers do look great though. Speaking of looks, the sweet sexy 17" BBS wheels are BBS wheels and you want them on your MX-5 because BBS wheels. Opposing opinions are invalid.
Cockpit fun
The final elements included in the Sport Package are the sublime Recaro seats. They don't so much as give you comfort and support as they do snuggle and cajole you. The ND's (codename for the fourth-generation MX-5) driver now sits closer to the middle of the car, making him or her part of the action. Never is the driver-car relationship more intimate than when your butt is parked in a Recaro seat, in this car.
The new Miata has firmly arrived in the 21st Century. The previous NC was a good car, but was also terribly dated because of its interior. The 2016 car features (GS and GT) a seven-inch touchscreen display where navigation and all means of connectivity are controlled.
The greatest Miata yet?
The latest generation of the MX-5 may not be as affordable as it once was, but that is a direct product of the advent of both safety and technology features. The average buyer of the car will want creature comforts that true enthusiasts may shun. Thankfully, Mazda has everyone's interests in mind with a number of available versions.
The first-generation NA MX-5 endures as the greatest, as it saved the car industry from certain absolute boredom at the end of the 80s. The ND is the second-best of its kind, and that's a serious compliment.
Share on Facebook