2017 Mercedes-Benz C300 4MATIC Coupe: Just About Perfect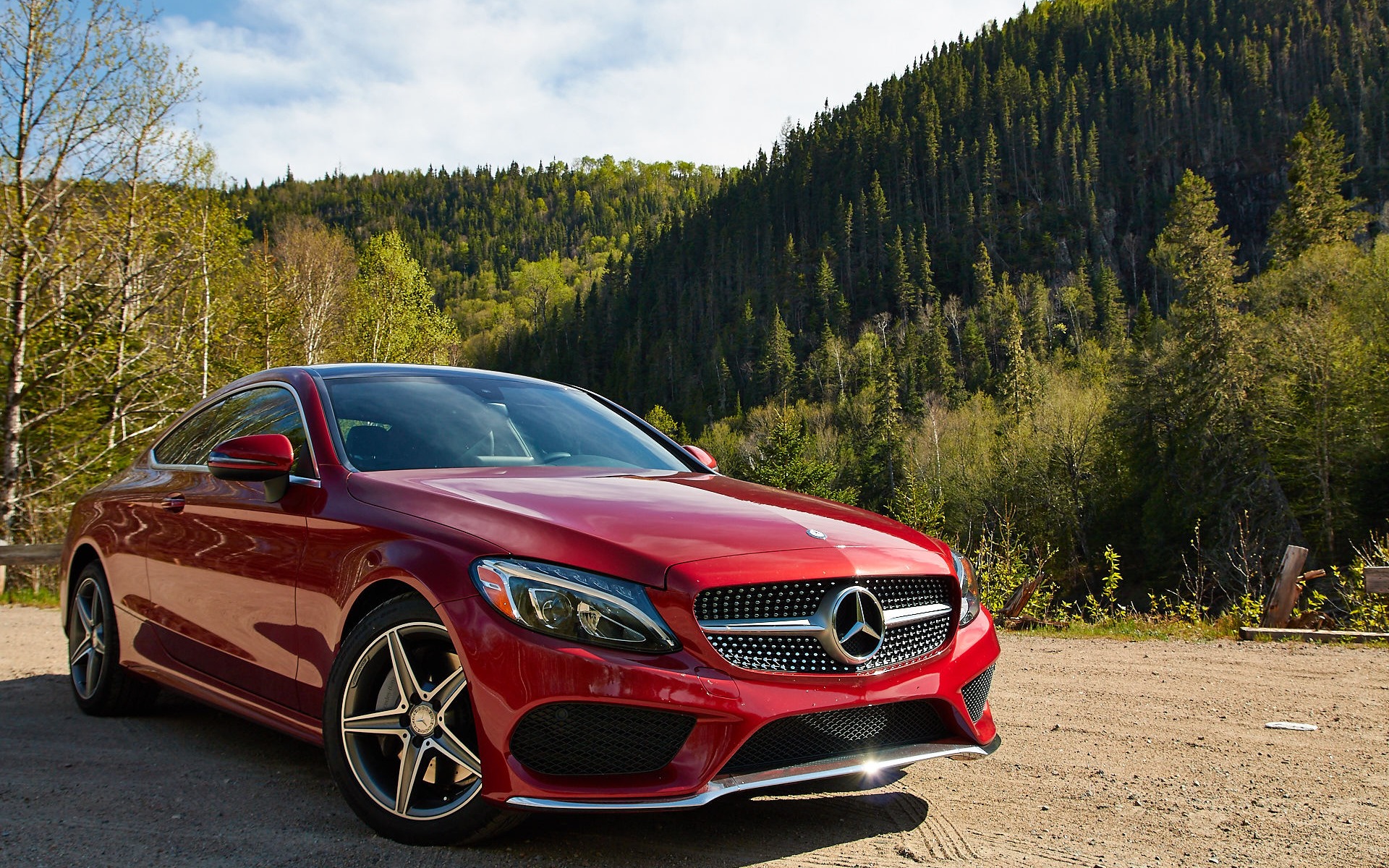 Strong points

Breathtaking looks
Impressive four-cylinder turbo
Comfort and road manners you would expect
Rewarding to drive
Well-sorted chassis

Weak points

Fuel economy not the best
Complicated infotainment system
Expensive option packages
Decontented base version
Laughable rear seats
Full report
If there is one thing Mercedes-Benz knows how to get right, it's GT cars. Decade after decade, M-B brings us cars that make history, and more recently, what more commanding examples could there be than the SLS AMG and the AMG GT?
The AMG GT, in particular, is the perfect expression of the new thinking at Mercedes-Benz, just as the SLS AMG represented an earlier approach. In the SLS AMG era, the brand—one of the oldest in the Western world—was recognized for the comfort and straight-line performance of its products, but on the track, their handling left something to be desired. People may remember British Top Gear host Jeremy Clarkson wearing out whole sets of tires in an SLS, trying to keep up with a Ferrari 458 on a racetrack.
With only one or two exceptions, this applied across the M-B range. When Mercedes was unveiling the AMG GT as the replacement for the SLS, they went to some lengths to point out that its roadholding was substantially better than that of the older model. The car in their engineers' crosshairs had been the Porsche 911.
This thinking, technically sharper and more refined, has been evident in all the cars that have followed. Last year, we said hello to the Mercedes-AMG C 63 S, as the C?Class Mercedes took the international award for Car of the Year in 2015.
The 2017 Mercedes-Benz C-Class Coupe reflects this new thinking.
The 2017 version of the coupe
In 2017, "coupe" isn't just the label for a sedan missing two doors. It means a car that struts a certain style. There is no shortage of "four-door coupes" in today's marketplace.
In such company, the C-Class Coupe might even be called a throwback. Two big doors, a token bench seat in the back, and a style that commands our attention; it has everything to delight the youthful, active clientele that is the target of M-B's marketing.
Its appearance is, in a word, breathtaking. A quick glance would lead you to believe you were seeing a trimmed-down S-Class Coupe. It even favours the SLS in some respects.
The cabin sports the Mercedes-Benz style with pride. While some will say that the big screen placed above the dash looks like something of an add-on, you have to remember that the interiors of newer Benz models draw their inspiration from the past. Check out the interior of a car from the 1930s, and you can see where the C-Class dash comes from. The result, naturally, is thoroughly modern, and just as stylish as the exterior.
All C 300 coupes coming to Canada will include 4MATIC all-wheel drive; a RWD version will be available to U.S. consumers.
While the C 300 is the entry-level C-Class, a C 450, a C 43 and a C 63 are all available; Mercedes doesn't short-change us with their powertrain options. The C 300 comes with a turbocharged 2.0-litre four developing 241 horsepower and 273 lb.-ft., with a seven-speed automatic driving all four wheels.
Mechanically speaking, what are we dealing with? To begin with, all iterations of the C 300 Coupe now come with driver-selectable driving modes—ECO, Comfort, Sport, Sport+ and Individual—which adjust throttle response, shift points and steering effort. Individual mode lets the driver create a mode of their own.
If your car comes with an air suspension, your choice of driving mode can affect that, too. Sadly, I didn't get an opportunity to try the magic of AIRMATIC suspension; maybe next time.
What I can say, however, is that the "normal" suspension works beautifully. With all the comfort you could want, combined with a firm grip on the road, it is the perfect complement for accurate steering that offers a driving experience on par with the best GTs – not to say the best sports cars. Even with the Sport package, which includes brakes that may surprise you, this impressive vehicle does not feel sporty, and is not meant to. It's not an AMG C 63, and it's not for everyone. If this is an example of a 2017 coupe, there is still a place for it in today's market.
Almost there
The C300 4MATIC Coupe is almost perfect. It simply has no major shortcoming. There are few nits we can pick, of course.
As noted earlier, the rear seats are tiny, and the low roofline makes them suitable for small children only.
Benz's familiar COMAND infotainment system is controlled by a two different gadgets, a knob and a touchpad, and no one would call it "intuitive." After three weeks, you will get the hang of it, but for someone new to it, it provides an instant headache, even before you tackle the multiple sub-menus scattered here and there. Advanced users will nevertheless uncover some useful functionalities, such as the possibility of displaying virtual sports-car-style gauges that will give you a reading of boost pressure or tell you how much brake horsepower the engine is developing.
To conclude: Mercedes-Benz still doesn't offer multiple trim levels and powertrain choices, preferring option packages that can very quickly run into serious money. Fair enough, really: this is a luxury car, and expensive options are part and parcel of a market reserved for the well-heeled.
Share on Facebook