2016 Lexus ES 350: Not Just for your Dentist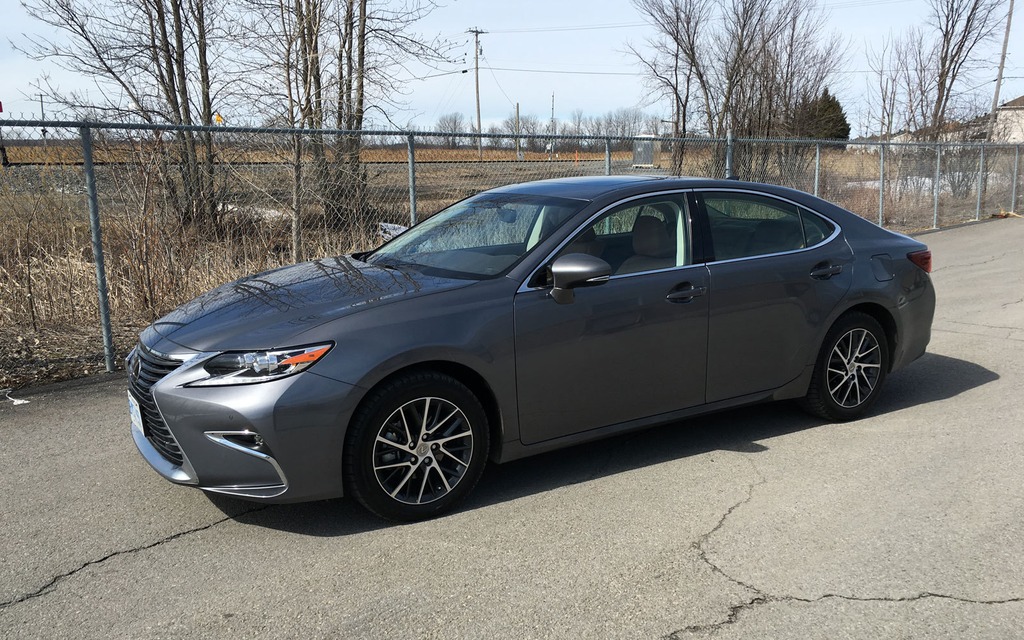 Strong points

High-quality interior
Great performance
Quiet ride
Handles well

Weak points

Infotainment system
Trackpad device
Bland looks
Doctor/dentist type vehicle
Full report
The ES is the elegant midsized sedan in the Lexus lineup, slotting in between the compact IS and the larger GS. When I say "elegant sedan" I mean it literally as that's what the letters ES stand for. It's nice that Lexus chose letters that have a minutia of meaning as opposed to the literal nothingness that other manufacturers sometimes pull their names from.
Despite inheriting Lexus' wacky front fascia design language, the ES remains quite tame as looks go. The rest of the sedan is understated and otherwise unremarkable, though likely exactly what the Japanese manufacturer was aiming for. After all, this is the vehicle your 70-year-old dentist or doctor probably drives. Nothing too fancy, nothing too loud, just classy and sophisticated.
Moving on to the interior, I had expected a very bland, very boring interior, but what I got was a very plush, very beautiful, very comfortable one. An aroma of rich leather is always a good thing and there was plenty of that to go around with the flaxen-coloured (brown) leather seats, door panels and dashboard trim. Accompanying this finish is super-soft grey leather, brushed aluminum and woodgrain finish on the steering wheel, dash and center console. All of these surfaces are extremely high quality and work in conjunction to deliver a seriously flawless experience both visually and ergonomically.
Lexus' infotainment system isn't one of the brand's strong points. The learning curve is steep and the menu layouts are frustrating to use at times. To complicate matters further, the system is operated by way of a movable-square knob that functions similar to a laptop trackpad. I felt I spent too much time toying with it for my liking and regularly had my eyes off the road for too long while executing simple functions such as choosing a song from my iPhone playlist.
Under the hood of the ES 350 is a 3.5-litre V6 outputting 268 horsepower and 248 lb.-ft. of torque. One might not think so just by looking at the numbers, but this motor delivers striking performance. I was caught a bit off guard at just how quick and how smooth this vehicle would accelerate across the power band. The six-speed automatic transmission was among the sharpest I've driven and never did it seem to hesitate or think about which gear it should be in.
Driving the ES 350 is probably as you imaged: comfortable and quiet. The vehicle glides over bumps in the road without as much as a hiccup. Despite being insulated from the harshness of our lovely cratered driving surfaces, I still felt enough feedback to remain confidant and secure with spirited driving. Wind noise is nonexistent as well as pretty much every other kind of noise for that matter.
The ES is just so well made all around from the closing of the doors and windows right down the individual buttons and knobs. I really feel the need to point out just how quiet the electric windows are. In every luxury car I've driven, there is still a little bit of noise when opening or closing a window. In the ES, the windows are virtually silent when in operation which screams quality to me.
All this quality can be had at a relative bargain starting price of $44,040, though two packages are available which will bump that price up significantly. The $4,700 Touring package adds navigation, the backup camera, LED headlights, blind spot monitor, rear cross-traffic alert, the woodgrain steering wheel, leather seats, rain-sensing wipers and a few other tidbits. The $6,300 Executive package must be taken in addition to the Touring package and will add premium leather seats, a Mark Levinson audio system, a power trunklid, lane departure warning, pre-collision system and 18" wheels.
The Lexus ES surprised me the most out of my recent test drives because I simply liked it so much more than I thought I would. If you're in the market for a luxury sedan, do not pass up the opportunity to drive one, because it just may surprise you as well.
Share on Facebook