2016 Nissan Pathfinder: comfort and versatility in one package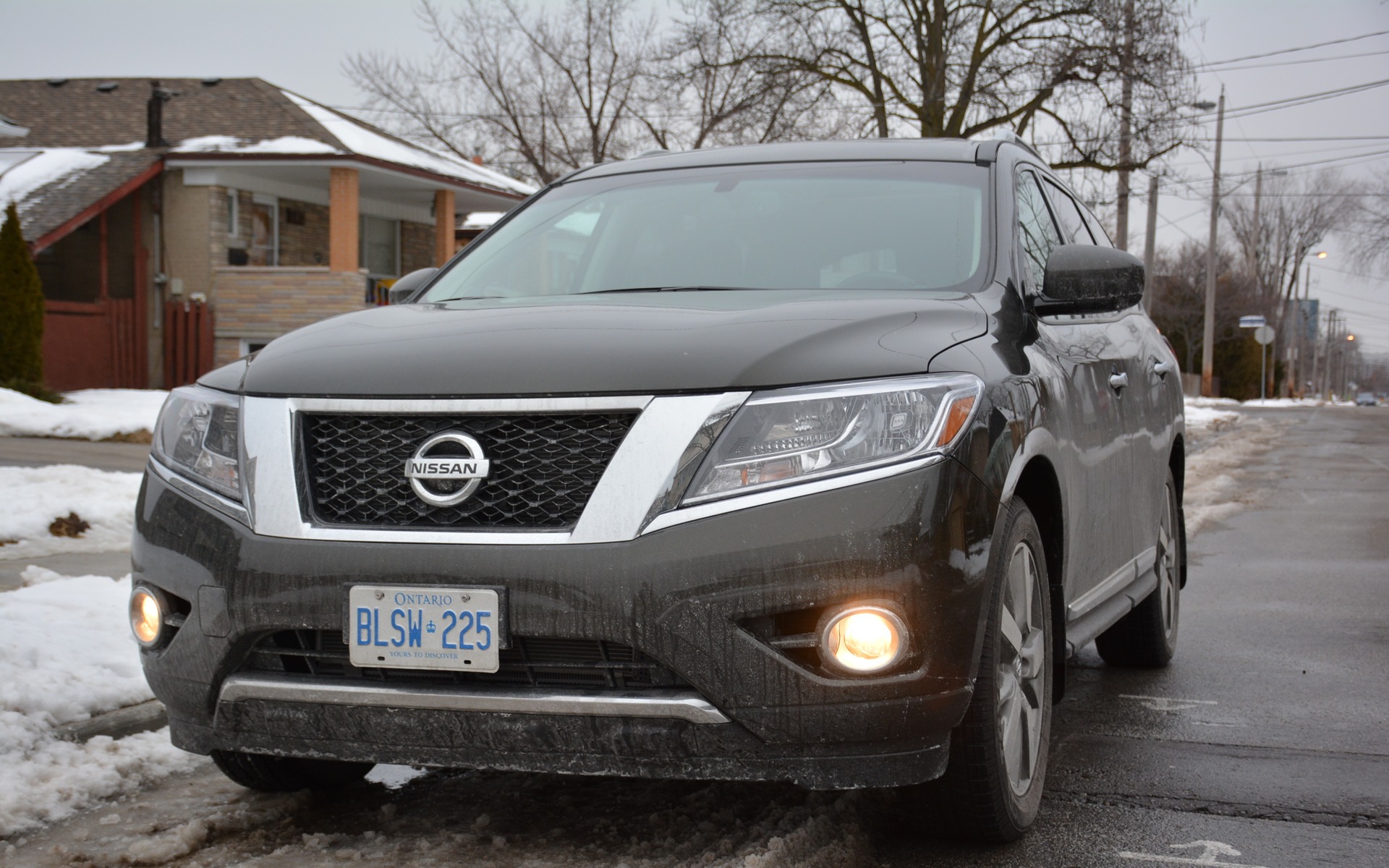 Strong points

Smooth and quiet ride
Organized centre console
Impressive second-row sliding features

Weak points

Cargo space
Handling is in need of improvement
Competition is fresher
Full report
The Nissan Pathfinder has evolved from its boxy days into a curvaceous three-row hauler. Now in its the middle of its fourth generation, the 2016 Pathfinder holds steady in sales despite many changes and plenty of exposure for Nissan's latest makeover project, the Murano crossover. 
The Pathfinder SUV is a staple in the Nissan lineup that doesn't need a V-shaped grille, boomerang LEDs or a "floating roof" design to make it sexy. It's sexy in its own right with a tried and true sales method based on style, comfort and function. And on top of that, the Pathfinder still has a chrome grille and bold stance to give it a chill presence.
A little bit about the Platinum trim
Four trim levels are offered for the Pathfinder: S, SV, SL and Platinum. Naturally, Nissan Canada provided me with the top-of-the-line Platinum version, which is not necessarily the best model to test given the low percentage of consumers that opt for it.  
The Platinum model sits on 20-inch aluminum-alloy wheels, has a panoramic sunroof, an eight-inch touchscreen with navigation, satellite radio and an around-view monitor, as well as power steering and a rear-seat DVD entertainment system for the family. It was dressed to the nines, but also came at a cost with its starting price ballooning from the low-to-mid $30Ks to $46,998. That's already Mercedes-Benz territory. OK, so not three-row Mercedes-Benz territory, but it gets your mind going in that direction. 
Interior is king for the three-row SUV
Now that I've digressed, let's get back to the 2016 Nissan Pathfinder test drive and investigate its interior – the main motivation behind a three-row SUV purchase. The setup focuses more towards function than outlandish design statements and that's what I really like about it. Nissan knows what it has in the Pathfinder and they don't have to go overboard to try and sell it. 
Inside, you're treated to a cabin that's filled with comfortable soft black leather seats, soft-touch door panels and a hint of simple, yet classy luxury in the form of faux wood in the centre stack. The structure of the centre console has plenty of buttons to touch, but it's designed in an organized way that doesn't become overwhelming. Heated and cooled seats are found in the front row; however, you would need a magnifying glass to see what setting the miniscule illuminated light was sitting on.
Versatility is always a big draw and the Pathfinder shows that off with a second row bench seat that slides back and forth for ease of entry into the third row, or for more room in the second when the third row is folded down. Even more impressive is that a child car seat can stay in place as the second row slides forward to let third row occupants in. 
Back-seat passengers aren't treated as an afterthought through the abundance of cup holders geared for those long drives, plus access to their own climate control functions. Just keep in mind that the third row still isn't ideal for teenagers or adults, but you can at least adjust for that extra legroom. 
As far as cargo space is concerned, the third row needs to be folded down in order to get 2260 litres, which is pedestrian compared to some of its competitors. With all three rows utilized, you will only get 453 litres of cargo, typical for three row vehicles.  
Smooth and comfortable ride
There's only one engine option and that's Nissan's 3.5-litre V-6 that generates 260 horsepower and 240 lb.-ft. of torque, matched to a continuously variable transmission (CVT). On each trim above the base (front-wheel drive is standard at the S level), the Pathfinder comes with all-wheel drive that includes hill descent control. 
The Pathfinder is a large vehicle and you feel that weight under initial acceleration. As you power down the throttle, it comes off a bit sluggish, until you hit 30 km/h where a smooth ride takes over with seamless gear shifts occurring at the correct intervals. The CVT performed better than past iterations placing me in the proper gear, especially during some snowy weather conditions without a lot of lag or drone. The only thing I would hope for is a chance to pick up the pace with an additional sport drive mode.
Ride comfort was its best attribute, as it glided over many bumps and cracks without much of a peep. The seats were comfortable and elevated, providing great visibility from all angles, perfect for a weekend getaway or regular trips to the grocery store. 
The drive might be smooth, but it takes a while to get used to its light steering and sub-par handling. On a few occasions I was surprised by its need for correction after some oversteer. This isn't the SUV to throw around, but in all honesty, it's not meant for that. Regardless, it would be nice to see some improvement in the handling area.
Another area in need of some improvement is the amount of gas sipping from the Pathfinder. In my week-long test, I managed to achieve a combined fuel economy rating of 12.7 L/100 km. Not awful, but nothing to write home about. Its listed fuel economy rating is 12.7 L/100 km in the city and 9.0 L/100 km on the highway.
Conclusion
For a middle-to-large family transporter, there's a lot of good going on with the 2016 Nissan Pathfinder. If you need to fit all of your family members – it has the space. If you want to go on a long road trip – it provides a comfortable ride. Even if you want to go camping and slightly off-road – it can get dirty. With that in mind, it does have some foibles in the handling department and cargo space; plus there's a new Honda Pilot to deal with and a newly refreshed Toyota Highlander. 
Overall, the Pathfinder is a solid choice that gives your family that much needed comfort and versatility without having to side for a minivan.  
Share on Facebook