2016 Chevrolet Tahoe: for the Great Wilderness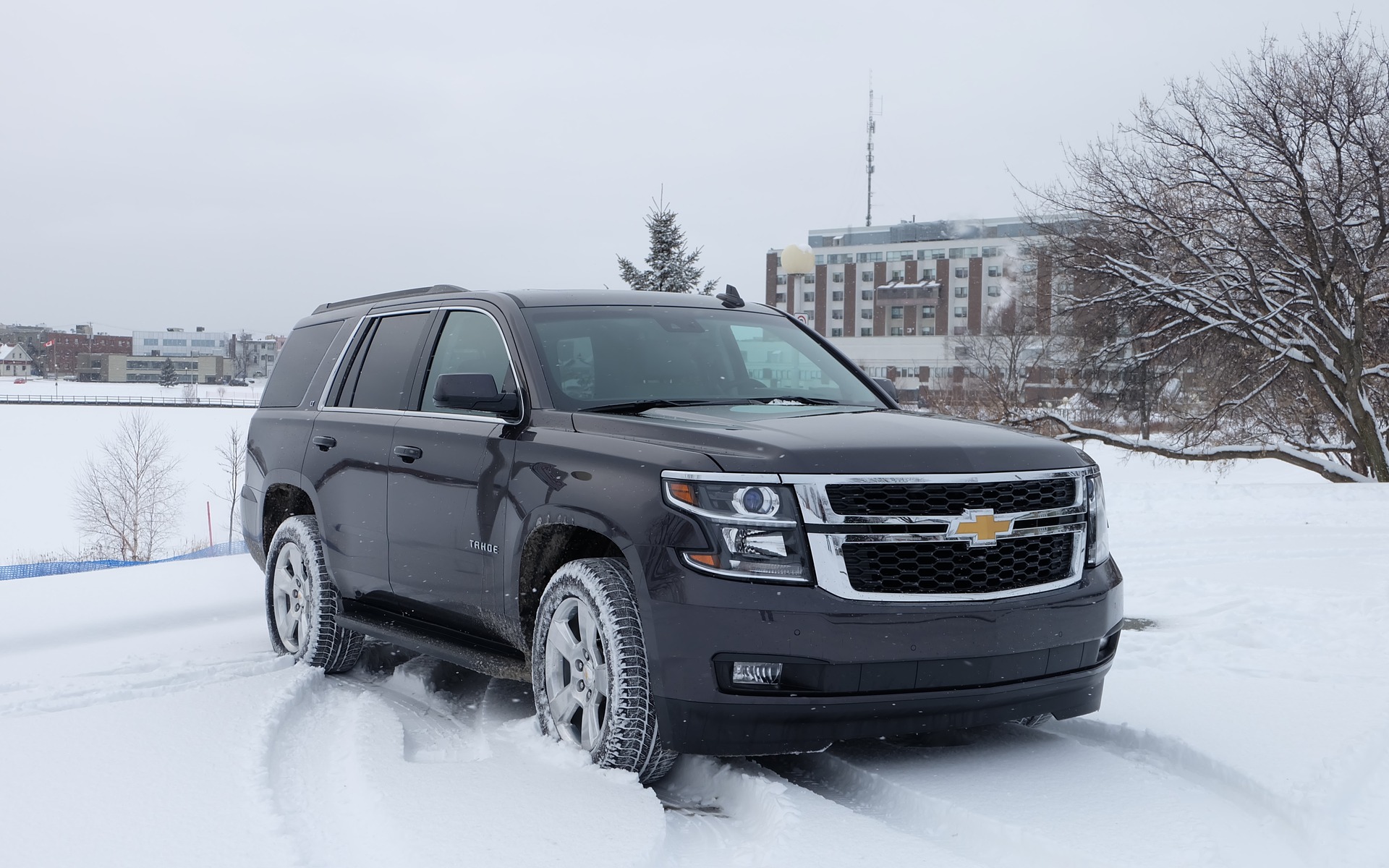 Strong points

Room for everything and everyone
Impressive towing capability
Surprisingly quiet inside
Good build quality

Weak points

Can guzzle fuel at an alarming rate
Won't fit in a compact parking lot
Gets expensive quickly with options
Full report
If you live in a city centre, you may not understand some people's necessity for a full-size SUV. Those large beasts are cumbersome to park, drink way too much fuel and can't navigate crowded streets. Here, trucks such as the Chevrolet Tahoe and Suburban as well as the Cadillac Escalade are little more than status symbols used to flaunt one's wealth.
In the northern parts of the province, however, a big SUV makes a lot more sense – and you actually see a lot more of them. In Abitibi-Témiscamingue where I grew up, for example, lots of people need the capabilities, towing capacity and sheer size of a five metre-long vehicle that can seat seven while hauling a boat up a rutted trail. Since I needed to go there to visit the family, I thought the opportunity was perfect to put the 2016 Chevrolet Tahoe through its paces.
The long way up
The first test this vehicle had to take was a five-hour drive through forests and mountains... on paved roads, mind you. This is where the Tahoe really shines. The very spacious interior allowed all my passengers to get comfortable without getting on each other's nerves, the leather seats are plush enough for napping and GM's 4G LTE Wi-Fi kept everyone entertained during the whole trip. Speaking of this network system, we consistently recorded download speeds of 20 Mbps, which is especially impressive when you consider that some land connections can't even manage that.
The Tahoe's sound insulation is also worth talking about. Despite the fact this truck has the aerodynamic characteristics of a brick – no offence to Chevrolet's designers – there is very little wind noise permeating inside the cabin.
Meeting old friends
Upon my arrival, I was scheduled to meet up with an old friend of mine. After exchanging pleasantries, I inquired about his current ride, a 2009 GMC Sierra. Realizing that I parked my Tahoe next to his truck, we opened our respective hoods and saw pretty similar engines: GM's trusted 5.3-litre LS V8 has been around in various form for decades.
In the Tahoe, we have the L83, the latest iteration of this powerplant. Developing 355 horsepower and 383 pound-feet of torque, this mill features some neat tricks like cylinder deactivation and direct injection, meaning it isn't THAT bad on fuel; on highway driving, I managed to record 11.8 litres per 100 km. In the city, however, the average rose to 15.9 litres per 100 km. But as my friend told me, his truck doesn't fare as well; for that, we must thank GM for installing a six-speed automatic transmission instead of the old Sierra's four-speed unit.
The family's approval
I couldn't resist the opportunity of taking the Tahoe to some family members for their input. Everyone liked the eight-inch infotainment screen and the overall finish of the SUV, and it received lots of positive comments on the sound system's quality. The older generation liked the fact that the Tahoe features numerous storage compartments, while the younger crowd loved the fact that there are no less than 13 charging points – from USB ports to 110-Volt outlets – throughout the cabin.
However, everyone agreed on one thing: at nearly $75,000, my Tahoe was WAY too expensive. Mind you, I didn't even get the top-of-the-line LTZ version, but a very well-appointed LT. In fact, you can get an LTZ for the same price as my test vehicle... and you should. Not only will you enjoy a better resale value, but you also get Chevrolet's Magnetic Ride suspension, which is derived from the Cadillac Escalade's. Some also complained at the lack of a lower-priced version: at $55,110, the Tahoe isn't exactly affordable.
A relevant behemoth's in today's world
After driving the Tahoe in my hometown's streets for a few days, I became accustomed to its size. I started driving it like I would drive a compact sedan. Parking wasn't an issue; I could either leave the truck in a huge empty lot – there are plenty of these as soon as you exit the city centre – or manage to fit it in a large parallel spot. I enjoyed the safety provided by the four-wheel-drive system, and the size of the truck provided confidence.
Yes, the full-size SUV may be a burden in the big city; however, there are many people who need such a vehicle for their daily lives. If that's your case, the 2016 Chevrolet Tahoe won't disappoint... But be cautious with the options list.
Share on Facebook