2016 Honda Pilot Touring: Steady Improvements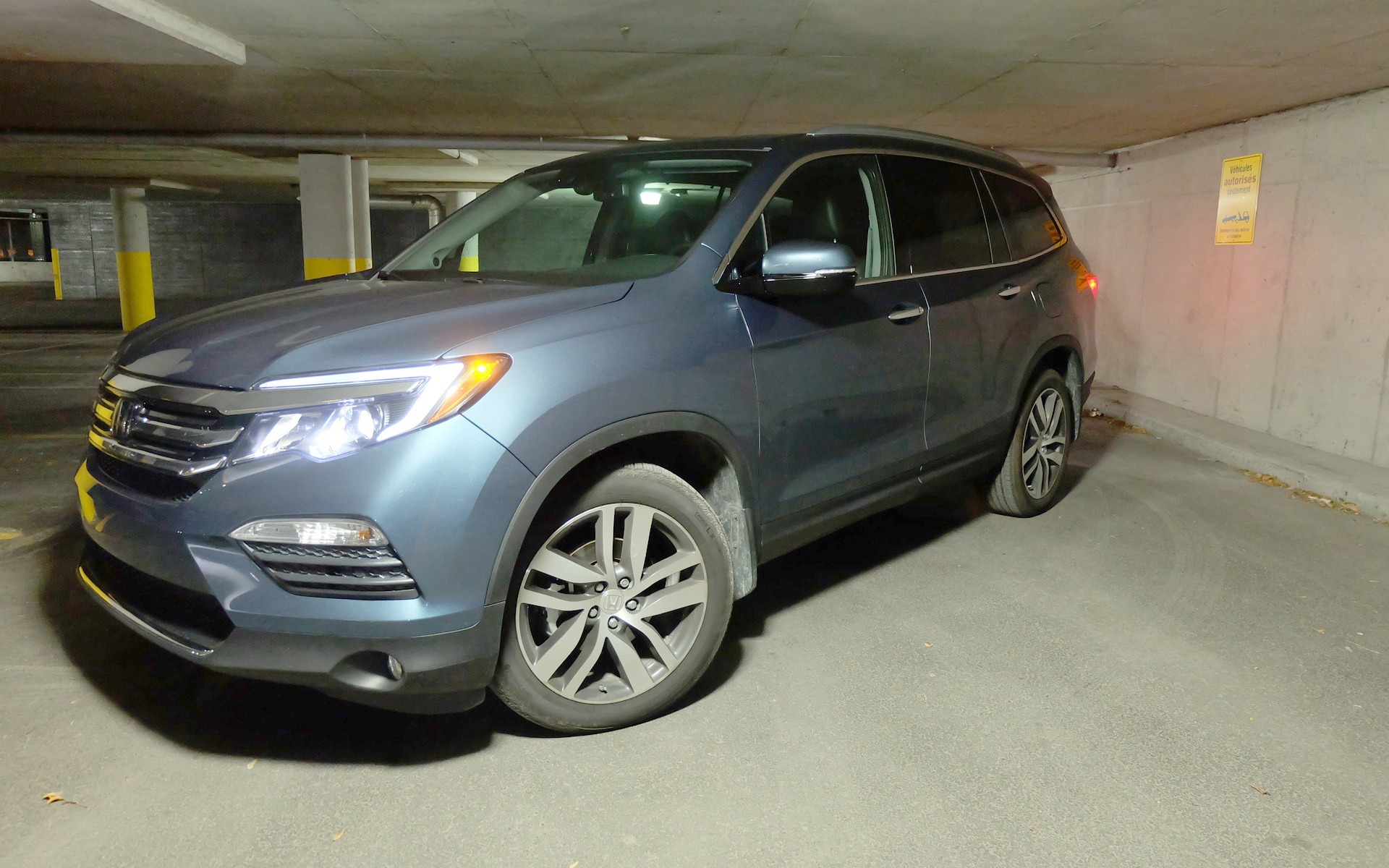 Strong points

New, modern lines
Roomier than ever
Adequate powertrain
Lots of safety technologies

Weak points

Somewhat bland look
Touring version is pricey
Full report
The Honda Pilot used to stick out in the manufacturer's lineup. With its boxy look and antiquated interior, the second generation of the big seven-seat SUV had been in production since 2009. However, people never stopped loving it, as the Pilot managed to combine Honda's legendary reliability with a roomy design and a slew of very practical touches.
So when the time came to redesign it, Honda had to be very cautious; change too little and people would criticize the lack of innovation, but change too much and customers would lose faith in this trusted nameplate.
So how did they do?
Rounding the angles
It's important to first take a look at the 2016 Honda Pilot's new lines: most of the last generation's straight angles have been rounded, and the end result is somewhat bland. Yes, you can now clearly see the family traits it shares with the Accord and the Civic, but I think part of the Pilot's appeal was that it stood out in a world of generic-shaped SUVs.
Still, I have to admit the end result looks classy: its chromed-out grille and LED lights gives it the modernism it lacked, and the back end would feel right at home on an Acura MDX. The vehicle looks smaller than it used to be, but that's the result of those new fluid lines; it's actually larger.
If you were to wake up sitting in a 2016 Pilot without knowing inside of what vehicle you were – or how you got there in the first place – I can guarantee you would immediately recognize the big Honda. The dashboard's shape was heavily inspired by Honda and Acura's other products, the gauge cluster features an LCD screen filled with the manufacturer's typical displays and HondaLink comes standard.
While this infotainment system is well laid out and surprisingly intuitive to navigate, I can't talk about it without mentioning how the lack of physical buttons makes it infuriating to use on the road. Trying to change the channel or raise the volume is impossible to do without looking at the screen and dedicating your full attention to it, which is problematic when you are driving. Fortunately, there are buttons on the leather-wrapped steering wheel for those basic functions.
On the safe side
The previous-generation Pilot was a bit lacking in the electronic safety aid department. The newcomer, however, doesn't pull any punches: in the top-of-the-line Touring trim, the truck is so safe it can practically drive itself.
On the highway, with adaptive cruise control making sure you won't plow into slower traffic, and lane keep assist ensuring you stay in your own lane by gently nudging the steering wheel in the right direction, you could theoretically let the Pilot do its thing and transport you to your destination. However, it doesn't quite work that way: if you leave your hands off the steering wheel for more than a few seconds, the system shuts off and chastises you.
Like any big luxury vehicle, there is also a blind spot warning system, a backup camera and obstacle detection radar. Collision mitigation braking also comes standard in this trim.
No revolution, just improvements
The 2016 Honda Pilot's powertrain has been entirely reworked: instead of the tired old 3.5-litre V6, you can now find under the hood an all-new... 3.5-litre V6. Okay, displacement hasn't changed, but the engine now packs new technologies, including cylinder deactivation (meaning it will run on four or three cylinders when we don't need full power), direct injection as well as active engine mounts, which mitigate the motor's vibration for a quieter ride. The V6 now produces 280 horsepower and 262 pound-feet of torque.
While the base-model Pilot gets a six-speed automatic transmission and a front-drive layout, my Touring version came with all-wheel drive and a nine-speed gearbox. Having been pilfered from Acura's parts bin, this unit is very smooth and does an amazing job at being transparent enough for you to forget about it. It also enabled the big SUV to record a fuel consumption of 10.6 litres per 100 km, which isn't bad considering the size of the vehicle.
The march of progress
Honda managed to thread the fine line when redesigning their 2016 Pilot. It isn't exactly ground breaking, but it still manages to recapture the last generation's appeal while bringing the vehicle firmly in the 21st century. It won't blow you away, but it is good enough to make you seriously reconsider that Tahoe or Armada you were thinking about.
Share on Facebook