2016 Ford Focus RS: A Sizzling Hot Hatch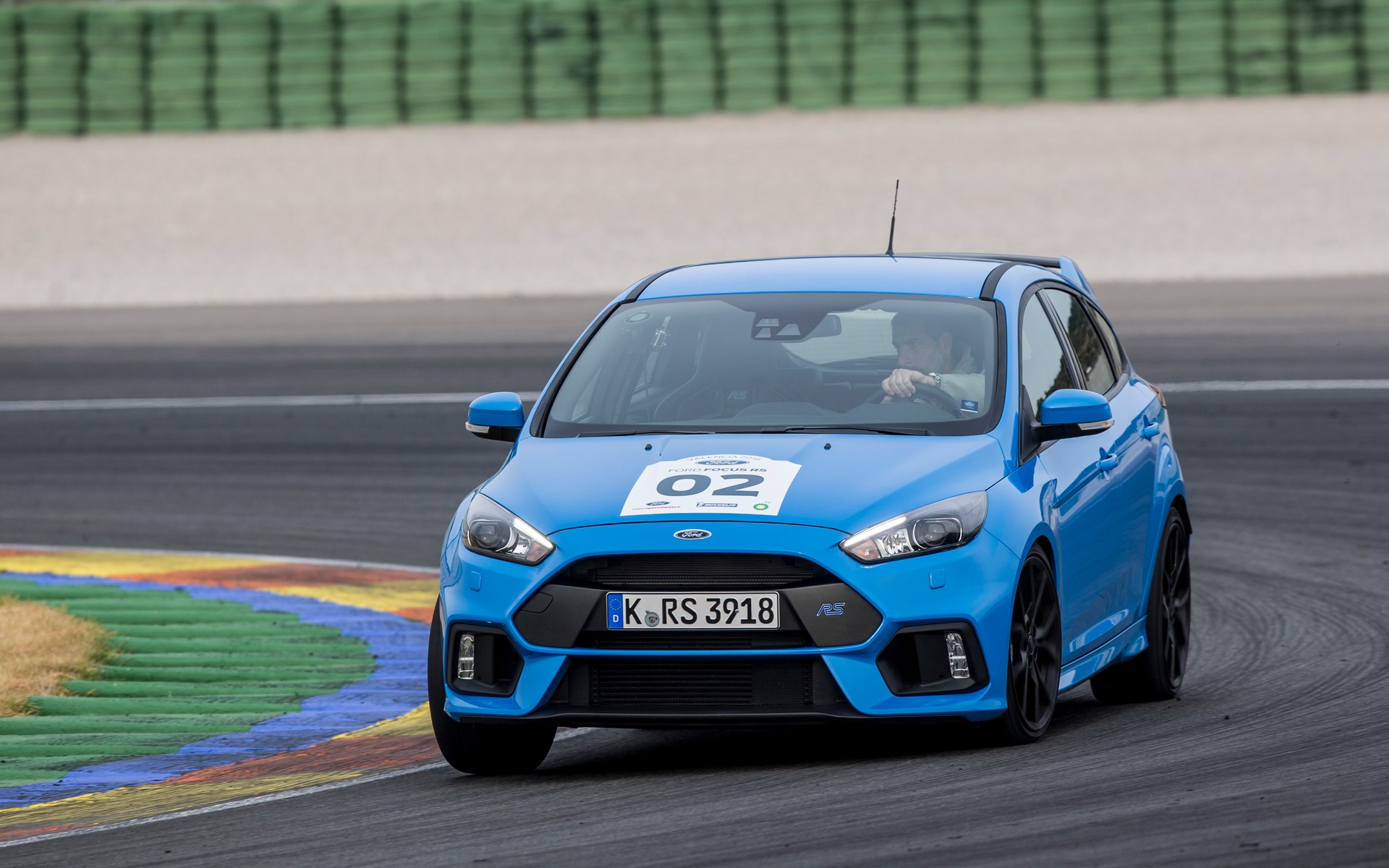 Strong points

Powerful engine
All-wheel drive
Exceptional track handling
Drift mode

Weak points

Firm suspension for the road
Drift mode might get you in trouble
Probably limited supply
Full report
It's rare that a car's spec sheet alone gets my right foot tingling, but the 2016 Ford Focus RS is such a car. Scroll down the lines of published data and you'll see that this five-door hatchback is nothing like the Focus ST. You'll note that its 2.3-litre EcoBoost four-cylinder engine produces 345 horsepower and 325 lb.-ft. of peak torque. It will get you from zero to 100 km/h in just 4.7 seconds, two tenths quicker than the Subaru WRX STI.
You'll also see that like the STI and the Volkswagen Golf R, it has an all-wheel drivetrain. Transmission choices? Well, there are none; this German-built sports car is available only with a six-speed manual. That should be enough to get your right foot tingling, too.
A European hatch built for the track
Ford makes it clear that the Focus RS is designed for the racetrack, as I discovered during its launch at Valencia's Circuit Ricardo Tormo, in Spain. Engineers strengthened the chassis, which has a stiffer rear subframe than the ST, with added bracing and an improved anti-roll bar.
There's an additional crossmember welded to the floor pan, increasing torsional stiffness by 23 percent, and spring rates are 33 percent stiffer up front and 38 percent stiffer in the rear. Shock damping is adjustable from within the cabin, and it is the same as the ST in Normal mode, and 40 percent firmer in Sport mode. The steering ratio is quicker at two turns lock to lock. 
Despite its potential racetrack prowess, RS styling doesn't scream, "I'm a delinquent," but is rather subdued. The exterior is clean, and the only aero bodywork you'll find is functional. The extra-wide grille opening allows air to flow through the largest intercooler engineers could fit into the car. The air intakes in the front spoiler feed ducts that cool the brakes. The rear spoiler helps achieve zero lift at speed; the rear diffuser reduces drag. 
An interior that's all business
The interior is functional and relatively low on frills. Front seats and the tilt and telescoping steering wheel are manually adjustable; there are no massaging seats, Alcantara roof lining or mood lighting available. I'm sure Ford engineers probably even grappled with the idea of delivering it with roll-up windows, but alas they are electric.
The instruments are neatly laid out, with round analogue gauges in the forward display, and a small array of gauges atop the dashboard that read coolant temperature, turbo boost pressure, and oil pressure.
Squeezing into the deep Recaro race-replica front seats is meant literally, because the side bolsters hug you snugly. The tight fit is beneficial, however, because the seats hold you firmly in place when driving through turns at racetrack speeds.
There are four drive modes, Normal, Sport, Track, and Drift. Yes, the folks at Ford are encouraging you to get sideways (though it should be done responsibly, and preferably on a racetrack).
Each mode adjusts six settings to one of two levels, though suspension damping and traction control can also be adjusted independently; the shocks, for instance, can be set firm or soft at any time via a button on the end of the turn-signal stalk. If you have teenagers in your household that occasionally borrow your car, you can lock out the more advanced drive modes. 
Track proven performance
At the racetrack, I select Track mode, which backs off the traction control (it can also be turned off completely), sharpens throttle response, makes steering more responsive, firms up suspension damping, livens up the exhaust note while introducing burbling and popping on throttle lift, and adjusts the AWD system for optimal front-to-rear torque delivery (up to a maximum of 70 percent rear).
To assist cornering, the RS uses torque vectoring, which incorporates a brake-assisted front axle, and two clutch packs in the rear axle to transfer up to 100 percent of the rear torque to either wheel as needed. 
This system proves seamless at the track, and nearly eliminates understeer. About the only way to get the RS to push is to force it by trail-braking exceptionally deep into a corner. Otherwise the car steers exactly where you point it, with a quick turn-in and a faultless adherence to a chosen line. To correct for any understeer, the trick is to counter-intuitively apply the throttle, thus allowing the torque vectoring to do its job.
The engine pulls hard enough in second and third gears to sink you deep into the seats until it redlines. And Ford must be commended for equipping the RS with proper racetrack brakes; the big Brembos maintain brake feel and power throughout the lapping sessions. Ford rates the brakes for "30 minutes," which means they can handle 30 minutes without fading.  
Drift away
After the lapping session, I'm directed to a skidpad to practice some drifting. Drift mode backs off the traction control even more than Track mode, and adjusts the AWD to allow steady, controlled slides. It takes about one lap to get into a steady drift, though it is an AWD drift, in which the front wheels are mostly centred as the car skids sideways. I don't care much for drifting, but admit it's a lot of fun to experience driving sideways on dry pavement.
For all of its racetrack and drifting potential, the Focus RS is remarkably well behaved on the road. In Normal mode, the engine purrs along quietly, and the suspension, although still quite firm, is compliant enough to handle daily driving without pounding you into submission. 
The Focus RS costs $46,969, about $16,000 more than the Focus ST. If you think that sounds steep, consider this: In Canada, the Focus RS comes with heated leather Recaro seats, an eight-inch touchscreen with navigation and SYNC3, dual-zone climate control, as well as a number of other features for which our American neighbours must pay extra.
Also standard are the lightweight, 19-inch forged aluminum wheels and high-grip Michelin Pilot Sport Cup2 tires, which cost U.S. RS buyers an additional $1,990 USD. Ford Canada even includes a set of winter tires at no extra cost. 
After spending a day in the driver's seat of the 2016 Focus RS, I discovered that this hot hatch doesn't only get my right foot tingling; it has me hot under the collar.
Share on Facebook