2016 Mercedes-Benz GLE 350d 4MATIC Coupe: Hits the Ground Running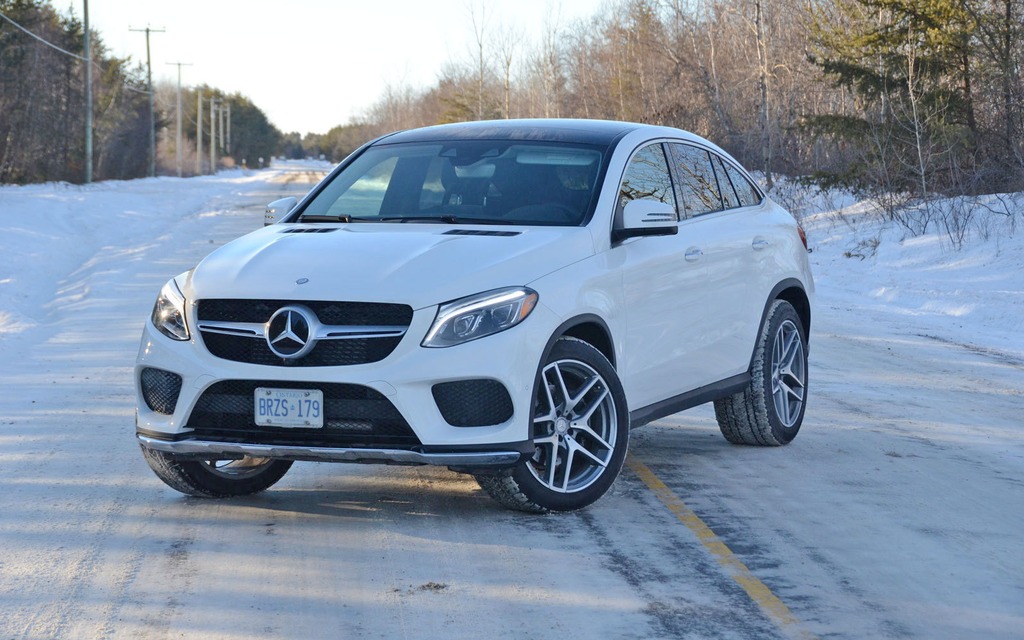 Strong points

Very attractive design
High-quality interior
All-around performer

Weak points

Confusing infotainment system
Dinky gearshift lever
Fuel consumption higher than expected
Full report
Fresh off a new corporate re-badging, the Mercedes-Benz GLE (née M-Class) has spawned a new variant to fight BMW's popular X6: the GLE Coupe.
As if large SUVs weren't indulgent enough, that trend has been taken even further with the coupe SUV, which sheds some practicality for looks and prestige. When I told people I was testing the new GLE Coupe, several of them asked me if it had only two doors. Didn't they know how manufacturers are seemingly able to warp the meaning of words in order to satisfy their respective marketing departments?
It's true, though: the word coupe is defined as "a two-door automobile" according to the Merriam-Webster dictionary. I guess it's tough luck for them, because automobile companies want four-door coupes and four-door SUVs, and gosh darn it that's what we're going to have!
The GLE's styling lends itself beautifully to the coupe form; I'd argue even more so than the BMW X6. This is one good-looking truck and it garnered its fair share of attention (especially from boring non-coupe Mercedes SUV drivers) with its large and imposing silhouette. It's also sufficiently sexier than the standard GLE to warrant a bump in price so I'd say this is mission-accomplished for the German manufacturer.
Diesel: yes, please
You can get the 2016 Mercedes-Benz GLE Coupe in three different versions to suit most needs: The GLE 450 AMG 4MATIC comes with a 362-horsepower V6, the AMG GLE 63 S comes with a screaming 577-hp V8 and finally, the GLE 350d with a 249-hp turbo-diesel V6.
The low-end torque and throttle response from the turbo-diesel was impressive and satisfied my every need. The nine-speed automatic transmission was similarly very smooth and responsive. If the most fuel-efficient model still packs enough punch to satisfy spirited driving, then this is a win-win situation, isn't it? I will note, however, that this engine is supposed to have a combined fuel efficiency of 9.4 L/100 km, but I only observed 10.9 L/100 km. Nevertheless, the diesel remains my powerplant of choice.
Luxury aplenty
Mercedes-Benz interiors are regarded by many as among the best in the industry. The quality of the materials and the fit and finish are beyond reproach, and the GLE Coupe was no exception. You'll find hand-finished wood, hand-fitted leather upholstery and brushed aluminum trim all accentuated by the ambient lighting.
Up front, the optional sport seats were quite firm and sometimes difficult to slide into (as they should be). Rear passenger space didn't suffer too much as a result of the chopping of the roofline. Normal adults should be fine, but taller adults might feel the pinch a little, as is always the case. Rear visibility is diminished slightly, but it's not too bad.
Quality is one thing, but ergonomics is another. I'm talking about how the layout is designed and the ease at which the vehicle can be operated and in this department, Mercedes falls short in my opinion. My qualm rests mainly with the dinky gear shifter where I expect to find the wiper controls. It's something I could never get used to.
I also find Mercedes' COMAND infotainment system disappointing with no steering-wheel mounted controls to switch inputs and a complicated menu interface the driver is forced to cycle through just to switch between AM/FM/XM and Bluetooth devices.
Technological powerhouse
The 2016 Mercedes-Benz GLE Coupe has some top-of-the-line tech and safety features available, including preventive occupant protection which can tighten seat belts and close windows just before a crash, collision mitigation which brakes before an impact, adaptive braking technology that anticipates your next slowdown and even a brake hold feature which will make driving in stop-and-go traffic less stressful.
The Dynamic Select feature lets you choose between driving modes for all conditions including Comfort, Sport and Slippery (handy for the snowstorm I drove in). There is also a Sport+ mode in non-diesel models just in case the standard Sport setting wasn't enough for you. There is also an optional AIRMATIC suspension with electronically controlled air spring-struts that adapt to the driving situation.
An instant contender
The GLE Coupe is well positioned to give the BMW X6 as well as other competitors like the Range Rover Sport and Porsche Cayenne a run for their money. Starting at $72,300, you too can bask in this luxurious and slightly less practical SUV while simultaneously up-ending the meaning of the word coupe!
Share on Facebook