2016 GMC Yukon Denali: The Escalade For The Rest Of Us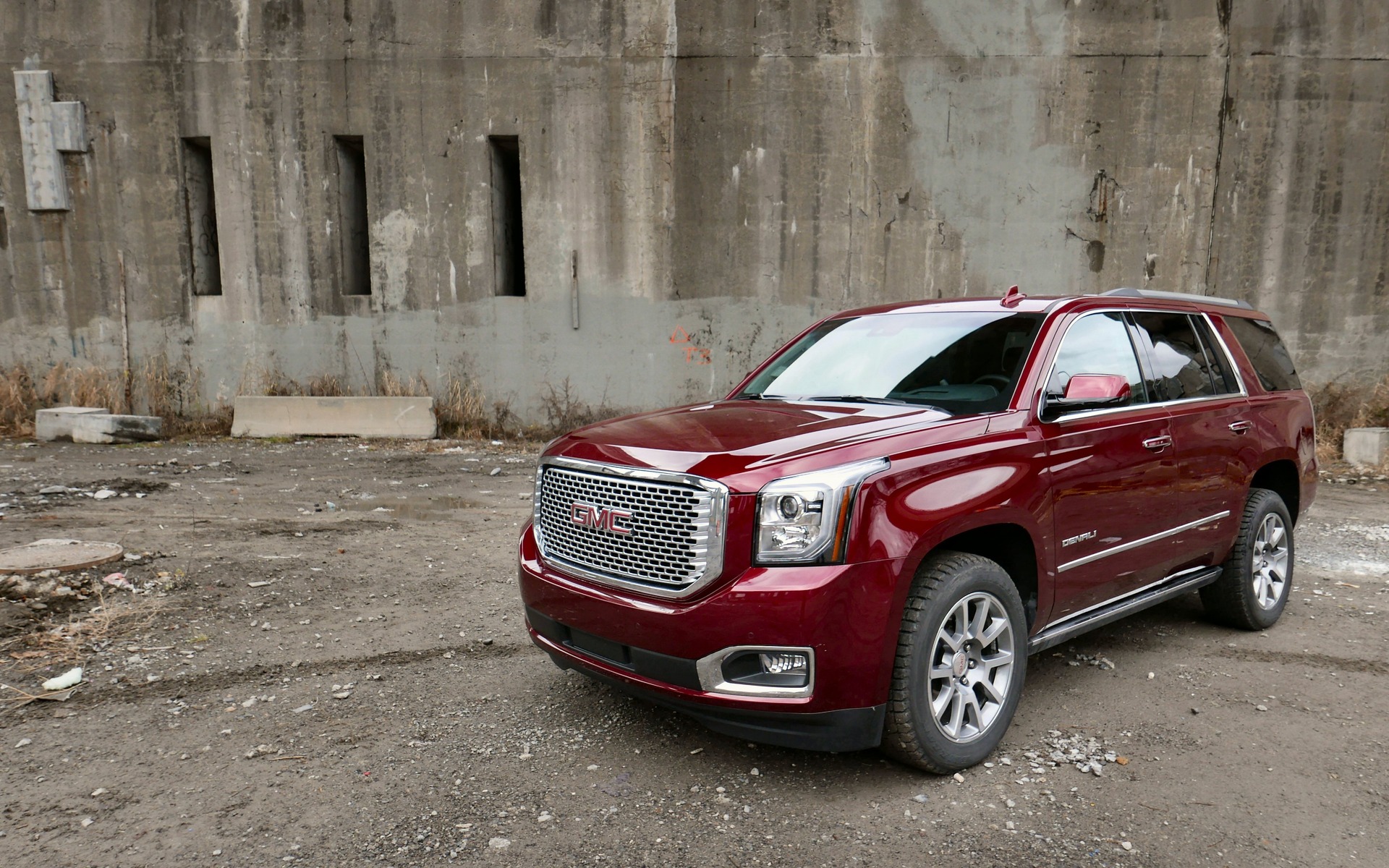 Strong points

Classy styling
Enormous interior
Stuffed with luxuries
Excellent suite of safety features
Strong V8 performance
Smooth adaptive suspension system

Weak points

A bit too expensive
Addicted to premium fuel
Not easy to park
Everyone knows Cadillac – no one knows Denali
Full report
In the world of luxury yachts, the perennial race between billionaires is to see who can build the bigger boat. It's not unheard of for oligarchs and oil barons to tear up the decks on their almost-completed flagships in order to add a dozen additional metres in overall length and beam simply to keep ahead of the other guy's newest toy.
The 2016 GMC Yukon Denali proves that four-wheel extravagance can follow a similar logic. How best to show up your in-law's latest Teutonic sedan than with a seven-passenger premium behemoth swaddled in leather and sitting on the same adaptive suspension technology used by the Chevrolet Corvette Stingray (and several Ferraris)? It's the next logical step in the conspicuous consumption arms race before you end up with a stretch Hummer in the driveway – and it also happens to be one of my favourite full-size SUVs on the market.
All The Extras
The Denali brand has been fantastically successful for GMC, and when experienced in Yukon form it's easy to see why. The 2016 GMC Yukon Denali transforms a capable family hauler into a formidable high-performance luxo-sled that coddles even as its V8 thunders out a rumbling song of dominance to all within earshot. 
The list of additional equipment that the Denali trim brings to the Yukon is impressive: in addition to a full leather-clad interior, you gain power fold-and-tumble second-row captain's chairs (heated, of course), a navigation system, surround sound audio and a well-designed TFT digital gauge cluster. On the outside, the Denali features a signature chrome mesh grille, unique 20-inch rims and HID headlights, but what really sets it apart from the other Yukons in the showroom lurks under its skin, where an exclusive 6.2-litre, 420-horsepower eight-cylinder engine pushes out 460 lb-ft of torque. A magnetically-adaptive suspension system smoothes out the pavement and helps stick the ultra-heavy SUV to the road while a transparent eight-speed automatic gearbox handles the shifting duties for the big truck (and standard four-wheel drive makes sure you won't get stuck while hiking up to the ski chalet in winter).
Full Steam Ahead
The GMC Yukon Denali manages to be more than just a bundle of premium parts stuffed into a cavernous three-row people mover. The proof is in the execution, as the GMC's comfy cabin is plush enough to stand alongside similarly-priced Japanese and European fare without flinching. Even the GMC IntelliLink infotainment system has seen its appeal strengthened for 2016 with a boost in processing power that has sped up the presentation of its well laid-out menus and features. Safety has also been underscored, with a new lane keeping system that automatically nudges the Denali between the lines, making an appearance alongside forward collision warning with automatic braking as well as blind spot monitoring – all of which are tied in to GM's excellent vibrating Safety Alert Seat that highlights from which point of the compass a potential threat is lurking.
It's on the road, however, where the Yukon Denali stole my heart. Straight-line speed is nothing short of phenomenal for such a ponderously heavy machine, as it takes less than seven seconds for this colossus to reach highway cruising speed. Once there, its adaptive dampers give the GMC a fleetness of foot that defies physics; it's not so much that the SUV is sporty (it's not), but rather that it delivers the smooth moves of an experienced, if portly, competitive ballroom dancer. Still more than capable of terrifying you in sharper corners, the Denali at least refuses to display the harsher handling that can be associated with its live rear axle setup.
A Rose With Thorns
The 2016 GMC Yukon Denali can't avoid paying the Newtonian piper in every respect – it sucks down fuel at a rate that would trigger an intervention at any family gathering, even with its cylinder deactivation feature. It's also ponderous to park anywhere other than an open mall lot, and parallel manoeuvres run the risk of burning out its backup camera as you attempt to find a cruise liner berth downtown. Finally, its $77,695 price tag adds $20k to the base Yukon price tag, and puts it in contention with other sport-utility choices with better brand recognition.
Still, in the world of traditional full-size SUVs, it's hard to argue that the Yukon Denali isn't looking down on the rest of the (admittedly shrunken) truck-based segment, especially for those who can't stomach the brash, extroverted styling of its significantly more expensive Cadillac Escalade platform-sibling. Clean lines, massive interior storage, and a tow rating that's a match for many a pickup simply add a practical side to an already-winning luxury formula. Oh, and if your bro or sis in-law shows up at the next family gathering with a Denali of their own, fear not: you can always ritualistically rip up your planks and trade-up for the extended-wheelbase Denali XL to push that size advantage for at least another year.
Share on Facebook