2015 Mini John Cooper Works: Moving Up In The World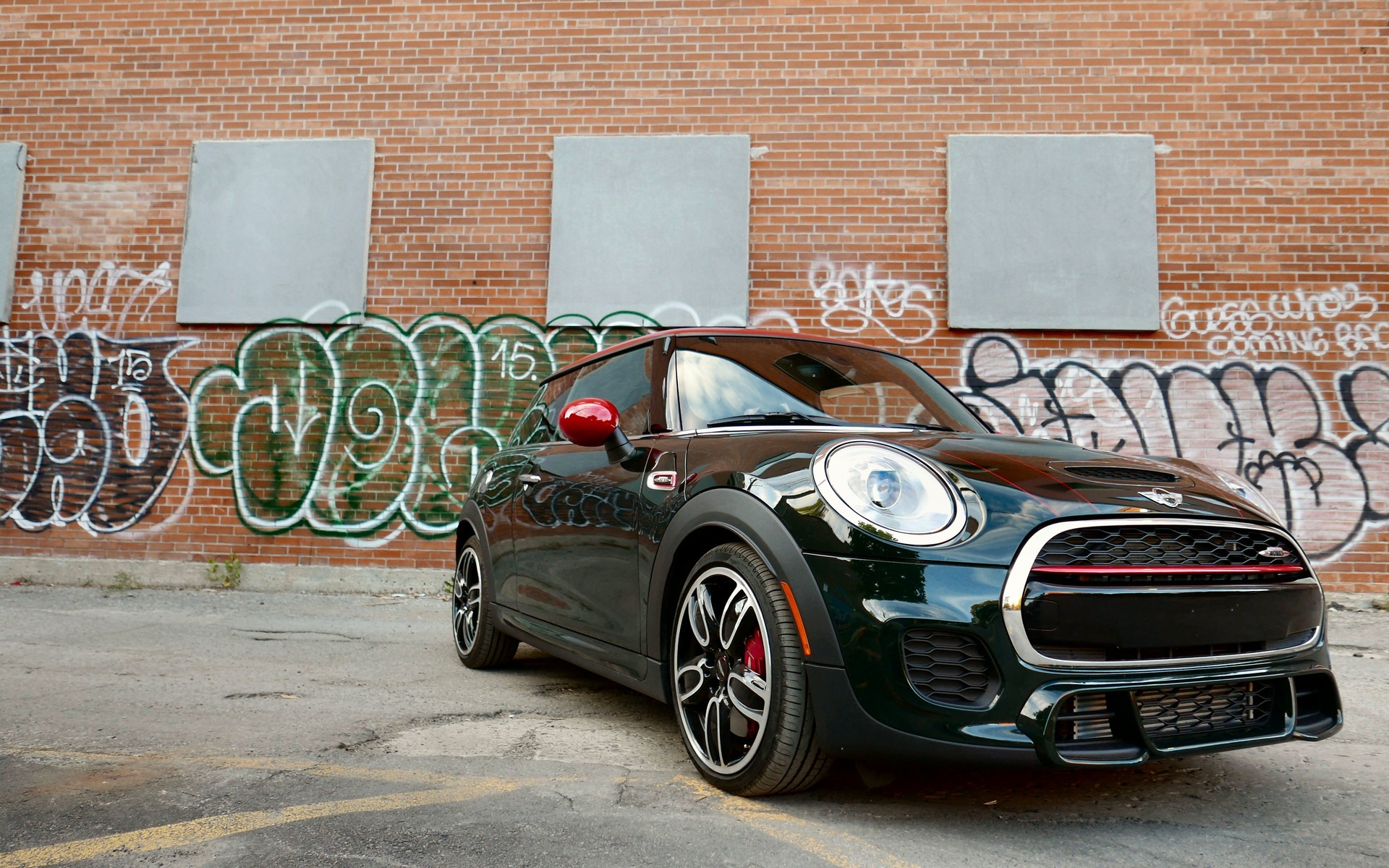 Strong points

Extroverted styling
Comfortable ride when not in Sport mode
Attractive interior
Good feature count
Fun to drive

Weak points

Cramped rear seat
High price for its class
Automatic transmission blocks aggressive downshifting
Poorly-placed infotainment controls
Full report
There's an old auto industry saying: performance sells, but luxury keeps butts in seats. Actually I just made that up, but I didn't pull it out of thin air. While the image of a fast, hard-driving sports car is thrilling enough to get people to visit dealerships, very few individuals want to experience the bumps and jolts of a track-ready suspension every day on their way to work, or deal with finicky, razor's edge clutches and balky gearing when simply pulling into the grocery store parking lot. On the other hand, people will soak up as many leather-wrapped heated seats and sparkly infotainment screens as possible, especially if the car's outside wrapper hints at a hardcore attitude.
Marketing departments devote far more resources to divining these insights than I do, which is why we are presented with cars like the 2015 Mini John Cooper Works. Perched at the pinnacle of the Mini hatchback lineup, the John Cooper Works model is more powerful than ever before and features a look that grabs eyeballs with greater gusto. It's also easier to live with thanks to a range of creature comforts that are now offered with the JCW's revised platform, pushing the car further into the premium space that Mini has targeted for so many years.
Bigger, Yes. Heavier, Not Really
The 2015 Mini John Cooper Works moves to the all-new chassis and body style introduced last year on the standard Mini, which means it's now larger in almost every dimension compared to the model that preceded it. You'll notice it most in profile, as the car's longer shape is accentuated by the aggressive body kit outfitted to the front and rear of the JCW edition. Air vents and rear spoilers jut out to visually extend the hatchback's silhouette, and the car's wider track further accentuates the Cooper's bulldog stance. Still, it's not quite Volkswagen Golf GTI-big, and it doesn't feel particularly bulky out on the road as the car has gained very little weight to go with its pushed-out dimensions.
Plusher Inside
One area where the John Cooper Works model really excels is making the driver feel like they're piloting something special. Once you're past the extroverted exterior styling, you'll find a cabin that has been decked out with multi-adjustable leather sport seats, a large circular LCD information screen surrounded by a light-up LED ring that changes color when you adjust the stereo's volume, switch driving modes, or perform other interactions, and a lot of individual toggle switches that add a retro flair to an otherwise-modern interior. There are a few ergonomic missteps - such as the need to turn a big ring around the shifter to go into Sport or Eco mode, and the out-of-the-way console placement of the infotainment screen's rotary controller and buttons - but other than that, as long as you're enjoying the Mini from its front seats and not its abbreviated rear bench, you're going to like what you see.
Beefed Up Braggart
The 2015 Mini John Cooper Works has seen its 1.6-litre turbo four swapped for a larger 2.0-litre unit, a move that nets it 228 horsepower and 236 lb-ft of torque - more than enough grunt to overpower the front wheels should you so desire. My tester was somehow outfitted with a six-speed automatic transmission in place of the JCW's standard six-speed manual, a choice that less than one in four buyers have made since the computerized box became available for the 2013 model year.
Still, after I overcame my initial disappointment - after all, the John Cooper Works is a car that begs for a clutch - I discovered that the auto was capable of turning in a respectable performance when pushed hard, blipping the throttle on downshifts (although locking me out of more aggressive gear changes a little too early for my tastes) and generally keeping the spirit of the hot hatch lively and fun.
The JCW's strength isn't straight line speed, although it's reasonably quick. Rather, it takes the form of a playfulness at the edges of your commuting envelope that lures you into gradually ramping up your momentum through a set of successive corners to see just how far you can push the hatchback's chassis before it bites back. Selecting the Sport drive mode engages stiffer settings for the Cooper's adjustable dampers, transmitting additional roughness through the wheels and tires on broken asphalt but also improving the car's ability to rotate through a corner with grace to match its style. More importantly, they allow for less pounding on uneven pavement when set to the standard driving mode.
Fun Without (Much) Sacrifice
The 2015 Mini John Cooper Works is an interesting proposition for fans of subcompact speed. At nearly $8,000 more than a comparable Cooper S - which admittedly isn't nearly as mighty, nor quite as focused when pushed - it's clear that parent company BMW is gambling on the higher feature count of the JCW edition (and its smoother ride compared to older versions of the car) to draw in a new breed of Mini buyer.
This is a Cooper that cultivates a hooligan image, yet goes all school boy-sweet when the spotlight is switched off 'Sport,' bringing the hatch more in line with the expectations of well-heeled customers. By aiming at those whose style concerns override the more practical considerations of cheaper compact fare like the similarly-quick VW GTI, it's a formula that's certain to fill - I mean 'keep butts in' - as many leather seats as Mini can manufacture.
Share on Facebook