2016 Smart Cabrio – More Of The Same (Almost!)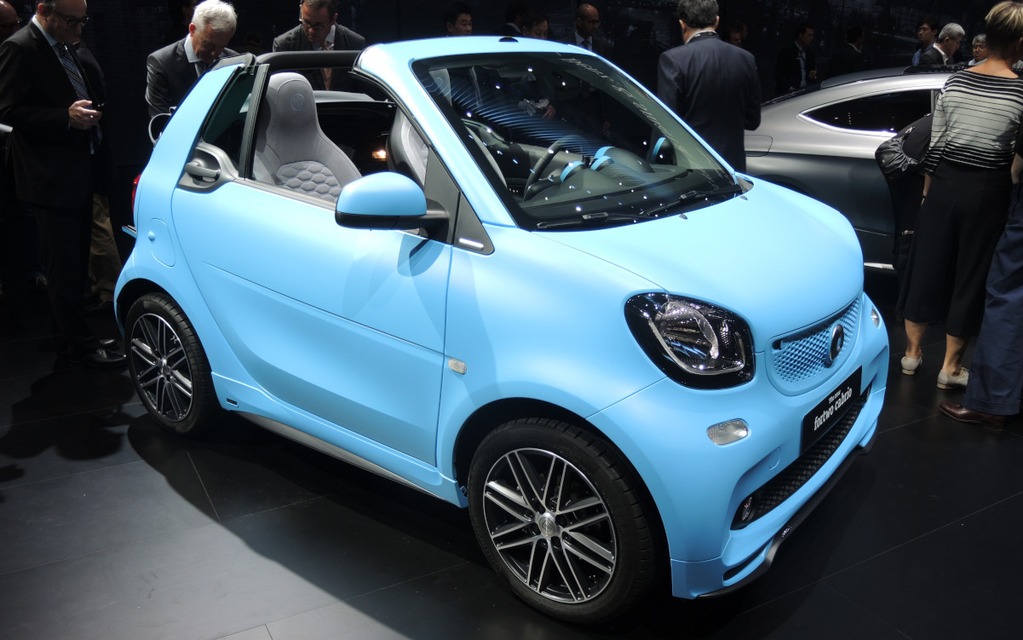 In Frankfurt, they pulled out all the stops to unveil the smart cabriolet—maybe because it was sharing centre stage with some new Mercedes-Benz models. While the new Benzes were either brand-new models or at least markedly different from their predecessors, the new "topless" smart is very similar to the car it's replacing.
The 2016 smart cabrio hasn't deviated much from the second-gen guidelines. That goes for the exterior (like the plastic panels over the structure) as well as for the mechanical design (like the 999-cc engine that rests over the rear wheels).
So don't be surprised that this convertible picks up right where the previous version left off. Both aesthetically and technically, it's essentially more of the same, except the front treatment, which hadn't been touched since the second generation was introduced. The dashboard is also the same as before.
The same roof technology is used. It's a folding canvas soft-top that retracts all the way back to the rear window, giving you access to fresh air within seconds. For a more complete great-wide-open experience, you can remove the roof bars and store them in a storage compartment in the tailgate. Since they're so easy to set up and remove, you're free to choose whether you just want to enjoy a bit of air or really let your hair loose in the wind.
The new generation of the smart is available in a wide range of bold colours. That's no doubt why the smart cabrio was unveiled in "Candy Blue", a colour that really got people talking.
Here in Canada, the 2016 smart cabrio will be available on the same terms as the old one. This means that the four-door version won't be available for our market.
Share on Facebook