The Smart Way Of Enjoying The Sun: The 2016 smart fortwo cabrio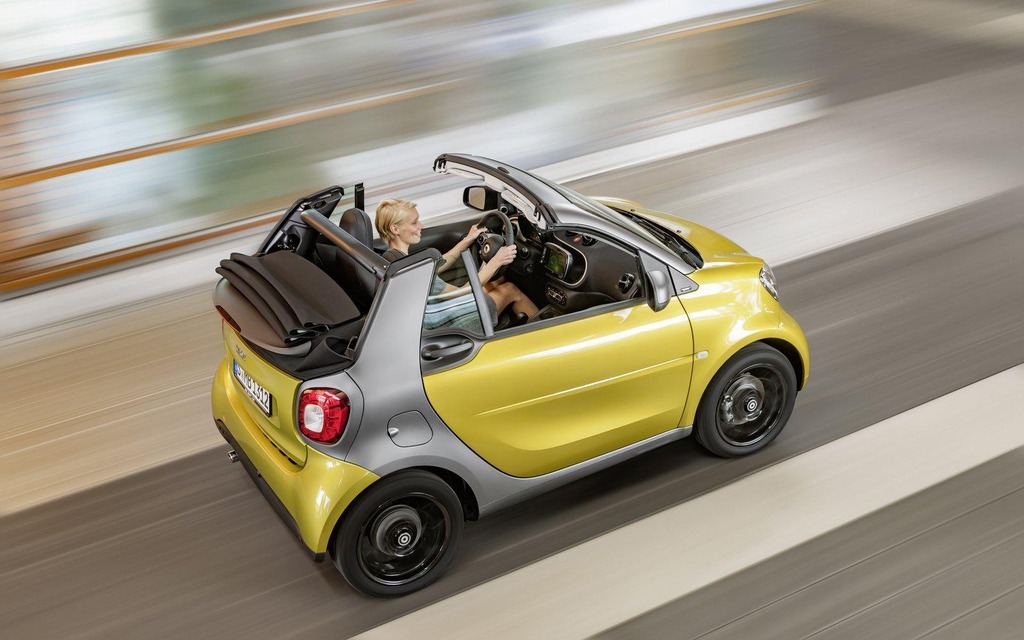 Lots of people are fans of the smart fortwo, the frugal and easy-to-park city car. In European metropolises, you typically see many of these practical vehicles.
And if you like sitting in traffic with the sun shining down on you, smart offers a convertible variant of its fortwo.
When the 2016 smart fortwo was launched, there were only coupes to be seen. The manufacturer just released the first images of the cabrio, pleasing fans of open-top driving everywhere.
The top will obviously be made of fabric; available in three colours (black, denim blue and red), it will retract electrically in around 12 seconds. Also, you can choose between simply pulling the roof over your head -like a moonroof- or fully retracting it behind the seats. Just like the coupe, the cabrio's passengers will be protected by smart's tridion cell.
In North America, our smarts will be powered by a 3-cylinder engine developing 89 horsepower and 100 pound-feet of torque. A five-speed manual or a twin-clutch transmission is on the menu. With the manual, the smart scoots from 0 to 100 km/h in 10.1 seconds, while the DCT adds 0.4 seconds to that time.
Depending on the chosen trim level (Passion, Prime or Proxy) buyers will be able to get a large array of equipment, including LED headlights, GPS, automatic A/C, Bluetooth communication, a JBL audio system...
The 2016 smart fortwo cabrio will be available for order in Germany in November; customers should get their cars in February.
As for us, I sincerely hope we get these convertibles next spring, so we can thoroughly enjoy them!
Share on Facebook